Skechers Throws Shade at Nike for Zion Sneaker Blowout
Savage.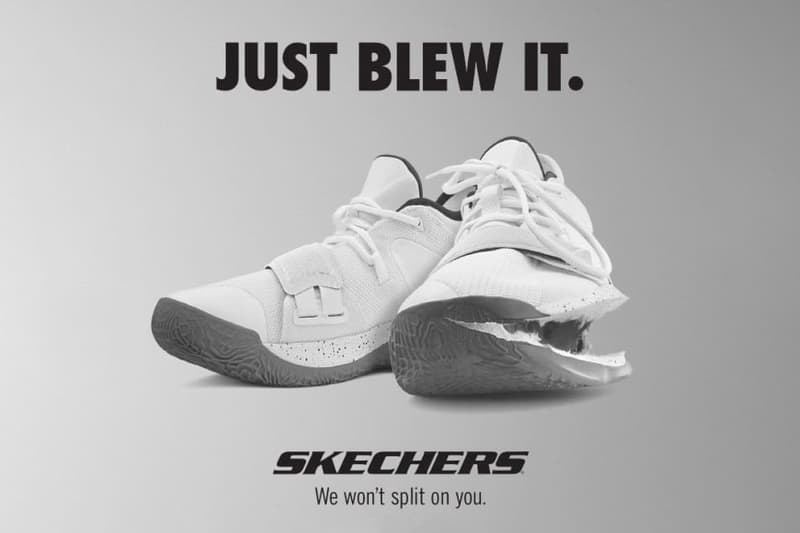 Skechers has just taken out an ad in the Sunday edition of The New York Times to call out Zion Williamson's recent mishap with his pair of Duke Nike PG 2.5 basketball sneakers.
With no room for misinterpretation, a pair of debranded Nike PG 2.5 sneakers are shown with exactly the same structural failure as Zion's left shoe. In the ad, Nike's "Just Do It." slogan has been replaced with "Just Blew It." while the Skechers logo appears underneath. Adding salt to the wound, the line "We won't split on you." was added.
Those with this Sunday's edition of the NYT can find this advertisement in the Sports section. Taking out an ad in the week's biggest edition of one of America's largest newspapers wasn't enough for Skechers however — the sportswear company also took out space in other publications, including The Wall Street Journal and USA Today.
In other footwear news, Nike's Air Tailwind gets a retro refresh in "Team Orange/Tour Yellow."
Dang! #Skechers throwing serious shade on #Nike. In the #WallStreetJournal no less… pic.twitter.com/SzcaEV2Sh2

— Scott Richards (@scottrichards19) March 2, 2019
USA Today ad. Well played Skechers. pic.twitter.com/353tLvBgft

— Don Jones (@DonnyJ44) March 2, 2019
i usually wouldn't implore you to buy the paper for an ad, but you'll never see shade like [squints] skechers is throwing at nike on page 3 of tomorrow's nyt sports section again pic.twitter.com/wu9tQGacrf

— Josh Crutchmer (@jcrutchmer) March 2, 2019