8 Fragrances Perfect for Spring 2019
Featuring Diptyque, Le Labo, COMME des GARÇONS, Maison Margiela, Helmut Lang & more.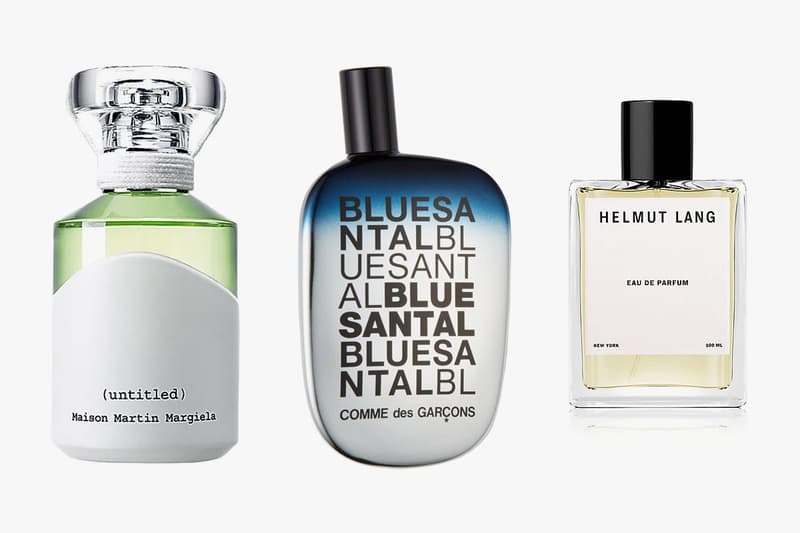 After delivering a guide to upgrading your grooming routine, we now turn our focus to lighter fragrances to pair with the warming temperatures ahead. Settling into the Spring season, the changing weather calls for a switch over to fresh, vegetal focused scents (think open fields, light rain, or ocean spray on the beach) that fully mark the end of winter.
Bold yet non-intrusive, the lighter scents of the season feature notable notes of timely flowers and refreshing citrus cut with woody undertones and hints of musk. Combing through some of the retailers consistently delivering the latest in fashion, we have put together a selection of established and new fragrances that make great additions to seasonal scent lineups. Spotlighting the top, middle and base notes to help understand the bloom behind the choices that make them so perfect for spring.
Cycle through the selection of offerings from names like Diptyque, Le Labo, LOEWE, COMME des GARÇONS, Maison Margiela, Helmut Lang, and more below.
In case you missed it, here are 10 carrying options that aren't waist bags.
LOEWE Pour Homme
Composition: Eau de Toilette
Top Notes: Messina citric, Lavender
Middle Notes: Basil, Geranium, Lily
Base Notes: Sandalwood, Musk, Vanilla, Vetiver, Amber
Buy Now: $150 USD at Harrods
Diptyque 34 Boulevard Saint Germain
Composition: Eau De Parfum
Top Notes: Pink pepper, Citrus, Clove, Cinammon, Cassis
Middle Notes: Tuberose, Iris, Geranium, Rose, Violet
Base Notes: Sandalwood, Vanilla, Wood Amber
Buy Now: $190 USD at Barneys
Maison Margiela MMM Untitled
Composition: Eau De Parfum
Top Notes: Citrus, Incense Resinoid, Cedar
Middle Notes: Bitter Orange Blossom, Lentiscus Resinoid, Jasmine, Galbanum Resinoid, Musk
Base Notes: Galbanum, Box Green
Buy Now: $145 USD at Barneys
Le Labo Neroli 36
Composition: Solid Perfume
Top Notes: Orange Blossom, Mandarin Orange, Aldehydes
Middle Notes: Vanilla, Rose
Base Notes: Tonka Bean, Musk, Vanilla
Buy Now: $80 USD at LN-CC
COMME des GARÇONS Blue Santal
Composition: Eau De Parfum
Top Notes: Mediterranean Pine, Australian Sandalwood
Middle Notes: Juniper Berry Essence, Blue Pepper
Base Notes: Mediterranean Pine, Australian Sandalwood
Buy Now: $131 USD at NORDSTROM
(MALIN+GOETZ) Stem
Composition: Eau De Parfum
Top Notes: Mandarin Leaves, Wild Freesia Greens, Hyacinth Florets
Middle Notes: Muquet Flower Stalk, Rose Centifolia Stems, Jasmine Buds
Base Notes: White Cedar, Vetiver, Ambrox Super, Musk
Buy Now: $95 USD at Barneys
Jo Malone Oud & Bergamont
Composition: Cologne
Top Notes: Bergamot, Orange
Middle Notes: Cedarwood, Smoke
Base Notes: Oud
Buy Now: $137 USD at Harrods
Helmut Lang Eau De Parfum
Composition: Eau De Parfum
Top Notes: Lavender, Lily
Middle Notes: Musk, Vanilla, Sandalwood
Base Notes: Cedar, Patchouli
Buy Now: $185 USD at Barneys