8 Drops You Don't Want to Miss This Week
Featuring Supreme, Stone Island, Bape, Palace and more.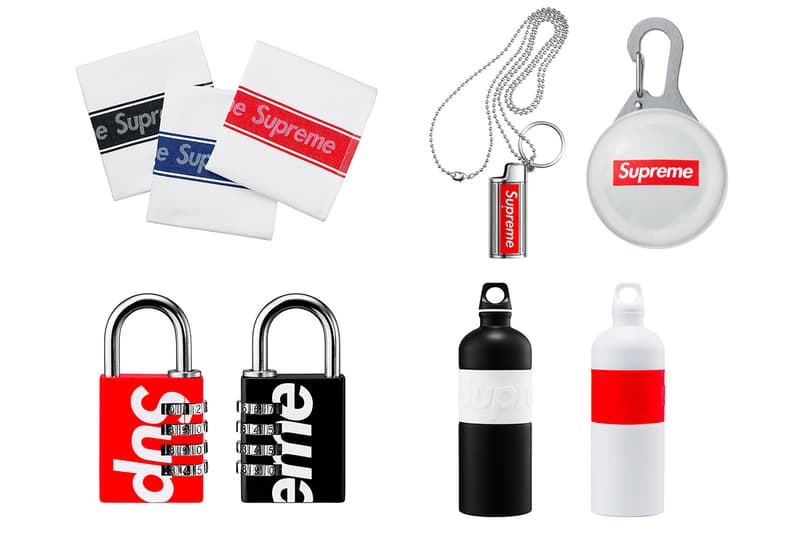 This installment of our weekly product drops sees the return of both Supreme and Palace with their highly-anticipated Spring/Summer 2019 collections. The rollouts features eight releases comprised of seasonal collections, special capsules and a lone collaboration. Leading the set is Supreme's latest seasonal range made up of unique street staples and an assortment of sure to be sought-after branded accessories.
GEOgraphics and Peacebird Men's dark Cut & Sew-focused capsule collection serves as the notable collaboration of the week. Special releases come in the form of Stone Island's SS19 Ghost Pieces and BAPE's rhinestone bedazzled APE Head rings, as well as necklaces. Rounding things up are the widely different SS19 collections from Supreme, Britsh skatewear label Palace, KOMAKINO, 032c and Patta.
Key items this week include Supreme's Bonded Logo Puffy Jacket, KOMAKINO's Car Crash Apron, Stone Island's Ghost Fishtail Parka, Palace's Tri-Ferg emblazoned Pertex Quantum Jacket and BAPE's silver APE Head ring.
Stone Island Spring/Summer 2019 Ghost Collection
Adding to its SS19 offerings, Stone Island recently returned with its latest "Ghost" pieces. Continuing its unique expression of camouflage, the new range is dominated by minimalistic monochromatic styles.
Comprised of jackets, over-shirts, sweatshirts and pants, once again the Ghost pieces utilize various distinctive fabrics in a concise color palette of beige, black and blue. Some standouts include a Fishtail Parka crafted of 50 Fili — a brushed cotton nylon canvas that is soaked in light polyurethane resin and crewneck knits designed with mercerized ribbon and ribbed neck, cuff and bottom hems.
When: Now
Where: Stone Island & Select Retailers
KOMAKINO Spring/Summer 2019 Collection
Moving into SS19, London-based label KOMAKINO recently dropped its latest defiant collection.
Heavily inspired by David Cronenberg's Crash, stills from the film are plastered onto the striking garments that make up the range. For the season, KOMAKINO utilized unorthodox hemline placements, removable straps and convertible zipper closures to express its signature sub-culture tinged aesthetic. Some notable items include the back zip MA-1 Bomber Jacket, relaxed fit Vaughan T-shirt and unique Car Crash Apron accessory.
When: Now
Where: /017
GEOgraphics x Peacebird Men's Capsule Collection
GEO subdivision, GEOgraphics, recently released its first collaboration with established brand Peacebird Men's. Centered around heavy influences from '80s computer-generated imagery and Britain's Mod subculture, the team up builds on the fledgling imprints graphic driven aesthetic.
Elements of personal photography, sketches and scanned components are combined with Peacebird's Cut & Sew to create the distinctive new range. Comprised of 25 different styles, the cross-seasonal pieces include a nylon fishtail parka, heavy wide cut cotton T-shirts, multi-pocket sweatpants, cross-functional bags, and more.
When: Now
Where: GEO
032c "Cosmic Workshop" Collection
Further establishing its in-house line, editorial platform 032c recently released a lookbook in lead up to the release of its latest collection.
Dubbed "Cosmic Workshop," the range is inspired by '90s raving gear and the experience of being a teenager in Berlin, as well as 032c's continued references to utilitarian and functional workwear. Notable pieces include trench-style coats in grey, black and pastel-pink polyamide nylon, alongside distressed denim, greyscale intarsia knitwear and leather fetish-inspired accessories. Rounding up the collection is 032c's highly-anticipated military boot collaboration with adidas.
When: February 21
Where: 032c & Select Retailers
Palace Spring 2019 Collection Drop 1
After a short break, Palace is back once again with its Spring 2019 collection. Kicking things off with its Week 1 drop, the British skatewear label aimed to deliver offerings to help ease the transition into the season.
Leading the first select Spring releases is a Utility Jacket that transforms into a vest, Tri-Ferg emblazoned Pertex Quantum Jacket and the boldly embroidered PA-1 Flight Jacket. Other notable street staples include the retro-themed Tripper Rib Crewneck, Gold's Gym-inspired P-FLEX T-shirt, Utility Pants to go with the aforementioned Utility Jacket and this season's Sticker Pack.
When: February 22
Where: Palace
Patta Spring/Summer 2019
For SS19, Patta put together a selection of street staples dressed heavily with graphics drawn from Vincent van de Waal artworks, Patta's own magazine and its archival slogan: "Patta Got Love For All."
Aside from the usual hooded sweatshirts, T-shirts and crewnecks, come a selection of denim suits, cardigans, corduroy long sleeve tees and chinos. Key items from the SS19 collection include the continued M65 jacket collaboration with Alpha Industries and the brand's introduction of colorful cardigans.
When: February 22
Where: Patta Amsterdam, London & Online
BAPE Rhinestone APE Head Ring & Necklace
Stepping into the accessory realm of fashion once again, BAPE recently returned with a selection of rhinestone jewelry.
The set of shiny wares includes silver and gold-toned rings and pendant necklaces done in the classic APE Head shape and riddled with stones. Fully embossed, the pendants are attached to matching delicate rope chains for an added touch of flair.
When: February 23
Where: BAPE
Supreme Spring/Summer 2019 Collection Drop 1
Signalling a new season, Supreme's first drop of its SS19 collection is right around the corner. After unveiling the full range earlier this week, we now have an idea of what is going to arrive for Week 1.
Drawing from its latest expansive line up of jackets, anoraks, hoodies, sweaters, shirts, T-shirt, pants, shorts, hats and accessories, this week's drop list is quite well rounded, to say the least. Some standout outerwear pieces include the subtly all-over branded Bonded Logo Puffy Jacket, D-Ring Trench Coat and Fuzzy Pile Trucker Jacket. Moving into more streetwear leaning items, the Chenille Hoodie, Shears Hoodie, Creeper T-shirt and Leda and the Swan skate deck are sure to gather a sizeable amount of attention. Not to mention the assortment of bags constructed of Supreme logo full print Cordura nylon expressed, available in a selection of bold colors.
Supreme's signature branded accessories come through heavy for the inaugural seasonal release, with the SIGG CYD 1.0L Water Bottle, Metal Lighter Holster, Spotlight Keychain, Master Lock Numeric Combination Locks and Dish Towels dropping. All in-store and online purchases are also expected to come with a Supreme branded shower cap as a free gift.
When: February 25
Where: Supreme Online & Retail Stores in NY, Brooklyn, London, France & Japan