Kevin Durant Named All-Star MVP as Team LeBron Defeat Team Giannis
A second title for the Golden State Warrior.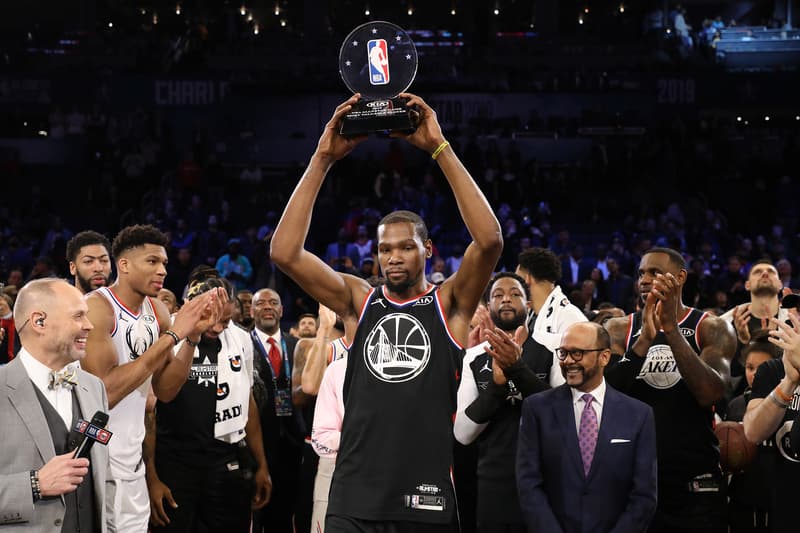 Filled with both fashion and basketball delights, the 2019 NBA All-Star Weekend saw its climatic end tonight down in Charlotte, North Carolina as Kevin Durant was named the game's All-Star MVP.
Marking his second time taking home the big title, Durant was rightfully named MVP as the Golden State Warrior helped to lead LeBron James and his West coast teammates to victory over Giannis Antetokounmpo and their East coast competitors by scoring a team-high 31 points with six rebounds and two assists. Durant's points played an integral part in the win, seeing as Team LeBron were down 20 points, helping defeat Team Gianni with a score of 178-164. Team LeBron also set a new All-Star record for most 3s in a game with 35.
On the other-hand, Durant's GSW teammate Stephen Curry scored 17 points for Team Giannis with nine rebounds and seven assists. LeBron James managed to knock in 19 points while Giannis Antetokounmpo led all scorers with 38 points, to go with 11 rebounds and five assists.
After accepting his title, Durant told ESPN's Rachel Nichols:
"We just didn't want to lose. We know we had a lot of talent over there that can do multiple things. We just wanted to turn it up a bit on the defensive side. I think the group closed the third quarter really changed the game for us. It is fun being around such greatness. Seeing how these guys operate on the day to day. I'll miss my time here.

It's all sweet to me. I mean, it's hard to rank. Everything's special. But it's cool to be out there with some of the best players to ever play the game, and to win an MVP here in front of my family and friends is pretty sweet. I just keep trying to rack them up, I guess."
Durant was last named MVP All-Star back in 2012.
For more on the 2019 NBA All-Star Game, check out both Meek Mill's opener and J. Cole's halftime show.