Kanye West Interviews Shayne Oliver About Hood by Air Relaunch
HBA is back.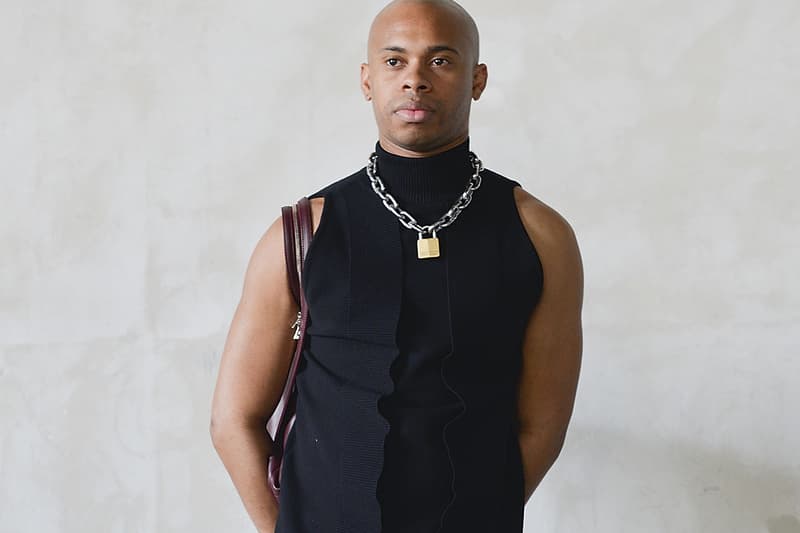 Though the landmark label Hood By Air shuttered in 2017, founder and creative director Shayne Oliver has stayed extremely busy, working with labels like Helmut Lang and Colmar, all while Hood By Air (HBA to fans) enjoyed a quiet underground resurgence. Indeed, in the wake of the recent ironic fashion explosion, HBA's aggressive deconstruction of masculinity and fashion tropes has never felt more relevant
In an interview hosted by none other than Kanye West, Oliver confirms that HBA is coming back. "Hood By Air has been in hibernation. What have you been up to," asks West. "Hood By Air had these emotions and this ethos that I respect, and I wanted to continue respecting that as much as possible," Oliver responds. But "It was getting to a point where I felt like I was being held to an extreme level. … I didn't really feel like it was healthy. I felt like I needed time to learn a bit about myself."
Later, after giving Hedi Slimane some props, West says "I'm interested to see an HBA comeback. Who was backing the brand?" Oliver explains:
"The marvel of HBA is that we never really had a backer backer. We always did it on our own … It was an insane ride and we felt like we wanted to elevate to the next level. Then we began a partnership with New Guards Group in Italy, and that was only a temporary situation. After [Fall 2016], we kinda had to come back to be on our own. That was when the question came up: "Why am I doing this?"
"They say HBA has been credited with elevating streetwear," West affirms after touching on inspirational creatives like Francis Ford Coppola and Haider Ackermann. "What does that mean to you when someone says that?" In response, Oliver admits he doesn't "ever think of [streetwear] as coming from a cool club." Instead, it's about "exposing how those items have affected other walks of life."
I think that opens streetwear up to a larger market of people, because the culture it comes from is very insular. It's weird because they say that about fashion people, but it's the same thing within the streetwear world, you know what I mean? When I see streetwear, I see silhouettes. Some people tend to be more intuitive about it, like the people that I grew up with from inner-city backgrounds, but in the larger discussion about luxury, streetwear is already in the merchandising plan.
Read the entire in-depth feature on Interview Magazine's site.
Currently, Oliver has stayed mum on exactly when and how HBA will be rebooted. However, in a separate interview about the relaunch, Oliver recently told SSENSE that "a temporary retail store won't be the first thing we will do, but we will introduce new models inside our system that will offer contemporary retail experiences." Stay tuned for more.
Most recently, we revisited on West's history-making School of the Art Institute of Chicago commencement speech.