'Game of Thrones' Posters Reveal 20 Best Characters Worthy of The Iron Throne
#ForTheThrone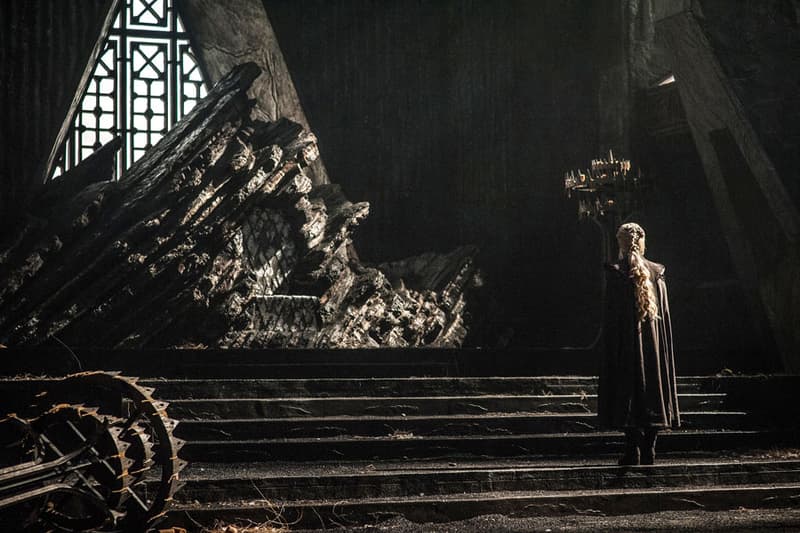 Daenerys has left her throne in Dragonstone in order to join the fray to rule Westeros and HBO has released 20 new posters showcasing all the players in the Game of Thrones as we head into season 8.
Obvious characters like Dany and Jon Snow appear on the throne of these posters, but others like Melisandre and Missandei have their own posters as well. Twitter also revealed custom hashtag character emoji's for each person that appears in the posters, even Samwell Tarly got one. However, the most cryptic inclusion is that of the foreboding and silent Night King himself, with the caption "fear is for the winter."
Check out the posters and emojis below alongside some of the actor's reactions. Game of Thrones returns for the final time April 14.
In other Game of Thrones news, the show has its own Oreos coming out.
#JonSnow
"We know no king, but the King in the North." pic.twitter.com/cVF8IRbJ2j

— Twitter (@Twitter) February 28, 2019
#DaenerysTargaryen
"My reign has just begun." pic.twitter.com/j54Tfqs12M

— Twitter (@Twitter) February 28, 2019
#CerseiLannister
"Long may she reign." pic.twitter.com/onfCymj8Ja

— Twitter (@Twitter) February 28, 2019
#JaimeLannister
"There are no men like me. Only me." pic.twitter.com/nIoeV70l0m

— Twitter (@Twitter) February 28, 2019
#TyrionLannister
"Never forget who you are. The rest of the world will not." pic.twitter.com/iERiiAn6ma

— Twitter (@Twitter) February 28, 2019
#AryaStark
"The North remembers." pic.twitter.com/XxIB96wdyg

— Twitter (@Twitter) February 28, 2019
#SansaStark
"The lone wolf dies, but the pack survives." pic.twitter.com/4SzXANHWfU

— Twitter (@Twitter) February 28, 2019
#BranStark
"I'm the Three Eyed Raven now." pic.twitter.com/zZlY7lmKYV

— Twitter (@Twitter) February 28, 2019
#BrienneOfTarth
"This goes beyond houses and honor and oaths." pic.twitter.com/agGSC9yvkG

— Twitter (@Twitter) February 28, 2019
#DavosSeaworth
"We have to fight, and we need to do it together." pic.twitter.com/uiamSMZBES

— Twitter (@Twitter) February 28, 2019
#EuronGreyjoy
"There's only one reward I want." pic.twitter.com/gMa4uZ8rCC

— Twitter (@Twitter) February 28, 2019
#GreyWorm
"Unsullied fear nothing." pic.twitter.com/PI4sgbDwCy

— Twitter (@Twitter) February 28, 2019
#JorahMormont
"No one can survive in this world without help." pic.twitter.com/K6dlUrS9RO

— Twitter (@Twitter) February 28, 2019
#Melisandre
"The night is dark and full of terrors." pic.twitter.com/FedPffHLhk

— Twitter (@Twitter) February 28, 2019
#Missandei
"She's the queen we chose." pic.twitter.com/aEHz1IL3t4

— Twitter (@Twitter) February 28, 2019
#SamwellTarly
"I'm tired of reading about the achievements of better men." pic.twitter.com/6dslofsJ8F

— Twitter (@Twitter) February 28, 2019
#TheonGreyjoy
"I always wanted to do the right thing." pic.twitter.com/O4X5cL2fb3

— Twitter (@Twitter) February 28, 2019
#Varys
"I don't believe in saviors." pic.twitter.com/BuWUa83SPd

— Twitter (@Twitter) February 28, 2019
#TheHound
"You know who's coming for you. You've always known." pic.twitter.com/ZfRTxCqGY5

— Twitter (@Twitter) February 28, 2019
#NightKing
"Fear is for the winter." pic.twitter.com/2hvd9VUwas

— Twitter (@Twitter) February 28, 2019
#DaenerysTargaryen#JonSnow#CerseiLannister#AryaStark#JaimeLannister#TyrionLannister#SansaStark#BranStark#BrienneOfTarth#DavosSeaworth#EuronGreyjoy#JorahMormont#Greyworm#Melisandre#Missandei#SamwellTarly#TheonGreyjoy#Varys#TheHound#NightKing#ForTheThrone

— Twitter TV (@TwitterTV) February 28, 2019
Holy Mother of Dragons I'm an emoji #missandei

— Nathalie Emmanuel (@missnemmanuel) February 28, 2019
The final season. #Melisandre @GameOfThrones pic.twitter.com/xiyuQBGzcU

— Carice van Houten (@caricevhouten) February 28, 2019