Drake's 'So Far Gone' 10-Year Anniversary: A Look Back
The HYPEBEAST Music staff remembers the first time they heard the classic mixtape.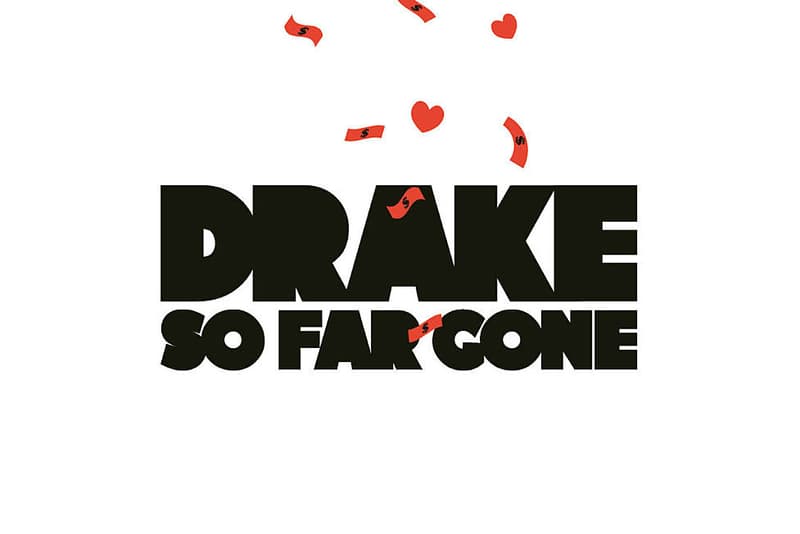 Today is the 10th anniversary of Drake's colossal mixtape So Far Gone. On February 13, 2009, at the height of the mixtape era where blogs like Nah Right were the place to get music suggestions and MediaFire, torrents and DatPiff were king, Drizzy Drake put out his third mixtape and changed music forever. No longer the kid in the wheelchair on Degrassi, he became Drake. This project started the run and for the last last 10 years, music has seen Drake rise from virtual outcast to being one of the most dominant artists on the planet both today and in music history.
So Far Gone was unprecedented at its release. With Drake's music fluidly floating between rapping and singing, no one even knew how to describe his work. Artists such as Kanye West and Kid Cudi had already set the foundation for that type of experimentation, but So Far Gone was unlike anything out at that time. No one couldn't even fathom how this emo, half-Jewish Canadian who was an actor on Degrassi could make such a colossal hit yet right by his side was Lil Wayne, who, fresh off Da Carter 3, was not only one of the most respected rappers in hip-hop but at that time the biggest artist on the planet.
You couldn't escape So Far Gone back in 2009. Drake is set to release the mixtape on streaming services for the first time ever in celebration of its 10th anniversary. So for the special day, the music team — Patrick Montes, Emmanuel "Manny" Maduakolam and Patrick Johnson — wrote our stories on when we first heard So Far Gone and what it means to us today.
Patrick Montes: This is still the only full-length Drake project that I actually enjoy from front to back and still find myself going back to listen to — and by that, I mean I can't really stomach anything Drake has done since then. This project came out when I was fresh out of high school, and I still remember how it became the soundtrack for pretty much everything and everyone's day. "Houstatlantavegas" and "November 18th" are still R&B Drake at his best; "Ignant Shit" is Rapper Drake in his most effective form and one of the strongest collaborations he has with Lil Wayne; "Uptown" has Bun B, one of the biggest GOATs hip-hop has to offer; "Best I Ever Had," "Let's Call It Off" and "Successful" are Pop Drake at his most commercially-viable and polished; "The Calm" is still Soulful Drake at his highest point; "Say What's Real" is tied with "Fear" for being Sad/Melancholic Drake's best offering.
Manny: I first heard So Far Gone when I was pledging Phi Beta Sigma Fraternity, Inc, one of the nine historically African American, international Greek lettered fraternities and sororities (Divine Nine). During my intake process, I couldn't use the internet so I could only hear what my line brothers and I stumbled on. There were important albums at that period — Jeezy's The Recession dropped a year before but was still very much in rotation and my South Jersey line brothers ironically put me onto Meek Mill with Flamers 2. However, on one cold day, a prophite (that's Greek-speak for a Fraternity member who crossed before you did) knew I was a Lil Wayne fanatic and he played me "Successful." Instantly, my mind was blown. He then played "Uptown" and as a lover of Chopped and Screw music and UGK, I couldn't believe what I was listening to. I remember playing "Uptown" on repeat for 15 minutes straight, just cruising with my prophite and only thinking about how I needed to bump the album that night. As so as I got to my line brother's apartment, we played it and knew then Drake would be a superstar.
So Far Gone changed everything and gave me the same feeling I had when I first heard Kanye West's "Through the Wire" and Kid Cudi's "Day n Night," two artists Drake clearly admired. But the music he and Noah "40" Shebib were making stood all on its own. I had many arguments back then about this album, as naysayers at the time called him soft or a failed R&B singer, but So Far Gone felt like the future. So Far Gone also grew my interest in alternative music immensely. I remember finding Santigold's debut album because of "Unstoppable," and listening to "Little Bit" made me look up Lykke Li is. Together Drake and 40 were like Shaq and Kobe, and their work made me need to find out what was happening in Toronto. So Far Gone remains one of the most important projects in music ushered in a new era of music.
PJ Johnson: To me, So Far Gone perfectly encapsulated the need rappers had at the time to search for obscure indie samples for that early Pitchfork approval, while still pumping out obvious hits. But on this project, those needs felt authentic and flowed naturally together. I was so stoked about the Kanye crossover with "Say What's Real"; even though at least 100 other artists downloaded that instrumental on MediaFire and tried to emulate some sort of end-of-relationship emotional overtones, Drake did it best. Maybe even better than Kanye. It was the earliest hints at what we'd see on "Marvin's Room" or "Hold On We're Going Home."
I'm also ashamed to admit that this was my first introduction to major Houston influences outside of Mike Jones, Paul Wall, and Bun B's verse on "Big Pimpin'". So thanks for that, Drake.
I was 17 when this mixtape dropped and being from Cleveland, I tried to convince myself that this wasn't a better project than A Kid Named Cudi, but it definitely was. Having those two tapes in my rotation took a lot of time away from searching for other artists. I might not go back to this release as much as say Take Care or Nothing Was The Same — probably because it takes me back to embarrassingly clueless high school relationships and an overall lack of personal emotional depth at the time — but when I do, I'm always pleasantly surprised by how most of its songs still stand up to today's sounds.
It was probably a bold proclamation to say that Drake would become one of, if not the most, famous pop-stars on the planet back in 2009 — when fans of his still had trouble converting new listeners because of the wheelchair Jimmy stigma — but it's not at all surprising.