Best New Tracks: A$AP Rocky, Meek Mill, Future, Drake, Rucci & More
Another great week.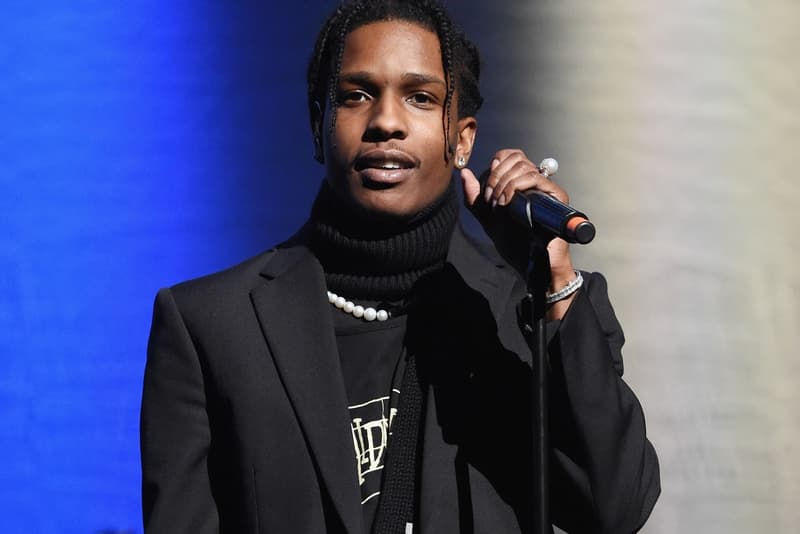 Last week, we spotlighted new releases from Famous Dex, A$AP Twelvyy, Zacari, Stalley and Lil Berete. For the latest entry in our Best New Tracks series, we're featuring the latest from A$AP Rocky, Meek Mill, Drake, Future, Jamila Woods, Chester Watson, Rucci, Night Lovell, EarthGang, Young Thug, Marcy Mane and Rexx Life Raj.
Meek Mill & Drake -"Going Bad"
Meek Mill and Drake have released the highly-anticipated video for "Going Bad," a cut off the Philadelphia native's stellar album, CHAMPIONSHIPS. The Kid Art-directed visual takes on a mobster film theme, and also features a ton of rappers making cameos; T.I., Nipsey Hussle, Swizz Beatz, PnB Rock, Shy Glizzy, DJ Mustard, YK Osiris, among others can be seen in the music video.
Future -"Never Stop"
Future revisits his recent studio album, The WIZRD, for his latest music video. Specifically, Future is serving up a visual for The WIZRD's introspective opening salvo, "Never Stop." The vignette for the Billboard Hitmakers- and ATL Jacob-produced "Never Stop" was put together by director Uncle Leff, producer Omar Reynoso and production outfit Vincent Lou Film.
Jamila Woods -"ZORA"
Jamila Woods is introducing her next studio album by releasing a visual for its lead single, "ZORA."
"My weaponry is my energy… An antidote for the feeling of being judged on first glance. A salve for when people think they know you better than you know yourself," Woods shared via an official press statement, breaking down "ZORA." "It's about refusing to be essentialized and not allowing your identity to be put in a box. You contain multitudes. You are ever-evolving. A song to get free from stereotypes & assumptions."
Titled LEGACY! LEGACY!, Jamila Woods' forthcoming LP is scheduled to see release on May 10 via Jagjaguwar and Closed Sessions The video for "ZORA" was put together by director Vincet Martell and producer Jordan Phelps, while Tusk Chicago, Alyx Harch, No Merit, The Stony Island Arts Bank and VAM STUDIO Co. are also credited with helping to bring the "ZORA" visual to life.
Chester Watson -"Time Moves Slower Here"
A few months after the release of the vignette for "40 Acres," Chester Watson is preparing for his next major promotional campaign with the arrival of a new video for "Time Moves Slower Here."
"I wanted something that felt dusty, but at the same time felt really warm and true to my roots of jazz and skating," Chester Watson tells us, explaining his latest visual. "The fit is I Love Ugly as it usually is; Off-White White Jordan 1s to finish off the ensemble. The track is from Gangster Doodles' compilation 2LP. This video marks the start of the release of things for A Japanese Horror Film. I don't know if this track will actually be on AJHF because of the compilation, but from here on in it won't be much else but AJHF talk from me. It came about because producer Shungu and I wanted to create more. We've worked together a lot before and he was even on my first EU tour with me. So he's fam and the energy in this track is just what happens when me and the fam link up."
A$AP Rocky -"Kids Turned Out Fine"
This week, A$AP Rocky delivers another visual for another standout selection off his recent TESTING album, "Kids Turned Out Fine." The theme falls in line with some of Rocky's previous videos, and features a range of nostalgic elements. The Dexter Navy-directed vid also includes a portion of the LP's "Changes" track towards its conclusion.
Rucci -"Cholo"
Following up his incredible For My Dawgz project, Rucci serves up another new single, "Cholo." Even though Rucci's roots are tied to the Blood culture of Inglewood, the Ese-inspired theme of "Cholo" shows he's a Certified Foo.
"The music I'm making now, I'm talking shit but I'm talking it in a calmer way — like RBL Posse-type shit mixed with some Bone Thugs shit, but then tapping in to my Hispanic side," Rucci previously told us, breaking down his forthcoming project. If everything turns out well, Rucci's next album will solidify his spot as the best emcee in the West Coast's new wave.
Night Lovell -"Bad Kid"
After a few years of silence on the new music front, Night Lovell is finally planning to drop a full-length follow-up to 2016's Red Teenage Melody. Titled Goodnight Lovell, the 21-year-old artist's next LP is billed as a more personal project, and features collaborations with Wifisfuneral, $UICIDEBOY$, Lil West and Lil Gnar. To support the effort, Night Lovell has released one of its opening cuts, the Ginseng- and Fifty Grand-produced "Bad Kid," as Goodnight Lovell's lead single; for the record's official video, Lovell teams up with director Avery Stedman.
"This one is more of a solid project — I feel like I've grown," Lovell tells us, breaking down Goodnight Lovell. "My first albums — I was younger and I was a kid who didn't really know what was going on, I was just riding a wave. With me growing up and going through shit, this kind of formulated my sound and how I talk about stuff … I'm not afraid to talk about more personal things, I'm more open to that … What goes on in my head when I'm alone; why I don't go out; why I don't talk to people; why I'm not seen as much on the internet — I just tell them all of that stuff, and they're going to get to know me better from this album.
According to Lovell, every song on his new album "essentially a dream." "I really tried to portray a dream in every song," he says. "You listen to it and you see something; I wanted to create a movie with words."
EarthGang & Young Thug -"Proud Of U"
Atlanta duo EarthGang recruits Young Thug for their newest single "Proud of U," a cut off their highly-anticipated debut studio album MirrorLand. The LP will be released through J. Cole's Dreamville label later this year. On the Johnny Venus-produced track, Doctor Dot, Venus and Thugger collide to rap about being happy about the success of their significant others. The track was originally premiered on Zane Lowe's Beats 1 program.
Marcy Mane – Laheem
As one of the co-founders of the Goth Money movement, Marcy Mane has quietly earned his position as one of the modern rap underground's most influential veterans. Now, branching out onto his own and exploring the weirder sites of art-rap, the DMV-to-LA artist is back with an expansive new studio project, Laheem. Made up of 19 new tracks, Laheem provides a complete and varied look at Marcy Mane's current creative outlook. Laheem is currently available for purchase on iTunes and is also streaming on Spotify.
Rexx Life Raj – "Never Change"
As he prepares to begin the campaign for his next studio album, Rexx Life Raj decides to serve up a new visual and track, "Never Change." The "Never Change" video was directed by Marco Alexander and shot in London.