Banksy Donates a Fake £10 Banknote to the British Museum
"I promise to pay the bearer on demand the ultimate price."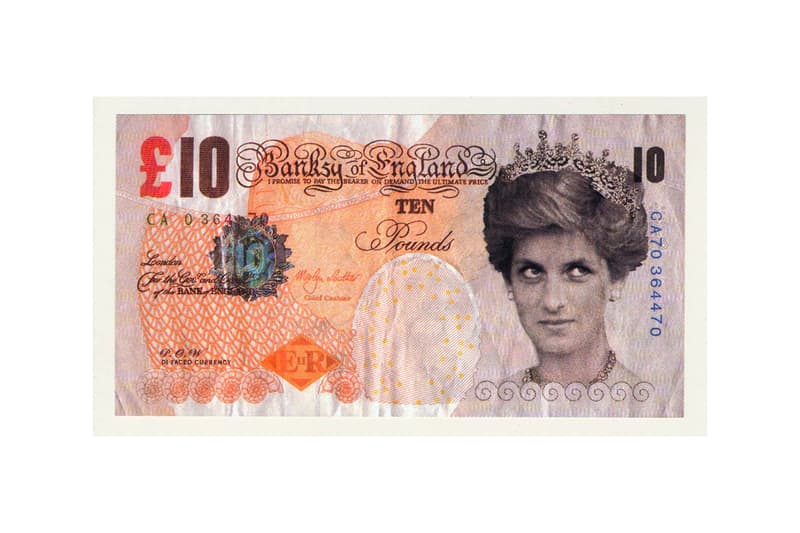 For the first time, Banksy officially joins the British Museum collection after hanging a fake, concrete artwork in one of its galleries in 2005.
According to the Guardian, a counterfeit £10 banknote, dubbed Di-faced Tenner was donated to the museum by the anonymous artist's representative Pest Control. It is one of the thousand copies printed in 2004 in preparation for an art stunt. A late portrait of Diana, Princess of Wales replaces that of Queen Elizabeth while the parodied "Banksy of England" is accompanied by the motto: "I promise to pay the bearer on demand the ultimate price."
The fake £10 note now belongs to the museum's collection of coins, medals and other currencies. However, sources revealed that the artwork forms part of the 99% of pieces which will not be shown to public. Don't be disheartened if you are a Banksy fan; the replica can be purchased online for £1,000 GBP to £2,500 GBP (approximately $1,310 USD to $3,270 USD).
In more art news, Virgil Abloh reveals the painting that inspired the latest Louis Vuitton "BOYHOOD" campaign.
Banksy donates fake bank note artwork to the British Museum https://t.co/BuU12oYbPO

— The Guardian (@guardian) February 1, 2019