The New England Patriots Defeat the Los Angeles Rams to Become Super Bowl LIII Champions
Tom Brady's sixth Lombardi Trophy.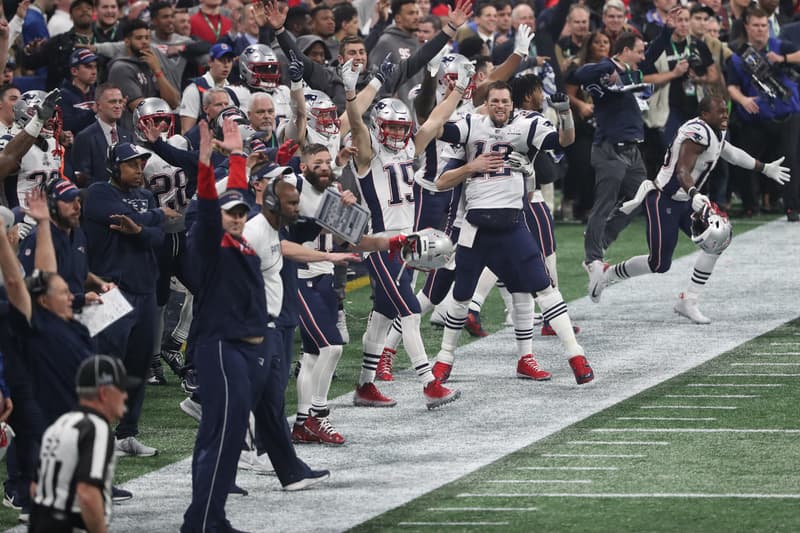 After their crushing defeat at Super Bowl LII last year, the New England Patriots defeated the Los Angeles Rams, 13-3, to become the Super Bowl LIII Champions. Taking place at the Mercedes-Benz Stadium in Atlanta, the game was a low scoring affair as Rams defensive tackle Aaron Donald looked to shut down Tom Brady. Unfortunately, Brady and the Patriots offense eventually bested the Rams breaking the 3-3 tie in the fourth quarter, and then going on to lead. Pats wide receiver Julian Edelman was awarded the Super Bowl LIII MVP title for his performance that won Brady and coach Bill Belichick their sixth Lombardi Trophy.
THE @PATRIOTS ARE @SUPERBOWL LIII CHAMPIONS! #SBLIII #EverythingWeGot pic.twitter.com/u95kt9rgSL

— NFL (@NFL) February 4, 2019
Super Bowl LIII Recap
First Quarter: Despite early action from the Patriots, none of their efforts amounted into any points scored. Tom Brady's first pass of the game was picked off by Corey Littleton following a tipped ball by Nickell Robey-Coleman. Following a three-and-out from the Rams, the Pats made their way back into Rams territory, ending in a failed running play and a missed kick from Stephen Gostkowski. The Rams looked to get things started but were ultimately unable before the end of the quarter.
Second Quarter: Looking to score the game's first points, the Pats opened the quarter with a strong drive that resulted in Gostkowski kicking a 42-yard field goal to take a 3-0 lead. Throughout the quarter, the Rams settled for punts after struggling to move the ball down the field on several occasions.
Third Quarter: Following the halftime performance, both teams returned to the field and continued to struggle moving the ball down the field. Punters, Ryan Allen and Johnny Hekker, on both teams were really the only stars of the fourth quarter. Rams kicker Greg Zuerlein ultimately delivered the lone score of the quarter with a 53-yard field goal to tie the game, 3-3, leading into the final 15 minutes of the game.
Fourth Quarter: Moving into the last quarter of the game, Super Bowl LIII was pretty much set to be a low scoring affair dominated by the defensive lines from both sides. Looking to break the tie, Brady looked to wide receiver Julian Edelman, who lead a Pats run that scored the first and only touchdown of the night, 10-3. With the lead secured, the Pats simply put forward a shutdown of any rhythm the Rams generated. With 4:17 minutes left to play, the Pats signalled their win with a victory sealing 41-yard field goal by Gostkowski.
Make sure to keep up with the rest of our Super Bowl LIII coverage.
In case you missed it, watch Travis Scott, Maroon 5 and Big Boi's Super Bowl LIII halftime performance.