adidas YEEZY BOOST 700 "Inertia" Gets Official Look & Release Date
Dropping this Spring.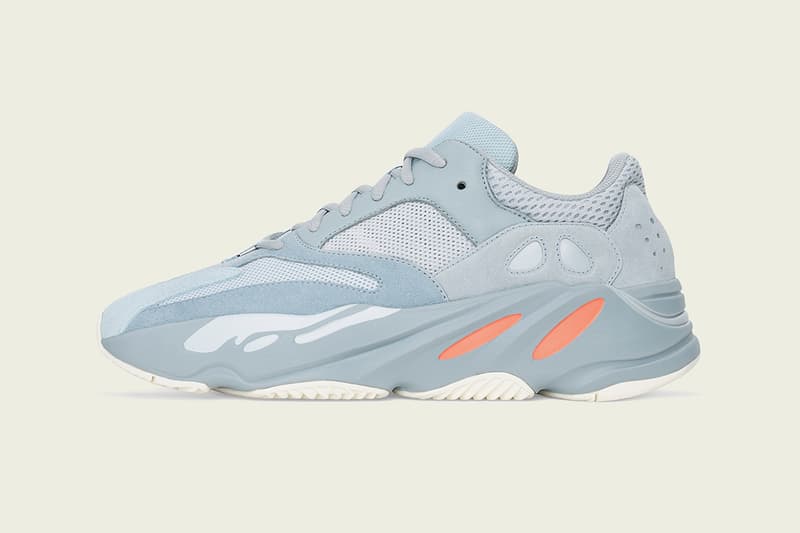 1 of 5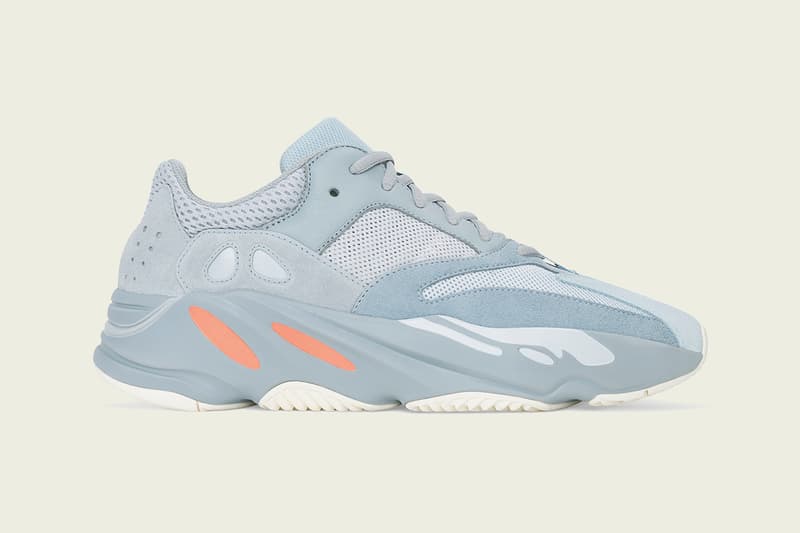 2 of 5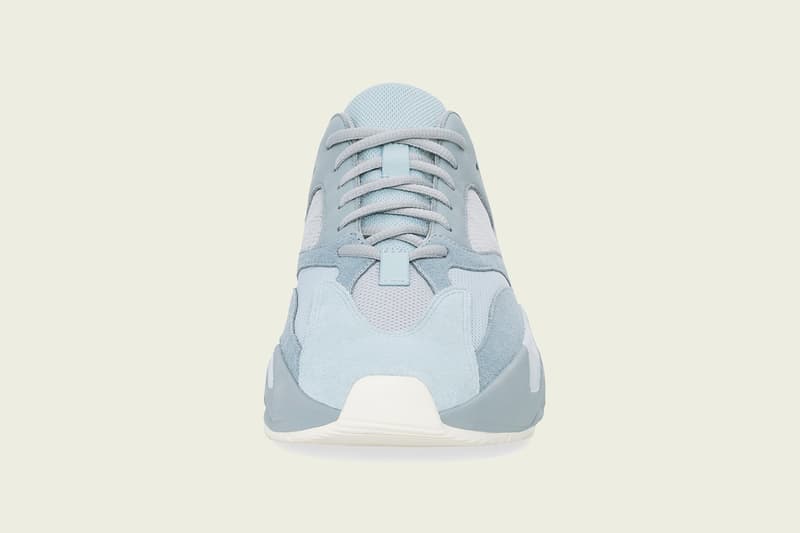 3 of 5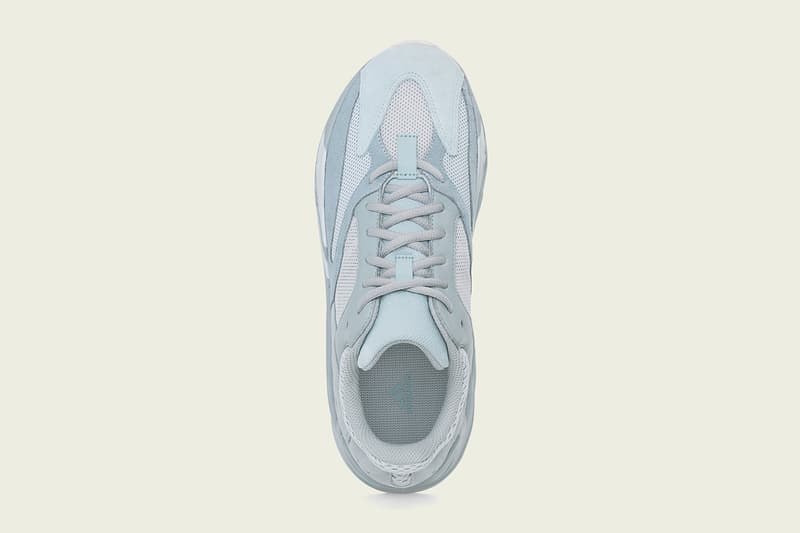 4 of 5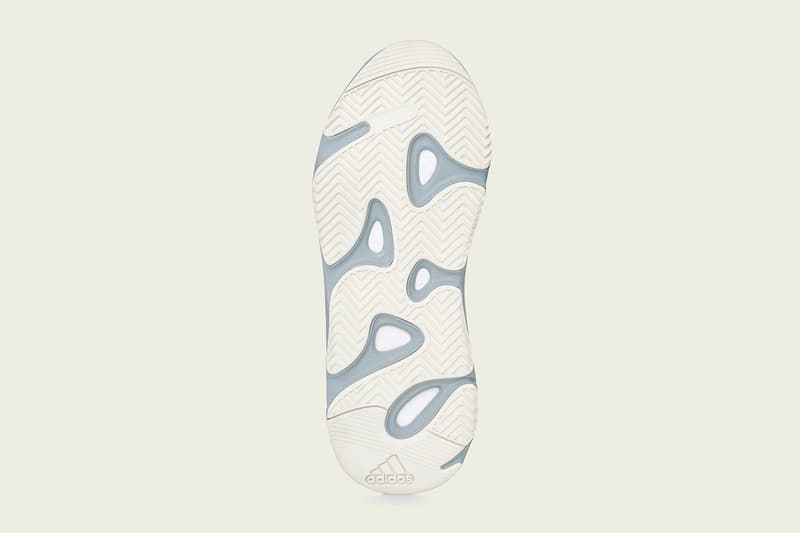 5 of 5
After images of the colorway first emerged at the end of 2018 — followed by an on-foot look earlier this month — adidas has announced the official release date of the YEEZY BOOST 700 "Inertia."
The sneaker features an upper constructed from premium leather, blue suede overlays, mesh underlays and coral heel detailling. This colorful upper is then finished with reflective hits on the heel and Three Stripe branding, all of which sits atop a cream gum sole, full-length boost midsole.
The adidas YEEZY BOOST 700 "Inertia" is set to get a full global release on March 9 and will priced at $300 USD. As with all YEEZY releases, the sneaker will be available from the adidas web store, YEEZY SUPPLY and other select retailers.
In other footwear news, adidas Spezial has unveiled its Spring/Summer 2019 lineup.
UNITED ARAB EMIRATES
ADIDAS ORIGINALS DUBAI MALL
THE DUBAI MALL
DUBAI
ADIDAS ORIGINALS MALL OF EMIRATES
MALL OF EMIRATES
DUBAI
CONCEPTS
39 AL SAFA STREET
DUBAI
LEVEL
THE DUBAI MALL
DUBAI
THE GOOD LIFE
UNIT G-64, ALSERKAL AVENUE
DUBAI
AMONGST FEW
PALM STRIP, JUMEIRAH BEACH ROAD
DUBAI
ARGENTINA
ADIDAS ORIGINALS MALABIA
MALABIA 1720
BUENOS AIRES
AUSTRIA
SOLEBOX
JASOMIRGOTTSTRASSE 6
VIENNA
THE 6TH FLOOR
KAERNTNER STRASSE 19
VIENNA
Australia
SNEAKERBOY – MELBOURNE
SHOP 265 LITTLE BOURKE STREET
MELBOURNE
ADIDAS ORIGINALS MELBOURNE EMPORIUM
287 LONSDALE STREET
MELBOURNE
CHADSTONE
1341 PRINCES HWY SERVICE RD
MELBOURNE
UP THERE
1/15 MCKILLOP ST
MELBOURNE
HIGHS & LOWS – BEAUFORT ST
UNIT 3, 544 BEAUFORT STREET
MOUNT LAWLEY
SNEAKERBOY – SYDNEY
3 TEMPERNACE LANE
SYDNEY
ADIDAS ORIGINALS SYDNEY CITY
S1013A, WESTFIELD SYDNEY, 188 PITT STREET
SYDNEY
SUBTYPE
SHOP 2, PALINGS LANE
SYDNEY
Belgium
AVENUE
IJZERENWAAG 1
ANTWERP
MONAR & CLOTHES
EVERDIJSTRAAT 35
ANTWERP
RENAISSANCE
NATIONALESTRAAT 32
ANTWERP
ADIDAS ORIGINALS STORE ANTWERP
KAMMENSTRAAT 45-47
ANTWERP
HUNTING AND COLLECTING
RUE DES CHARTREUX 17
BRUSSELS
LA CRÉME
RUE LESBROUSSART 43A
BRUSSELS
PANTHERS BRUSSEL
RUE ADOLPHE MAX 3
BRUSSELS
SMETS CONCEPT STORE
RUE DE NAMUR 68
BRUSSELS
SOLEBOX
BOULEVARD ADOLPHE MAX 86
BRUSSELS
Canada
ADIDAS OCS MARKVILLE
5000 HWY 7
MARKHAM
ADIDAS ORIGINALS MONTREAL
1238 RUE SAINTE-CATHERINE OUEST
MONTREAL
OFF THE HOOK
1021 STE CATHERINE OUEST
MONTREAL
SSENSE
418 ST. SULPICE STREET
MONTREAL
NRML
100 BAYSHORE DR
NEPEAN
NRML
184 RIDEAU STREET
OTTAWA
ADIDAS ORIGINALS TORONTO
389 QUEEN STREET WEST
TORONTO
ADIDAS BCS DUNDAS SQUARE
10 DUNDAS WEST
TORONTO
HAVEN
190 RICHMOND STREET E
TORONTO
LIVESTOCK
141 EAST PENDER ST.
TORONTO
LIVESTOCK
406 RONCESVAILLES AVENUE
TORONTO
LIVESTOCK
116 SPADINA AVENUE, UNIT G1
TORONTO
ADIDAS ORIGINALS VANCOUVER
848 GRANVILLE STREET
VANCOUVER
HAVEN
52 EAST CORDOVA STREET
VANCOUVER
LIVESTOCK
407 GRAHAM AVE
WINNIPEG
SWITZERLAND
TITOLO
NIEDERDORFSTR. 10
ZURICH
BOUTIQUE ROMA
PELIKANSTRASSE 6
ZURICH
Colombia
ADIDAS ORIGINALS CALLE 82
CALLE 82 # 13-20
BOGOTA
Cyprus
FIRST BOUTIQUE
IAKOVOU TOMPAZI 1
LIMASSOL
CZECH REPUBLIC
FOOTSHOP
TUSAROVA 31
PRAGUE
GERMANY
OVERKILL
KOEPENICKER STRASSE 195 A
BERLIN
SOLEBOX
NUERNBERGERSTRASSE 16
BERLIN
SOTO BERLIN
TORSTRASSE 72
BERLIN
VOO STORE
ORANIENSTRASSE 24
BERLIN
SNEAKERSNSTUFF
SCHÖNHAUSER ALLEE 6
BERLIN
WOOD WOOD
ROCHSTR. 4
BERLIN
ADIDAS ORIGINALS STORE BERLIN
MUENZSTRASSE 13-15
BERLIN
ASPHALTGOLD
FRIEDENSPLATZ 4
DARMSTADT
AGC
LUDWIGSPLATZ 8A
DARMSTADT
AFEW-STORE
OSTSTRASSE 36
DÜSSELDORF
UEBERVART
KLEINER HIRSCHGRABEN 14
FRANKFURT AM MAIN
43EINHALB
STIFTSTRASSE 36
FRANKFURT AM MAIN
43EINHALB
PETERSTOR 7
FULDA
BEASTIN
SCHANZENSTRASSE 52
HAMBURG
ALLIKE
VIRCHOWSTRASSE 2
HAMBURG
GLORY HOLE
MARKTSTRASSE 145
HAMBURG
SOLEBOX
ALTHEIMER ECK 6
MUNICH
BEASTIN
AMALIENSTRASSE 44
MUNICH
NEWSEUM BY CRÄMER AND CO.
BREITE GASSE 18
NUREMBERG
SUPPA
PAULINENSTR. 44
STUTTGART
DENMARK
WOOD WOOD
GULDSMEDGADE 22B
AARHUS
REZET
SONDERGARDE 70
AARHUS
STOY MUNKHOLM
STORE TORV 4
AARHUS
PHARMA
STRANDGATEN 86
BERGEN
NAKED
PILESTRÆDE 46
COPENHAGEN
NAKED
KLOSTERSTRÆDE 10
COPENHAGEN
NORSE PROJECT
PILESTRÆDE 41
COPENHAGEN
WOOD WOOD
GRØNNEGADE 1
COPENHAGEN
REZET
RÅDHUSSTRÆDE 7
COPENHAGEN
REZET
JORCKS PASSAGE 42A
COPENHAGEN
STORM
STORE REGNEGADE 1
COPENHAGEN
ADIDAS ORIGINALS STORE COPENHAGEN
PILESTRÆDE 8B
COPENHAGEN
CALIROOTS
SÖDRA LARMGATAN 11
GOTEBORG
REZET
VESTERGARDE 23
ODENSE
SPAIN
SIVASDESCALZO
CALLE BAILEN, 18
BARCELONA
LIMITEDITIONS
CALLE DUC, 13
BARCELONA
LIMITEDITIONS
CALLE RERA PALAU 7
BARCELONA
FOOT DISTRICT
CARRER DE LLEONA, 4
BARCELONA
24 KILATES
C/ COMERÇ, 29
BARCELONA
ADIDAS ORIGINALS STORE BARCELONA
CARRER AVINYÓ 6
BARCELONA
SIVASDESCALZO
CALLE CHURRUCA, 5
MADRID
MINI
C/ DEL LIMÓN, 24
MADRID
FOOT DISTRICT
CALLE VALVERDE, 35
MADRID
NIGRA MERCATO
C/ LOPE DE VEGA, 29
MADRID
ELITE
CONJUNTO BENABOLÁ, 8
MARBELLA
STRAP
AV. DE BLASCO IBAÑEZ 33
VALENCIA
FTL BY STRAP
C/ GASCÓ OLIAG, 8
VALENCIA
FINLAND
BEAMHILL
YLIOPISTONKATU 5
HELSINKI
BEYOND
KAISANIEMENKATU 4
HELSINKI
FRANCE
THE NEXT DOOR
9 PLACE CRILLON
AVIGNON
LE RAYON FRAIS
11-15 RUE SAINT-JAMES
BORDEAUX
SNEAKERIUM
116 RUE D´ANTIBES
CANNES
LE BUZZ LAB
18 RUE DE LA CLEF
LILLE
SUMMER
1, PLACE GAILLETON
LYON
SHOEZ GALLERY – DOPE
15 B RUE D´ALGÉRIE
LYON
CORNER STREET
30 RUE DE ROME
MARSEILLE
HELIUM
17 RUE DU PALAIS
METZ
MANIFEST
31 BOULEVARD DU JEU DE PAUME
MONTPELLIER
IMPACT
18 RUE DES BOULANGERS
MULHOUSE
ANROSA
8 RUE DES TROIS CROISSANTS
NANTES
MILK
4 RUE DE LA PAIX
NANTES
NINE
9 AVENUE JEAN MEDECIN
NICE
IMPACT
15 RUE DE LÉPANTE
NICE
STARCOW
62 RUE SAINT HONORÉ
PARIS
ARCHIVE 18-20
20 RUE DES ARCHIVES
PARIS
CITADIUM
56 RUE DE CAUMARTIN
PARIS
CITADIUM
65 AVE DES CHAMPS ELYSEES
PARIS
GALERIES LAFAYETTE
40 BD HAUSSMANN
PARIS
OPIUM
19 RUE PIERRE LESCOT
PARIS
LE HUB BASTILLE
2 RUE DU FAUBOURG SAINT ANTOINE
PARIS
THE NEXT DOOR
10 RUE BEAUREPAIRE
PARIS
SHINZO
39 RUE ETIENNE MARCEL
PARIS
FOOTPATROL LTD
45 RUE DE TEMPLE
PARIS
SNEAKERSNSTUFF
95 RUE RÉAUMUR
PARIS
ADIDAS BRAND FLAGSHIP STORE PARIS CHAMPS ELYSÉES
22 AVENUE DES CHAMPS ELYSÉES
PARIS
ADIDAS ORIGINALS STORE PARIS
3 TER RUE DES ROSIERS
PARIS
UNITED LEGEND
23 RUE DE LA NUÉE BLEUE
STRASBOURG
VIBE
12 RUE AUGUSTIN DAUMAS
TOULON
UNITED KINGDOM
HANON
51 THE GREEN, CITY CENTRE
ABERDEEN
CONSORTIUM
14 ALBERT ROAD
BOURNEMOUTH
BROWN THOMAS (OFFSPRING)
88 – 95 GRAFTON STREET
DUBLIN
ENDCLOTHING
196 INGRAM STREET
GLASGOW
HIP
84-86 VICAR LN
LEEDS
WELLGOSH
34 HIGH STREET
LEICESTER
SEVEN
6 PARADISE ST
LIVERPOOL
FOOTPATROL LTD
80 BERWICK STREET
LONDON
SNEAKERSNSTUFF
107-108 SHOREDITCH HIGH STREET
LONDON
OFFSPRING (SELFRIDGES)
400 OXFORD ST, MARYLEBONE
LONDON
OFFSPRING LONDON
104 COMMERCIAL STREET
LONDON
ENDCLOTHING
59 BROADWICK STREET
LONDON
DOVER STREET MARKET
18-22 HAYMARKET
LONDON
18 MONTROSE
6-8 STABLE ST, KINGS CROSS
LONDON
BROWNS
24-27 SOUTH MOLTON STREET
LONDON
HARRODS
87-135 BROMPTON ROAD
LONDON
MR PORTER
1 THE VILLAGE OFFICES
LONDON
GOODHOOD
151 CURTAIN RD
LONDON
HARVEY NICHOLS (LONDON)
109-125 KNIGHTSBRIDGE
LONDON
MATCHES
87 MARYLEBONE HIGH ST
LONDON
NET A PORTER
1 THE VILLAGE OFFICES
LONDON
PAM PAM
129 BETHNAL GREEN ROAD
LONDON
ADIDAS ORIGINALS FLAGSHIP STORE LONDON
15 HANBURY STREET
LONDON
ADIDAS ORIGINALS STORE LONDON
15 FOUBERTS PLACE
LONDON
HERVIA
40 SPRING GARDENS
MANCHESTER
ENDCLOTHING
133 – 137 GRAINGER STREET,
NEWCASTLE
18 MONTROSE
58 BRIDLESMITH GATE
NOTTINGHAM
Greece
ADIDAS ORIGINALS STORE ATHENS
ATHINAIDOS ST. & 5, KALAMIOTOU ST
ATHENS
PHAT SOLES
KORNAROU 7
ATHENS
PHAT SOLES
LEOF. DIMARCHOU AGGELOU METAXA 27-29
GLYFADA
SIMPLE CARACTERE
KIRIAZI 23
KIFISIA
DEVICEONE
38 PAVLOU MELA STR.
THESSALONIKI
HONG KONG
ADIDAS ORIGINALS – FOREST NH
SHOP G7,G8 & 114 THE FOREST, 17 NELSON STREET, MONG KOK
HONG KONG
ADIDAS ORIGINALS – K11
NO.18 HANOI ROAD, TSIM SHA TSUI
HONG KONG
ADIDAS ORIGINALS – NTP
NEW TOWN PLAZA, SHATIN
HONG KONG
ADIDAS ORIGINALS – MACAU
MACAU
HONG KONG
ORIGINALS FLAGSHIP CAUSEWAY BAY
ADIDAS ORIGINALS STORE HONG KONG CAUSEWAY BAY
HONG KONG
BRAND FLAGSHIP QUEEN ROAD CENTRAL
ADIDAS BRAND CENTER QUEEN ROAD CENTRAL
HONG KONG
ADIDAS ORIGINALS TSIM SHA TSUI
ADIDAS STORE HONG KONG TSIM SHA TSUI OCEAN TERMINAL
HONG KONG
BRAND FLAGSHIP TSIM SHA TSUI
ADIDAS SPORT PERFROMANCE FLAGSHIP HANKOW ROAD TSIM SHA TSUI
HONG KONG
BCS – OCEAN TERMINAL
ADIDAS STORE HONG KONG TSIM SHA TSUI OCEAN TERMINAL
HONG KONG
BCS – LANGHAM PLACE
LANGHAM PLACE, MONG KOK
HONG KONG
BCS – CAUSEWAY BAY
NO.2- 20, PATERSON STREET, FASHION WALK, CAUSEWAY BAY
HONG KONG
HUNGARY
FOOTSHOP
KRISTÓF TÉR 4
BUDAPEST
ICONS BY BIZANC
PETOFI SANDOR UTCA 20
BUDAPEST
INDONESIA
PACIFIC PLACE
PACIFIC PLACE JAKARTA, PACIFIC PLACE, JL. JEND. SUDIRMAN NO.52-53, RT.5/RW.2F, SENAYAN, KEBAYORAN BARU, SOUTH JAKARTA CITY
JAKARTA
ODD GRAND INDONESIA
JL. MH THAMRIN NO1, GRAND INDONESIA, 2ND FLOOR, SKY BRIDGE SB 2-17, JAKARTA PUSAT 10310
JAKARTA
HIDE PLAZA SENAYAN
1, RT.1/RW.3, GELORA, TANAH ABANG
JAKARTA
ISRAEL
FACTORY54
NA
NA
ADIDAS ORIGINALS GINDI FASHION MALL
HAHASHMONAIM ST 100
TEL AVIV
NOT FOR SALE
MERKAZ BA´ALEI MELAHA ST 3
TEL AVIV
SNEAKER BOX
BEN YEHUDA ST 225
TEL AVIV
INDIA
ADIDAS ORIGINALS BRIGADE ROAD
MUNICIPAL-215 (OLD-3), BRIGADE CIVIL STATION
BANGALORE
ADIDAS ORIGINALS SEC 17 CHANDIGARH
ROUND FLOOR, SCO – 6 , SECTOR 17E, NEAR NEELAM CINEMA LANE,
CHANDIGARH
ADIDAS ORIGINALS PROMENADE MALL
DLF PROMENADE MALL, VASANT KUNJ
DELHI
ADIDAS ORIGINALS LINKING ROAD
LINKING ROAD-2, SANTACRUZ (WEST)
MUMBAI
ADIDAS ORIGINALS PHOENIX PUNE
PHOENIX MARKETCITY, VIMAN NAGAR
PUNE
Iceland
HÚRRA
HVERFISGATA 50
REYKJAVIK
ITALY
LILIANA QUARANTA
CORSO CAVOUR, 142
ANDRIA
SUGAR
CORSO ITALIA 19
AREZZO
BOTTEGA BACKDOOR
PIAZZA GALILEO GALILEI 3A
BOLOGNA
ONE-OFF (FOLLI FOLLIE)
VIA GRAMSCI, 53
BRESCIA
RAIL
VIA S. MARTINO DELLA BATTAGLIA, 5A
BRESCIA BS
ERALDO
VIA ROMA 92
CEGGIA
SLAMJAM FERRARA
VIA FRANCESCO FERRARI, 37/A
FERRARA
LUISA VIA ROMA
VIA ROMA 19/21R
FLORENCE
SOTF
VIA DE´ TORNABUONI 17/R
FLORENCE
SUSI STORE
VIA VIALE UMBERTO I
LATINA
VINICIO
VIA FELICE MUSAZZI, 2
LEGNANO MI
JULIAN FASHION
VIALE G. MATTEOTTI, 31
MILAN
SLAMJAM MILAN
VIA GIOVANNI LANZA 1
MILAN
ANTONIA MILANO
VIA CUSANI 5
MILAN
RINASCENTE
PIAZZA DEL DUOMO
MILAN
ONE BLOCK DOWN
PIAZZA ARMANDO DIAZ, 2
MILAN
PAR5
VIA PIO IV 1
MILAN
SPECIAL
CORSO DI PORTA TICINESE 80
MILAN
SPECTRUM
VIA FELICE CASATI, 29
MILAN
INNER
VIA PASQUALE PAOLI 1
MILAN
ADIDAS ORIGINALS STORE MILAN
VIA ALESSIO DI TOCQUEVILLE 11
MILAN
COTTON CLUB
VIA LAMBRO, 1
MONZA
DELIBERTI
VIA DEI MILLE, 65
NAPLES
BLACK BOX
VIA SOLIMENA 99A
NAPLES
DEGLI EFFETTI
PIAZZA CAPRANICA, 93
ROME
SUEDE
VIA DEI SERPENTI, 127
ROME
HOLYPOP STORE
VIA DEL VANTAGGIO, 46
ROME
BLACK BOX
VIA DEL GAMBERO 7 A
ROME
URBAN STAR
VIA ENRICO FERMI, 91/93
ROME
SNEAKERS 76
VIA VINCENZO PUPINO, 43
TARANTO
HANNIBAL
VIA ACCADEMIA DELLE SCIENZE, 1
TURIN
ANTONIOLI
19, PIAZZA CARLO EMANUELE II, 19
TURIN
JAPAN
BCS – JAPAN, NAGOYA
3-14-15 SAKAE, NAKA-KU
AICHI
UNDEFEATED OSAKA
1-15-13 MINAMI-HORIE
OSAKA
BILLYS ENT OSAKA
1-9-1 MINAMIHORIE
OSAKA
ATMOS NANBA
1-6-12 NANBA
OSAKA
OCS – JAPAN, OSAKA, SHINSAIBASHI
1-15-14 NISHISHINSAIBASHI
OSAKA
MITA SNEAKERS
AMEYOKO CENTER BLDG 2F 4-7-8 UENO
TOKYO
STYLES DAIKANYAMA
1F MAISON DAIKANYAMA, 11-8 SARUGAKUCHO
TOKYO
UNDEFEATED SHIBUYA
5-29-8 JINGUMAE SHIBUYA-KU TOKYO
TOKYO
UNITED ARROWS & SONS
B1-1F, UNITED ARROWS HARAJUKU FOR MEN 3-28-1 JINGUMAE
TOKYO
ISETAN SHINJUKU
3-14-1 SHINJUKU
TOKYO
GR8
1-11-6 JINGUMAE
TOKYO
BEAMS HARAJYUKU STORE
3-24-7 JINGUMAE
TOKYO
BILLYS ENT TOKYO SHIBUYA
6-23-7 JINGUMAE
TOKYO
BILLYS ENT HARAJUKU
1F 4-28-20 JINGUMAE
TOKYO
BILLYS ENT SHINJUKU
3-34-12 SHINJUKU
TOKYO
BEDWIN
2-22-1 JINGUMAE
TOKYO
ATMOS BLUE OMOTESANDO
6-23-2 JINGUMAE
TOKYO
ATMOS SHIBUYA
31-8 UDAGAWACHO
TOKYO
ATMOS SHINJUKU
4-1-1 SHINJUKU
TOKYO
KICKS LAB.
HTS BLDG 1F&2F 4-32-5 JINGUMAE
TOKYO
ORIGINALS FLAGSHIP SHIBUYA
JINGUMAE TAURUS, 5-17-4 JINGUMAE, SHIBUYA-KU
TOKYO
OCS – JAPAN, TOKYO, AOMI DIVER CITY
3F DIVERCITY TOKYO PLAZA, 1-1-10 AOMI
TOKYO
OCS – JAPAN, TOKYO, GINZA
5F GINZA SIX, 6-10-1 GINZA
TOKYO
BCS – JAPAN, TOKYO, SHINJUKU
1-3F, 3-27-4 SHINJUKU
TOKYO
KOREA, REPUBLIC OF
KASINA HAEUNDAE
257, HAEUNDAEHAEBYEON-RO
BUSAN
ADIDAS ORIGINALS FLAGSHIP STORE SEOUL
13, APGUJEONG-RO 50-GIL
SEOUL
ADIDAS ORIGINALS STORE SEOUL MYUNGDONG
20, MYEONGDONG 8NA-GIL
SEOUL
ADIDAS ORIGINALS STORE SEOUL HONGDAE
27, HONGIK-RO 6-GI
SEOUL
DAS107 BY KASINA
74, WAUSAN-RO
SEOUL
KASINA 1997
13, EONJU-RO 164-GIL
SEOUL
KASINA VELVET TRUNK (SUNGSOO)
25, YEONMUJANG-GIL
SEOUL
COMMES DES GARCONS SEOUL
261, ITAEWON-RO
SEOUL
BEAKER CHEONGDAM FLAGSHIP
408, APGUJEONG
SEOUL
BEAKER HANNAM FLAGSHIP
241, ITAEWON-RO
SEOUL
BOON THE SHOP CHUNGDAM / CASESTUDY
25, APGUJEONG-RO 60-GIL
SEOUL
10 CORSO COMO CHEONGDAM
416, APGUJEONG-RO
SEOUL
10 CORSO COMO AVENUEL
73, NAMDAEMUN-RO
SEOUL
G.STREET HOMME+
4TH FLOOR, GALLERIA WEST, 343, APGUJEONG-RO
SEOUL
KUWAIT
ADIDAS ORIGINALS THE AVENUES
THE AVENUES MALL
KUWAIT CITY
ADIDAS ORIGINALS AL KOUT
AL KOUT MALL
KUWAIT CITY
LEBANON
ADIDAS ORIGINALS DOWNTOWN
PORT 170, SAAD ZAGHLOUL STREET
BEIRUT
THE GOOD LIFE
151 ABDEL WAHAB IL INGLIZI STREET
BEIRUT
LUXEMBOURG
SMETS CONCEPT STORE
262 ROUTE DARLON
STRASSEN
MOROCCO
ADIDAS ORIGINALS MOROCCO MALL
MOROCCO MALL
CASABLANCA
Mexico
ADIDAS ORIGINALS PERISUR
PERIFÉRICO SUR 4690
ALVARO OBREGÓN
ADIDAS ORIGINALS FLAGSHIP CONDESA
ATLIXCO 91
MEXICO CITY
LUST
AV. PRESIDENTE MASARYK, 311
MIGUEL HIDALGO
MALAYSIA
ADIDAS ORIGINALS KLCC
313B & 315, SURIA KLCC, KUALA LUMPUR CITY CENTRE
KUALA LUMPUR
PAVILION
LOT 4.51.00, LEVEL 4, PAVILION KL, 168, JLN BUKIT BINTANG
KUALA LUMPUR
SOLE WHAT
S229 THE GARDENS MALL, MID VALLEY CITY
KUALA LUMPUR
CROSSOVER
LOT T-025, 3RD FLOOR, MID VALLEY MEGAMALL, SOUTH COURT
KUALA LUMPUR
NETHERLANDS
PATTA
ZEEDIJK 67
AMSTERDAM
BASKETS
GERARD DOUSTRAAT 96
AMSTERDAM
FOUR BY AZZURRO
PIETER CORNELISZ HOOFTSTRAAT 127
AMSTERDAM
HOMBRE
JAN EVERTSENSTRAAT 70
AMSTERDAM
MAHA
VIJZELSTRAAT 129
AMSTERDAM
SOLEBOX
NIEUWEZIJDS VOORBURGWAL 240
AMSTERDAM
ADIDAS ORIGINALS STORE AMSTERDAM
LEIDSESTRAAT 7
AMSTERDAM
LABELS
PUTSTRAAT 12
HL SITTARD
ANSH46
VAN OLDENBARNEVELTSTRAAT 99
ROTTERDAM
WOEI
HOOGSTRAAT 65-A
ROTTERDAM
CONCRETE
PAPESTRAAT 17
THE HAGUE
CALICO JACK
PARADE 45
VENLO
NORWAY
YME STUDIOS
KARL JOHANS GATE 39
OSLO
STRESS
GRENSEN 19
OSLO
NEW ZEALAND
LOADED
206 BROADWAY
AUCKLAND
BRITOMART
60 GALWAY STREET
AUCKLAND
PANAMA
ADIDAS ORIGINALS MULTIPLAZA
VÍA ISRAEL – CENTRO COMERCIAL MULTIPLAZA
PANAMA
PERU
ADIDAS ORIGINALS ESPINAR
AV. COMANDANTE ESPINAR 301, MIRAFLORES
LIMA
PHILIPPINES
COMMONWEALTH AURA
167 UPPER GROUND FLOOR SM AURA, FORT BONIFACIO, NCR, FOURTH DISTRICT, TAGUIG CITY
TAGUIG
SOLE ACADEMY BGC
UNIT NO. 763-765, GROUND FLOOR B2, BONIFACIO HIGH STREET
TAGUIG
ADIDAS ORIGINALS BONIFACIO HIGH STREET
5TH AVE., GF, C1, BONIFACIO HIGH STREET CENTRAL
TAGUIG CITY
POLAND
SNEAKER STUDIO
STAROWISLNA 55/3
CRACOW
LAB CHMIELNA 20
CHMIELNA 20
WARSAW
VITKAC
BRACKA 9
WARSAW
PORTUGAL
WRONG WEATHER
AV. DA BOAVISTA 754
PORTO
QATAR
ADIDAS ORIGINALS MALL OF QATAR
MALL OF QATAR
DOHA
ADIDAS ORIGINALS FESTIVAL CITY
FESTIVAL CITY MALL
DOHA
ROMANIA
TIKE
STRADA DOAMNEI 12
BUCHAREST
SERBIA
TIKE
KRALJA PETRA 24 STR.
BELGRADE
RUSSIAN FEDERATION
OUTPAC
CHISTOPOLSKAYA STREET 61A
KAZAN
BRANDSHOP
PETROVSKY BULVAR, 21
MOSCOW
KM-20
STOLESHNIKOV LANE, 2
MOSCOW
ADIDAS ORIGINALS TSVETNOY
TSVETNOY BULVAR, 15
MOSCOW
ADIDAS ORIGINALS FLAGSHIP STORE MOSCOW
KUZNETSKIY MOST 6/3
MOSCOW
TSUM
PETROVKA, 2
MOSCOW
ADIDAS ORIGINALS GALEREYA
LIGOVSKIY PROSPEKT 30A
SAINT PETERSBURG
NEVSKY 152
NEVSKIY PROSPEKT 152
SAINT PETERSBURG
DLT
BOLSHAYA KONUSHENNAYA, 21-23, А
SAINT PETERSBURG
SAUDI ARABIA
ADIDAS ORIGINALS RED SEA MALL
RED SEA MALL, KING ABDULAZIZ BRANCH ROAD
JEDDAH
ADIDAS ORIGINALS THALIA STREET
TAHLIAH STREET
RIYADH
SWEDEN
SHELTA
ANDRA LÅNGGATAN 21
GOTEBORG
TRÈS BIEN SHOP
FERSENS VÄG 20
MALMÖ
SNEAKERSNSTUFF
ÅSÖGATAN 124
STOCKHOLM
APLACE
NORRLANDSGATAN 11
STOCKHOLM
C-STORE
REGERINGSGATAN 77
STOCKHOLM
C-STORE
BRUNNSGATAN 9
STOCKHOLM
PAUL & FRIENDS
REGERINGSG. 55
STOCKHOLM
FOOTISH
ÖSTRA ÅGATAN 9
UPPSALA
SINGAPORE
LIMITED EDT
10 BAYFRONT AVE
SINGAPORE
ADIDAS ORIGINALS PACIFIC PLAZA
9 SCOTTS ROAD
SINGAPORE
PEDDER
SCOTTS SQUARE, #02-03 TO 16, 6 SCOTTS RD
SINGAPORE
SLOVAKIA
FOOTSHOP
CULENOVA 9
BRATISLAVA
THAILAND
ADIDAS ORIGINALS SIAM CENTRE
SIAM CENTER,979 RAMA 1 RD, PATHUM WAN
BANGKOK
ADIDAS ORIGINALS SIAM ICON
92 CHAROEN NAKHON ROAD KHWAENG KHLONG TON SAI, KHET KHLONG SAN, KRUNG THEP MAHA NAKHON
BANGKOK
CENTRAL WORLD
999/9 RATCHADAMRI RD, KHWAENG PATHUM WAN, KHET PATHUM WAN
BANGKOK
CARNIVAL
428 SIAM SQUARE, SOI 7 PATHUM WAN
BANGKOK
TURKEY
290 SQM
ŞAIR NEDIM CADDESI NO: 20 D AKARETLER, ISTANBUL
ISTANBUL
SHOPIGO
AHMET FETGARI SOK. NO:62, TEŞVIKIYE MAH ŞIŞLI
ISTANBUL
VAKKORAMA
KUŞBAKIŞI CADDESI NO: 35 NAKKAŞTEPE, ÜSKÜDAR
ISTANBUL
WUNDER
CAFERAGA MAH., MODA BOSTANI SK. 26C D:1 KADIKÖY
ISTANBUL
LES BENJAMINS
AKKAVAK SOKAK. NO:16 TEŞVIKIYE, ŞIŞLI
ISTANBUL
TAIWAN
INVINCIBLE SOUTH
DERSHUN ST.
KAOHSIUNG
ADIDAS ORIGINALS STORE WEN HENG KAOHSIUNG
WENHENG 2ND RD
KAOHSIUNG
INVINCIBLE CENTRAL
MEICUN RD.
TAICHUNG
ADIDAS ORIGINALS STORE GONG YI TAICHUNG
GONGYI RD
TAICHUNG
JUICE TAIPEI
DUNHUA S RD
TAIPEI
JUICE TAIPEI 2
FUJIN STREET
TAIPEI
INVINCIBLE EAST
ZHONGXIAO E. RD.
TAIPEI
INVINCIBLE FRUITION
ZHONGXIAO E. RD.
TAIPEI
ADIDAS ORIGINALS STORE ZHONG XIAO TAIPEI
ZHONGXIAO E. RD.
TAIPEI
ADIDAS ORIGINALS STORE NAN XI TAIPEI
ZHONGSHAN N. RD
TAIPEI
UNITED STATES
A MA MANIERE
969 MARIETTA STREET STE 200
ATLANTA
WISH
447 MORELAND AVE.
ATLANTA
NICE KICKS
2815 GUADALUPE ST
AUSTIN
SNEAKER POLITICS
W.2ND STREET
AUSTIN
SNEAKER POLITICS
7566 BLUEBONNET BLVD.
BATONROUGE,LA
BLENDS
217 SOUTH BEVERLY DR.
BEVERLY HILLS
BODEGA
6 CLEARWAY ST.
BOSTON
CONCEPTS ADIDAS STORE
73 NEWBURY ST
BOSTON
KITH
233 FLATBUSH AVE.
BROOKLYN
ADIDAS
1 HOYT STREET
BROOKLYN
CONCEPTS
37 BRATTLE ST.
CAMBRIDGE
SOCIAL STATUS
1519 CENTRAL AVE
CHARLOTTE
ADIDAS
2000 ROUTE 38 SUITE 1640
CHERRY HILL
RSVP GALLERY
1753 N. DAMEN
CHICAGO
SAINT ALFRED
1531 N. MILWAUKEE AVE.
CHICAGO
NOTRE SHOP
5201 N CLARK ST.
CHICAGO
ADIDAS ORIGINALS
1532 N MILWAUKEE
CHICAGO
ADIDAS
845 N. MICHIGAN AVE. SUITE 4065
CHICAGO
XHIBITION
2068 W 25TH ST.
CLEVELAND
BLENDS
2930 BRISTOL ST. B104
COSTA MESA
ADIDAS ORIGINALS
3333 BEAR STREET #347
COSTA MESA
BAIT
1962 BLAKE STE. 100
DENVER
BAIT
2753 S DIAMOND BAR BLVD. STE. B
DIAMOND BAR
ADIDAS
90-15 QUEENS BLVD
ELMHURST
ADIDAS
630 OLD COUNTRY SPACE #1112
GARDEN CITY
SOCIAL STATUS
602 ELM ST.
GREENSBORO
ADIDAS
HOUSTON GALLERIA IV 5135 W ALABAMA SPACE 5350
HOUSTON
ADIDAS
650 SPECTRUM CENTER DRIVE
IRVINE
PACKER SHOES
382 MARIN BLVD.
JERSEY CITY
UNDFTD
4480 PARADISE ROAD STE. 400
LAS VEGAS
FEATURE
3735 W SPRING MOUNTAIN RD. #205
LAS VEGAS
ADIDAS
3791 S. LAS VEGAS BLVD.
LAS VEGAS
SNEAKER POLITICS
131 ARNOULD BLVD.
LAYAYETTE
PROPER
425 E. 1ST ST.
LONG BEACH
BAIT
7708 MELROSE AVE.
LOS ANGELES
BODEGA
1320 E 7TH ST
LOS ANGELES
COMMONWEALTH
2008 E 7TH ST
LOS ANGELES
KITH
8500 SUNSET BLVD
LOS ANGELES
NICE KICKS
862 S MAIN ST.
LOS ANGELES
RSVP GALLERY
905 S HILL ST
LOS ANGELES
UNDFTD
111 SOUTH LA BREA AVE.
LOS ANGELES
UNDFTD
3827 WEST SUNSET BLVD.
LOS ANGELES
OPENING CEREMONY
451 N. LA CIENEGA BLVD.
LOS ANGELES
BLENDS
725 S. LOS ANGELES ST.
LOS ANGELES
ADIDAS ORIGINALS
8009 MELROSE AVE
LOS ANGELES
ADIDAS ORIGINALS
1349 ABBOT KINNEY BOULEVARD
LOS ANGELES
ADIDAS
102500 SANTA MONICA BLVD SUITE #2510
LOS ANGELES
HERSCHLIFERS
2080 NORTHERN BLVD.
MANHASSET
FOSTER
3213 17TH ST #1
METAIRIE
SHOE GALLERY
244 NE 1ST AVE.
MIAMI
ADIDAS
7535 N KENDALL DR SPACE #1630A
MIAMI
KITH
1931 COLLINS AVE
MIAMI BEACH
ADIDAS ORIGINALS
226 8TH STREET
MIAMI BEACH
CLICKS N KICKS
1916 E CAPITOL
MILWAUKEE
ROOTED
62 HERMITAGE AVE
NASHVILLE
ALIFE
158 RIVINGTON ST.
NEW YORK
BBC
456 W BROADWAY
NEW YORK
CONCEPTS
225 HUDSON ST.
NEW YORK
KITH
337 LAYFAYETTE ST
NEW YORK
EXTRA BUTTER
125 ORCHARD ST.
NEW YORK
OPENING CEREMONY
35 HOWARD ST.
NEW YORK
OPENING CEREMONY
1190-1192 BROADWAY
NEW YORK
MR. PORTER
ECOM
NEW YORK
ADIDAS
565 5TH AVE
NEW YORK
ADIDAS
SPORTS PERFORMANCE STORE 610 BROADWAY
NEW YORK
ADIDAS ORIGINALS
115 SPRING STREET
NEW YORK
SNEAKERSNSTUFF
22 LITTLE W 12TH ST
NEW YORK CITY
JEFFERY
449 W 14TH ST
NEW YORK CTY
CRÈME
300 MONTICELLO AVE.
NORFOLK
CRÈME
321 W 21ST ST.
NORFOLK
BAIT
2812 E CHAPMAN AVE.
ORANGE
UBIQ
1509 WALNUT ST.
PHILADELPHIA
LAPSTONE AND HAMMER
1106 CHESTNUT ST
PHILADELPHIA
UNDFTD
4412 N CENTRAL AVE
PHONIX
SOCIAL STATUS
717 LIBERTY AVE STE 106
PITTSBURGH
SOCIAL STATUS
5929 PENN AVE
PITTSBURGH
BAIT
818 SW BROADWAY
PORTLAND
SOCIAL STATUS
308 PARHAM ST
RALEIGH
EXTRA BUTTER
266 MERRICK RD
ROCKVILLE CENTRE
BAIT
920 5TH AVE.
SAN DIEGO
BAIT
3162 16TH ST.
SAN FRANCISCO
NICE KICKS
1420 HAIGHT ST.
SAN FRANCISCO
STASHED
2360 3RD ST
SAN FRANCISCO
UNDFTD
516 HAYES ST.
SAN FRANCISCO
ADIDAS
845 MARKET STREET SUITE 121 & 211
SAN FRANCISCO
BLENDS
719 8TH AVE.
SANDIEGO
BLENDS
200 EAST 4TH ST.
SANTA ANA
UNDFTD
2654 MAIN ST.
SANTA MONICA
ADIDAS
1337 THIRD STREET PROMENADE
SANTA MONICA
BAIT
915 EAST PIKE ST.
SEATTLE
XHIBITION
3407 TUTTLE ROAD
SHAKER HEIGHTS
PACKER SHOES
941 TEANECK RD.
TEANECK
COMMONWEALTH
1781 FLORIDA AVE.
WASHINGTON DC
A MA MANIERE
1214 H STREET NE
WASHINGTON DC
UBIQ
3124 M ST NW
WASHINGTON DC
MAJOR
1426 WISCONSIN AVE.
WASHINGTON DC
VIETNAM
ROYAL CITY (HANOI)
B1-R3-11, VINCOM ROYAL CITY, 72 NGUYEN TRAI ST., THANH XUAN DIST, HANOI
HANOI
BITEXCO
BITEXCO FINANCIAL TOWER, 2 HAI TRIEU STREET, BEN NGHE WARD, DISTRICT 1
HO CHI MINH CITY
SOUTH AFRICA
ADIDAS ORIGINALS SANDTON
CNR RIVONIA & 5 STREET
CAPE TOWN
SHELFLIFE
167 LONGMARKET STREET
CAPE TOWN
ADIDAS ORIGINALS WATERFRONT
DOCK ROAD
JOHANNESBURG
SHELFLIFE
21 KEYES AVENUE, ROSEBANK
JOHANNESBURG
adidas YEEZY BOOST 700 "Inertia"
Join Our Discussions on Discord
The HYPEBEAST Discord Server is a community where conversations on cultural topics can be taken further.