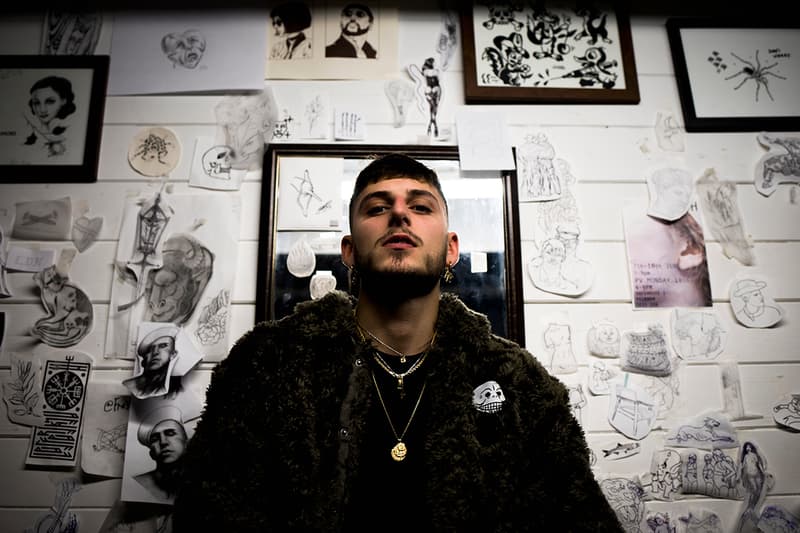 Meet the Tattoo Artists Shaping London's Eclectic Scene
How these artists are champion tattooing tradition, providing an LGBTQ+ safe space and more.
---
London's tattoo scene is arguably one of the world's most diverse. Home to everyone from living legends to progressive visionaries, the city is an artist's mecca that offers them the ability to express their true talent, honing their skills and individual aesthetic. London offers plenty of demand too, growing with society as perspectives towards tattoos continue to progress forward.
Today, the tattooing network goes far beyond word-of-mouth. Artists can instead gain prominence on Instagram, showcasing their designs to thousands — if not millions — of potential clients. And that social media network combined with the high caliber of talent in London means the city's scene now houses some of the industry's best, with artists spurring each other on in healthy competition.
To gain insight into the contemporary tattooing world, HYPEBEAST interviews four of London's best artists from four distinct areas within the capital. In the South, Gabriele Fiorenza –  aka Fresh Flower — showcases their stunning use of the single needle at K-ink Peckham, while Clare Frances of Old Habits in Haggerston heads up East London's gritty, expressive energy with lashings of love. In Soho, Darryl Gates of Diamond Jacks — the West End's longest-running parlor — continues to hold Central London's flame as the home of traditional tattooing, and in West London, we find Mike Boyd at The Circle representing a contemporary take on traditional designs with their abstract interpretations.
How would you describe your style?
Gabriele Fiorenza, K-ink Peckham: If I had to define my style, honestly I'd say it's pretty weird, with hints of traditional and surrealism. I trained in traditional tattooing, and then I was able to learn and move into a style that represents me most from a technical point of view. Time has been crucial to developing my style, taking influence from the city and the people that surround me. I now focus on single needlework which I think represents my personality well — high attention to detail with a touch of flair.
Clare Frances, Old Habits Tattoo: Hard and fast, fun and absurd. Not your mum's tattoos.
Darryl Gates, Diamond Jacks: My style is directly influenced by Dennis Cockell (the original owner of Diamond Jacks), Ed Hardy, Dave Gibson, Sailor Jerry… Those guys were giants throughout the '70s, '80s and '90s. My Japanese is influenced by Kazuo Oguri (Gifu Horihide) and I use one mentor to remain true to his style.
Mike Boyd, The Circle: It's a cross of all my influences throughout my life. I have a soft spot for the French movement at the beginning of the 20th century, where the cubist and abstract movement was taking off. I grew up reading a lot of 2000 AD comics and loved the heavy black lines and illustrative feel of comics. I messed around with graffiti and found my love for bright colors during that point in my life.
How did you get into tattooing?
Gabriele Fiorenza: I always drew and painted as a child, but took inspiration from my mum who is creative. I'd also have to say my Nonno (Grandad) who was a tailor influenced me greatly. Throughout school I studied architecture and taken part in life drawing and pottery,  becoming interested in tattooing by drawing custom ideas for friends. I had always loved the idea of moving to London, wanting to sell custom work and get involved with anything to do with tattooing. After nine months of living in East London — and constantly searching — I was lucky enough to find a shop that gave me the opportunity to start an apprenticeship.
Clare Frances: I did a traditional apprenticeship.
Darryl Gates: I got into tattooing because I grew up with Motley Crue, AC/DC and Guns N' Roses, playing guitar in several bands all around Soho. All the rockers back in the day would be in one of those places [nearby pubs] during the '80s and '90s. I started getting tattooed at Diamond Jacks when I worked in the music industry and then ended up working at DJs in the late 1990s. I took it over in 2003 — I was in my early 30s owning an iconic business in the heart of London's West End… talk about pressure.
Mike Boyd: I was working in a nightclub and met a piercer and we started a band together around the beginning of 2007, which was a massive flop. By July 2007, I was front-of-house in the tattoo shop he worked in, which also happened to be the shop I got my first tattoo in. September 2009 was when I did my first paid tattoo in a busy street shop in Norwich where I cut my teeth. After being pigeonholed as a black-and-grey artist, I needed a change and moved to London six years ago and pushed the colorwork.
What makes the tattooing process special for you?
Gabriele Fiorenza: When you don't typically know the clients coming in, the confidence and trust they put in you makes the process quite intimate. Tattoos can act as a transformation of something sentimental into a story on the skin. Each is completely unique to the client, helping you to constantly learn and grow as an artist.
Clare Frances: Tattoo shops always attracted me because they're full of life and energy. Somewhere totally intimidating yet freeing at the same time. There's a feeling in the air that something amazing could happen at any moment. I've never lost my excitement for that feeling even at the shop I work in. When you get tattooed you're never quite sure how it's going to turn out, you put a lot of faith in the tattooer. When I do tattoos, I don't want to overthink it, it should be something decided on gut instinct and energy. I don't like to plan too much. I like to brainstorm with my customers and come up with the right thing together. The tattooing process is one of rebirth. It makes you feel alive, it reminds you of who you are and takes you a step closer to who you want to be. It's like pinching yourself to make sure you're awake.
"The process of getting and wearing a tattoo has never lost any of its excitement — and I don't think it will."

Darryl Gates: The tattoo process is as special as it is a ritual. Once the gears are engaged, it does not stop until the session is finished. Tattooing to me is being in an enlightened state as the concentration required to tattoo, to look after the customer, keep them engaged and happy through the process, while listening to the machine requires multitasking. I like engaging with the customer and making it a special experience.
Mike Boyd: The idea that someone wants a piece of my artwork on them for the rest of their life still blows my mind. Not much in today's modern world lasts that long and people are prepared to travel and go through a lot of pain and pay a lot of money for my work. It is such an honor, I'm so privileged to do this job. I love that I'm a part of a culture that is thousands of years old and is steeped in history and tradition. I love-hate the ritual of the design process, the fear that a blank piece of paper gives me. Then as you make lines on the paper the fear dissipates and a meditative state emerges, then I'm lost for hours.
What makes London's tattoo scene unique?
Gabriele Fiorenza: The energy of the city provides a pretty unique take on tattooing. The vastly diverse communities that build it have led to many influences from around the world. I think it's those influences and stories of the people that live here that have created such strong styles. Traditional old English tattooing is still the foundation, but combined with the vision of the people living here is what creates new and contemporary tattooing.
Clare Frances: For me, London is my hometown. It feels like the center of the world sometimes. It's a city with a deep and dark history and that's reflected in the style of tattooing. It can be cold and harsh, you have to fight to survive which in turn makes you work harder and come out tougher in the end. Many of my favorite tattooers have come out of this city and I'm lucky to work with some of them in one of the best shops carrying on London's tattoo legacy.
Darryl Gates: The London tattoo scene is probably the most diverse of any place in the world currently. London is so progressive as a city that artists all over the world want to work here and meet other artists. I tattoo people from all over the world, from rock stars to politicians, royalty to the media industry, as well as people who want to soak up the studio which has not changed since 1983. We represent an older London when it was neons and red lights.
Mike Boyd: After spending the last five years traveling around the world and working in many different cities, I've noticed that London is a very diverse city when it comes to tattooing. It is also at a very high standard too. It's in constant flux as well, which is great to watch. It's an incredible scene to be involved in and to evolve in too. I'm very lucky to work alongside such talent, it only makes me work harder.
How do you see society's attitude towards tattoos changing?
Gabriele Fiorenza: As attitudes progress in the tattooing world it has allowed for a lot of people to feel comfortable getting tattooed and there's no longer such a worry about the stigma people used to hold. One of the parts I love about tattooing is the culture of passing on a trade from master to apprentice… Generally speaking, people are excited to try something new, which is fantastic for me as we can explore the possibilities of single needle tattoos.
Clare Frances: When people like The Great Omi [Horace Leonard Ridler] were showing off their tattoos, people had never seen anything like it. I'm not sure any tattoo will have the same effect anymore in a world where the absolute extreme of humanity is a Google search away. People are far harder to shock and surprise in the 21st century. On one hand, this means that tattooing loses some of its edge, but on the other, this constant exposure hopefully leads to greater understanding. I think people will always be drawn to things that contain qualities which they are lacking. Non-tattooed people see fearlessness and self-expression in tattooed people. They see people reinventing themselves. This has always been scary and fascinating to society and balances out the drudgery of everyday life. While the image of tattoos may not have such an impact anymore, the process of getting and wearing a tattoo has never lost any of its excitement — and I don't think it will.
Mike Boyd: It seems the shackles of the old imagery society had of tattooing are changing. Social media and high profile individuals have helped not only tattooing, but other counter-culture art forms become almost mainstream. As long as it doesn't get destroyed by big money, I think it's a great time for tattooing.
Do you have any final thoughts about tattoos?
Gabriele Fiorenza: I like to hide meanings in my designs. This allows my clients to find their own meanings in my drawings. I want to represent everyday life and sentiment for each individual client.
Clare Frances: I want to do tattoos that make you feel like anything is possible. Like you can be whoever you want to be. That you can leave your past behind and start again. That the only thing that matters is right now. I want to make your body feel like it's free.
"I want to do tattoos that make you feel like anything is possible. Like you can be whoever you want to be."
Darryl Gates: The only message or perspective people should think about is how is that tattoo is going to appear in 20 to 30 years? I've seen tattoo styles come and go — Diamond Jacks does classic Americana and classic Oriental tattooing. We are not trend-driven… We are still here and our customer base is super loyal. They get a great tattoo and have a great time hanging in the studio, what more do you want?
Mike Boyd: If there is anyone who wants to get into tattooing reading this — or is new to it — it's a lot harder now than it was then. There are a lot of artists nowadays, which is good in the sense that competition breeds success, but it has another side to it that is a saturated market. All I would say is to do something different. Build a strong foundation on the fundamentals of tattooing and drawing, then pursue your own style. Don't listen to other people too much, follow your own path and be prepared to hear the word "no" a lot. Expect the best but be prepared for the worse.