15 Candles to Freshen Up Any Space
Bask in the aromas of the season.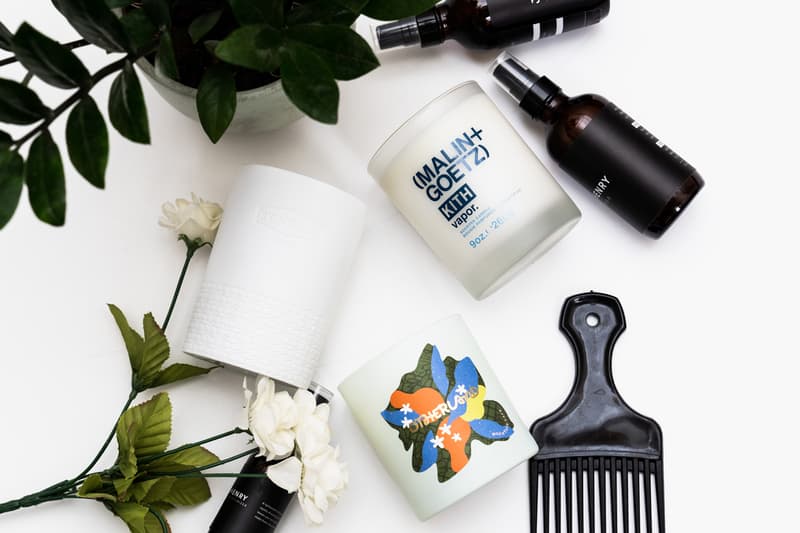 Simply the thought of lighting a candle can immediately conjure up a mood. For some, the ideal scent may be a fragrant and floral option, while others may picture fresh and clean. Many might now be gravitating toward woody aromas, or wanting to get wrapped up in the comforting smells of pine and cinnamon that call to mind the holidays. Point is, no matter which way they're served up, there are candles to complement the vibe of any person and environment.
With fall in full swing, it's prime time to stock up on seasonal and earthy, wood-filled scents from the likes of Le Labo and Cander Paris. Of course, fresh and fruity options are still just as readily available, and just as delectable, with options from labels such as Diptyque and Otherland the perfect way to brighten up a space in the gloomier weather.
But really, is there ever a bad time to buy a new candle? To make the selection easier, HYPEBEAST has rounded up a few favorites from each category. Below are 15 candles across the board to freshen up any space.
WOODY & EARTHY
Choosing a candle is sometimes about becoming one with nature — or at least somewhat bringing it home. Le Labo's signature Palo Santo 14 offers a classic choice with notes of cedarwood and labdanum, while Seletti's Entropy plays up tomato and pink pepper for a spicier approach to this category.
Seletti Candle Spaghetti Entropy
Notes: Tomato leaves, lentisk pimento, tomato, sage, pink pepper, pine wood, cedarwood, patchouli
Buy Now: $60 USD at Neiman Marcus
Le Labo Palo Santo 14
Notes: Cedarwood, labdanum, incense, patchouli
Buy Now: $75 USD at Barneys, Le Labo
Cander Paris Rue Vertbois
Notes: Sandalwood, orange blossom, smoke
Buy Now: €95 EUR (approximately $106 USD) at LUISAVIAROMA
SEASONAL
Tis the season for whiffs of pine needles and cinnamon (and maybe even MALIN + GOETZ's Dark Rum) to infiltrate homes and set the ambiance this fall and winter.
MALIN + GOETZ Dark Rum
Notes: Top: bergamot, plum, anise; Middle: leather, rum, vanilla; Base: patchouli, amber, milk
Buy Now: $55 USD at Bloomingdale's, MALIN + GOETZ
Illume Balsam Cedar in Luxe Sanded Mercury Glass
Notes: Balsam, oak moss, cedar wood, cinnamon, eucalyptus
Buy Now: $55 USD at The Company Store, Bloomingdale's
BYREDO Chai
Notes: Top: cardamom, clove buds, ginger zest; Middle: incense, mate, violet; Base: birch tree, guaic woods, warm latte
Buy Now: $85 USD at Net-a-Porter, BYREDO
Banana Republic Winter Fir
Notes: Pine needles, cedarwood, davana
Buy Now: $42 USD at Banana Republic
FRESH
The ones that make you go "ahhh." Clean like laundry or fresh like rain, it's hard to go wrong with an airy scent where it's not uncommon for citrusy undertones to seep through. Take for example the orange and lemon hits in Acqua di Parma's Luce Di Colonia, which fuse with patchouli and neroli oil to give off just the right amount of zest.
Ex Nihilo Ambre Fou
Notes: Top: bergamot, coriander seeds, safraline; Middle: nutmeg, berries essence, geranium; Base: cedarwood, sandalwood, vanilla, tonka bean
Buy Now: $62 USD at Harrods, Ex Nihilo
KITH x MALIN + GOETZ Vapor
Notes: Bergamot, iced currant, pink pepper, black dahlia, saffron, snowdrop, charcoal, sueded wood, vanilla bean, birch
Buy Now: $55 USD at KITH
Otherland Mountain Lace
Notes: Elderflower fizz, Anjou pear, apple blossom
Buy Now: $36 USD at Otherland
Acqua di Parma Luce Di Colonia
Notes: Orange, lemon, petitgrain, neroli, patchouli, vetiver
Buy Now: $69 USD at Barneys
FRAGRANT & FLORAL
Luscious and tantalizing, the most fragrant, fruity and floral notes lend themselves to a specific palate. The rose-infused mixture behind Diptyque's Bais candle skews more subtle, while the peach blossom and Asian pear blend of Boy Smells' LES candle offers a stronger take.
Gucci Esotericum & Freesia
Notes: Esotericum: Jasmine, orange bitter, leather; Freesia: Green notes of violet leaves, resinous galbanum
Buy Now: $450 USD – $650 USD at Gucci, Bergdorf Goodman
Boy Smells LES
Notes: Rice powder, peach blossom, cardamom, cedar, Asian pear
Buy Now: $32 USD at Barneys
Illuminations Napa Valley Harvest
Notes: Grape, currant, persimmon, rose petals, orange blossoms
Buy Now: $30 USD at Illuminations
Diptyque Baies
Notes: Roses, blackcurrant leaves
Buy Now: $175 USD at Neiman Marcus