Japanese Snow Crab Sells for Whopping $46,000 USD
Roughly $16,800 USD per pound.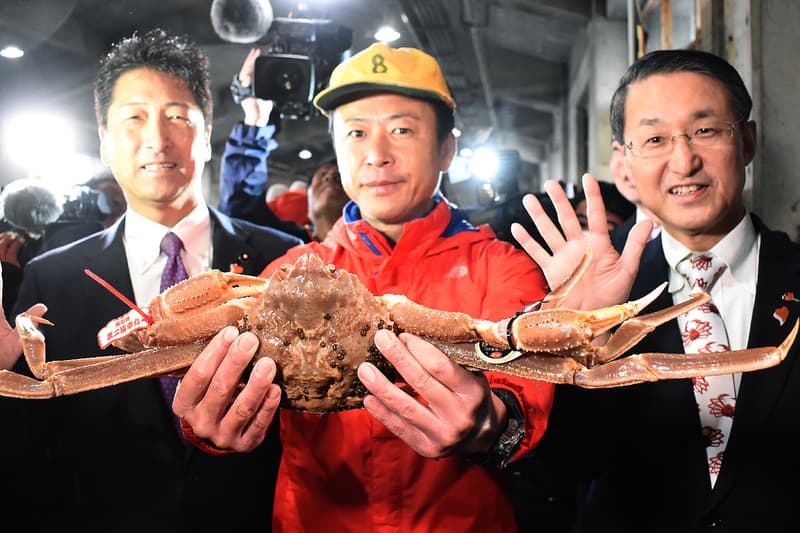 A snow crab was auctioned off in Tottori, Japan for a massive ¥5 million JPY (approximately $46,000 USD), CNN reports. The "five shining star" crustacean (so nicknamed for the crab's shape and quality) was sold at the first seasonal auction held by Tottori prefecture's fishery promotion division.
Weighing in at 2.7lbs and measuring approximately 5.74 inches wide, this particular male snow crab was a perfect example of one of Japan's most sought-after delicacies. The species can only be found in the waters off Tottori prefecture on Japan's main island of Honshu.
Tetsuji Hamashita, president of Hanashita Shoten fishery, purchased the coveted sea creature, which will likely end up on the plates of some very rich customers dining at restaurants in Tokyo's upscale Ginza neighborhood. This sale blew the previous record-breaker out of the water — a snow crab that sold for 2 million yen ($18,000 USD) last year in the same prefecture.
"I know it's extreme. But it's the custom," Hamashita told CNN. "But I am sure the taste of the crab matches the price." This year, Japanese fishermen began hunting for the creatures on November 6 and the season's first auction took place the next day. It's not uncommon for the sales on opening day to start high — superstition suggests that buying the first and best catches of the season is good luck — but Hamashita said he was expecting the winning bid to be closer to ¥3 million JPY (approximately $27,000 USD).
Earlier this year, a coveted bluefin tuna was sold for $3.1 million USD during a different Japanese auction.
Elsewhere in Japan, Starbucks began offering exclusive frappucinos.