GOAT's 2019 Black Friday Event Is Giving Away $10,000 USD Credit, Rare Shoes & More
It's that time of year again.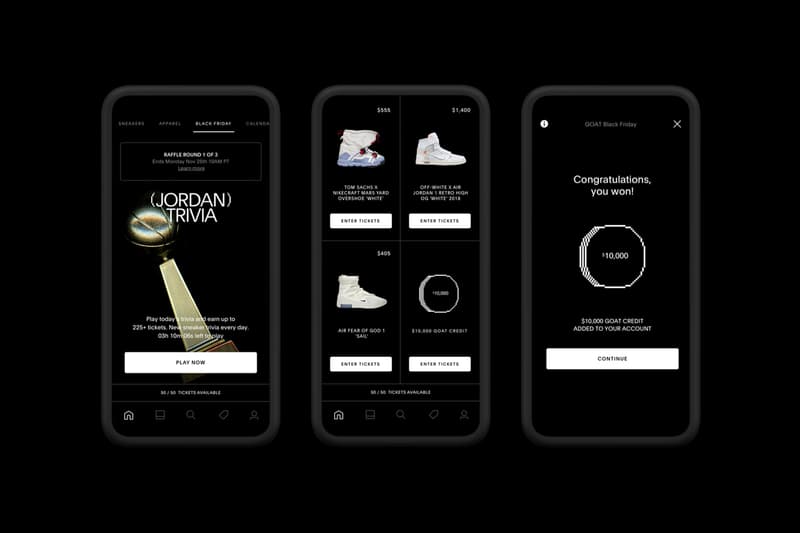 After utilizing augmented reality to expand its draw, digital sneaker marketplace GOAT is holding its highly-anticipated Black Friday event once again. Featuring multiple raffle rounds and trivia, this year's campaign will include daily drops of over 3,000 prizes and 35,000 pairs of sneakers at or under retail.
In addition to winning up to $10,000 USD in GOAT credit like previous years before, the app offers chances to win the year's most coveted sneakers, like the Tom Sachs x Nike Mars Yard Overshoe and Dior B23 High, for under retail or completely free. Users simply need to update to the latest version of the app and tap the "GOAT Black Friday" tab.
Put simply, the more tickets you have, the better your chances are at winning. All tickets earned will be replenished at the beginning of every round, and participants can spread their tickets or adjust their number of entries to as many sneakers, packs and GOAT credit as possible. While all participants will start with 100, they can earn bonus tickets for being an early GOAT member or seller, featuring OnFeet photos, correctly answering trivia questions and much more.
Participants can enter on their iPhone or Android anytime between today, November 22, and November 29 at 1 p.m. EST. For more information about the draw, head to GOAT's website.