Kanye West Revisits Mental Slavery With Sunday Service in Salt Lake City
And voices his continued support of President Donald Trump.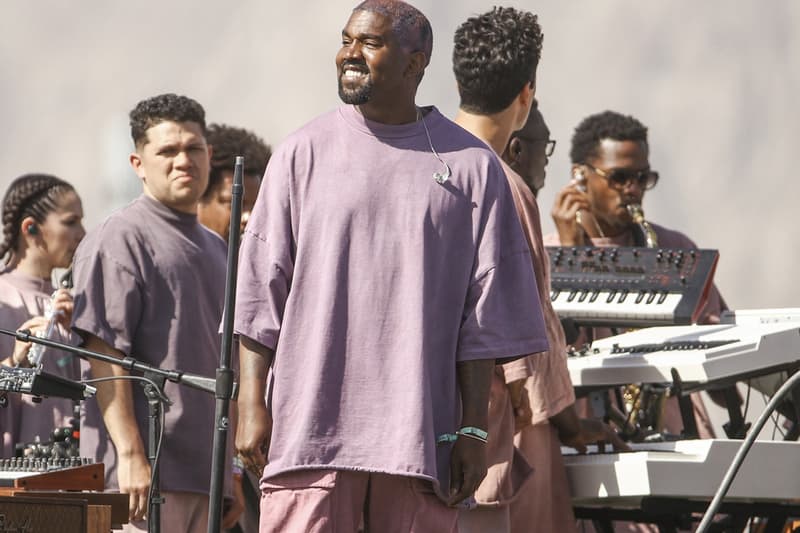 As history would have it, it is expected of Kanye West to perform the unexpected, especially after taking the world on a Jesus Is King rollercoaster ride, which ended with an indefinite album release date. Following Wyoming, Atlanta and Chicago, West most recently, and somewhat ironically, held his latest Sunday Service on a Saturday at Salt Lake City in Utah, not only speaking about his religious journey, but also his support of President Donald Trump, his opposition to social media and briefly revisits his controversial opinion of slavery.
This past Saturday, October 5, the same day as the General Conference of The Church of Jesus Christ of Latter-day Saints, West's free-to-attend Sunday Service drew in a reported crowd of 7,000 to 10,000 people, with the earliest attendees waiting in line from 4 a.m. for an 11 a.m. start time. The service then kicked off with a 150-minute worship session before West took to the mic, performing one song, "Jesus Walks," from his 2004 The College Dropout album. After which came the biggest moments of the Sunday Service.
West's performance was followed with a prayer, and he spoke about how he used to serve the many gods of money, fame and ego, and it drove him crazy. He then moved on to social media, telling people to "not read comments on the Internet. These people don't know you like that. Social media is designed to make you think slower… They want to slow you down and control you," as they recorded his speech for the Gram.
West continued with concerns that people shouldn't be focusing on "what Jay-Z is doing" but instead that "there's one in three African-Americans in jail in this country," and that it was the Republican Party of Lincoln that freed the slaves. Speaking of Republicans, he then mentioned that he's received nothing but flak for his support of President Donald Trump, and that because he's black, he's not allowed to support Trump; "I ain't never made a decision only based off my color. That's a form of slavery, mental slavery," revisiting his controversial comment in 2018 about slavery being a choice. Finally, he finishes his Service in true lyricist fashion, telling everyone to leave their problems in God's hands, "I find that wherever Christ is where I've got my mind at. We find that the love of Christ is where I've got my mind back."
Now on a spiritual journey with God, Kanye is no longer just about Kanye. Many left his Sunday Service with mixed feelings of disappointed that there wasn't more of a concert element, but also contentment that they got to see Kanye for free.
Check out the various Twitter videos clips below of Kanye's Salt Lake City Sunday Service performance and speech as recorded by Yello reporter Hunter Schwarz. In other music related news, HYPEBEAST continues our Essentials series with Offset.
The thing about Sunday Service is it mostly *isn't* Kanye, it's his choir and band, the Sunday Service Collective. They were amazing. pic.twitter.com/94CkD76Owb

— Hunter Schwarz (@hunterschwarz) October 5, 2019
Anyways, here's Kanye rapping to "Jesus Walks" pic.twitter.com/jD3EcG2KwE

— Hunter Schwarz (@hunterschwarz) October 5, 2019
West, who hasn't tweeted since New Year's, also railed against social media: "Do not read comments on the Internet. These people don't know you like that. Social media is designed to make you think slower. … They want to slow you down and control you" pic.twitter.com/1BGpA5prGt

— Hunter Schwarz (@hunterschwarz) October 5, 2019
West touched on criminal justice reform. He talked about how people argue about music and sports then said, "there's one in three African-Americans in jail in this country." pic.twitter.com/9jefKUf4U5

— Hunter Schwarz (@hunterschwarz) October 5, 2019