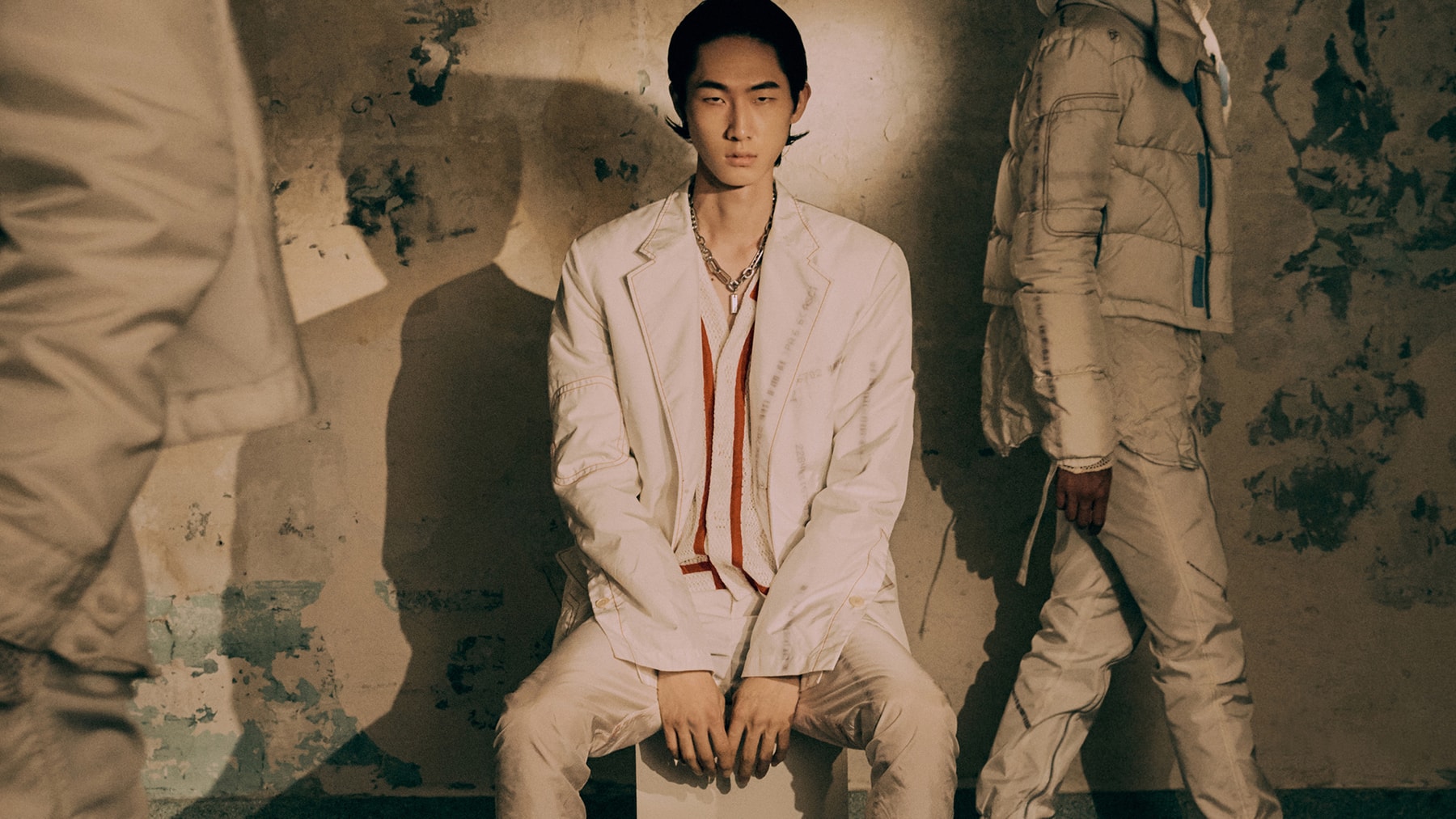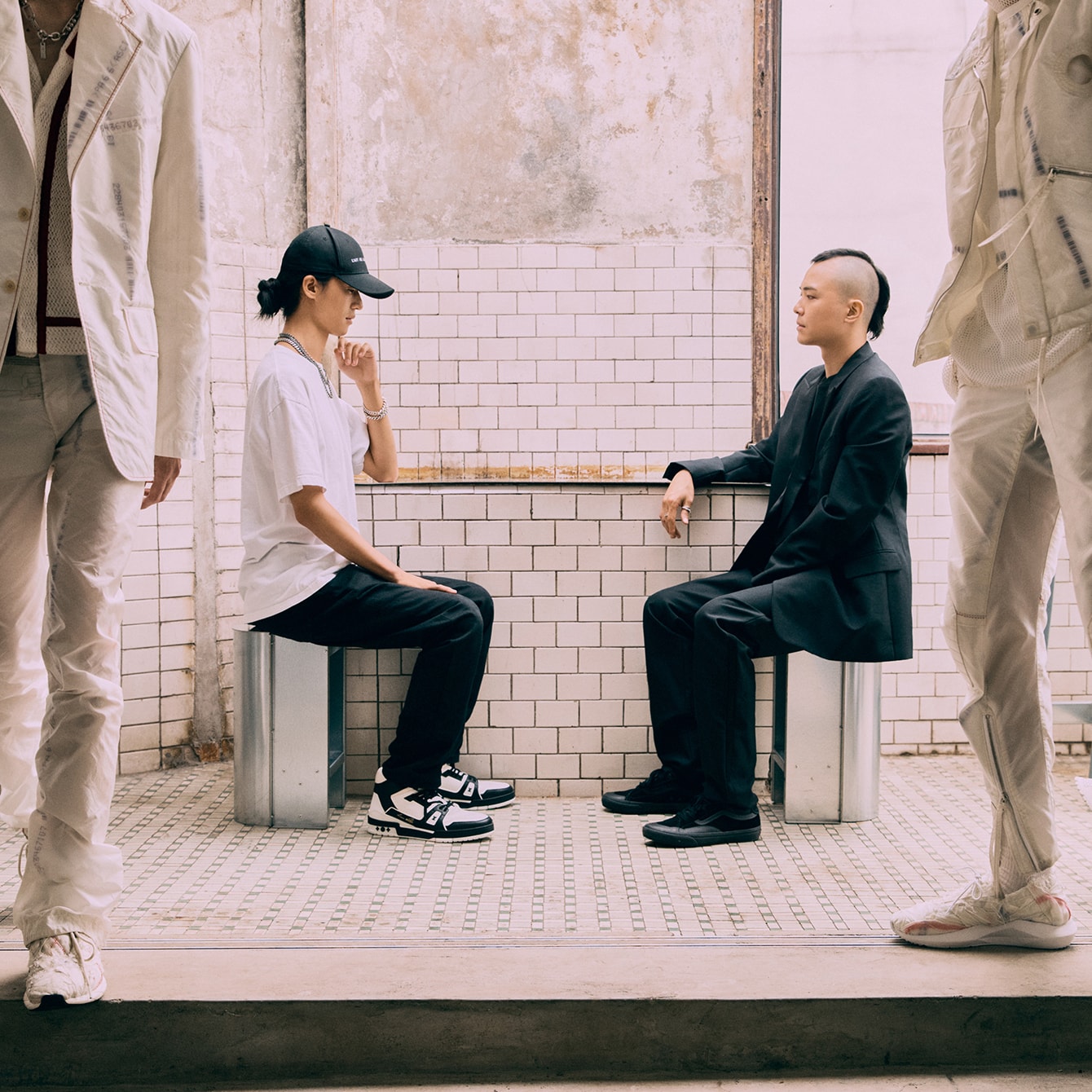 KANGHYUK is the Korean Brand You Need to Know
We get into the minds of designers Kanghyuk Choi and Sanglak Shon for HYPEBEAST Korea's first Digital Cover.
Amongst the list of nominees for the LVMH Prize announced in spring 2019, KANGHYUK was the fashion brand that caught public attention. A common misconception is that KANGHYUK is helmed by one designer, while the brand is in fact founded by two designers, Kanghyuk Choi and Sanglak Shon, but only named after Choi.
Like most designers, Choi first came to fame following his graduation project for his Master's program at the Royal College of Art (RCA). His design which utilizes airbags has since maintained a solid presence in the industry, placing itself in industry-famous select shops, including H. Lorenzo, Dover Street Market and Machine-A. In January 2019, A$AP Rocky appeared wearing an outfit from KANGHYUK in his music video for "Tony Tone" — the first time a Korean designer's apparel was introduced by an icon of hip-hop and street culture.
We sit down with Kanghyuk Choi and Sanglak Shon of KANGHYUK to discuss the directness and non-seriousness philosophies of their fashion brand, and why they reckon Seoul is a good location for fashion design.
This interview was first published on HYPEBEAST Korea, where it and the accompanying photoshoot can be viewed in full.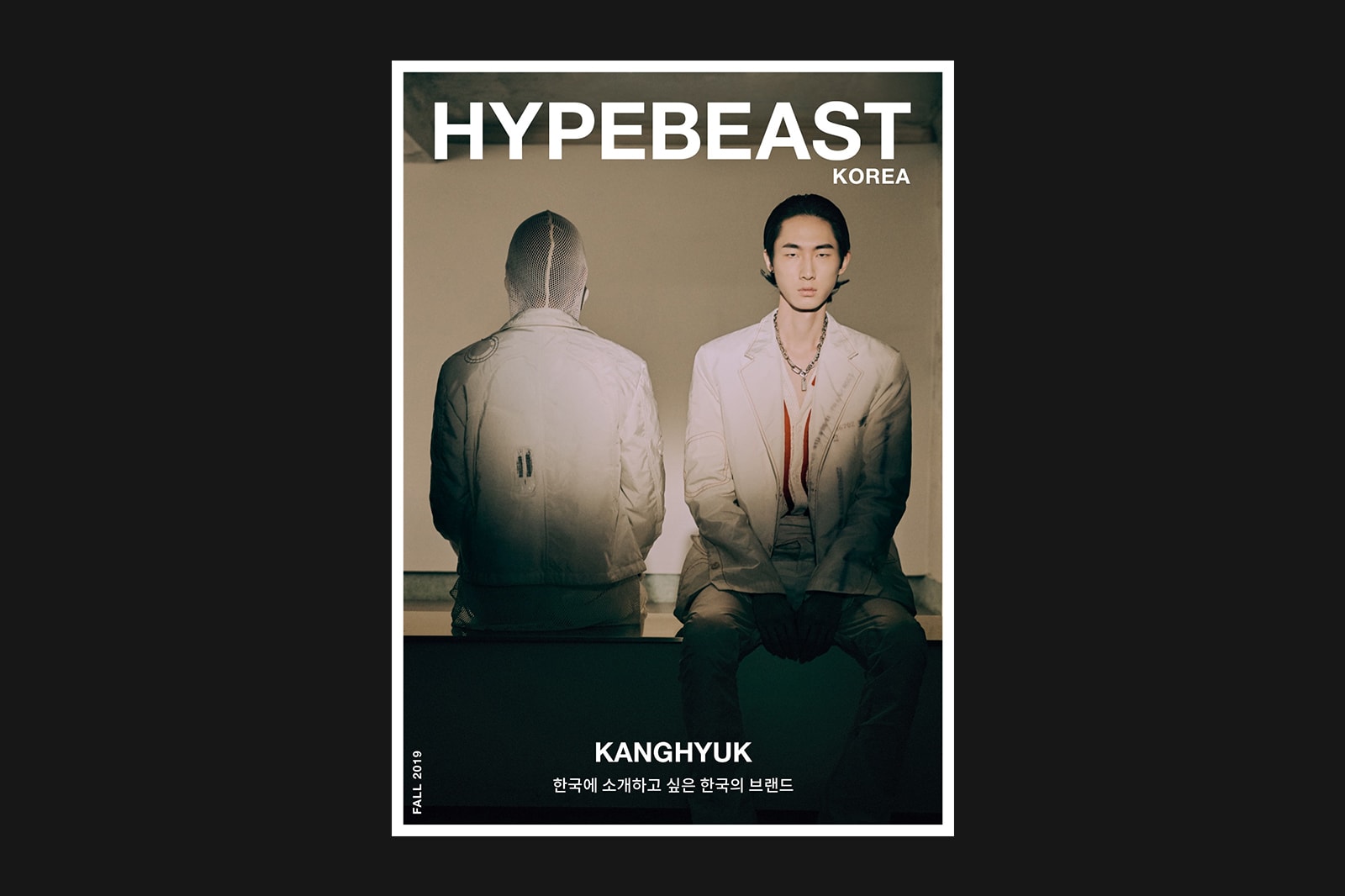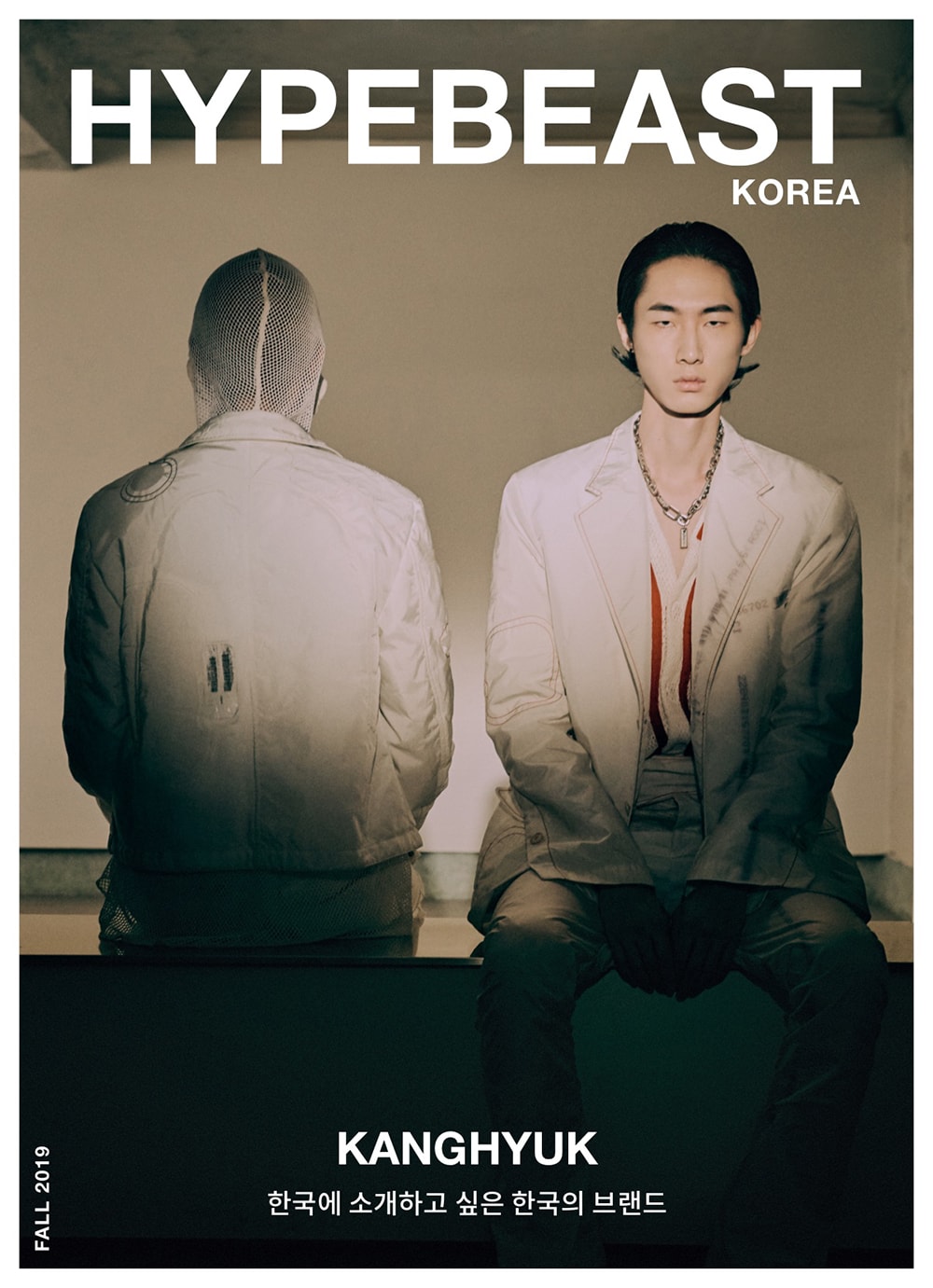 On September 5, the final nominees for the 2019 LVMH Prize were announced. The two of you advanced to the semi-finals and were included in the final 20. How do you feel about the results?
KH (Kanghyuk Choi): We feel very satisfied. We can't change the results and we didn't expect to win the prize in the first place. But the event itself was very rewarding.
The prize money for 1st place is 400 million won. What would you have done with it if you have won the competition?
SL (Sanglak Shon): I would've invested all of the money into our studio — expand it, buy some printers and sewing machines, and hire more employees. But it didn't turn out that way!
KH: I was going to decide after receiving the prize.
"There are Koreans who were nominated before, but I was just delighted by the fact that Koreans were nominated for the prize."
How did you first come to apply for the 2019 LVMH Prize?
SL: Various fashion personnel from Paris Fashion Week recommended us to try out.
KH: We applied online and were notified of our acceptance through email and phone — we were very delighted. We rushed to fix our schedule and prepare for the event.
How did it feel when you were nominated?
SL: There are Koreans who were nominated before, but I was just delighted by the fact that Koreans were nominated for the prize. I've also always really wanted to meet and talk to the judges and people in the fashion industry.
Is there a judge's critique that you remember in particular?
SL: Kevin Ma's critique is the one that I still remember; and this isn't because I'm interviewing with HYPEBEAST! To be honest, the time for each critique is very short. One minute of critique and the judge moves to the next booth; this makes it difficult to start a conversation with the judges.
What do you usually talk about during that one minute?
KH: First, we explain our collection. Then the judges ask where we're from, which school we graduated from, and what we're expecting to unveil in the next collection.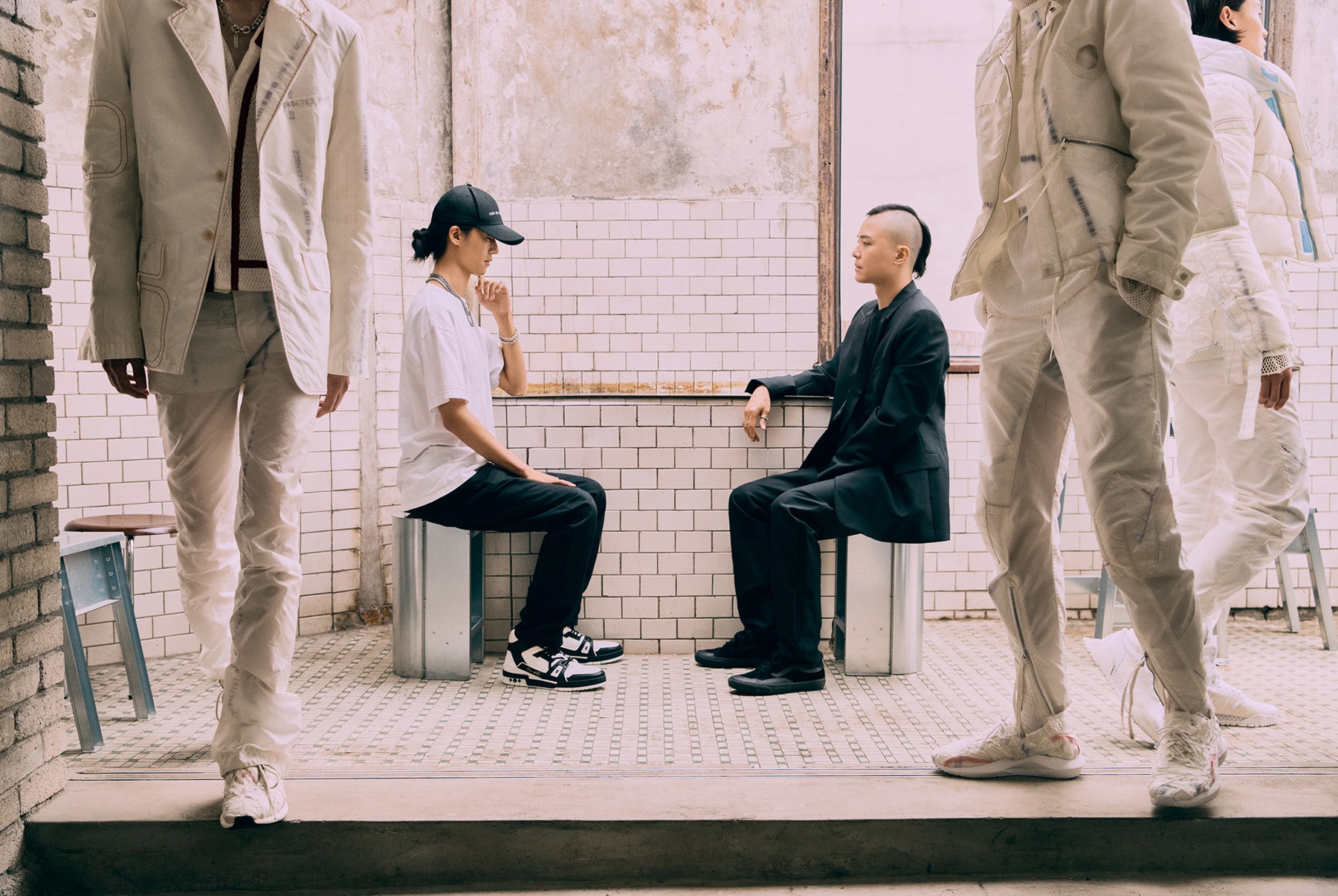 What is one thing that has changed about you after being included as a nominee for the 2019 LVMH Prize?
KH: We've definitely become busier. We're spending much more time in the studio. We're receiving requests for installations. We're also expecting an exhibition — we are planning to showcase our collection in a larger scale with more variety.
KANGHYUK is a brand managed by two designers, Kanghyuk Choi and Sanglak Shon — why is the brand named after only one of you?
SL: Because our brand started off with Choi's Master's Program graduation project. At the time, he introduced a collection in which he integrated airbags into clothing, and it was quite impressive. I joined Kanghyuk since its third season in February 2017.
KH: After the second season, Shon flew back from the UK and we started the company together. You can say that the brand KANGHYUK was officially launched from season three.
It never crossed your mind to change the brand name?
KH: The brand was already known by the public as KANGHYUK and our collection was already selling in select shops. Then Shon came along when it became too burdensome for me to manage the brand alone so I suggested that we team up.
SL: I receive this question pretty frequently, but I like the name KANGHYUK. A lot of the other brands do the same these days, in which they go by the name of one of the two founders.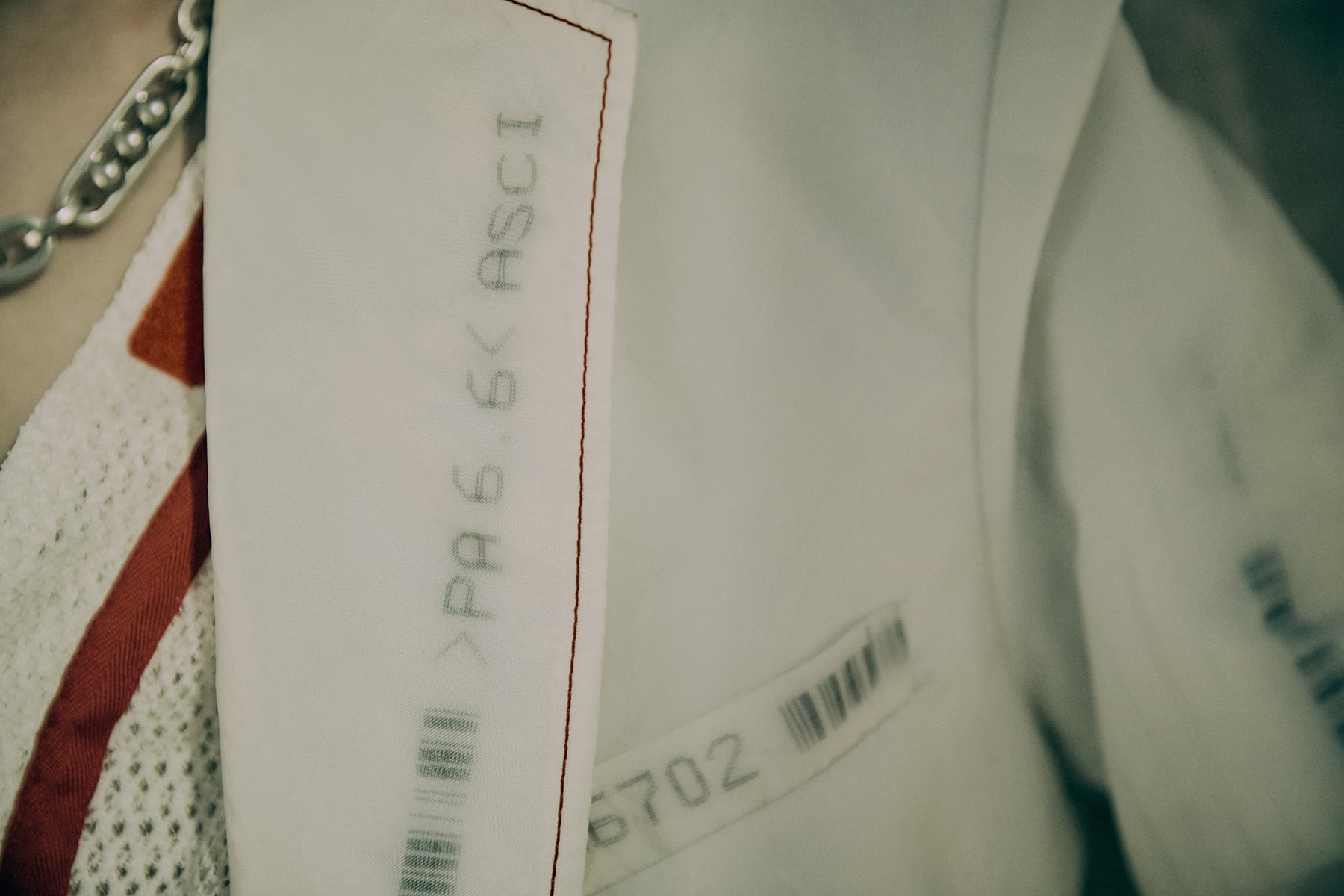 If a new line from KANGHYUK went by the name Sanglak, which design would fall into that?
SL: The people in our company actually discussed doing something with each other's names, but nothing has been decided. If I were to do something with Sanglak, it would be something similar to our collaboration with Reebok. My graduation project also resembles this design.
How do you feel about this Choi? Do you feel a sort of pressure from this?
KH: Of course, but it's not too bad, since the pressure is what keeps me going. And because I spend most of my time working with Sanglak, it helps me relieve this pressure.
How did the two of you first meet?
KH: We met during the Master's program at the Royal College of Art in the UK. We easily became close since not a lot of Koreans attended our college and we were the same age. We met almost everyday for two years and enjoyed seeing each other's works. Shon's works were very interesting; for example, he would disintegrate the fabric, put them together, then tear them apart again. That was similar to my work style.
SL: I initially majored in clothing environment, which is why I only started making apparel during my Master's course. On the other hand, Kanghyuk was a tailoring major for his undergraduate program, and I think we became close after I started asking him a lot about clothing.
What do you think your individual strengths are?
KH: There are multiple times I feel like Shon's pieces are works of art, and he is skilled in picking out what may sell and what may not.
SL: Choi's cutting technique in terms of tailoring is at another level. The clothing may express a different feeling according to the cutting, and Choi is an expert in this area. Those who wore his clothing may know.
"I think the meaning of industry connotes the beginning of something — that is very romantic. "
What is it that holds the two of you together so well?
SL: Honesty? We don't lie to each other.
Could you share with us the process of making your apparel?
KH: Rather than focusing on a particular concept, we spend most of our time in our studio brainstorming and making about three pieces of garments. There are simple designs as well as intricate designs. Amongst them, we pick out a piece that we like and create a sample, and our collection usually starts from this process of picking out our preferred pieces and filtering out the others. We would filter out the others saying, "Oh, this has too many stitches" or "This garment's tone is too strong." We could also use the filtered pieces in the next season.
Do the two of you have separate roles?
SL: Many may not understand, but we don't have separate roles. We just talk to each other and take things as we go.
KH: We do everything in the studio together; from fabric cutting to placement and printing.
Do you attach specific significance or meaning to your design?
KH: No, I don't.
SL: Neither do I. If the design is attractive, I believe that does it. Kanghyuk and I share a common interest in that we usually do not prefer something serious.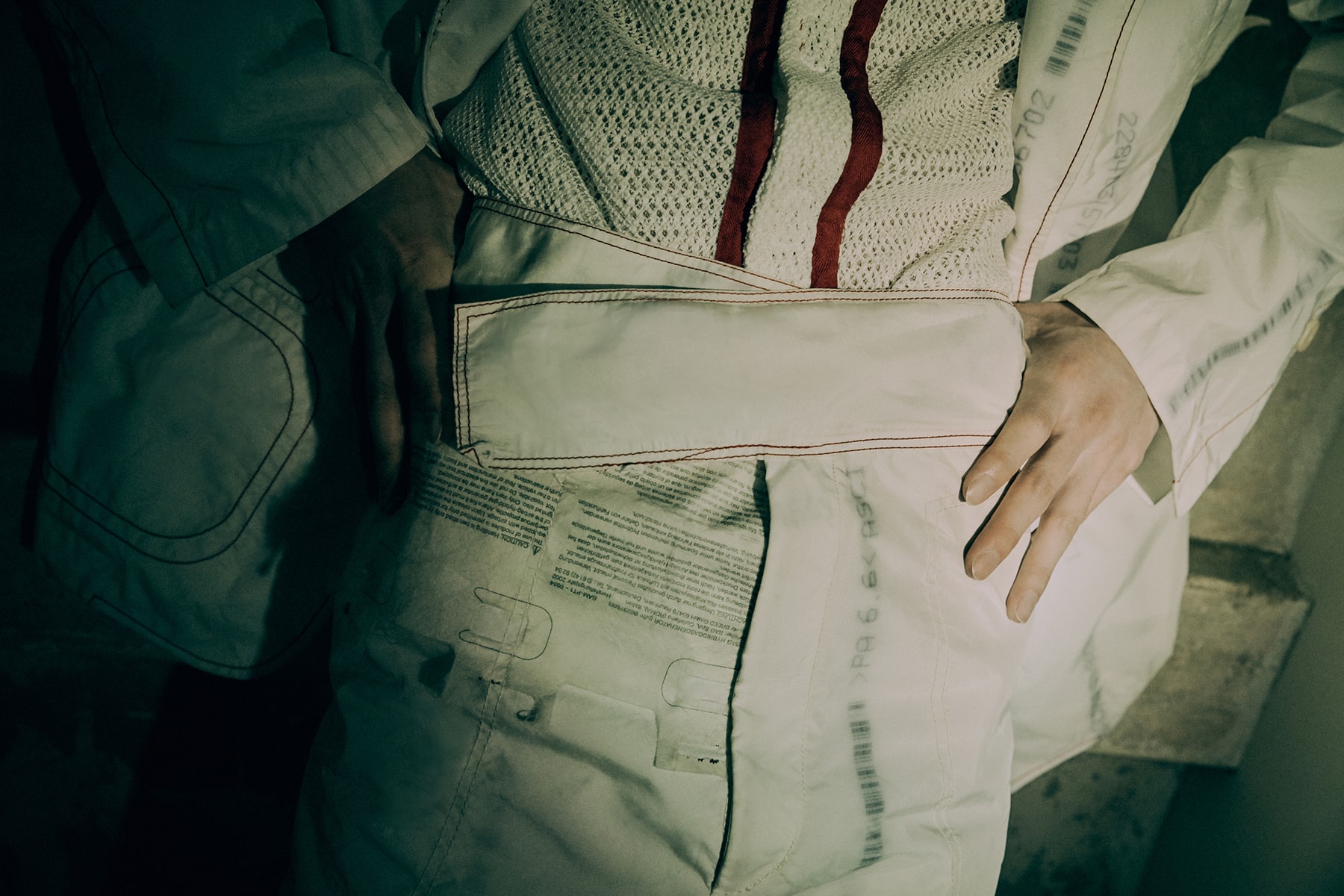 Then what do you think is the most important aspect when it comes to preparing a collection?
KH: I would say it's the balanced atmosphere. For example, we were initially planning to prepare a spacesuit concept for our FW 2017 collection, but after creating a piece much like the real spacesuit, it wasn't easily wearable and technical issues arose when we tried to use goose feathers. Although it was difficult to wear, we couldn't give up on the piece and decided to finish up on what we've started. Instead, we added other pieces that are easily wearable and may sell. We combined these two into a collection and maintained a balance that way.
SL: It's difficult to think that a design is attractive if there are too many details. But of course, there should also be some details. Balance, in that sense, is important.
KH: It's all about repetition. How many garments can be repetitively displayed in an interesting manner — that is what we think about most.
How did KANGHYUK's design develop based on balance?
KH: For our first season, which was our graduation project, we did not think about how easily our products could be worn by people. Instead, we wanted to give a strong impression with a strong concept. We didn't even think about how well this would sell. So we prepared a design to simply display the materials being used. But upon realization that there were people actually wearing our clothes, we've implemented a design to get rid of discomfort. That was during our second collection; we've included more items like shirts or T-shirts, and started using softer materials including cotton, microfiber and chamude, instead of nylon. This, as well, is an example of how we developed from the standpoint of balance.
"We're expecting to aggressively create conceptual garments and make wearable clothes more comfortable to wear."
SL: I think we'll further develop towards more extreme balance. We're expecting to aggressively create conceptual garments and make wearable clothes more comfortable to wear. We're also planning to add accessories that may complement the existing products.
Airbags are a component that can't be left out of KANGHYUK's concept. How did this idea first start?
SKH: While I majored in tailoring, I wasn't particularly interested in it. So I decided it would be more interesting if I could enroll in a Master's program and play with various types of fabric. At first, I made a lot of my clothing through chemical materials, including carbon fibers and nylon. But one day, I came to witness a car accident and upon encountering the airbags in the scene, I decided to implement them into my design. I picked up some airbags from a nearby car repair center, and made some clothes using them. They were actually pretty nice, so that's how it all started.
What about the airbags were appealing to you?
KH: The design concept was to use the original pattern of the material; I thought the design characteristics of the airbag's barcode, logo, holes, and stitches were attractive. And more than anything else, the repetition in the details were most appealing. All airbags, be it Hyundai's or Ford's, have the same design. It was full of repetitive detail and I found this design characteristic very interesting.
Airbags can be interpreted in various ways. For example, it may express sublimity as it inflates itself to save people's lives.
SL: I like how different people interpret it in a different way. I would want this to be open to interpretation.
How do you get your supply of airbags today?
KH: In the UK, it's easy to buy defective airbags at a cheap price, but in Korea, it's expensive, and a license is required to even find them in the scrapyard. But after all, we've come to find a partner company that supplies airbag materials to us.
The process of taking the airbags apart must be quite complicated.
SL: The airbag is located in the chamber, a cylindrical oxygen tank. We're taking that apart to take out the airbag material. Then we flatly lay it out to use it for our clothes.
There are also those that have Ford's and Mercedes-Benz's logos on them.
SL: Honestly, we've been collecting the airbag materials for quite a long time. There are also Hyundai and Kia Motors along with Mercedes-Benz.
KH: But the ones with the logos of more expensive cars have sold better!
"I like how different people interpret it in a different way."
You've mentioned that you focus on the properties of objects. Are there other objects or materials, other than airbags, that you are interested in?
KH: At the end of the day, you have to be able to use the material, but in that sense, it's actually very restrictive. I'm interested in Beta Clothes used in NASA's spacesuits, but it's difficult to use them as they cost two million won per meter. We're focusing more on natural fibers, such as cotton.
SL: In terms of objects, we're focusing on hinges.
Why hinges?
SL: We frequently make installations of objects installed in select shops. We thought it would be nice to make metallic installations using objects symbolizing our brand. We started making animal figures through these metallic parts, and in that process, we focused on the mechanism of hinges. We focused on the characteristics of hinges that acted as joints or cartilages of these animal figures. These were what we thought was well connected to our work of putting things together. The metallic characteristic of hinges that gave out a chemical image also seemed connected to our work.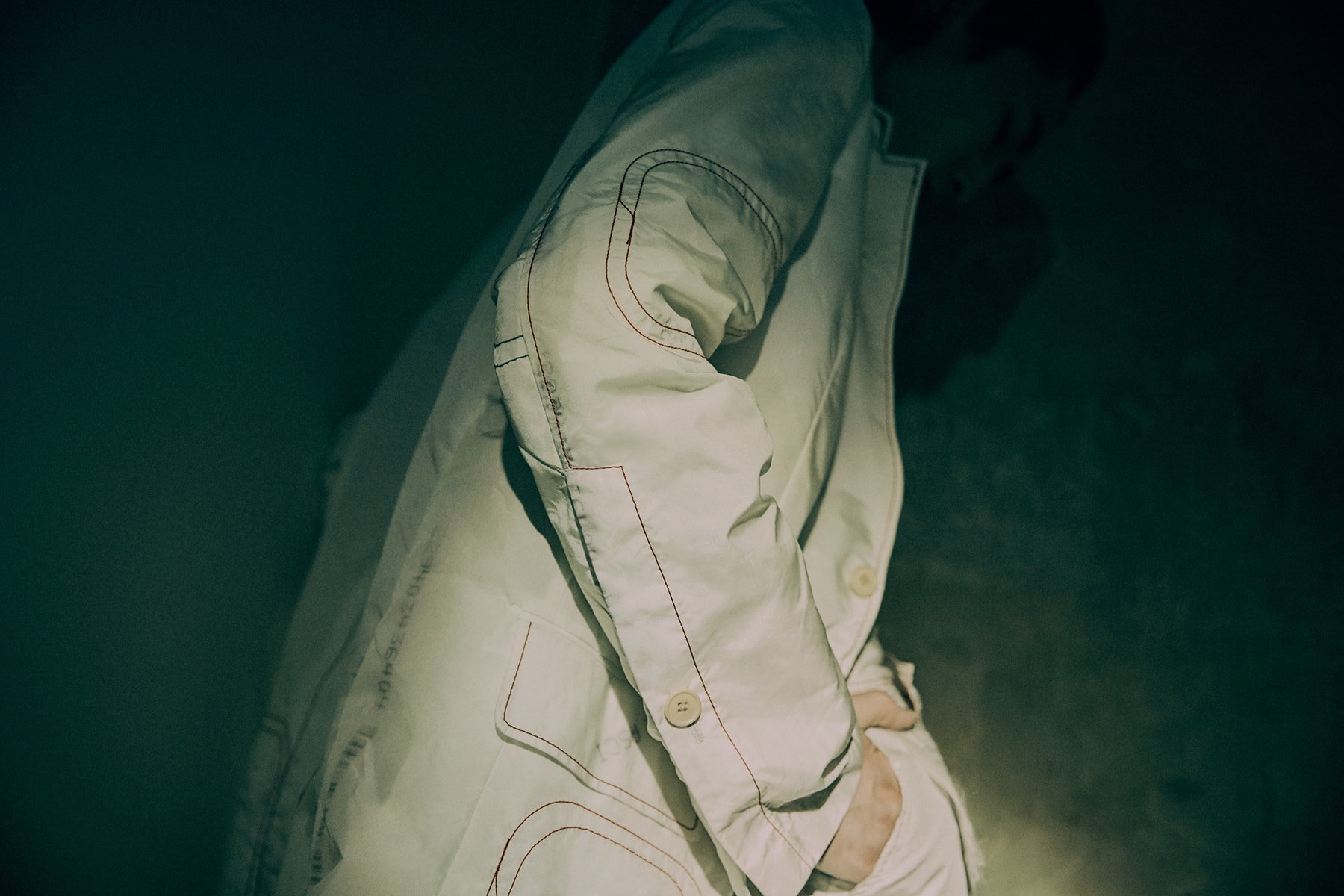 You support industrial design, but your designs seem very romantic at the same time.
KH: To be honest, industrial designs can only be romantic. I think the meaning of industry connotes the beginning of something — that is very romantic. The digital age, the machinery industry itself is enough to trigger a nostalgia. Look at Euljiro, for instance. The most industrial area is, at the same time, the most romantic location.
A$AP Rocky appeared in his "Tony Tone" music video wearing Kanghyuk. How did this happen?
SL: A$AP Rocky's stylist contacted Barbara Grispini of D/ARK agency, an agency that regularly works with us: "We're going to shoot a music video, and we think this piece from KANGHYUK is amazing!" That's what we heard and we were delighted. We had a team party that day.
We heard that the select shop H. Lorenzo is a good partner of KANGHYUK.
KH: H. Lorenzo and Machine-A were the first select shops we sold my graduation projects to when I went to Paris. They took it all. This was a trigger point that brought our collection to public attention. As we were grateful, we wanted to do something in return. We've started making installations for H. Lorenzo, and we've maintained a close relationship since then.
SL: H. Lorenzo was the first place to unveil our installation. We were happy to showcase our concepts into something like a show; the concepts that we had been preparing for our collections.
"Seoul is a city full of potential, and a place full of positive competitive energy towards life."
Concept is something that cannot be left out when discussing about Kanghyuk. Can the installations be considered an extension of the collection's concept?
KH: I can't say no, but it's not entirely an extension of our concept. It's a bit more improvised.
Where have these installations been unveiled so far?
KH: Majang-dong, H. Lorenzo, Dover Street Market London, Machine-A and TMP. Most of the buyers from them helped us market our brand and we've made some installations for them in return.
Did the sneaker collaboration with Reebok happen with the help of a buyer or an agency?
KH: There is a separate team in Reebok that is in charge of collaborations, and the team contacted us one day, asking us if we were interested in a handmade project collaboration. We liked the idea, flew to the U.S., had a brainstorm meeting, and the airbag-armed KANGHYUK x Reebok Sole Fury came to life. I think there will be another collaboration in the near future.
What kind of person do you see wearing KANGHYUK?
KH: I don't have a particular person in mind, but those in the hip-hop scene like our clothes. So what comes to my mind right now is, "What if those the Rock n' Rollers wears our clothes?"
SL: For me, someone out of the blue. I would like it if the most unlikely person wears our clothes. I would want our brand image to reach out to a broader audience.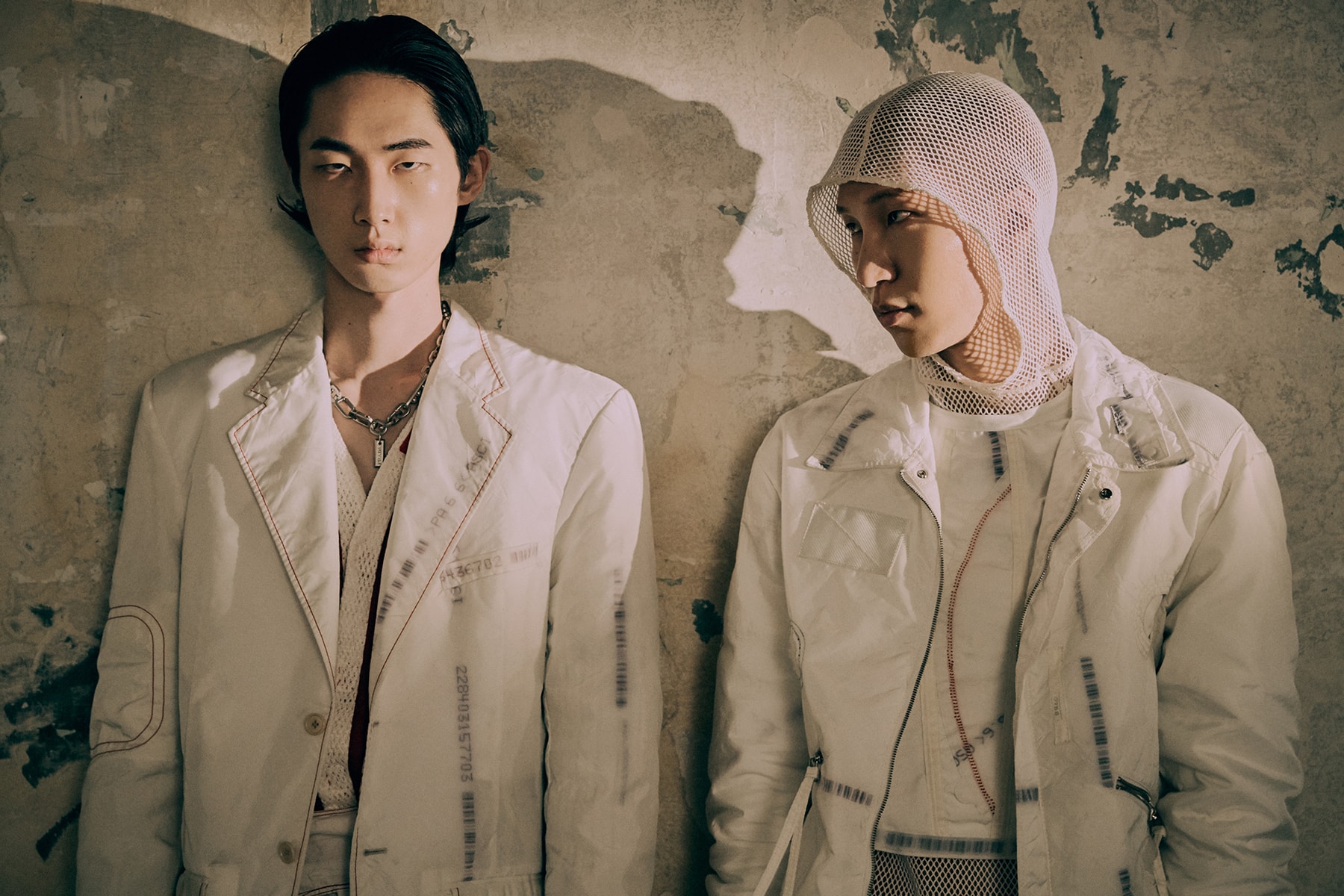 Has the current street fashion trend impacted the KANGHYUK brand?
KH: I think it has. I believe our brand was able to reach out more to the public through this trend.
From a fashion designer perspective, what kind of city is Seoul?
KH: Seoul is a city full of potential, and a place full of positive competitive energy towards life.
SL: Seoul is a systematically well-designed city for fashion design. If you live abroad, it is easy to see that there is no other city with places like Dongdaemun, where the production system is well in place. Also, fashion design can be characterized by timeliness, and Seoul's work pace is faster than anywhere else in the world. The thoughts, handwork and decisions are all quickly done; therefore, I believe Seoul is a suitable place to develop the fashion industry. It's the perfect place to open up a brand.
What is it like to be a Seoul-based designer?
KH: A title that doesn't mean anything? I think we're past the period where our origins are important, but we can still work globally, even if we are located in Korea.
Are there any trends to focus on in the Korean fashion scene?
KH: There are many independent brands opening up these days. I think Korea is gradually seeing a change. Consumer interests are also booming along with this change.
SL: I am seeing more activity in internet shopping. I think internet shopping enabled the link between brands and customers. There are many positive aspects from this. More than anything else, this is proof of an actively moving industry.
Will KANGHYUK remain as a Seoul-based brand?
KH: I think it's right to keep it that way. Although we studied abroad, we were born and raised in Seoul. I think it's important for a brand creator to embrace one's city in order to have sincerity. That has become an important aspect of my identity in my work.