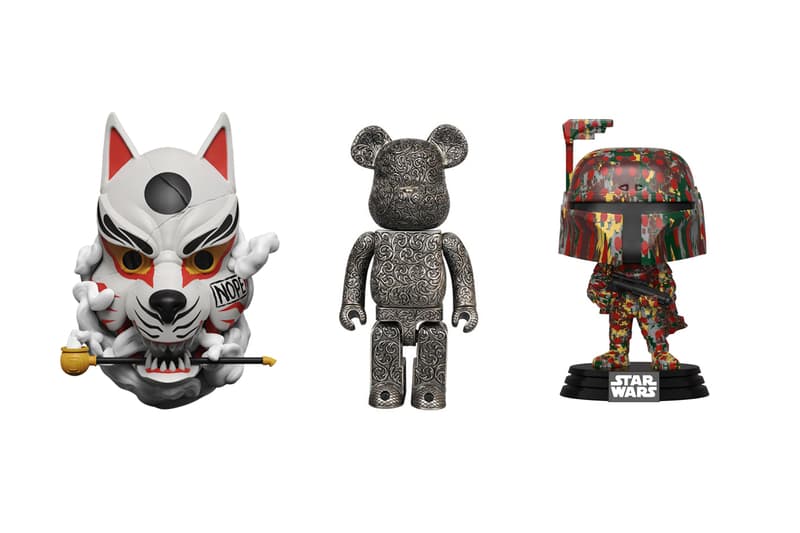 These Are the Best Artworks Releasing This Week
Handcrafted BE@BRICKS, Futura x Star Wars figures and more.
---
Every week we spotlight the best art releases weekly by notable artists, galleries, museums and contemporary art platforms across the globe. Listed items typically encompass limited edition artworks, prints, collectible figures, collaborative merchandise and more.
For this week's installment: Scott Listfield unveils new paintings for Beinart Gallery exhibition, Andy Blank drops a limited edition 'Skin and Bone' print, WOAW is now stocking the pewter Medicom Toy BE@RBRICK figure by Royal Selangor, Futura teams up with Funko to release Star Wars-inspired figures, and Jor Ros launches pre-orders for his 'Kitsune Masks.'
View the full list below.
Scott Listfield "Fury Road" Paintings
Release Date: Available on Beinart Gallery's website
Release Price: Starting at $1,350 USD
Scott Listfield recently launched his "Fury Road" solo exhibition at Binary Gallery in Melbourne, Australia. The American artist unveiled new paintings inspired by the 'Mad Max' film with apocalyptic backdrops of locations in Australia. Not to mention, his signature wandering astronaut is observed across the paintings as the main subject in distinct poses. A total of 11 paintings are available for purchase on Beinart Gallery's website.
Andy Blank 'Skin and Bone' Limited Print Edition
Release Date: Available on Andy Blank's website
Release Price: $169 USD
Brooklyn-based anonymous artist Andy Blank recently dropped a number of limited prints on his webshop. One of the highlights is a 24" by 24" inch artwork titled 'Skin Bone.' The artist took to Instagram to unveil the rigorous process it took to illustrate the realist skull motif. The monochromatic artwork arrives in a deep box frame with museum grade acrylic plexiglass.
WOAW Releases Royal Selangor x Medicom Toy BE@RBRICK
Release Date: Available now on WOAW's website
Release Price: $1,488 USD
Hong Kong's WOAW store recently added a new collaborative BE@RBRICK to its online offerings, spotlighting the Royal Selangor x Medicom Toy figure entirely handcrafted using pewter. The 28-centimeter-tall figure features ornate floral motifs across the exterior that features an "Arabesque Black" finish.
'Kitsune Mask' by Jor Ros
Release Date: Available for preorder on Mightyjaxx.rocks
Release Price: $169 USD
Celebrated Spanish illustrator @Jor.Ros recently announced the online release of his 'Kitsune Mask' sculpture. The artist drew inspiration from the traditional Japanese fox subject of the same name that is "often depicted as cunning shapeshifters who grow with wisdom and power as they age," as per a statement. The collectible measures 11-inches-tall (with base) and is made using holystone. It can be used as a table mount or wall mount.
Futura x Funko 'Star Wars' Collection
Release Date: Available exclusively at Target stores online and in-stores
Release Price: Starting at $18 USD
Toymaker Funko joined forces with Futura for a limited Star Wars-inspired collection. The legendary graffiti writer reimagined his favorite character Boba Fett in a series of toys, accessories and apparel embellished with his signature, abstract motifs. The collectibles showcase larger models from the standard Funko figurines, available in 10" red, black and multicolored varieties.