Here are the NBA 2019 All-Star Game Captains & Starters
Check out the stacked line up.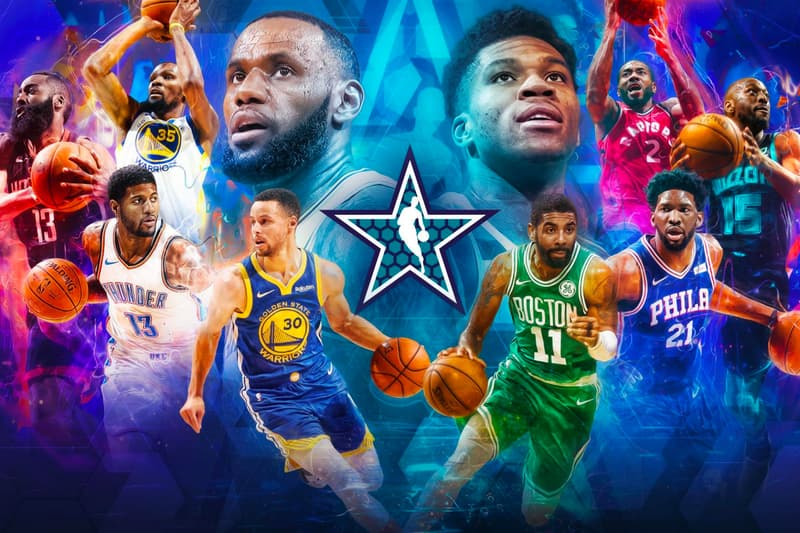 After getting a first look at the official 2019 All-Star Game uniforms, the NBA recently announced the roster for the 68th installment of the annual game.
Headlining the stacked lineup is LeBron James and Giannis Antetokounmpo who will serve as the All-Star captains. Starters were selected by fans, current NBA players, and a select media panel. Fans accounted for 50 percent of the vote, while players and media accounted for the remaining 50 percent. Standout players on the Eastern Conference side include Kyrie Irving of the Boston Celtics and Kawhi Leonard of the Toronto Raptors. The Western Conference features Houston Rockets' James Harden and Golden State Warriors' stars, Stephen Curry and Kevin Durant.
Check out the captains and starters below and head over to nba.com to catch the full voting results.
In case you missed it, Mariano Rivera was elected to the MLB Hall of Fame with the first-ever unanimous vote.
Captains LeBron, Giannis highlight starters for #NBAAllStar 2019!

Leonard, Embiid, Walker and Irving complete the East squad while Durant, Curry, Harden and George make up the West (via @SekouSmithNBA) https://t.co/zRgZOVuy91

— 2019 NBA All-Star (@NBAAllStar) January 25, 2019
Eastern Conference
Backcourt: Kyrie Irving, G, Boston Celtics
Backcourt: Kemba Walker, G, Charlotte Hornets
Frontcourt: Giannis Antetokounmpo, F, Milwaukee Bucks
Frontcourt: Kawhi Leonard, F, Toronto Raptors
Frontcourt: Joel Embiid, C, Philadelphia 76ers

Western Conference
Backcourt: Stephen Curry, G, Golden State Warriors
Backcourt: James Harden, G, Houston Rockets
Frontcourt: LeBron James, F, Los Angeles Lakers
Frontcourt: Kevin Durant, F, Golden State Warriors
Frontcourt: Paul George, F, Oklahoma City Thunder