Why M. Night Shyamalan's 'Glass' Misses the Mark
Our non-spoiler review.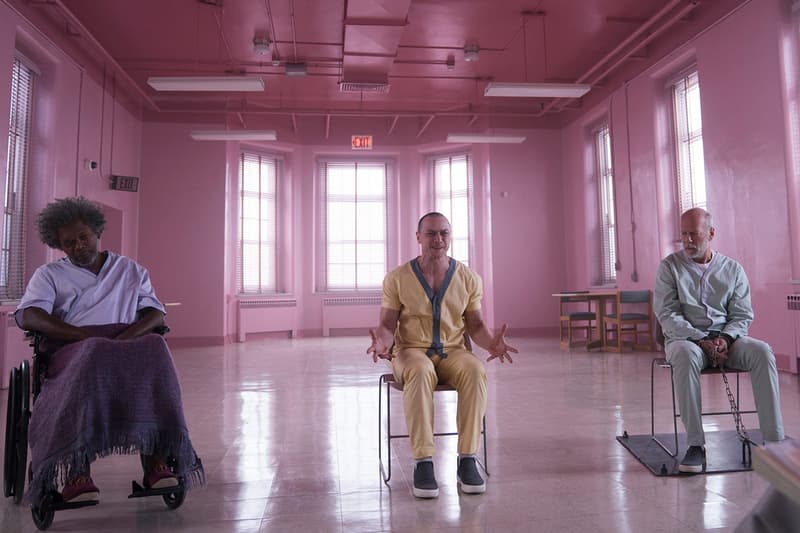 Split and Unbreakable rely on their third acts to not only reveal plot twists but to showcase what the overall theme of the movies have been thus far. Both films shroud themselves in mystery before their overarching reveal, making the setups in acts one and two worth all the ambiguity.
Split was revealed to be about abuse survivors, and Unbreakable about subverting a movie genre before the height of its popularity. Towards its third act, Glass reveals itself as not being much about anything outside of the figures setup within its own secret trilogy. And sadly, it doesn't end up serving any of those character's justice.
M. Night Shyamalan's Glass follows main characters Mr. Glass (Samuel L. Jackson), David Dunn (Bruce Willis) from Unbreakable and The Beast (James McAvoy) from Split. The three are being held captive in an asylum and are led to believe their powers are delusions of grandeur. Mr. Glass's diabolical plan is to release himself, The Beast and David from captivity and shine a light on the existence of superpowered people, leaving it to Dunn to stop Glass and Beast before they do harm to anyone along the way.
Glass ties its storytelling too closely to how comic stories unfold, as a "life imitating fiction" theme we've grown accustomed to knowing with Unbreakable. In 2019 however, where Marvel rules the cineplex, attendees are well-versed in the cookie-cutter structure of superhero tales.
It makes it harder to be subversive when those rules are now staples in pop culture and subversion is already expected. By going full force on the comic book angle, Glass comes off as a movie about a genre and medium with no real commentary on either. At times, it feels like the angle is holding Shyamalan back from exploring something much more compelling.
The film barely centers on its titular character and seems to be only named after him because he sets the final act in motion. The previous movies were about Dunn and The Beast, but the most interesting character from the universe isn't even the focus in his own movie. Mr. Glass doesn't drive the plot and doesn't show up until well into the movie; his absence doesn't even bolster his eventual appearance.
Mr. Glass's mother spouts a number of comic book terms that parallel the various situations her and the other characters find themselves in. Not only is it silly to hear an elder earnestly describe the third act of a movie as the "showdown" portion of a comic book, but it also takes viewers right out of the movie because it feels so manufactured. There are several moments just like this throughout.
However, by far the most disappointing thing about Glass is the ending. Not only is it unsatisfying, but its resounding dissatisfaction trickles back down to the two films before it and tarnishes them. The events that put Unbreakable into motion can never be looked at the same when you watch Glass, and not in a good way.
Nevertheless, Glass isn't so bad that you shouldn't see it. If you've already invested time in the previous two movies, you should absolutely watch Glass, we just don't recommend carving out time in your week and spending the exorbitant amount on theater tickets to go see it; wait for the digital release or television premiere. At the same time, if you haven't seen either movie and want to binge them before seeing Glass, I recommend not doing that and skipping this trilogy altogether, especially since it appears to be the final installment within this universe.
It's a shame too. These characters have the potential to tell so many profound comic book-inspired stories, although we wouldn't be surprised if Willis, the crux of this universe, decided not to come back if there were a future film anyway. His performance here (and most in recent years) is serviceable at best, but his presence, especially as The Overseer, elevates every scene. McAvoy's several personalities are all effective, and the actor gives a tour de force performance yet again as The Horde. Even the titular character commands attention despite his small amount of screentime.
It all boils down to Glass not being about anything and not having a deeper story to tell with these characters, and having nothing to say about the comic book genre at the peak of its popularity.
What was supposed to be Shyamalan's official return to glory has put him right back at square one, before Split was a success and before he released his underrated horror flick The Visit. Now the director must wow audiences again, however, this time it'll be without the safeguard of a built-in fanbase who enjoyed his previous works and anticipated a continuation of it.