Five Things You Missed at London Fashion Week: Men's FW19
From STORY mfg.'s off-schedule pub quiz to Charles Jeffrey LOVERBOY's riotous show.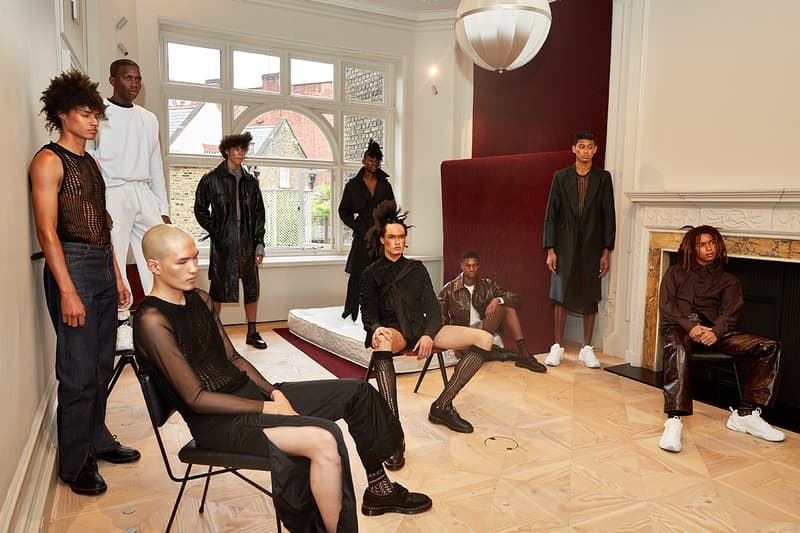 The headlines following this season's London Fashion Week: Men's has been dominated by the big names showing in the British capital. While designers including Craig Green, A-COLD-WALL*'s Samuel Ross and Kiko Kostadinov have taken the plaudits for their collections, a number of other exciting designers may have been missed. As the European fashion crowd moves on to Pitti and Paris, here's a rundown of some of the best under-the-radar collections ranging from STORY mfg.'s off-schedule pub quiz to Charles Jeffrey LOVERBOY's riotous show.
Nicholas Daley
London-based designer Nicholas Daley doesn't take the usual approach to fashion shows. Rather than the classic presentation format, Daley unveiled his Fall/Winter 2019 collection with a performance from musician Puma Blue. Titled "BLACK ARK," the collection takes its name from Lee Scratch Perry's Jamaican studio. "BLACK ARK" sees Daley continue to use traditional British techniques, with specialized mills producing bespoke fabrics for the collection. Elsewhere, the collection also features exclusive custom footwear from Tricker's and the introduction of denim produced by London's Black Horse Lane Ateliers.
Wood Wood
Copenhagen's Wood Wood returned to London to unveil its "Come Down Easy" Fall/Winter 2019 collection. The collection built on themes from Spring/Summer 2019, with the great outdoors a particular focus. This theme is referenced through Alpine prints and military-inspired patterns. Other prints include graphics inspired by vintage skiing culture and mountain life, as well as Scandinavian folklore knits. The collection's outdoor theme was referenced in its presentation as clothes were presented in and around military-style tents.
Charles Jeffrey LOVERBOY
Continually one of the most interesting London Fashion Week: Men's designers in terms of both collection and show, Charles Jeffrey and his LOVERBOY line took over an abandoned industrial estate near the banks of the river Thames. The collection itself was designed for Jeffrey's loved ones and took inspiration from sources ranging from Lord of the Flies to Andy Warhol's Factory. Mixing these influences into a coherent collection with a political message (described as "the idea that kindness, and benevolence and goodness, should live within government") shows why Jeffrey is emerging as one of London's best designers.
STORY mfg.
Showing off schedule, ethical and sustainable label STORY mfg. transformed the usual presentation format into a pub quiz. Named "Earthtone," the collection examines themes including eco-consciousness, youth culture and what it means to be British. STORY mfg. also continues to explore traditional and natural techniques, with tie-dying, block printing, hand-knitting, natural plant-based dying and hand embroidery all used. Key themes in the menswear element of the collection features boxy denim shapes and corduroy hiking outerwear.
Bianca Saunders
Bianca Saunders continued to look at themes surrounding black male identity for Fall/Winter 2019, particularly focusing on men in their most intimate setting, their bedroom. The "Unravelling" collection uses techniques such as twisted seams, shirring and elastication to give the clothes an appearance that contradicts ideas of hyper masculinity. The materials used — nylon, leather, cotton, jersey and denim — were chosen to reference a modern wardrobe, while the fits are adjusted to mimic feelings of familiarity and comfort. The collection's show notes describe it as an "examination of feeling comfortable in your own space."