Gucci's Chime for Change Campaign Promotes Gender Equality
A campaign with murals, zines and a short film.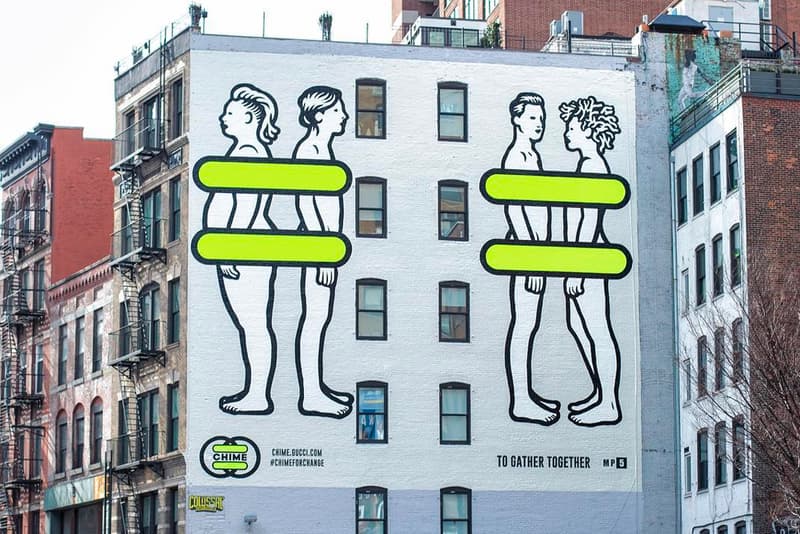 Following the collaboration with UNICEF and Beyoncé, to bring clean water to Africa, Gucci announces the latest move of its Chime for Change campaign — supporting six organizations around the globe, including Equality Now, Global Fund for Women, Ms. Foundation for Women, UN Women, Vital Voices and Women Deliver — to fight against gender inequality.
With the help of Hearst Magazines, Facebook, the Kering Foundation and the Bill & Melinda Gates Foundation, Gucci's creative director Alessandro Michele worked hand-in-hand with Italian street artist MP5 to promote the aforementioned notion. Based on the "To Gather Together" theme of the campaign, the artist created murals in his signature bold, monochromatic style of genderless human figures standing side by side. His works will be found in places, such as London, Hong Kong, New York, Milan, and Taiwan, very soon.
The legendary fashion house published the first issue of its zine, Chime which gathers voices from different countries speaking out against gender discrimination. Chime is now available for purchase online, at select bookstores, Gucci Wooster Bookstore in New York and at the Gucci Garden in Florence. In addition to printed materials, Gucci has also presented a short film by Jade Jackman and Irregular Labs, The Future is Fluid, at the Sundance Film Festival; a film about Generation Z sharing its thoughts about the definition of gender.
Take a look at the short film as well as the breath-taking murals. In related news, LVMH announces record-breaking $53.4 billion USD sales revenue in 2018.