The 25 Best Things You Should Do in Stockholm
Ideal places to try new cuisine, see art and take Instagrammable pics.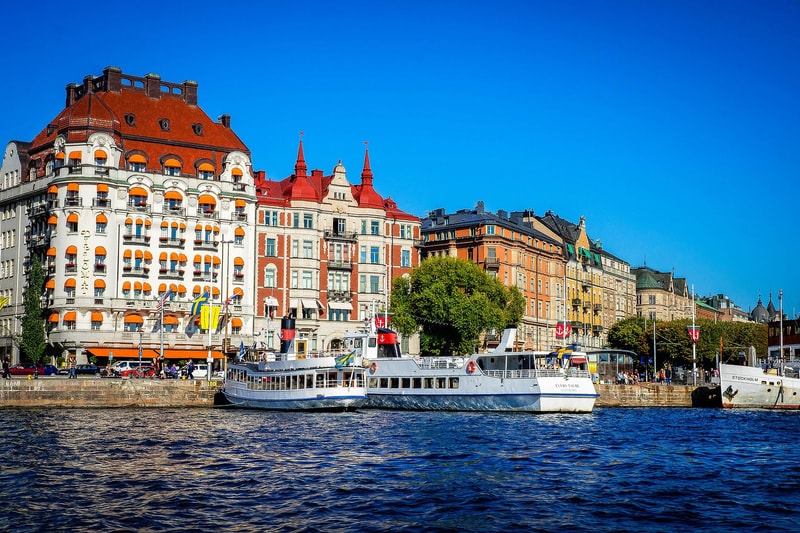 With its photogenic historic buildings, design-minded community and stunning parks, Stockholm's reputation as one of Europe's most picturesque cities precedes itself. The Swedish capital's nickname "Beauty on the Water" is perfectly fitting but there's more to this near-pristine metropolis than just its facade, the city also knows how to have a good time. Awe-inspiring traditional destinations like the Stockholm Palace, City Hall and Royal Swedish Opera are easily contrasted by more fun experiential tour stops that include the ABBA Museum, Gora Lund (amusement park) and underground metro system, home to the "world's longest art gallery."
Swedish people are also known to be extremely humble. There's a common rule called law of Jante in the country stating that individuals "are not better than anyone else." Yet despite this unspoken mandate, Stockholm's citizens have seemingly found a fine balance adapting humility while having a bit (sometimes a lot) of flair in their lifestyles. This is all evident in their ever-evolving fashion sense, love for the arts, culinary fortitude and passion for nightlife — Stockholm Swedes' penchant for partying should never be underestimated.
HYPEBEAST recently had the chance to check out Stockholm under the guidance of some of its culturally-informed residents. We talked to a few local brand owners, food influencers, ex-pats, design buffs, fashion aficionados and nightlife experts about what visitors shouldn't miss while here, as well as new hidden gems worth discovering. Below, is a carefully curated list of 25 things those visiting Stockholm should set their sights on for an overall adventurous experience involving food, art, sightseeing, shopping and more.
Stay at
1. Bank Hotel
The Bank Hotel is on the higher-end of the spectrum in terms of lodging options. Located near the city's waterfront, this landmark building is mere steps away from most of Stockholm's must-visit museums, legacy brand shops and prestigious restaurants. Expect impeccable service and immaculate rooms too. Its in-house restaurant Bonnie's is in a luxury league of its own and Sophie's, Bank Hotel's bar and lounge is known to bring out the city's high society partygoers.
Address: Arsenalsgatan 6 111 47 Stockholm
Phone: +468 59858000
Website: bankhotel.se
2. Story Hotel
Story Hotel is the perfect place for those who lean more towards modern design. With an aesthetically-astute eye for contemporary cool, the establishment boasts a bevy of eye-catching art, sleek furniture and colorful accents for each of its quarters. Young and discerning visitors will find Story's accommodations to be the quintessential Stockholm design experience in terms of room and lodging.
Address: Riddargatan 6 114 35 Stockholm
Phone: +46(0)8 545 039 40
Website: storyhotels.com
3. NOFO Hotel
NOFO Hotel is proud of its signature "Industrial Vintage" ethos. While rooms here are more compact, the flipside is that the place doesn't hold anything back when it comes to cool decor and proper service. Guests are encouraged to visit the wine bar which the establishment is also known for.
Address:Tjärhovsgatan 11, 116 21 Stockholm
Phone: +46 8 503 112 00
Website: nofohotel.se
Eat at
4. Boqueria
Boqueria is the go-to spot for delicious, inventive Spanish tapas. There's never a dull moment here as the restaurant quickly fills up after work hours and especially weekends. Plus, there's always something new on the menu almost everytime you visit. When in doubt, go for the salt and pepper squid, lamb sweetbread fritters, short ribs and burrata. You can also stay and party it up after dinner for a guaranteed good time with your close meal pals.
Address: Jakobsbergsgatan 17, 111 44 Stockholm
Phone: +46 8 30 74 00
Website: boqueria.se
5. TAKO
Upscale, trendy and chic are just some of the words that define TAKO but its Japanese and Korean-influenced menu is what also keeps this new dining destination packed. Sushi here is strongly recommended in addition to the pecking duck and dry-age ribeye. As for drinks, this place serves us up one of the best Old Fashion cocktails in town which you can then take to TAKO's exclusive party section, Charles.
Address: Birger Jarlsgatan 29, 111 45 Stockholm
Phone: +46 8 501 391 00
Website: restaurangtako.se
6. Harvest Home
In the mood for more traditional Swedish fare? Harvest Home is a classic culinary mainstay serving up timeless dishes like meatballs, seafood casserole and beef cheeks. Beer lovers will also be pleased with Harvest Home's wide selection of local ales which are a perfect pairing with some of its smaller plates. The standout, however, is the restaurant's quirky interior design, proudly displaying random Swedish art, personal portrait paintings and large farming tools.
Address: Bondegatan 50, 116 33 Stockholm
Phone: +46 8 643 16 16
Website: harvesthome.se
7. Taverna Brillo
Having Italian food in Stockholm might not be on the top of your agenda when visiting but if ever a craving for the cuisine hits you, head on over to Taverna Brillo. They serve up a popular truffle pizza pie as well as a salmon roe version. For pasta, their rich and hearty Bolognese and tasty ravioli are highly recommended. Taverna also has classic Swedish dishes on their menu so you can try the best of both worlds if that fits your appetite too.
Address: Sturegatan 6, 114 35 Stockholm
Phone: +46 8 519 778 00
Website: tavernabrillo.se
Fika (traditional Swedish coffee and snack break) at
8. Cafe Pascal
Fika, in essence, is Sweden's everyday practice of having a coffee break in the afternoon and Cafe Pascal is a fine choice for a quick pick-me-up. In addition to its classic caffeinated libations, this well-reputed shop also serves up delicious pastries and sandwiches which have also become an important part of Fika culture.
Address: Norrtullsgatan 4, 113 29 Stockholm
Phone: +46 8 31 61 10
Website: cafepascal.se
9. Kaffeverket
The Swedes take coffee seriously and Kaffeverket serves up choice brews without the complicated touches you'll find at those global coffee chains. This cozy spot is quite busy during breakfast and brunch so expect a crowd to form, but the wait is short. You can blame the queue on the delicious croissants, fruit bowls, salads and sandwiches that the locals come back for on the daily.
Address: Sankt Eriksgatan 88, 113 62 Stockholm
Phone: +46 8 31 51 42
Website: kaffeverket.se
See art at
10. Fotogafiska
Photography buffs will have a genuine appreciation for Fotografiska's ongoing exhibits involving renowned photographers worldwide. Names like Annie Leibovitz, Robert Mapplethorpe, Sarah Moon and more all had shows here before. Plus on special event days, visitors can expect cool photography workshops, seminars and even music performances.
Address: Stadsgårdshamnen 22, 116 45 Stockholm
Phone: +46 8 509 005 00
Website: fotografiska.com
11. Vasa Museum
Vasa Museum, or Vasamuseet, is known for one thing, displaying a fully intact 17th-century ship that unfortunately sank on its maiden voyage in 1628 after traveling only a few meters. The giant war vessel was then recovered 333 years later and restored to become the popular tourist attraction it is today. There are different floors in the museum for visitors to view the ship at varied angles. A few accompanying displays and interactive extras tell the full story of this historic ocean behemoth. If you're going to to do at least one "touristy" thing in Stockholm, let it be this one.
Address: Galärvarvsvägen 14, 115 21 Stockholm
Phone: +46 8-519 548 80
Website: vasamuseet.se
12. Moderna Museet
Moderna Museet is a must-visit attraction for any contemporary art fan. Within its walls, visitors will find select works from artists like Pablo Picasso, Salvador Ali, Henri Matisse and Marcel Duchamp to name a few. Art from old and new Swedish talents can be seen here too. Moderna's outside grounds serve as its sculpture park where vibrant pieces of works are displayed, an ideal setting for fun photo opportunities. Special events and festivals also take place here as a way to bring in more young art enthusiasts.
Address: Exercisplan 4, 111 49 Stockholm
Phone: +46 8 5202 3500
Website: modernamuseet.se
13. Bonniers Konsthalls
Bonniers Konsthall should be in your itinerary if more modern art is in your Stockholm agenda. The establishment has been around since 2006 and has grown to become the prime purveyor of contemporary art in the city ranging from solo to group exhibitions. Famed L.A. artist Sterling Ruby once showed at Bonniers in 2012. Other than its highly-engaging showcases, the gallery also offers educational events to teach the community more about contemporary art. Pro tip, the gallery offers free admissions on Fridays.
Address: Torsgatan 19, 113 21 Stockholm,
Phone: +46 8 736 42 48
Website: bonnierskonsthalls.se
14. Nationalmuseum
The one advantage Stockholm's Nationalmuseum has over other museums in the city is that it just completed a five-year, $132 million USD renovation. With a newly expanded ground floor, the space now boasts a wide sculpture court that conveniently leads into the cafe. As for artworks, over 5,000 paintings, photographs, sculptures and more ranging from the 16th century to now can be seen here. Only 1,700 pieces were shown prior to the renovation so the new addition of never-before-seen works should be enough reason to pay a visit.
Address: Stadsgårdshamnen 22 Stockholm
Phone: +46 8 519 543 00
Website: nationalmuseum.se
Shop at
15. Caliroots
Caliroots has been a streetwear and sneaker retailer mainstay in the city since the early 2000s and it just recently relaunched a new store that now also includes premium brands. The most coveted footwear drops can be purchased here if you're lucky enough and when it comes to select fashion labels, customers can be sure to find Polo Ralph Lauren, visvim, NEIGHBORHOOD, UNDERCOVER, Our Legacy and more. Nike, adidas and Converse to name a few are also stocked if sneakers are more your thing.
Address: Lästmakargatan 5 Stockholm
Phone: +46 8 7200797
Website: caliroots.com
16. JUS
Those who like avant-garde fashion will find their favorite labels at JUS. Rick Owens, Raf Simons, COMME des GARÇONS and more are thoughtfully stocked here. The fashionable, friendly staff are quite pleasant and helpful which is a major plus if you're a stickler for customer service. Displays and items at JUS are carefully curated, making navigating between different sections of the shop a breeze.
Address: Brunnsgatan 7, 111 38 Stockholm
Phone: +46 8 20 67 77
Website: jusstore.se
17. Acne Archive
Swedish fashion brand Acne Studios already has a lot of its main stores conveniently placed throughout the city. If you're more of a bargain hunter, Acne Archive is a fine alternative, but this place offers up more than just sale prices. On any given day, you can also find some rare gems here — past samples, studio samples, selected classics and even unseen studio editions. Put Acne Archive on the top of your list when planning out a shopping day on your visit.
Address: Torsgatan 53, 113 37 Stockholm
Phone: +46 8 30 27 23
Website: acnearchive.com
18. Our Legacy Work Shop
Our Legacy is another Stockholm-based fashion label that's been offering up some of the best menswear garbs since its inception in 2005. Now in 2018, the brand has built a strong cult following and for its fans visiting the label's city of origin, Work Shop is a must-not-miss stop. While you can easily shop OL's other main stores, Work Shop — just like Acne Archive — stocks past collections at a lower price point. This place is for the true clothing archive hunter and is a haven for Our Legacy outerwear pieces. Insider tip — some of the staff also sell their own pre-worn pieces from other brands akin to Our Legacy.
Address: Rödabergsgatan 6, 113 33 Stockholm
Phone: +46 8 30 15 05
Website: ourlegacyworkshop.se
19. Sneakersnstuff
Sneakersnstuff is another sneaker retail institution in the city. When Stockholm sneakerheads speak the language of kicks, Sneakersnstuff is primarily a big part of the conversation. YEEZY, Air Jordan and adidas drops frequently happen here but it's also a place where die-hard footwear fans can congregate, allowing the city's sneaker community to grow much stronger.
Address: Åsögatan 124 116 24 Stockholm
Phone: +46 (0)8 743 03 22
Website: sneakersnstuff.com
Grab drinks and/or party at
20. Spy Bar
Spy Bar is synonymous with Stockholm's party scene. Long lines form outside during the weekends where once inside, you might even catch a celebrity or two. Everything from hip-hop, house and electronic music are played in its multi-room layout. The city's party pros usually save this destination for last on a busy evening but that's because they know the security staff at front for easy access. Nightlife neophytes are encouraged to come early to increase chances of getting in.
Address: Birger Jarlsgatan 20, 114 34 Stockholm
Phone: +46 8 545 076 00
Website: n/a
21. Moon Motel
Moon Motel is actually where members of Stockholm's hospitality community go to party. So it usually doesn't get crowded until 2 in the morning, when bartenders and food servers have finished their shifts. DJs here play an eclectic mix of hip-hop, '90s pop and even reggae but its the diverse crowd that amplifies this space's uber retro vibe.
Address: Lästmakargatan 3, 111 44 Stockholm
Phone: +46 8 00 00 00
Website: n/a
22. Pharmarium
Pharmarium is one of Stockholm's most creative bars located in its Old Town. The imaginative concoctions they make are inspired by the place's pharmacy store theme. So you might find yourself ordering a drink called "Snake Oil" which is made up of cognac, tequila, pickled strawberry brine and a bit of pepper. They also serve traditional fare so an option could be coming for dinner and staying for drinks.
Address: Stortorget 7, 111 29 Stockholm
Phone: +46 76 552 97 81
Website: pharmarium.se
Take Instagrammable pics at
23. Gamla Stan
Gamla Stan is the old town of Stockholm and contains some of the most picture-worthy architecture seen. It's also home to the city's famous "most narrowest street" where the 35-inch width walkway leads you from one neighborhood to another. Away from the narrower avenues, however, are ones with more open spaces that provide greater angles for architecture photography or stylish solo portraits. Visit at the very tip of the afternoon for maximum lighting which illuminates the colorful facades.
Address: n/a
Phone: n/a
Website: n/a
24. Kungsträdgården Metro Station
Stockholm's underground metro system is where visitors will find the "world's longest art gallery." Most of the walls and floors are covered with colorful illustrations and abstract paintings. Try and visit all the stops to get a new photo opportunity every time.
Address: 111 47 Stockholm
Phone: n/a
Website: n/a
25. Stadsbiblioteket (Stockholm City Library)
Being inside Stockholm's public library is a gratifying experience. The city's inhabitants have a 99% literacy rate which means they take their love of books seriously. The library's wooden shelves and the many colorful bounded books it carries give the whole place an extremely artful character. Consider this bibliophile haven for some alone time for reading a few stories or snapping a few interior shots.
Address: Sveavägen 73, 113 50 Stockholm
Phone: +46 08-508 30 900
Website: biblioteket.stockholm.se