This is How We Heard Frank Ocean's 'Blonde'
It was worth the wait.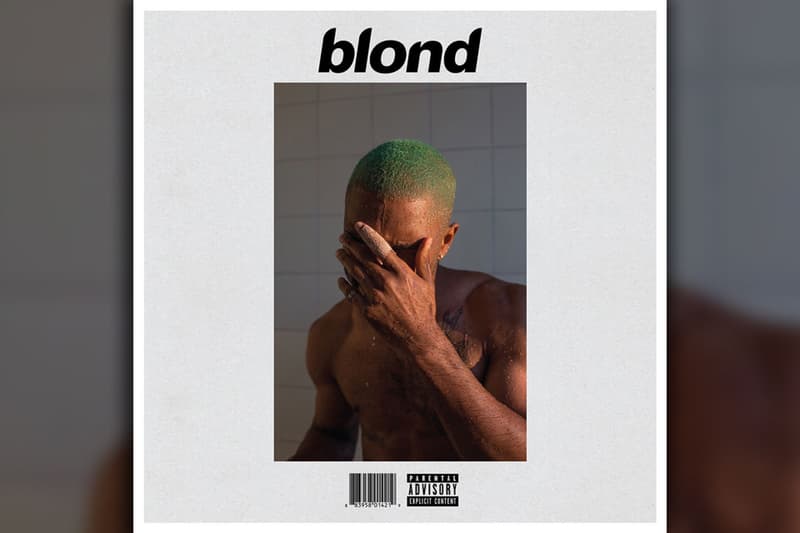 The road to Frank Ocean's latest album was a long and confusing one, marred by name changes, untrue rumours and a number of release dates changes—the latter of which even Ocean himself seemed cheekily aware of when he uploaded a library due-date slip to his website early in July of this year. The image listed chronological dates running from last July 2015 to July 2016, with the exact day of the latter smudged. Fans' rabidness reached a fever pitch after July 31, 2016 came and went: Reddit users start plotting to kidnap the reclusive singer's younger brother Ryan Breaux for ransom; developers created apps to alert eager fans of the album's release; and some fans even put together a diss-mixtape titled Boys Do Cry. When his site finally roared to life on August 1, it did so with a simple message to the world who was waiting with baited breath, a metaphoric visual that was surprisingly clear for an artist known for his complex, poetic songwriting style and advanced lyrical prowess: The video stream depicted him constructing what would eventually reveal itself as a staircase; Ocean was literally working away, crafting something beautiful and intricate that would take time, and when it was ready it would be revealed to the world.
With the live stream, Ocean invited all his fans to have a taste of the painstaking, methodical process required of an artist working on the follow-up to a generation-defining album, 2012's Channel ORANGE. It was painfully slow-moving, featuring a prolonged section of Ocean literally watching paint dry. But good things come to those who wait, and the visual stream eventually gave way to Endless, the video album which was finally released on August 19. The album's 18 tracks are like flipping through Ocean's notebook of ideas: like the visual stream itself, the songs on Endless are another fascinating peek at his process with many of the ideas appearing raw and almost unfinished, showing that even the most beautiful things can be complicated, and that true love exists not in the pursuit of perfection but in spite of imperfection.
Then came the surprise news that there was another album, Blonde. It's now been revealed that the precursor, Endless, fulfilled his obligations to his former label Def Jam, while Blonde is an independent release through Ocean's own Boys Don't Cry imprint. The "two versions" answer all the questions about what Ocean has been up to the last four years: Endless is the workshop where the ideas, inspirations and art were fine-tuned, and Blonde the end result of the careful crafting. The latter is a fiercely honest, emotional and vulnerable peek inside the heart and mind of one of the most mysterious and reclusive artists of our time, who doesn't use social media, who manages to escape the paparazzi's pursuits and who only reveals what he wants, and only through his music.
Sonically, Blonde is about as minimal as it gets. Most of the songs are void of any types of drums and in their place are echoing guitars, stark keyboards and distorted vocals. While the actual sounds are minimal, the complexity here comes from the structural deviations and topical explorations. Each individual song is a journey, taking twists and turns and often ending on a very different note than they began. The technical production is a standout throughout, with Blonde boasting an all-star team of engineers who aid in achieving the lush, rich quality that wraps itself around this album's 17 songs like a warm, hi-fi blanket.
Blonde is a fiercely honest, emotional and vulnerable peek inside the heart and mind of one of the most mysterious and reclusive artists of our time.
It isn't just the talent behind the boards that's impressive, as Blonde features an incredible list of featuring artists—Beyoncé, Kendrick Lamar, James Blake, Yung Lean, and Radiohead's Johnny Greenwood among them. But aside from Andre 3000's unmistakable drawl lending itself to a stabbing verse on "Solo (Reprise)," the other features are managed with an low-key and almost hush-hush understatedness, casually thrown into the mix versus demanding the spotlight, and unlisted on any of the album's official tracklistings. It's a strong statement, however unintentional, that Blonde is Frank Ocean's and his alone.
As a songwriter, Ocean continues to impress with his ability to unpack complicated emotions into lyrical form. It's been five years since he took the world by storm with a project titled Nostalgia, Ultra, and it appears he is still just as driven by notions of memory and longing, as nostalgia is perhaps the greatest lyrical theme throughout: "We didn't give a fuck back then," he reminisces on "Ivy;" "I ain't a kid no more, we'll never be those kids again." He reflects on changing love and relationships with lyrics like "I run my hands through what's left/ But we're getting older, baby" (from "Close to You") or "You are from my past life, hope you're doing well bruh" (from "Nights").
He is still just as driven by notions of memory and longing, as nostalgia is perhaps the greatest lyrical theme throughout.
Ocean tackles difficult subjects which often exist outside and far away from the R&B genre. He contemplates whether he can "settle for a place with some nice views" with "two kids and a swimming pool" before stating that he'd "rather live outside" (on "Siegfried"). On "Solo" he cleverly uses word play—solo/so low, inhale/in hell—to explore the use of drugs and sex as coping mechanisms, and also break down traditional definitions of right and wrong, using heaven and hell as tropes in moral exploration. Ocean is also thinking about morality and "what it means to be alive on this side" ("Pretty Sweet"). He uses the metaphor of a "White Ferrari" to describe something rare and precious, and yet fleeting — perhaps a love, or life itself: "If you think about it, it's over in no time, the best life," he sings.
The album closes with "Futura Free," a heartfelt yearning for youth that is a bittersweet and yet entirely appropriate end to the reflective journey that is Blonde. For the narrator, it's a sentimental gaze at his past and everything that brought him to this point, including family, dreams, pain, conflict and naivety. For the listener, it's a snap back to the reality that the album has come to a close and it might be another long while before Frank Ocean is back to bless us with any new material.
But that is the beauty of Blonde—it will stand the test of time, just as channel ORANGE and Nostalgia, Ultra have. It simply possesses too much complexity and too many layers to unpack or even appreciate with four, five or 20 listens. With this offering, Ocean achieved what most artists only wish they could: he was vulnerable and yet remained elusive; he revealed his entire heart but is still shrouded in mystery; and now we have even more questions about his life, love, art and motivation to sustain us until he decides to offer more answers—or pose even more questions—even if that takes another four years. And when the demand reaches the critical mass that it did in July of 2016, we can look back to Blonde, and Endless just before it, and remember that something beautiful and intricate takes time to build, but when he's ready to reveal his heart and his art to the world, Frank Ocean will ensure it was worth the wait.