Future & Young Thug Unite for the Hard-Hitting Single "Way Longer"
Two titans collide.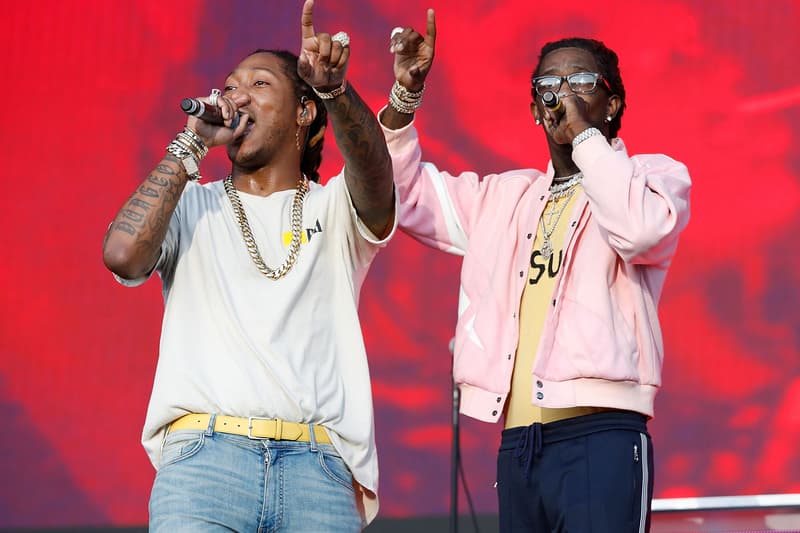 Two of modern hip-hop's most significant superstars connect for a new joint single called "Way Longer." Following up their collaboration with this past June's Beautiful Thugger Girls cut "Relationship," Future and Young Thug turn up and deliver some hard-hitting flows on for their latest collaborative offering. While this new release appears to be a loose single without any sort of attachment to a particular project, it does sound like the sort of street single that will get plenty of play in the car or club. Anytime Future or Young Thug pop up on a new song, there's always a good chance that they produce a hit.
Besides today's record, Young Thug has been doing plenty of feature and guest work as of late. The acclaimed ATLien began the month by linking up with The Weeknd and A$AP Rocky for a high-profile "Reminder" remix; directly following that, he joined close collaborator Quavo in supporting former Fifth Harmony singer Camila Cabello's burgeoning solo career. Last Thursday, Thugger hopped on Strick's "100 Degrees" single.
For the summer of 2017, Future has also been a frequent guest collaborator. Kodak Black's anticipated Project Baby 2 full-length has been teased with a snippet of a Future-assisted track included on the tape, and Nicki Minaj stole the show during last month's visual for her own Future collaboration "You Da Baddest." Like his "Way Longer" cohort Young Thug, Future has also extended a helping hand to one of his genre's up-and-comers by linking up with Lil Freaky for the "Dripset" record.
Courtesy of WorldStarHipHop, you can stream Future and Young Thug's "Way Longer" above.