Conor McGregor Responds to Floyd Mayweather's Training Invitation
The Notorious isn't a fan of the friendliness.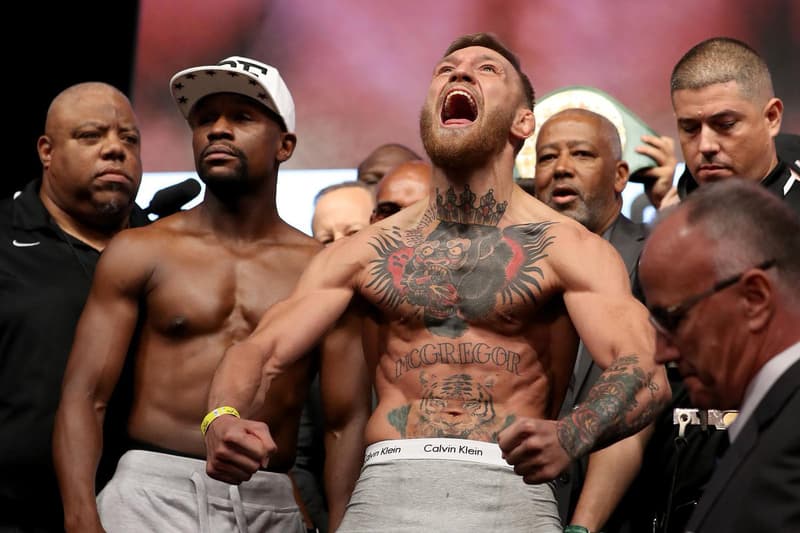 Shortly after Floyd Mayweather extended a training invitation to Conor McGregor, The Notorious One declined the invitation to Mayweather's home gym in Las Vegas stating, "there is no peace here kid."
Despite Mayweather pulling for him in his return to the octagon against Khabib Nurmagomedov at UFC 229, it seems that McGregor isn't moving past their rivalry just yet. McGregor then put out a challenge, appearing to call Mayweather into the octagon accompanied by a set of favorable photos. Not one to shy away, Mayweather provided a response highlighting how he bested the MMA star in the boxing ring when they met last year.
Check out the back and forth between Conor McGregor and Floyd Mayweather below.
In case you missed it, learn more about Conor McGregor's upcoming title fight with Russian UFC Lightweight Champion Khabib Nurmagomedov.
Fuck the Mayweathers, except Senior and Roger.
There is no peace here kid.
Step up or step down.

— Conor McGregor (@TheNotoriousMMA) August 29, 2018
1 year ago what a trip. Outside trip. pic.twitter.com/d35VKlucH5

— Conor McGregor (@TheNotoriousMMA) August 29, 2018
Easiest 9 figures I ever made! All work is what ? #MayweatherPromotions#TMT#TBE pic.twitter.com/32WGa78AHV

— Floyd Mayweather (@FloydMayweather) August 29, 2018