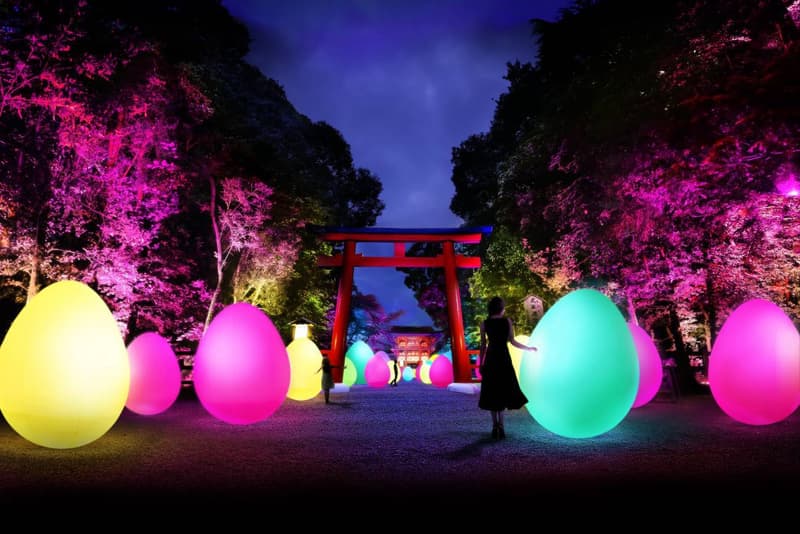 teamlab to Launch Light Festival in Japan's Shimogamo Shrine
Transforming the World Heritage site into an immersive artwork.
---
teamLab continues to push the boundaries of its immersive light installations. Following the Japanese collective's "Summer Forest" exhibition in Kyushu is a brand new experiential work at a World Heritage site in Japan. Located at the Tadasu no Mori forest at Shimogamu Shrine, the forthcoming festival will boast a series of light installations including the organization's Resisting and Resonating Forest and Resisting and Resonating Ovoids piece along the road that approaches the shrine. Moreover, the tower gate will boast light artworks that change its appearance during human interaction.
"With the concept of 'delivering Japanese beauty and culture to the world,' we fuse opposing elements like technology and nature, progress, and tradition, or strength and beauty, and cherish the balance between them while we work to create a global beauty culture," said teamLab.
Get a closer look at the light festival below and expect the opening ceremony to commence on August 15. The installation will be on view until September 2. In related news, take a look at this week's best art drops.
Shimogamo Shrine
Shimogamo Izumikawa Cho 59
Sakyo-ku, Kyoto 606-0807
Japan