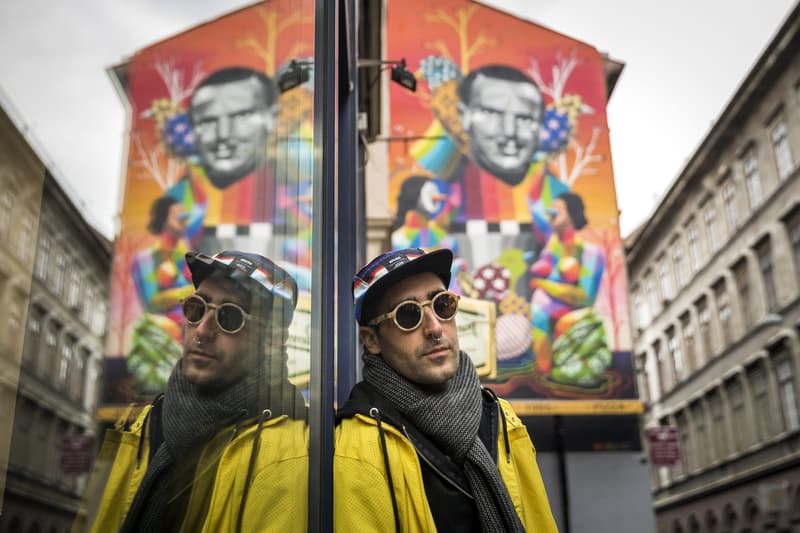 Best Art Drops: Okuda Prints, D*Face Sculptures & More
Including collaborative surfboards by Krink and JunxJo.
---
Branding oneself allows for unabridged creative freedom. Contemporary artists today are focusing their time on building a personal artistic style to connect with a wider audience and open up new outlets for creativity. Iconic artists such as Picasso, Dali, and Warhol have established brands of their own, having harnessed a recognizability for their respective styles that are now world-renowned.
Take, for instance, Okuda San Miguel. The Madrid-based artist is widely-recognized for his colorful geometric motifs that have adorned everything from abandoned churches to pillow cushions. His strategic approach in choosing the organizations and people he wants to align with is key to elevating his own personal brand.
Read on to learn more about Okuda alongside the best art drops this week.
Okuda San Miguel Releases Special Edition Print
Release Date: Available Now
Release Price: $108 USD
Okuda San Miguel recently launched a new limited edition print to raise proceeds for a small public school located in the outskirts of Santander, Spain. The signed and numbered artwork portrays a prismatic dog and bird with a striking gradient motif in the backdrop. Sized at 54 by 67 centimeters, the work is available now at Ulule as an edition of 111.
D*Face Unveils New Create and Annoy Sculptures
Release Date: August 2
Release Price: $4,000 USD
Internationally-acclaimed artist D*Face will soon launch his first solo show in Seattle's Treason Gallery on August 2. Entitled "Home Is Where the Heart Is," the artist will present both new and old works, including his epic portrayals of Marilyn Monroe and Queen Elizabeth II. One of the more notable pieces is a series of new mixed-media sculptures called Create and Annoy. These plaque-like creations center upon his trademark D*Dog character in varying skeletal versions, which will be up for grabs at the exhibition for around $4,000 USD each.
James Evans Launches Hyperrealistic Sapporo Prints
Release Date: Available Now
Release Price: $200 USD
James Evans is a painter and illustrator currently based in New York City. Evans largely draws inspiration from graphic design principles and literature to create his paintings. The artist has participated in a number of shows including one in BLANK SPACE alongside a collaborative print release with Opening Ceremony. He currently dropped a new limited print that features a hyperrealistic portrayal of a crashed Sapporo beer can. The print measures 20 by 30 inches on Soft Innova cotton. It's available now on JME as an edition of 20 and priced at $200 USD each.
Krink and JunxJo Collaborate on Limited Painted Surfboards
Release Date: Available Now
Release Price: TBC
Famed graffiti artist Krink teamed up with professional Hawaiian surfer Jun Jo on an exclusive surfboard series. The partnered offering sees two unique designs painted in Krink's signature style. Both boards are also equipped with painted fins. Two boards have been made with only one of them available to the public, now at 303Surf or Saturdays NYC's online shops.
Andre Saraiva and Pintrill Team up on Exclusive Pins
Release Date: Available Now
Release Price: $15 USD
Pintrill's latest artist collaboration is none other than the world-renowned Swedish artist Andre Saraiva. The duo just released two limited pins featuring Andre's signature Mr. A character. Both accessories are crafted out of black nickel metal with hard enamel alongside black rubber pin clutches. Head over to Pintrill's online shop to purchase.