Stream Oh Wonder's New Album 'Ultralife'
The London duo also speak with us about being an accident, their DIY process and who their favorite rapper is.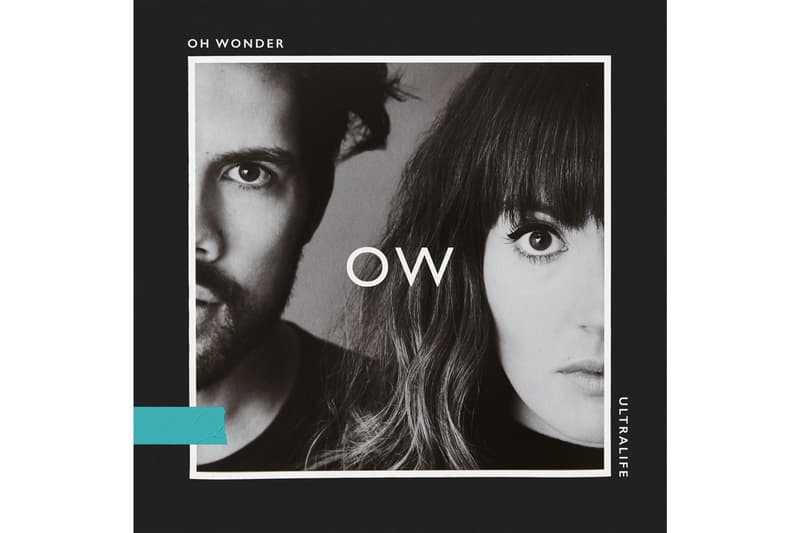 UPDATE: Lil Uzi Vert's standout LUV Is Rage 2 track "The Way Life Goes" samples from Oh Wonder's "Landslide," off of the band's debut album.
Today Oh Wonder, a London-based alt-pop duo consisting of Anthony West and Josephine Vander Gucht, has released their sophomore studio album, Ultralife. The follow up to their 2015 eponymous debut is 12 tracks long and, like their first album, is entirely written and produced by the duo. West and Vander Gucht wrote the first half of their album in an Airbnb in Brooklyn in mid-2016. They finished the second half in their London hometown, in a home studio, after they finished their year-long world tour. Due to their busy schedules, many of the tracks were written on the road — hence the incorporation of traffic sounds in the album's intro track. Led by singles "Ultralife," "Lifetimes," "My Friends," "Heavy" and "High on Humans," Ultralife finds glittery synths and a special, quirky energy that is rarely present in their debut release. "It's a much more personal album lyrically and hopefully it's more musically diverse as well," Vander Gucht describe Ultralife.
For their debut album, West and Vander Gucht recorded and released one song every month beginning on September 2014. Each song was created from start-to-finish in their London home studio. Released independently, the album reached No. 80 on the Billboard 200 and number 26 on the UK charts. The album hit Gold in sales and amassed over half a billion total streams, with songs like "Drive," "Technicolour Beat," and "Lose It" reaching or surpassing 50 million streams individually. The duo has toured all around the world after dropping their debut album in 2015 and has appeared in festivals including Bonnaroo, Lollapalooza, Firefly and more.
We linked up with the duo to speak on how they got together, their "accidental" process, the album, their DIY-approach to music and who their favorite rappers are. Listen to Ultralife and read our conversation with Oh Wonder below.
How'd you guys meet?
We met about seven years ago through mutual friends. Somebody recommended Anthony to me as a producer; "he'd be a great fit for your music, you should try working with him," they said. So we met up and kind of instantly meshed and were on the same page, and we just started working together. Oh Wonder as a project is very accidental — we never set out to play shows or make albums.
One thing unique about your music is that every single lyric is sung by both of you in unison. Who came up with that concept?
It was actually very accidental. We'd been making music for a while and writing music together. We started singing together so that we could pitch the songs to other octaves. So basically, both the female or male could sing them; we made it so that the songs could be sung by anyone.
Tell us about the strategy of releasing one song a month for twelve months for your eponymous debut album.
We wrote and recorded one song every month. When we started the project, we had one song, and it eventually became an album. It's quite crazy. In hindsight, it was actually a great way to release music. At the time, however, it was more that we wanted to challenge ourselves for a constant outpouring of creativity for a year. It's also rather selfish because as a musician, the best feeling in the world is releasing music — releasing the thing that you've just made. We just always wanted to experience that twelve times over. It kind of really worked and it also helped create a fanbase.
Do you guys write, produce, mix and master your songs?
Yes, we write, produce and mix the song — we do the whole songwriting process. Someone else masters them though.
Oh Wonder seems too good to be just an accident. Did you have any experience as musicians prior to forming this duo?
We've been in various projects over the years. I produced and were in several bands: Tonight is Goodbye, Futures and We The Wild. Josephine's had a project called LAYLA. But yeah, I think with the combination of backgrounds we had, it just collided and worked out well. It was very organic and feels very simple.
How is Ultralife different from Oh Wonder?
This album was written as a whole body of work — we recorded it in three months over Christmas. We were really inspired by New York as a place as well as the raw musicality that you get playing in front of stage with people. It's a much more personal album lyrically and hopefully it's more musically diverse as well.
Your music is very popular but fans don't know too much about your personal lives. What's something interesting about yourselves?
We both run marathons; we are both big on running as a way of meditating. We love food. We love to eat and run, that's what we're about to do actually.
The current music climate is very rap-oriented. There very rhythmic and soulful elements in your music also. Are you guys big on rap or R&B music at all?
Probably the closest we've gotten to really listening to rap is Anderson Paak. His album Malibu has been a huge record for us. He's really bridging rap music with pop, R&B and other styles. Of course we all listen to the rap heavyweights like Drake, Kendrick Lamar, A$AP Rocky and Migos and Frank Ocean and kind of that whole crew. The Weeknd — I guess he's not really rap — but we like his music.