The End of a Saga: A Timeline of Lil B's Curse on Kevin Durant
For the Bay.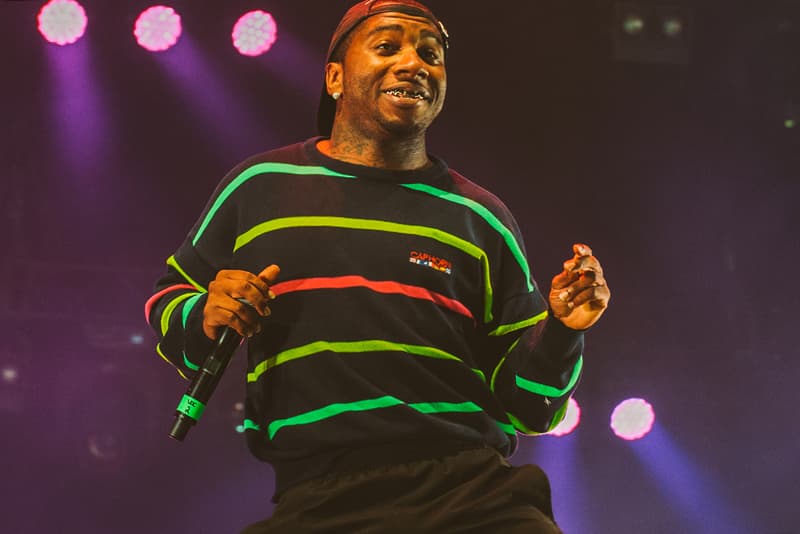 Earlier this week, Kevin Durant made the announcement that he was signing to the Golden State Warriors. The next chapter of his life was a big deal because, the All-Star small forward has played for Oklahoma City Thunder (formerly the Seattle SuperSonics) his entire nine-year professional career. Some have been understanding towards his decision, some haven't — especially since OKC made it to the Western Conference Finals this year but met its demise against the Warriors after a close 4-3 result. In his open letter to fans, Durant writes that he was at a point in his life where "it is of equal importance to find an opportunity that encourages [his] evolution as a man."
Other than being one of NBA's biggest stars, Durant is also known for his feud with Lil B. The San Francisco rapper has been very vocal about his disdain while Durant has chosen to give relatively less attention to B, although it was the former Thunder player who initiated the beef by criticizing his music. Lil B has dropped many disses and challenges since the conflict's conception, and has infamously cursed that Kevin Durant would never win an NBA championship. Not only has the curse been valid so far, it became such a big deal in the music and sports worlds that the whole situation eventually even grabbed the attention of NBA TV and ESPN. Whether if you're a believer or not, Lil B's religion transcends beyond basketball, music and culture. The Lil B-KD conflict allowed non-sports fans to care about basketball and exhibited the music world to NBA fans.
Lil B decided to lift Kevin Durant's curse after Durant announced that he was joining B's hometown team. The rapper tweeted: "As life unravels and superstars make decisions that change lives, welcome home KD, the curse is lifted." It's not the first time B's lifted the curse, so we don't know if the verdict is permanent this time either — especially since KD has yet to apologize to Lil B. With feelings put aside for now, it seems like The Based God has taken the high road and decided to spare KD for the greater good of his city. In celebration of the treaty, we have put together a timeline of the Based God's curse towards Kevin Durant, from its inception in 2011 to its recent retraction​.
KEVIN DURANT DISSES LIL B
(2011)
I tried to listen to Lil B and my mind wouldn't let me do it….can't believe this guy is relevant

— Kevin Durant (@KDTrey5) January 29, 2011
LIL B RETALIATES, CHALLENGES KD TO 1-ON-1 MATCH
(2011)
BROTHER I BET I CAN BEAT U IN BASKETBALL 1 ON 1 U AND ME IL BET MY RAPPING SKILLS IM BETTER THEN YOU AT HOOP @KDthunderup – Lil B

— Lil B THE BASEDGOD (@LILBTHEBASEDGOD) January 29, 2011
FOLLLOW ME @KDthunderup AND LETS SET UP A 1 ON 1 BASKETBALL MATCH IF I LOOSE IL RETIRE FROM RAPPING – Lil B

— Lil B THE BASEDGOD (@LILBTHEBASEDGOD) January 29, 2011
@KDthunderup BROTHER IM SERIOUS WE RECORD IT FOR WSHH,
AND WE DO IT
WEREVA COURT U WANT IT BRO,
IF U WIN, 21 AND U GOTA WIN by 2 – Lil B

— Lil B THE BASEDGOD (@LILBTHEBASEDGOD) January 29, 2011
KEVIN DURANT SCARED TO PLAY HOOP WITH ME 1 on 1 I KNEW HE WASENT BOUT IT. – Lil B

— Lil B THE BASEDGOD (@LILBTHEBASEDGOD) February 1, 2011
KD AGREES TO PLAY LIL B, DOES NOT FOLLOW THROUGH
(2011)
OKLAHOMA CITY THUNDER LOSES IN WESTERN CONFERENCE FINALS (2011)
LIL B OFFICIALLY PUTS THE BASED GOD'S CURSE ON KEVIN DURANT
(2011)
KEVIN DURANT WILL NEVER WIN THE TITLE AFTER HE SAID "LIL B" IS A WACK RAPPER,

"THE BASEDGODS CURSE"#THEBASEDGODSCURSE ON DURANT – Lil B

— Lil B THE BASEDGOD (@LILBTHEBASEDGOD) May 26, 2011
OKLAHOMA CITY THUNDER LOSES TO MIAMI HEAT IN FINALS
(2012)
LIL B TEMPORARILY LIFTS CURSE FROM KD
(2012)
I WANNA SAY THAT "THE BASEDGODS" CURSE IS GONE FROM KEVIN DURANT THE THUNDER ARE FREE NOW TO WIN FUTURE GAMES, U CANT WIN HATING – Lil B

— Lil B THE BASEDGOD (@LILBTHEBASEDGOD) June 22, 2012
LIL B DROPS "WARM UPS," RE-CHALLENGES KD TO A GAME
(2012)
KEVIN DURANT TELLS LIL B TO SHUT UP, LIL B FIRES BACK
(2012)
@KDTrey5 IMA SHUT UP ONCE I PLAY THAT SHUT DOWN D ON YO ASS AND U GON BE MAD WHEN I GET CLUTCH ON YOU, IL STOP RAPPING THEN – Lil B

— Lil B THE BASEDGOD (@LILBTHEBASEDGOD) September 1, 2012
LIL B TRIES OUT FOR NBA D-LEAGUE
(2012)
THE F*CK KD SAGA BEGINS
(2014)
AND FUCK KEVIN DURANT LIL B FOR LIFE – Lil B

— Lil B THE BASEDGOD (@LILBTHEBASEDGOD) February 17, 2014
FUCK KEVIN DERANT – Lil B

— Lil B THE BASEDGOD (@LILBTHEBASEDGOD) March 5, 2014
LIL B CALLS OUT KEVIN DURANT ON NBA TV
(2014)
KEVIN DURANT FIGHTS FOOT INJURIES
(2014-2015)
LIL B DIRECTS CURSE TO JAMES HARDEN, KD IS STILL CURSED
(2015)
Good job James harden for your first win of the season keep fighting through the curse young soul, Kevin durant and Westbrook lol – Lil B

— Lil B THE BASEDGOD (@LILBTHEBASEDGOD) November 3, 2015
THE WARRIORS FACE-OFF AGAINST THUNDER FOR WESTERN CONFERENCE FINALS
(2016)
I'm going to ask " The BasedGod " about the Warriors and send blessings to the whole team again and again @warriors @OracleArena – Lil B

— Lil B THE BASEDGOD (@LILBTHEBASEDGOD) May 14, 2016
Just got word from " The BasedGod " that the thunder will not be beating the Warriors in the playoffs series,Durant is still cursed – Lil B

— Lil B THE BASEDGOD (@LILBTHEBASEDGOD) May 16, 2016
Kevin durant is fighting through the curse this is a beautiful thing to See – Lil B

— Lil B THE BASEDGOD (@LILBTHEBASEDGOD) May 23, 2016
WARRIORS BEAT OKC, LIL B REMINDS US THAT CURSE IS REAL & ACTIVE
(2016)
And they said the curse was not real " The BasedGod" has never lied to me and like he told us.. The Warriors are going to the finals – Lil B

— Lil B THE BASEDGOD (@LILBTHEBASEDGOD) May 31, 2016
KEVIN DURANT DECIDES TO LEAVE OKC FOR WARRIORS, LIL B LIFTS CURSE
(2016)
My next chapter https://t.co/DG2TJ5cnev pic.twitter.com/zi94ss9NWI

— Kevin Durant (@KDTrey5) July 4, 2016
"The BasedGod" wants to speak,As life unravels and superstars make decisions that change lifes, welcome home KD the curse is lifted – Lil B

— Lil B THE BASEDGOD (@LILBTHEBASEDGOD) July 4, 2016
LIL B'S TWEET GETS MORE RETWEETS AND LIKES THAN KD'S ANNOUNCEMENT
(2016)
KD's curse being lifted by Lil B got 20,000 more retweets than KD's tweet about going to the Warriors. https://t.co/ao43WPLPpW

— Shaun King (@ShaunKing) July 4, 2016