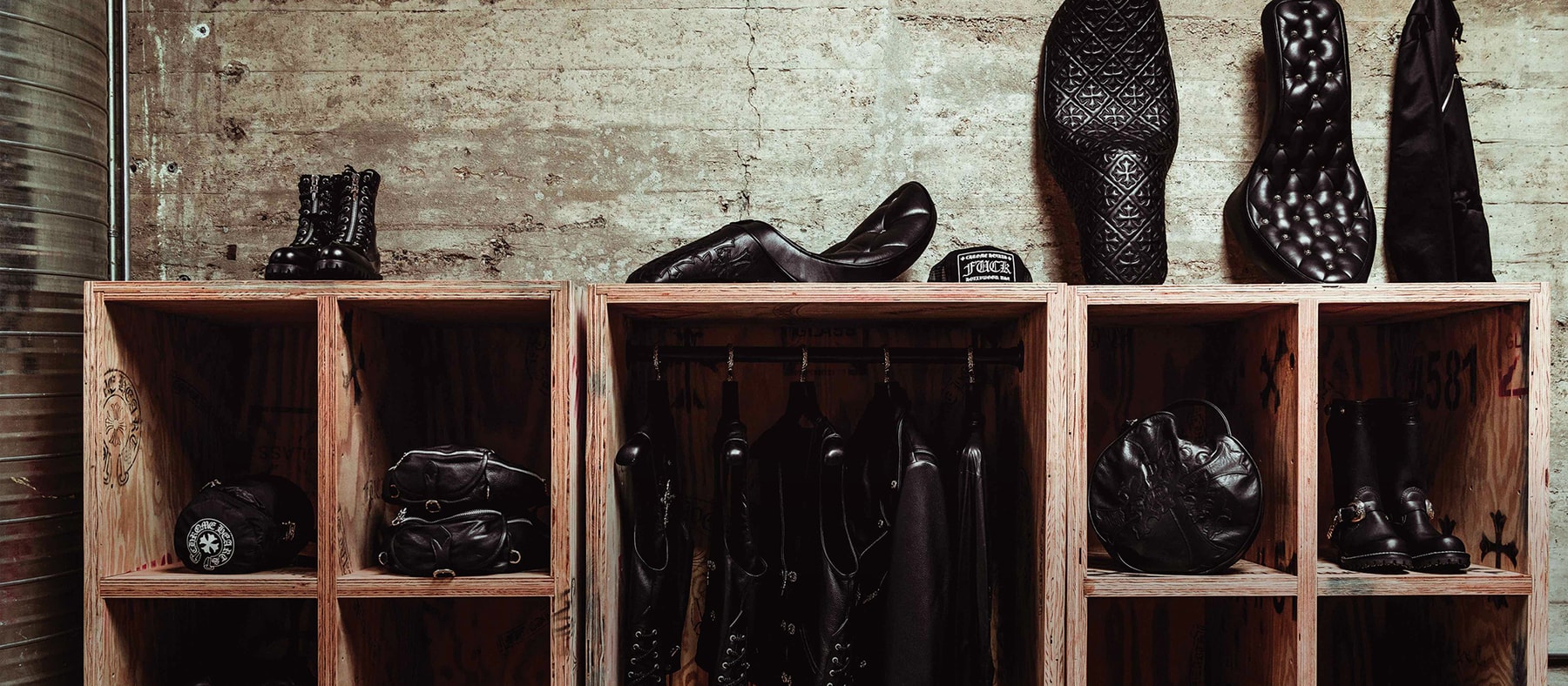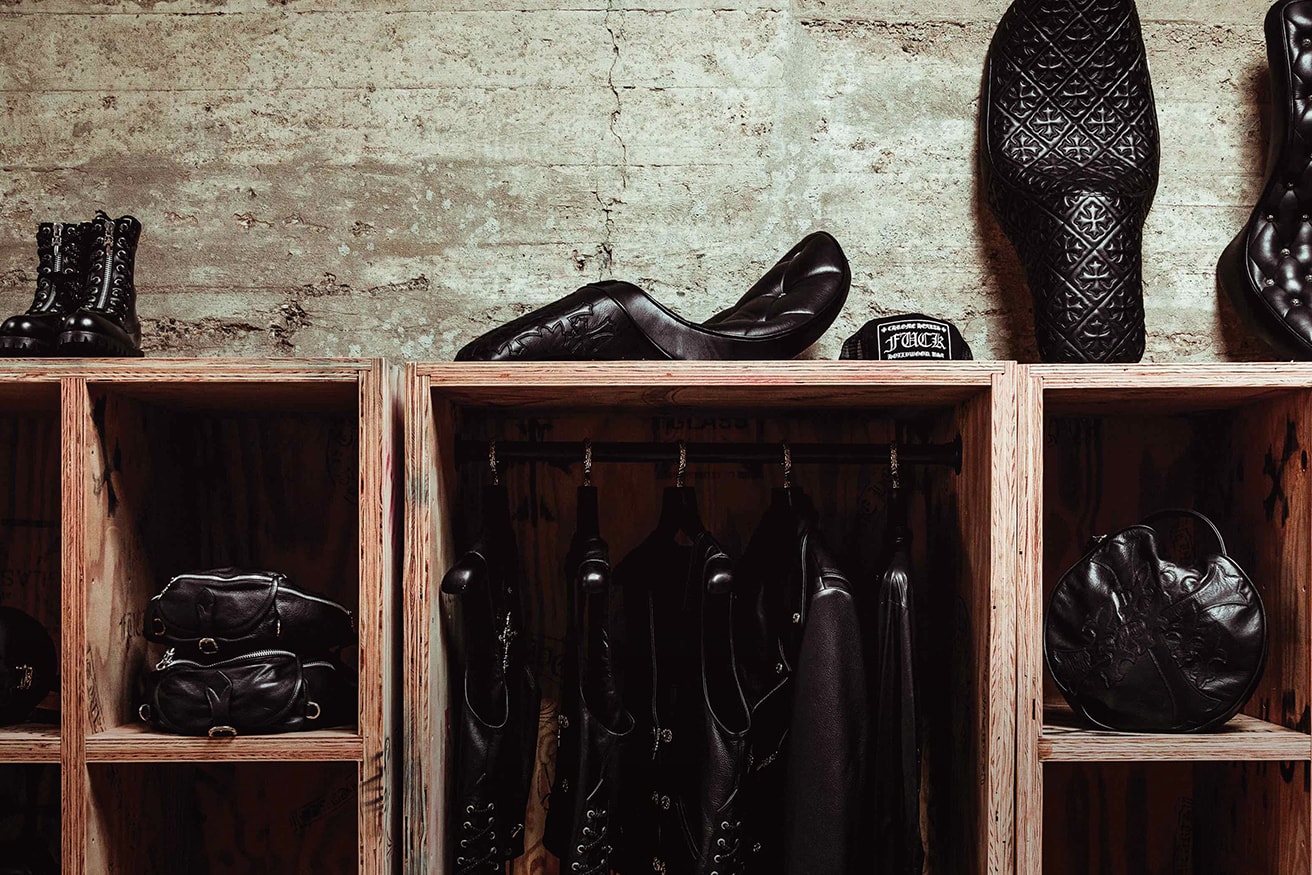 Richard Stark on Why Chrome Hearts Will Live Forever
The founder gives a rare interview with HYPEBEAST Magazine.
"That word – collab." One could almost hear air quotes in the gravelly baritone as it landed on the offending term; he pops the 'b' at the end as if to punctuate his bemusement. "It kinda didn't exist back then, you know?" From our first moments meeting Richard Stark, it was apparent that trendy buzzwords such as "collab" hold very little weight with him. Since Chrome Hearts was founded in 1988, the label has worked with countless legendary musicians the likes of Guns N' Roses, Sex Pistols and The Rolling Stones, in addition to fashion mainstays such as Comme des Garçons, Gareth Pugh and Rick Owens, yet none of these projects were deemed "collabs" when they were conceived – they just happened. The thought of staring up at the notoriously elusive Chrome Hearts magnate armed with sapling-green jargon the likes of "collab"– even to describe a minor part of his work – seems, somehow, terrifyingly inadequate.
A tall, imposing figure met us that day, dressed all in black: sleeves rolled up to reveal sunburnt forearms and faded tattoos, black cap firmly tugged over a mass of wiry hair, and languid, powder-blue eyes like a Siamese cat. Even while sitting still and framed by wisps of incense smoke, Richard Stark exudes the perpetually-windblown ruddiness of someone who regularly faces the elements at 80 mph. Chrome Hearts owes its beginnings to his love of motorcycles ("Road bikes – Harley Davidsons, mostly," he provided). Richard's self-made riding gear in the form of leather chaps, pants, jackets and vests started the brand down a rock star and supermodel-studded path to become an era-defining institution at the turn of the 21st century. The label, headed by Richard and his wife Laurie Lynn Stark and more recently with their eldest daughter Jesse Jo Stark, now has 28 stores around the world – no small feat for a company that insists on staying true to their craftsmen's beginnings, meticulously handcrafting each piece from a single factory in its birthplace of Los Angeles.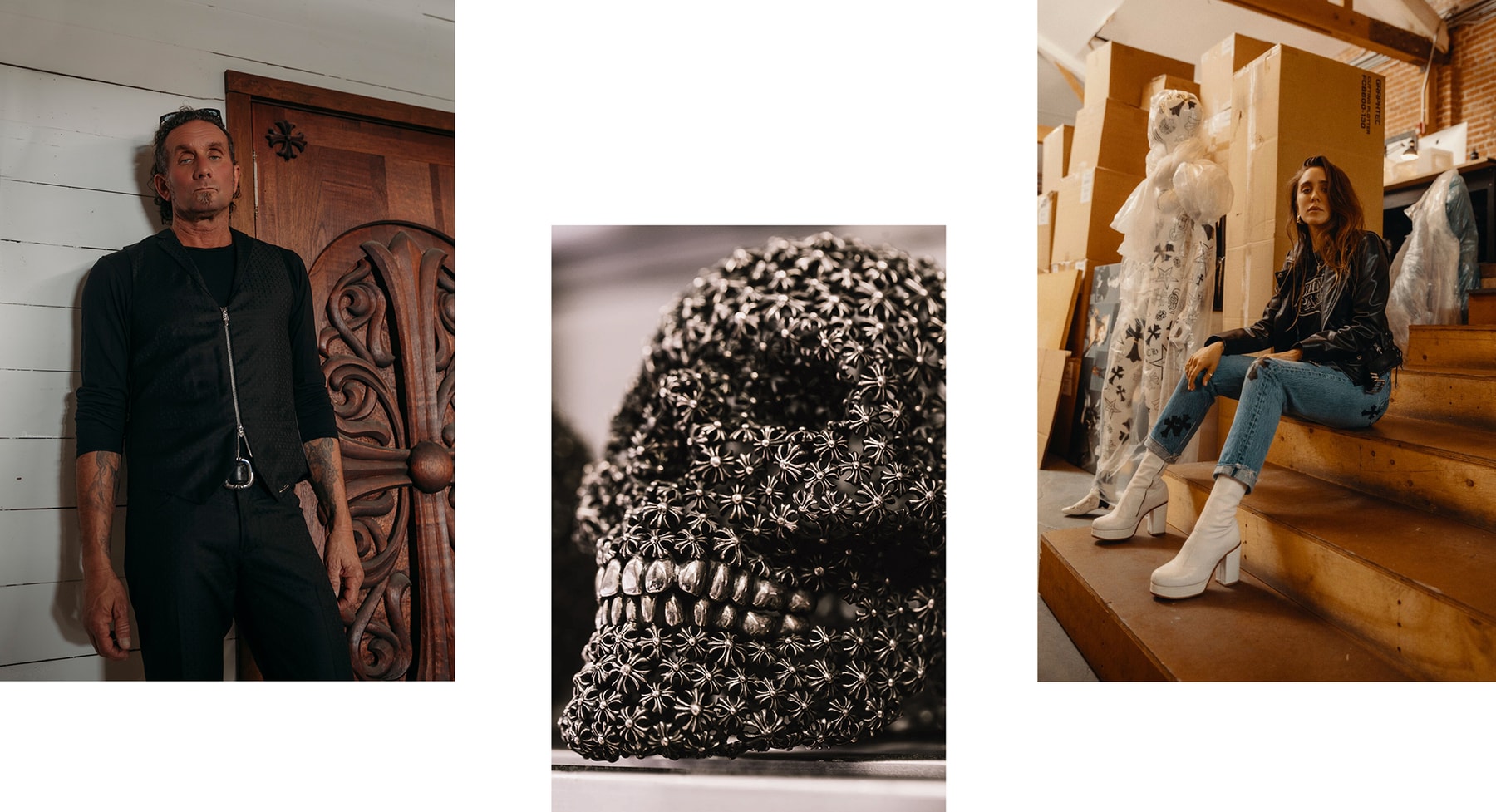 "I think if you have taste, then you can make anything."
As the direct result of Richard having spent most of his founding days enthusiastically marching against the grain with regards to almost everything, Chrome Hearts is now a veritable empire, built little by little from personal friendships and respect. The label has always possessed a certain pull for famous faces from Aerosmith to Kendrick Lamar, Kate Hudson to Rihanna. "We add collections and do collaborations with our friends, who may not have done jewelry before – but I think if you have taste, then you can make anything," Laurie Lynn says faintly, calling from somewhere in the mountains of California. Jesse Jo's spin on the brand sees Chrome Hearts working with younger figures such as artist Matt DiGiacomo – who created an eyewear collection along with hand-painted leather jackets and shoes for the label – and current it-girl Bella Hadid. Richard says, "It's not like we sat around, a bunch of old people, and said, 'What are we gonna do to stay relevant, man?'" His voice rises in pitch and he waves his hands in mimicry of himself, eyes crinkling in mirth. "It doesn't exist. There's no like, searching someone up, calling an amateur and then making a deal. If it's not with each other, it won't happen." Jesse Jo holds the same views, yet ways of establishing connections can take on different forms for Gens Y and Z in the digital age: "Millie Bobbie Brown was wearing our Chomper frames and I love that girl, I'm a fan. So if she ever wants to come in and do something, or meet us, I'm down." She continues, "My dad would never say that. But if she happened to sit next to him at a coffee shop and they had the same latte…" she pauses to let out a husky chuckle, "Heh-heh. Then maybe."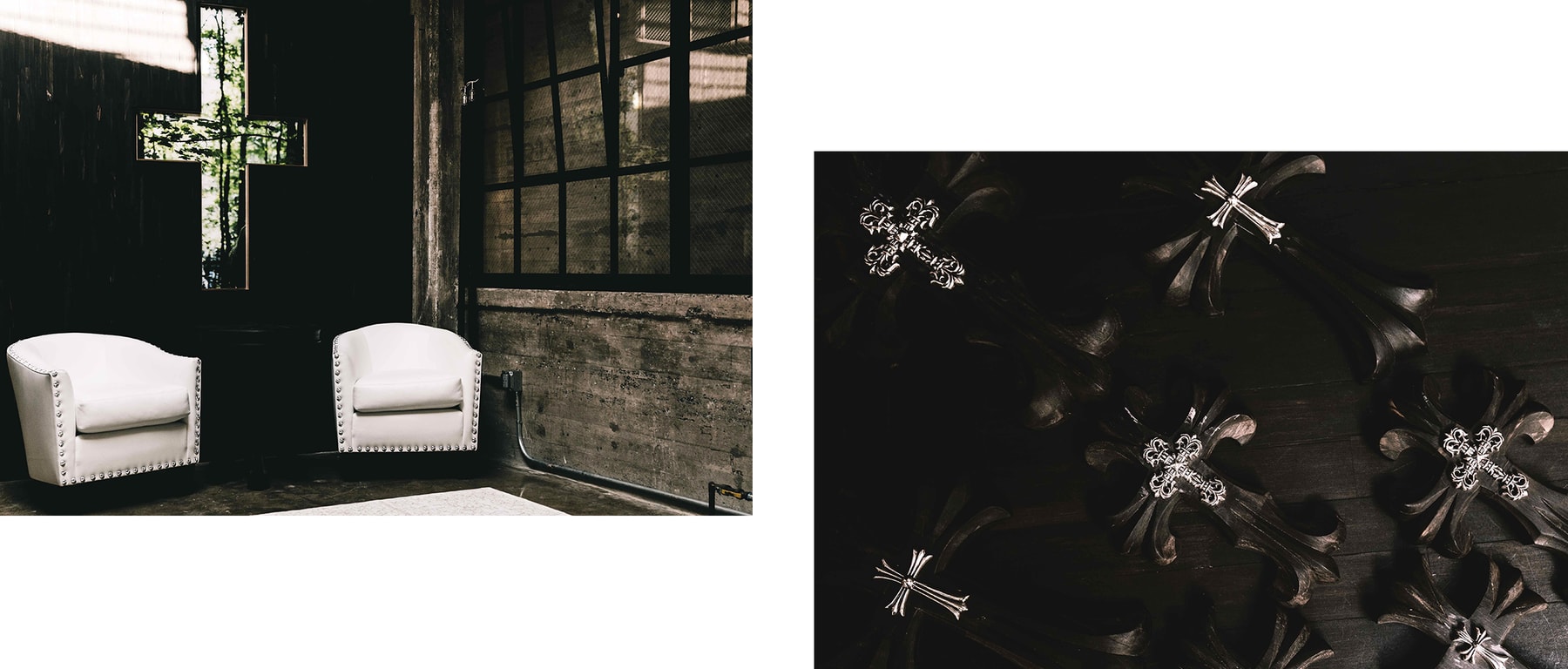 "Without my wife, everything we do would be zero press…Except for our magazine, absolutely nothing."
Being able to operate within a zone liberated of business motives and industry politics naturally comes from the monetary success Chrome Hearts has painstakingly built up for itself over the years – after all, not every label can afford to produce a solid sterling silver chair with zero concerns about selling it. Yet to build a business from the ground up with the creative autonomy that the Starks enjoy today is by no means a gutless endeavor; it requires a conviction that all great leaders and businessmen seem to share – the thick-skinned faith and willingness to carry on with whatever they do, regardless of voices which suggest otherwise. "I'm not in the fashion business. I'm related to it, but I don't do what they want me to do, and they don't have to do what I'm doing either. Back then, they just thought I was nuts," Richard said easily.
Richard Stark – along with the whole Stark family, natch – is indubitably a man of more action than words. "Without my wife, everything we do would be zero press," he declares. "Except for our magazine, absolutely nothing." Fortunately for us, Richard's press-free utopia is rendered less severe in reality due to Laurie Lynn, who, besides capturing many a rising star through her lens for the label's ad campaigns and magazine, handles most of the press in addition to her designing duties. Between the ad campaigns, Chrome Hearts Magazine (to which Richard says, "There's no method to that –sometimes it takes a year, a year-and-a-half to make one magazine."), the miniscule amount of press allowed in general, and the products themselves, there's nothing else on the Chrome Hearts agenda in terms of marketing, and the Starks prefer it that way – perhaps rightfully so.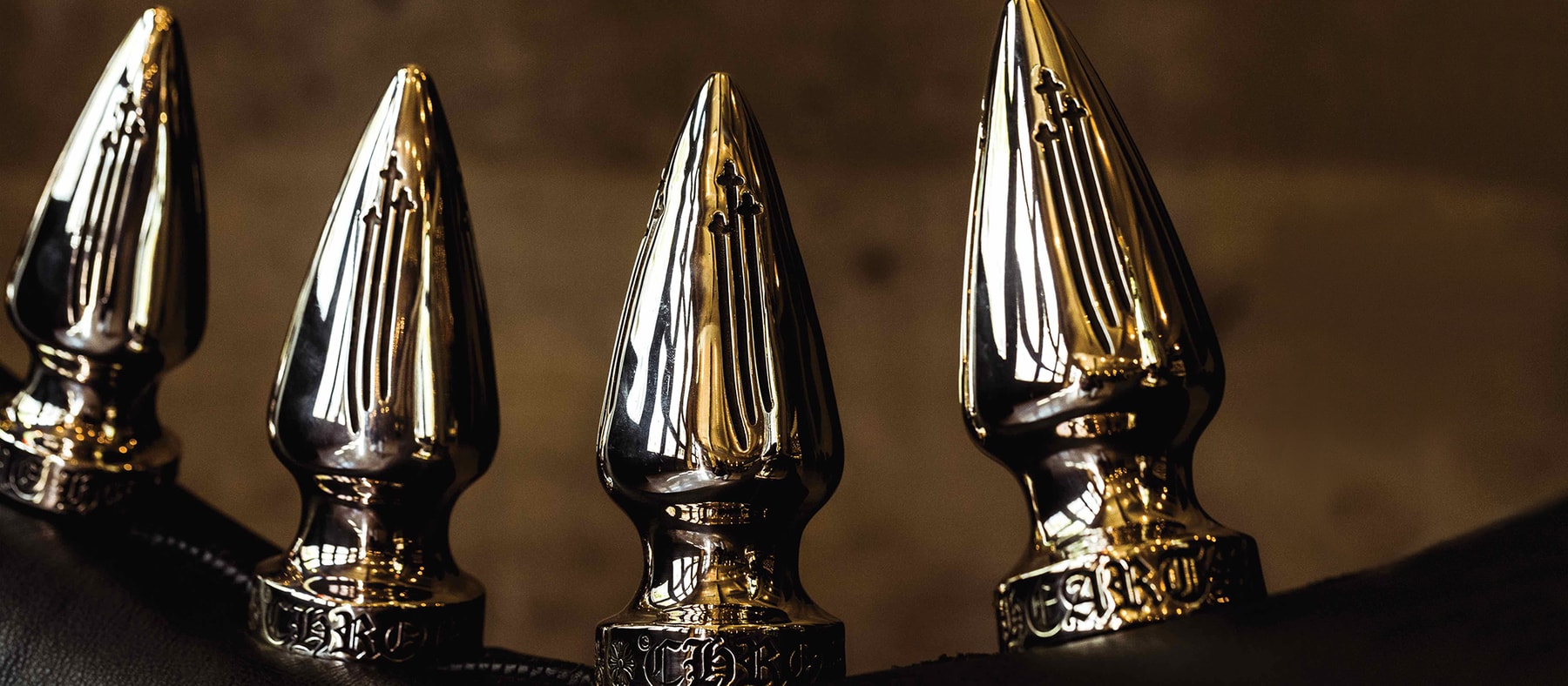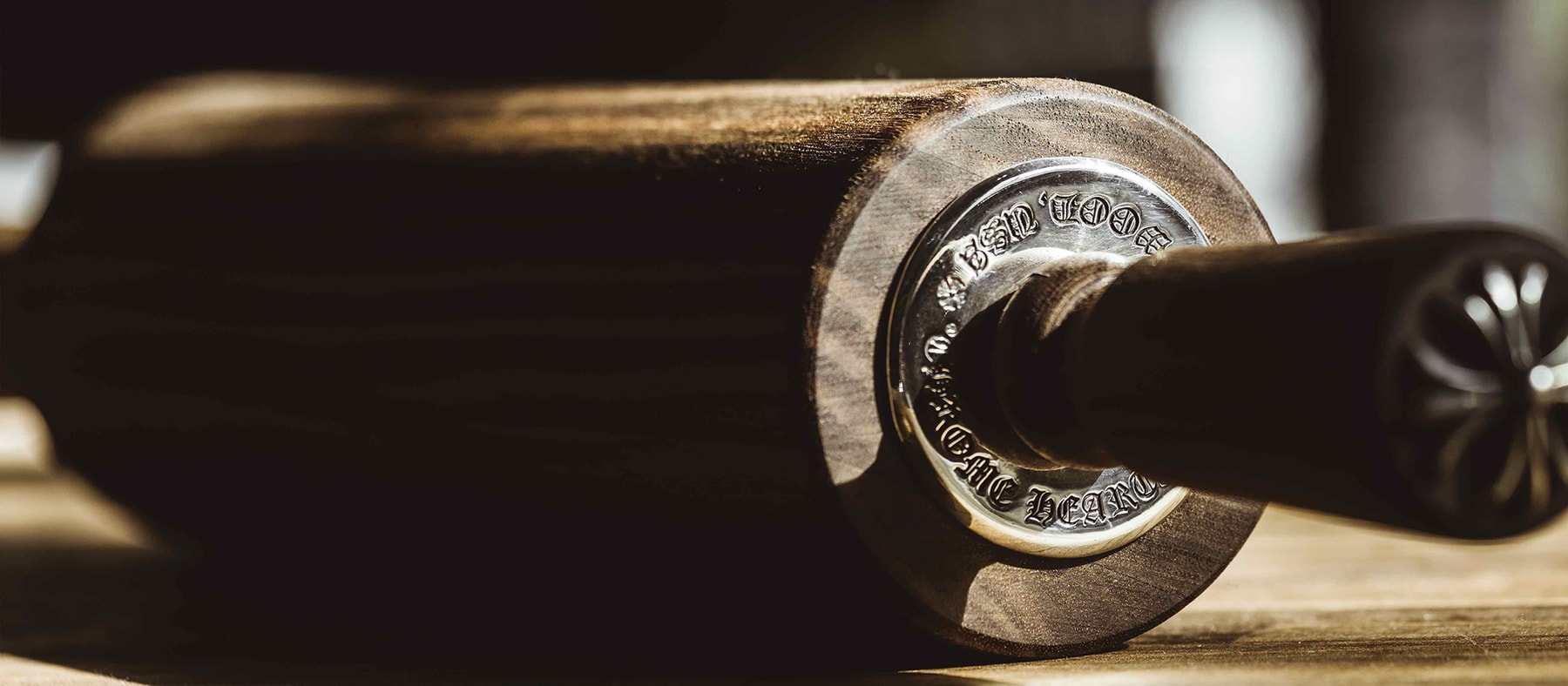 "Label it whatever you want. I just call Chrome Hearts, 'Chrome Hearts.' If you have to tell somebody what you are – you aren't."
How many times have we seen "Here's a Look at Every Piece of the X Collection" on the website of yours truly, days, weeks, even months before the items are available for purchase? Or tracklists released months before the album itself? "When I was growing up, if you bought an album, you were lucky if it said anything on it. You were lucky if there was a picture. You didn't know anything, couldn't look it up – and it was kinda cool. Now it's just all there at your fingertips," Richard lamented. Jesse Jo naturally champions a different perspective. "It took us forever to have an Instagram," she said stoutly, and continues, "I wanted to share a little more that's not as accessible for some people, if they can't visit the stores and stuff." Even after getting her way, Jesse Jo – true to her DNA – puts very few pieces on display on the Chrome Hearts Instagram account and even fewer words to go with them.
In a world where the minute details of others' lives are worth precious hours of our own, mystique is now an oft-overlooked virtue. The process of discovering things for ourselves, it seems, is a much more rewarding act than we now give it credit for. The e-commerce world taking over our shopping habits – and wallets – may arrive unbeholden to civic duties such as being nice or fully-dressed, yet there's something lackluster about visiting a store when it's only to make a beeline for stuff we've already seen online. Despite how Chrome Hearts is stocked at high-end department stores such as Bergdorf Goodman (who offer most of their wares for online purchase), not so much as a photo appears on the Bergdorf website during a search for the label. Instead there is merely the familiar gothic font and Bergdorf's store address – not unlike the cryptic simplicity of Chrome Hearts' own website. As a result, it's almost impossible for customers to know exactly what purchase they will leave a Chrome Hearts store with. Nobody really even knows what Chrome Hearts is about – are they a furniture store? A jewelry store? A lifestyle company? The most convincing rhetoric the Starks provide about their label, is perhaps, their persistence in not having one at all. Not once during our collective 2.5 hours of conversation with the Starks were there any grandiose manifestos on what they are or do; the veracity of the label shows itself in just how little the Starks have to say for themselves. As Richard explained, "Fuckin' label it whatever you want. I just call Chrome Hearts, 'Chrome Hearts.' If you have to tell somebody what you are – you aren't."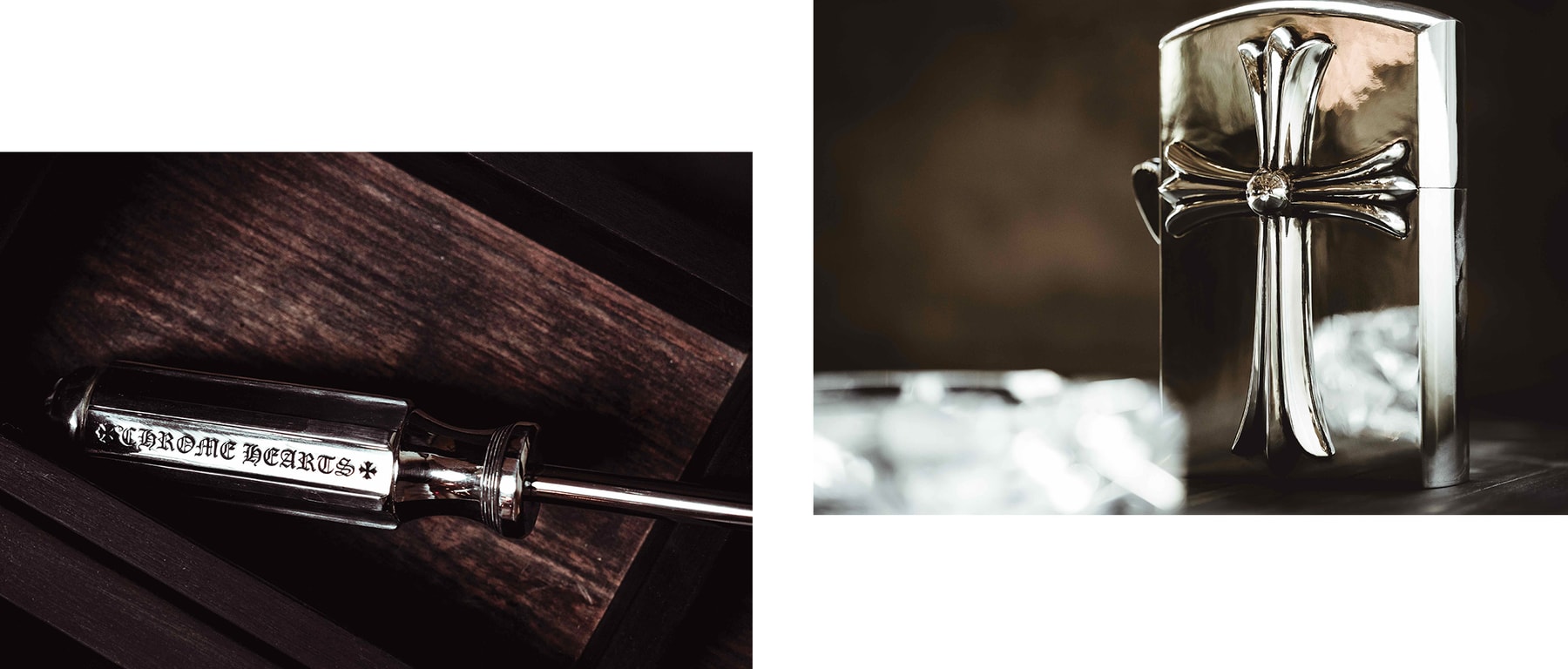 "Chrome Hearts was built to be a 150-year-old company, made to do everything in the whole wide world, you know? We just haven't been around long enough to do it all yet."
The various seasons and Fashion Weeks forming the spokes of the industry hamster wheel – which labels like Vetements are currently trying to upend via a mélange of highly-publicized stunts – have been met with blithe unconcern by Richard and Laurie Lynn ever since their company was born 29 years ago. Jesse Jo reminisces on one of her first projects – a silver stud that's now a prominent piece of hardware throughout the label's products – which ended up taking four years to finish: "My parents' attention to detail is insane. Everything takes so long [to develop] it's frustrating. Sometimes I'm just like, 'What the fuck Dad, why can't we just make this?'" This eagle-eyed focus mixed with the Starks' devil-may-care attitude manifests as a cornucopia of flawlessly crafted objects ranging from chandeliers to pizza cutters. Richard says, "The press are always asking 'why' – 'why' did you do that? Is that what's 'happening' now?" He and Jesse Jo have the same laugh. "Heh-heh. No. We just do shit, you know?"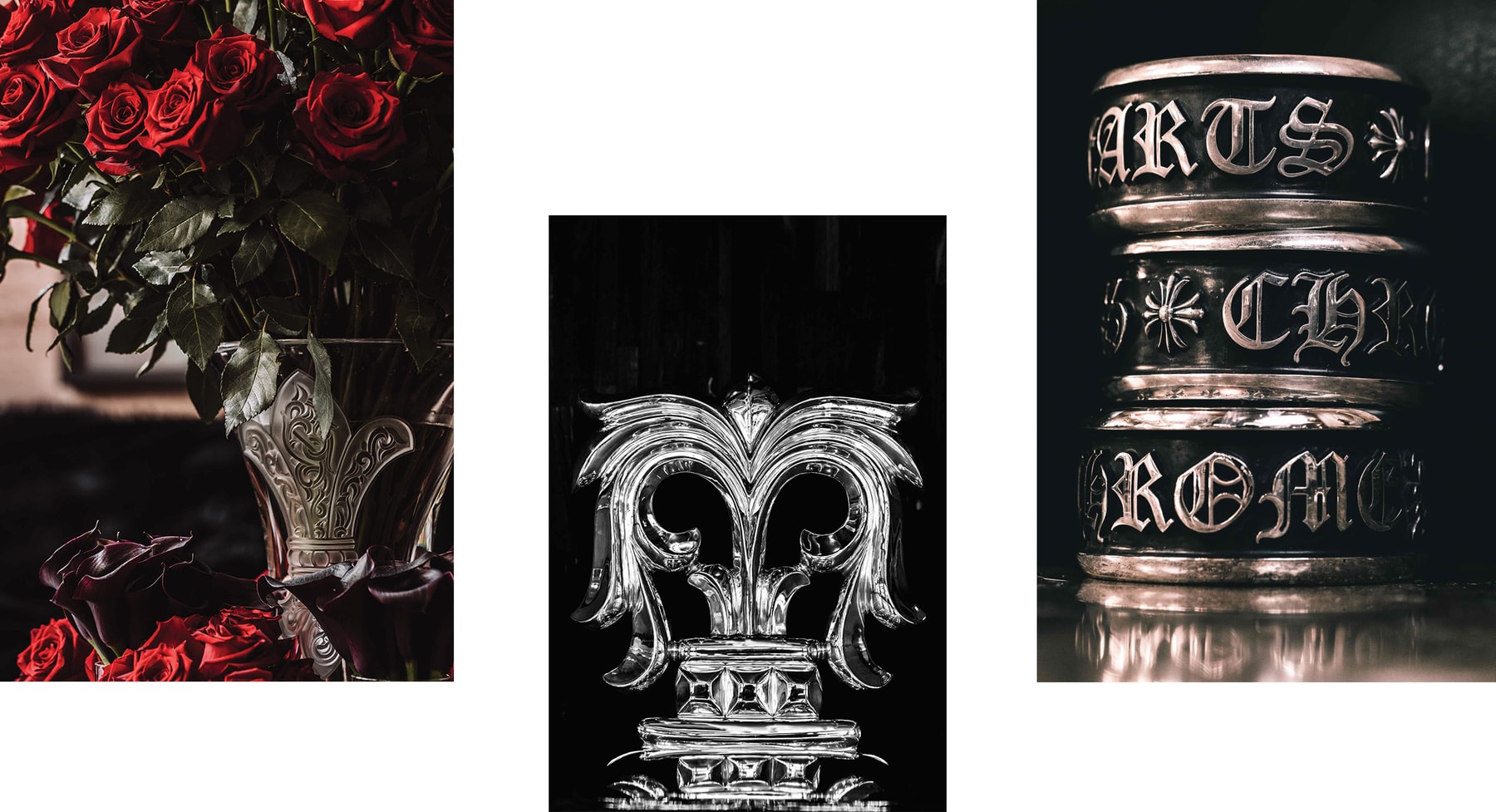 As we witness countless labels shed their skins every few seasons by way of a new creative director or slews of collaborations which seem more awkward than they do logical, it's evident that major brands which dominated the industry a mere decade ago are now collectively scrambling to adapt to a new status quo. True to their founding roots, Chrome Hearts simply doesn't worry about being fashionable or staying relevant – and this is why the label is just as important now as it was in its firebrand youth three decades ago. Their integrity, almost physically palpable in what is made, said and done, is an acute example of how we will always be drawn to people who aren't afraid to just do their own thing. This is why the label can name both Elton John and Kanye West in the same breath when it comes to ardent collectors of Chrome Hearts pieces. In a climate where there are dozens of new products clamoring for our attention every day, some consistency – even if sometimes, it just involves consistently not giving a f*ck about what fashion industry tropes say – plays a major role in winning the loyalty of different generations, and continuing to do so over the years. "Chrome Hearts was built to be a 150-year-old company, made to do everything in the whole wide world, you know? We just haven't been around long enough to do it all yet," smiled Richard. "Nothing here's made; everything's built," he finished, so smoothly it can almost pass for a line from some long-lost Chrome Hearts commercial – only we of course, know better.
---
This story was originally published in HYPEBEAST Magazine Issue 20: The X Issue as "Chrome Hearts: Carte Blanche" Find out more here.