Fear and Clothing in Vegas: Liam Hodges on World Building Within Fashion
The designer talks inspiration and process for his latest collection.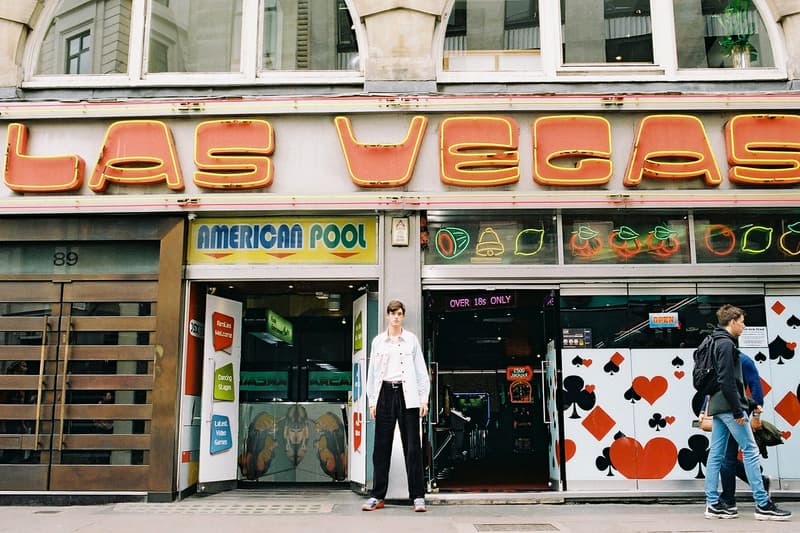 "There's a few chapters in the middle where this kid spends some time living in Las Vegas with his estranged father." Liam Hodges is explaining the source of the inspiration behind his latest menswear collection, Slick Trash, debuted at London Fashion Week: Men's Spring/Summer 2019. He's talking about Donna Tartt's 2013 novel, The Goldfinch – a book that follows Theo, a boy searching for hope and beauty as he descends into a life of crime. "I just loved this bit of the book where they run around Vegas and get into trouble. It's just exciting," he adds.
Tartt's depiction of the city clearly made an impression on Hodges. So much so that the shamelessly artificial, sand-blasted monument to late capitalism that is Las Vegas serves as the backdrop for his latest collection, a series packed with warped, subversive versions of classic Americana and the figures that live in its shadows. And it's the places beyond the postcard, away from the glitz of Caesar's Palace or the penthouse suites overlooking the strip, that Hodges has tapped into this year; instead drawing from the characters haunting the less polished parts of the city, the miscreants, the outsiders.
"You can't talk about Vegas without looking at Johnny Depp, Hawaiian Shirts, Gonzo culture and everything that Hunter S. Thompson did," says Hodges. For Spring/Summer 2019 he's offered up his own take on these established staples. Featuring bowling shirts lined with faux fur cut into flame patterns, bootleg t-shirts advertising the strip's most notorious casinos and mismatched checked pyjama suits that look like they belong on the porch of $12-a-night motel, the collection makes no bones about celebrating the grimier aspects of the city. "For me, it's about the clash of American symbols versus our brand's happy-go-lucky take on things versus the kind of loneliness you find in the desert," he says, referencing the inherent melancholy that permeates the city's hidden districts.
But how does he work those elements into the actual products? "I used these characters from the book as a starting point, and their experiences growing up on the outskirts of Vegas – and distilled it through the taste level of our brand" he says. "It's about asking how these pieces exist in this scenario and how we develop them, and what the story behind that is." This kind of explorative storytelling has always been a fundamental part of Liam Hodges' creative process, with him building a new world for each of his collections and populating it with his characters and designs.
"I go through a process of working out what 'my guy' wears in this world," he explains. "What do I associate with this world and how does 'my guy' wear it?" These are the questions that, over the years, have seen Hodges develop an array of original subculture aesthetics, with previous seasons' shows exploring the worlds of boy racer gangs, pirate radio stations and underground raves. This is a constant thread running through his wider body of work: outsiders building new communities and setting their own rules."It's always 'my gang' in a way," he says.
"I'm always interested in what the future can be like."
Much like 'the gang' he creates, the worlds they inhabit each season also share consistent characteristics. Often dark and leaning towards the near-apocalyptic end of the spectrum, Hodges' credits this tendency to his love of sci-fi. "I'm always interested in what the future can be like," he says. "I mean I design clothes for six months in the future but I'm obviously trying to think even further ahead than that."
Past collections have referenced a host of science-fiction classics including Blade Runner and Total Recall. However unlike a lot of modern examples of the genre, with their oppressive, gloomy atmosphere, he presents his work with an undeniable sense of optimism and even humor. "For the brand it's not a joke but we always want people to feel positive." Hodges' worlds have tinges of bleakness but never feel hopeless, and any pleasure found in them is made all the more potent by the adverse surroundings. "The brand says things in comical way that are actually shining a dark light on the world," he says, "many a true word is spoken in jest."
Now active in the industry for five years, the brand has unsurprisingly grown in that time, as has Liam's approach to telling stories through his collections. "It evolves and changes as I do," he explains. "The ways I'd tell these stories before would have perhaps been a bit louder and I would have perhaps been a bit more naive than I am now; whereas nowadays it's a little bit slicker, it's a little bit more refined." This subtly can be found in the little touches surrounding the show. For example, this season invitees were sent plastic seafood restaurant bibs with show details, inspired by crawfish diners in Vegas, while supporting posters and backdrops mimic the battered billboards that loom over the quieter parts of the city. To describe how his strategy to storytelling has evolved, he says "it's kind of gone from a word on a piece of paper to a well executed mind-map."
Liam's previous collections have also tended to focus on aspects British culture, albeit an alternative, hyperreal version of it, but this season is the first time he's explicitly looked across the Atlantic for inspiration. "I think its about extending the world of 'Liam Hodges', extending the brand's borders and what that looks like in other places." he says. "With a lot of the other collections I was just working in a studio in Walthamstow (North London) and wasn't really travelling much."
Having built a growing global fanbase, it makes sense that his sources of creativity should be equally international, however there's another, more politically-charged reason behind the incentive to look to other shores. "It's more just a reflection of reality. We can't just be Britain and an island of Brexit idiots" he says, "I don't want to be this cut off island so it's important to explore other places."
"We're going into the unknown, but the red button hasn't been pressed."
With his fascination with the idea future dystopias, the irony of a world falling into chaos thanks to various political upheavals of the past few years has not been lost on him. "For me, Vegas was an extension of these 'Future Dystopias' that I've explored before, but almost in a real world, extreme format." As these fictions slowly start to align with reality, what does that mean for a designer who works within these themes? "Within reason, I kind of embrace it," he says. "With artwork it's sort of about making it and coping with it and shining a mirror on it."
Adding to his explanation, Hodges references Sun Tzu's The Art of War: "It talks about how change breeds chaos and chaos breeds opportunity and it's sort of like that. When we feel like we're all fucked and the world's gone mad, we try and look at how we can make it better." Making the best of a difficult situation seems like a highly appropriate brand position from a designer who's ethos has always been about finding the fun and beauty in unlikely places, and as Liam says, "We're going into the unknown, but the red button hasn't been pressed, we're still here, there's still fashion week and we're still doing fashion shows." 
Photographer

Holly Rae Jones
Casting

Lauren Smith
Join Our Discussions on Discord
The HYPEBEAST Discord Server is a community where conversations on cultural topics can be taken further.