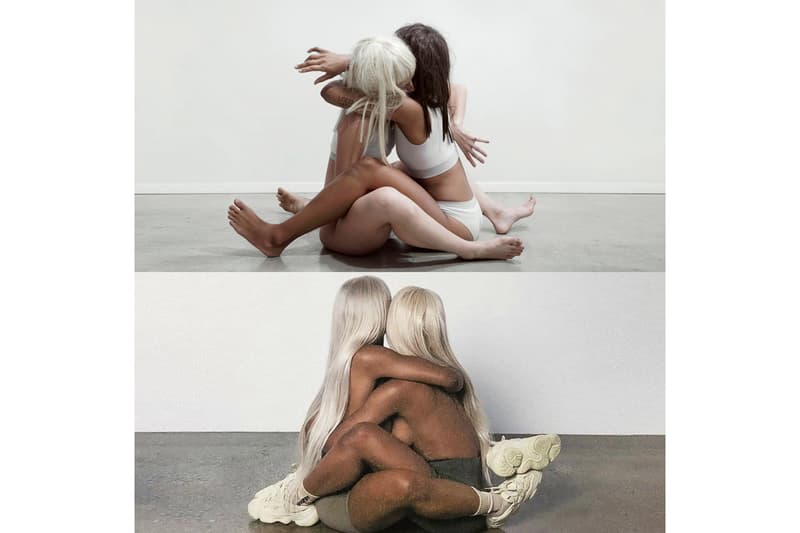 Kanye's #SUPERMOON Campaign Copied Another Artist's Work According to Diet Prada
The photos look too much like Rita Minissi's 2015 series.
---
Kanye West is under fire again for copying someone else's work, according to Diet Prada. The first time, West was accused of copying ex-Nike designer Tony Spackman's sketches but West later clarified that a new YEEZY employee actually presented him the copied material. West then fired the employee and praised Spackman for his actual work.
Recently, however, West and his adidas shoe line just came out with the #SUPERMOON image campaign for his Yeezy 500 "Supermoon Yellow" kicks. The image selections, starring the Claremont twins and other notable influencers, were photographed by DONDA collaborator and artist Eli Russell Linnetz. The subjects were captured in different body positions wearing YEEZY gear and the "Supermoon Yellow" sneakers. Some images were NSFW.
In a new copy call out by Diet Prada, it looks like Linnetz's work bears too close a similarity to another artist's work. In 2015, artist Rita Minissi released a series of photographs that, according to DP, "was inspired by dealing with personal trauma and a resulting desire to reconnect with her own body." Her images also had her subjects in body positions where individuals are either naked or clothed hugging, bending over, upside down, contorted etc. Needless to say, Minissi's 2015 photos look way too similar to Linnetz's work for the #SUPERMOON campaign. Diet Prada is calling out Kanye to own up to this copy once again. If some can also recall, West did say something about "originality" and "taking ideas" and updating them because "all great artists take and update." Read that Tweet below as well.
too much emphasis is put on originality. Feel free to take ideas and update them at your will all great artist take and update.

— KANYE WEST (@kanyewest) April 18, 2018
If you haven't seen yet, new items just showed up on the YEEZY store for sale.