Japanese Soccer Fans' Cleanup Manners Rubbing off on Other Countries at World Cup
After a monumental victory.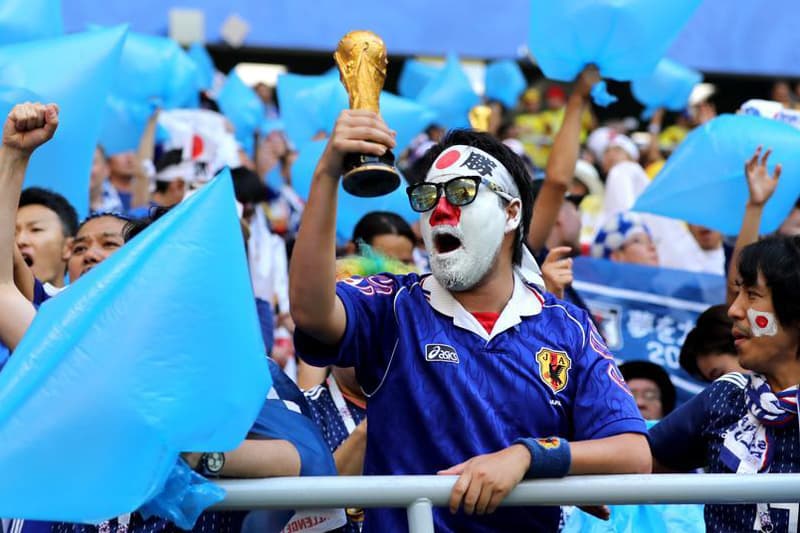 Following a historic win over Colombia, Japanese soccer fans at the 2018 FIFA World Cup amazed the world by cleaning up the stadium in Moscow, Russia where the match took place.
The world is once again noting Japan's impressive display of cleanliness and consideration at the competitive quadrennial international tournament. What's more incredible is that other countries are now following suit, with Colombian and Senegalese fans also seen cleaning up with their opponents. Though this isn't the first time Japanese soccer fans have attracted praise for their sporting manners. During the 2014 FIFA World Cup in Brazil, Japanese fans were applauded for cleaning up trash into blue garbage bags that they previously used to cheer.
In case you missed it, learn more about the beer shortage soccer fans are creating in Moscow.
Stay tuned to all of our 2018 FIFA World Cup coverage.
[EJEMPLO] Hinchas de Japón se quedaron limpiando el estadio luego de la victoria ante Colombia. #Rusia2018 pic.twitter.com/gqM1USGLyL

— DEPORTV (@canaldeportv) June 19, 2018
すごい。青い袋なんだろうと思ったらゴミ袋!きちんとゴミ拾いをしている日本サポーターの方々?
素晴らしいです?✨#ワールドカップロシア2018 pic.twitter.com/lfFyENHfDT

— 小林沙弥香 (@Kobayashisayaka) June 19, 2018
私達日本代表のサポーターは、青いゴミ袋を持って「NIPPON」と叫びながら応援します。
ゴミ袋は応援グッズになると共に、試合後にゴミ拾いをする時に使います。これは、日本人の思いやりの精神に基づいています。#myfootballheritage#Japan pic.twitter.com/Alj60vFHG3

— あいらぶさっかー (@ZOKxsOC9oFY6AWC) May 16, 2018
コロンビアサポーターが素晴らしいかった。
何人もからコングラチュレーション言われた。
僕らの青袋取って、ゴミも一緒に拾ってくれた。

逆の結果で、僕らはできるだろうか?
サッカーの奥は深いね pic.twitter.com/4gE7HOb6Up

— ちょんまげ隊長ツンさん@トモロシ (@tsunsan) June 19, 2018
#TyCSportsMundial Senegal consiguió un triunfo histórico. Pero sus hinchas en lugar de festejar a minutos de terminado el partido, se encargan de limpiar su sector antes de retirarse. #RESPECT. pic.twitter.com/RiKovpfmoT

— TyC Sports (@TyCSports) June 19, 2018