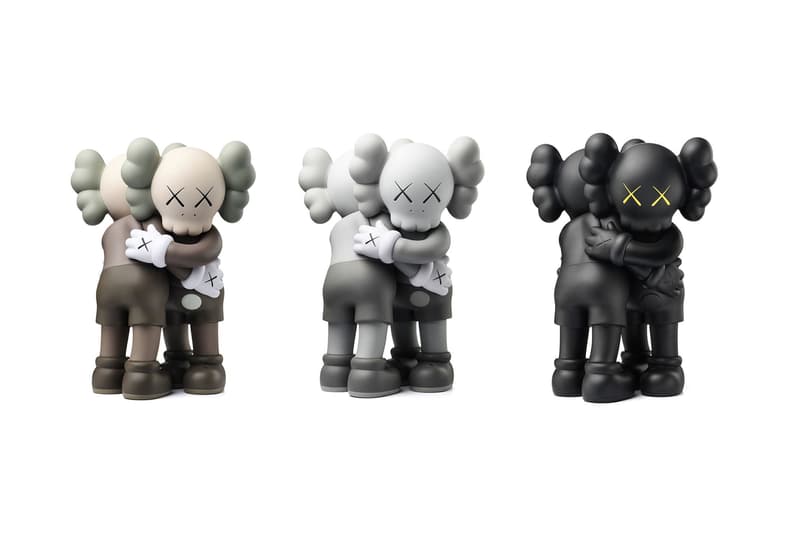 Best Art Drops: KAWS 'Together' Sculpture, Takashi Murakami 'Flowers' Cushions & More
Including a limited edition print by James Jean.
---
The signature styles from expert incorporators of pop culture and street art such as Keith Haring, Jean-Michel Basquiat, Banksy, and KAWS are observed on various media. Haring's man figure, Basquiat's mask-and-skull motifs, Banksy's spray-painted stencils, and KAWS X-ing out the eyes of famous cartoons go beyond the traditional canvas and are embellished from almost any tangible object imaginable, including T-shirts or even a high-end furniture item. The influx of varying art products grants fans more affordable options when it comes to buying pieces from their favorite contemporary art luminaries.
This week, the highly-anticipated Together Companion sculpture by KAWS leads our list of best art drops. Check out more limited artworks below and let us know your favorites.
KAWS To Drop Together Companion Sculptures
Release Date: June 12 at 12 p.m. EST on KAWSONE.com
Release Price: TBC
KAWS is set to launch a new limited sculpture called Together that sees two Companion figures hugging each other. The artwork has been exhibited as a series of large-scale sculptures at previous exhibitions, such as the artist's "Far Far Down" show at the Contemporary Art Museum of St. Louis last year. The open edition vinyl collectible is set to arrive in brown, grey and black versions. Pricing and sizing details are still pending.
Takashi Murakami Releases New Flowers Cushions
Release Date: Available now in-store at the Modern Gift Shop
Release Price: Starting at approximately $143 USD
Takashi Murakami recently kicked off his "The Octopus Eats Its Own Leg" exhibition at the Modern Art Museum of Fort Worth in Texas. Accompanying the major retrospective is the debut of three new Flower cushions. The most-popular collectible is now adorned in "Blue/Black," "Blue/Purple/Navy" and "Pink Ivory/Brown" options. Each version is available in 30 centimeters, 60 centimeters, one meter and two meters.
Modern Art Museum of Fort Worth
3200 Darnell Street
Fort Worth, TX 76107
James Jean Launches Limited Edition Sun Tarot Print
Release Date: June 12 at 8 a.m. PST on James Jean's website
Release Price: $200 USD
James Jean unveils a new limited print inspired by an original painting from his most recent "Azimuth" exhibit at Tokyo's Kaikai Kiki Gallery. Entitled Sun Tarot, each signed and numbered print is sized at 27-inches tall and 19-1/2-inches wide. Moreover, it's silkscreened with spot gloss alongside gold foil detailing on the focus lines. Lastly, the print receives a bespoke embossment of two "entangled bees sampling pollen (or is it venom?) gathered from the wood nymph," said the artist.
MADSAKI x cherry Fukuoka Pop-Up Shop
Release Date: June 16
Release Price: TBC
Kaikai Kiki artist MADSAKI teamed up with Fukuoka-based streetwear retailer cherry on a pop-up called "EXHIBITION." The collaborative concept space will spotlight new paintings and special edition prints alongside limited merchandise such as T-shirts, posters, skate decks and more. "EXHIBITION" will launch June 16. Head over to cherry's official website to learn more.
cherry
1-1-9 Daimyo Chuo-ku
Fukuoka City
Japan
Victor Solomon's Porcelain Basketball Entitled Moonshot VS.004
Release Date: Available now at Literally Balling's online shop
Release Price: $2,500 USD
LA-based artist Victor Solomon recently released his latest sculpture, entitled Moonshot VS.004, made in collaboration with ceramicist Brock Deboer. To create it, the duo produced a porcelain basketball, smashed it to pieces, and then re-assembled the parts using an ancient Japanese method for ceramic repair called Kintsugi. The artwork is part of Solomon's ongoing project called "Literally Balling." Only 33 units have been made, sized at 9-inches in diameter with an acrylic stand.