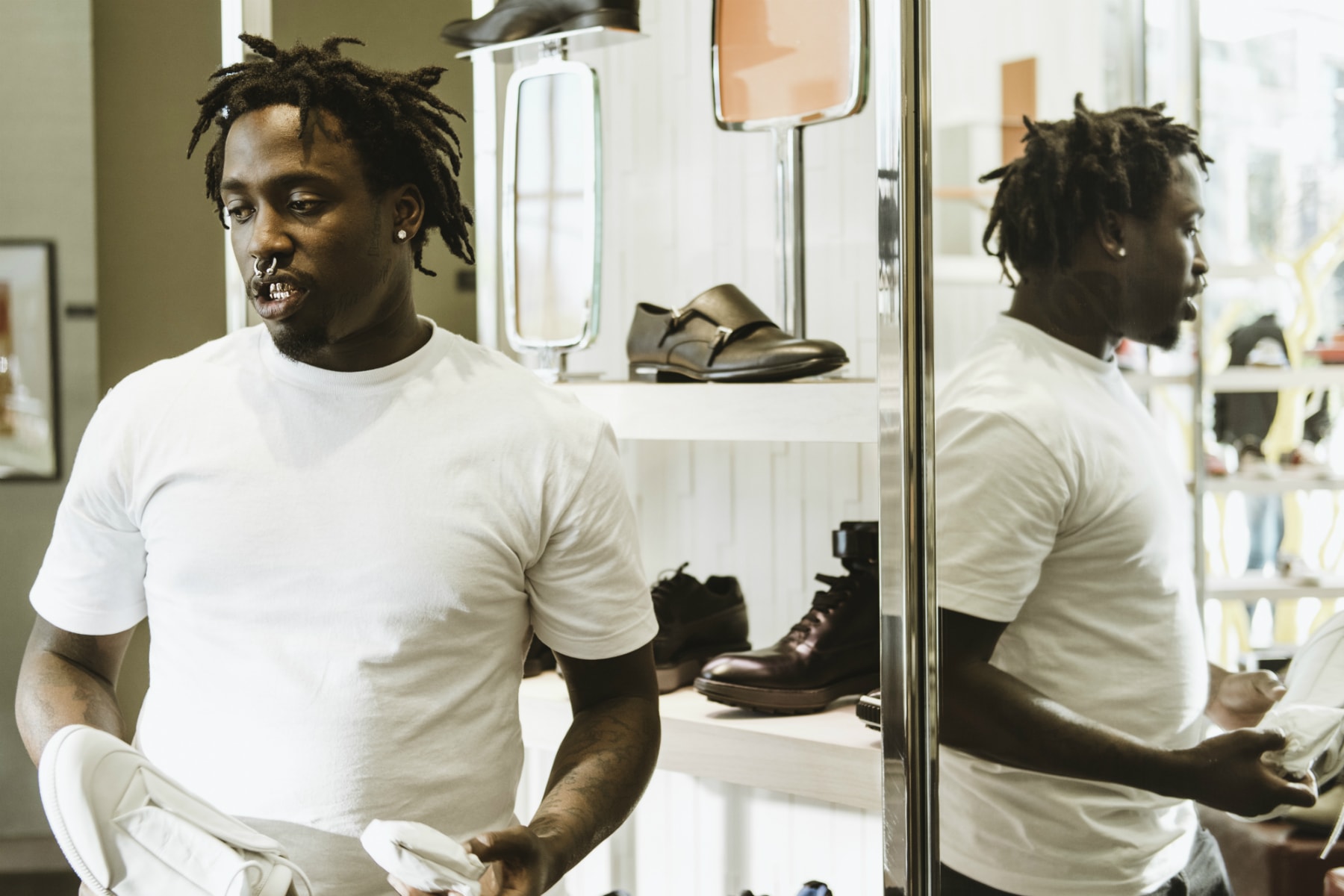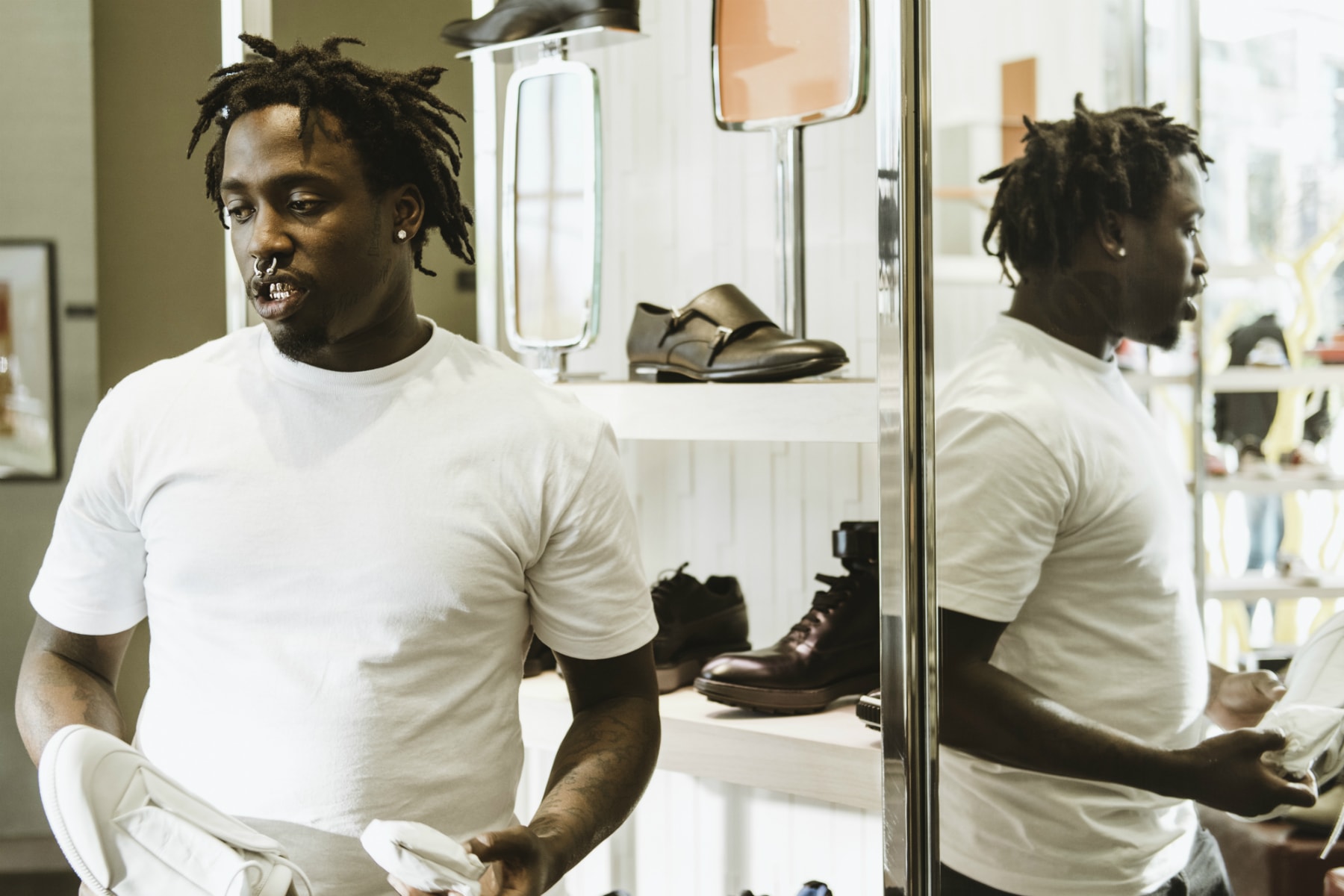 ALLBLACK Is Becoming the Bay's Best Rapper
Meet the Oakland emcee who was born to be creative.
When it comes to his current path in life and the future he hopes to enjoy, Bay Area rapper ALLBLACK has one word that constantly runs through his mind: peace.
"I have nothing to prove to myself now — I'm just chasing peace," the Oakland emcee explains as he prepares for a few studio sessions in Hollywood and a night out around town. "I want to keep a smile on my face. I just want to be at peace. I just want to have fun with this sh*t. The minute I stop having fun — then there's no more of it," he continues.
Right now, ALLBLACK is pretty far removed from the tranquil state he aspires to achieve. His first headlining hometown show sold out several days in advance; lines stretched around the venue's block long before the doors began to open. That sort of reaction served as tangible proof of the frenzy incited by the April release of Outcalls, his strongest project to date and the album currently at the forefront of the collection that's quickly cementing ALLBLACK as a contender for the next great rapper in his region. The month before that arrival, the release of "07 Lynch," a collaborative single with SOB x RBE star Da Boii, helped jumpstart a campaign that's sure to pick up millions of views, clicks and listens by year's end. It's probably going to be quite some time before the 26-year-old rapper will be able to get up in the morning and look forward to an entire day of calm and quiet.
Raised in East Oakland's notorious "Murder Dubs" neighborhood, ALLBLACK experienced an upbringing that was culturally diverse, tightly structured and soundtracked by today's hip-hop heroes. Respected local musical peers — some of whom are now moving into the veteran stages of their career — like Iamsu!, P-Lo, Drew Banga and Rexx Life Raj crossed paths with him while he attended Pinole Valley High School, where his skillset revolved more around the athletics than the arts. During his time there, he never even considered rapping as a career; his focus was on sports.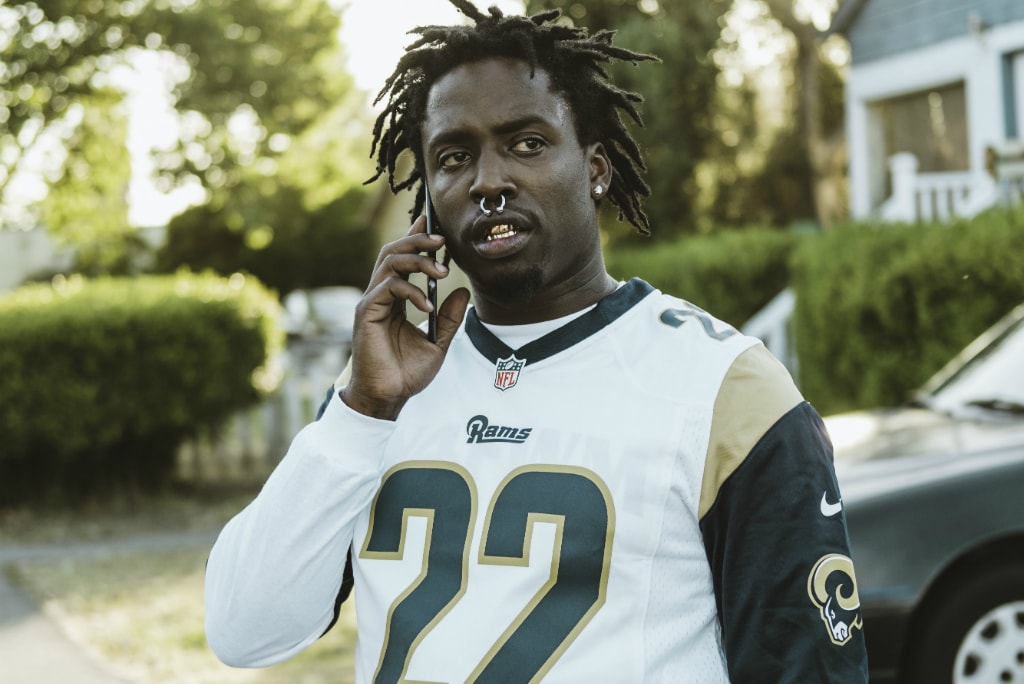 "High school was smacking dumb ass hard," he says. "I played football — I was heavy on that. Going to Pinole Valley was a big change — to be around Richmond and Vallejo — and it was hella raw." For the up-and-coming emcee, his teenage years were dominated by his talents on the football field and his family's — particularly his loving, attentive mother — emphasis on structure. "Football was a necessity in my family," he explains. "My daddy played, all my uncles played, their partners played, my brother played — he's in the NFL right now. My granddad would take us all to the football field." ALLBLACK's longtime passion for the sport also seeps into his verses, with some of his songs even including obscure references to past eras of Oakland High School football.
"I was like, 'how am I having this much f*cking fun, and I'm still lost?'"
As the city that birthed the Black Panther Party, Oakland and its storied history of socio-political militance also had a role to play in the rising rapper's younger years. "Oakland is powerful. We're still the Black Panther Party," he adds. "I'm African-American; I never shy away from it but I got a little bit of everything in me. I love my Asians; I love my migos; I got my white boys; there's just hella sh*t. I don't see colors, I just see green. That's the only color I could ever seen."
Musically, ALLBLACK counts Lil Wayne's legendary 2000s mixtape run, the most characteristically-colorful releases of Gucci Mane's formative years, Boosie Badazz and his longtime partner Webbie and others as some of his early inspirations. Then-popular share services like LimeWire fueled this range of iPod and Zune downloads.
With his mother's focus on familial law and order, that also meant another inadvertent creative influence: the classic funk, soul and R&B that served as the soundtrack for the chores ALLBLACK had to do when he was going through the usual cycle of childhood punishment. "She would turn them old school [songs] on while we were cleaning sh*t up. That discipline sh*t was real," he comments.
ALLBLACK's mother partially helped change his mind on making music by suggesting writing as a way to deal with the anger.
While ALLBLACK already had the resolute hustle of the rapper who spends their life in the booth and the individuality that usually comes with the most expressive and artistically-inclined among us, he wouldn't seriously consider making music until his 20s. After dealing with the loss of close friends, it was in a newfound home in Atlanta that his story began to take a slight turn towards meaningful self-discovery. ALLBLACK spent a large portion of his immediate post-Pinole time partying in Santa Barbara and bonding with his cousin — and current manager — Delency Parham. When the parties couldn't produce the sort of substance and fulfillment ALLBLACK had been searching for, he felt the need for a swift, life-altering switch in directions. Atlanta filled that temporary void.
"I was like, 'how am I having this much f*cking fun, and I'm still lost?'" He shares, explaining his thought process at the time. "I was like, 'you know what, I need a break real quick.' The break turned into a sit-in, and I just started mobbing. It helped me a lot and helped me clear my mind. I had to get out and spread my wings."
Even though Atlanta supplied him with a new sort of energy and an impactful life experience, his journey towards peace still wasn't anywhere close to completion — it wasn't even near the right path. "I lost hella partners and I was really trying to find myself," he says, recalling the days that led to him to make the 2,000-mile-plus trip to Atlanta.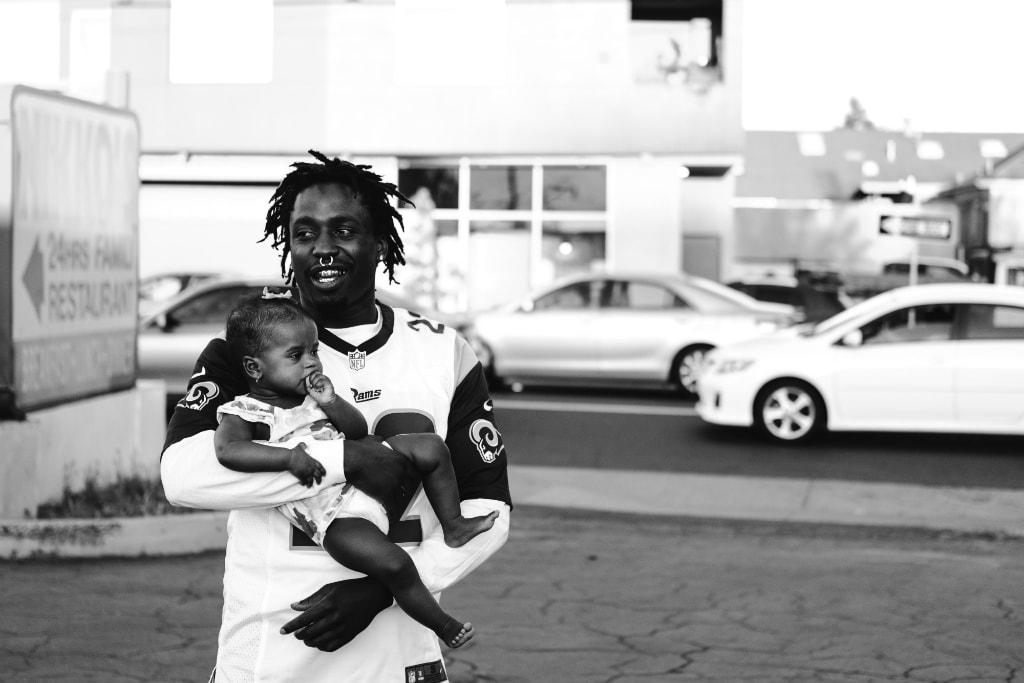 "Atlanta turned me up even more," ALLBLACK explains. "Being a West Coast n*gga in the A? Please! It turned me up. I started thinking I was way saucier. That was when Future first came out, [Young] Scooter was in the club, K Camp was beating sh*t up, and Migos was in the strip club with Versace sh*t on. That's when Chief Keef was in there every day and n*ggas didn't even know." While in Atlanta, ALLBLACK would attempt to get the DJs at the clubs he frequented to play the music his friends on the opposite coast made. "My partners were making music, and I was loving their sh*t. I was blowing their phones up," he says. By his own admission, the "Road Run" rapper "never thought about music, making songs" or "even spitting a bar" until he returned to the Bay. "The same people that I begged to get music from, when I got back from the A, I ended up going back to the studio with them."
Freshly home from his soul-searching stint in Atlanta, ALLBLACK was encouraged by those around him to get in the studio. One of those friends was 100s, a Fool's Gold Records rapper who had quickly rose through the ranks of that era's underground scene and quickly became a favorite of bloggers and critics across the media spectrum. 100s and ALLBLACK first met each other during BLACK's days in Santa Barbara's party circuit, having been linked up through his cousin and 100s' high school friend Delency. Following his return to California, ALLBLACK joined 100s onstage during the Berkeley artist's high-profile January 2013 show at the legendary Sunset Strip venue The Roxy Theatre, assuming the role of hypeman and experiencing his very first performance as a part of the show, not simply an onlooker.
"It was a f*cking movie," ALLBLACK explains, talking about the showcase that featured himself, 100s and an all-star cast of Vince Staples, Joey Fatts, Aston Matthews, A$AP Yams, Dash, Retch and others. "If you hop on YouTube, you'll see me on there with a big ass Oregon Ducks hat on. I just loved that music and that was my partner, so I was supporting him."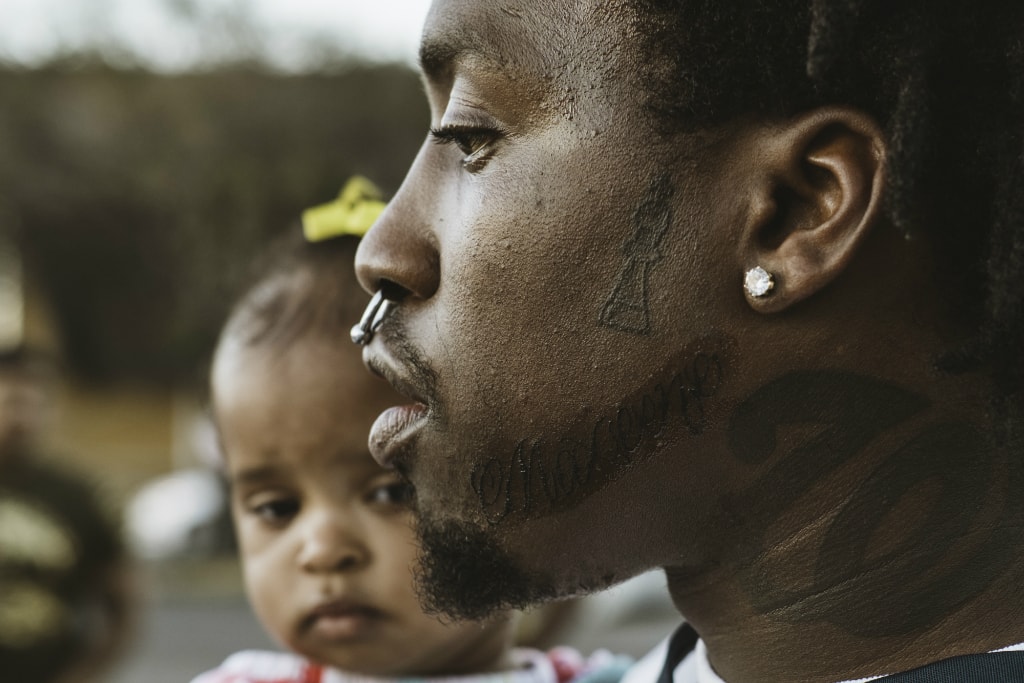 A reluctant rapper at first, ALLBLACK was "hesitant" to take the advice of 100s when the Ice Cold Perm artist recommended to him that he start creating songs about his life. 100s even decided to use his friend's hectic lifestyle as the primary inspiration for the content of his own records, which earned acclaim for putting a well-constructed, forward-thinking spin on the West Coast's familiar pimp-rap sounds. When he suggested to BLACK that he become seriously involved in rap and turn his experiences into musical projects, the Oakland artist responded with, "Ain't no one want to hear that sh*t." Others even suggested to him that he look into becoming a DJ, and he replied with a joke about getting kicked off stage for inserting oldies into a contemporary club set. However, after the aforementioned Roxy showcase, BLACK decided to take part in a few separate 12-hour recording sessions and quickly became hooked.
"Every time I went to the studio, I just forgot about all the bullsh*t and all the negativity," he remembers, breaking down why he first fell in love with making rap. "Everything left. I didn't have to deal with nothing. I'm just in the studio listening to the beat, the cadence and how n*ggas were sliding, and it just turned over … I just started doing that sh*t. Next time you know, we're just mobbing."
His septum piercing, fashionable outfits and animated, free-flowing sense of slang were never about selling an image or an album; it was simply who he was.
ALLBLACK's mother partially helped change his mind on making music by suggesting writing as a way to deal with the anger he had been struggling with, and that highly personal, autobiographical approach was something her son organically flipped into bars and beats. The "Canadian Goose" lyricist began his career by exploring his region's own original form of G-Funk-inflected, gritty street rap, Mob Music. At first, he was simply giving a direct, personalized interpretation of the homegrown hip-hop that surrounded him. He spent the bulk of 2014 conducting sonic experiments, hoping to produce his own sound and attempting to uncover his true self by using music as a cathartic form of self-therapy. In 2015, ALLBLACK was ready to take his career beyond the confines of his blocks.
Towards the end of 2016, ALLBLACK began to capture his first serious wave of attention with the release of his second major project, Noshame 2. For BLACK, that tape stands as a career-defining moment; its creation was the first time he felt like he was a true artist. "That was when I started to stick to the script and decided that this was the only sh*t that was going to get me out this motherf*cker," he explains. "That was when I was like, 'okay this is a movie.' Oh, you n*ggas f*cking with that? Don't give me a leeway to start tearing these n*ggas up. Don't let me turn my savage up. Oh, you're giving me another lane, and it's legal? I'm finna whip feet — I'm finna put these cleats on and run plays."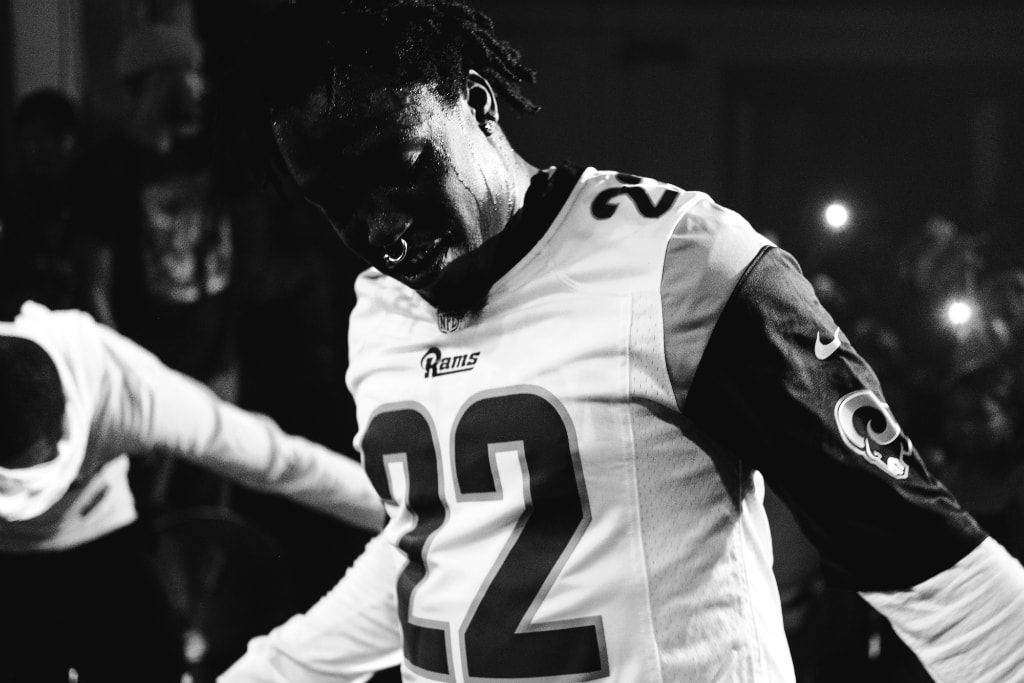 Even though Noshame 2 might have been his breakthrough as an "artist," ALLBLACK was always in his own lane as an individual and lived his life as a creative person — even without touching a mic or picking up a pen. His septum piercing, fashionable outfits and animated, free-flowing sense of slang were never about selling an image or an album; it was simply who he was. "This music sh*t is an add-on," he says. "It's my diary."
"When n*ggas was wearing extra tall tees, I was wearing skull head t-shirts," he says. "I wasn't around followers and sh*t like that. if you were trying to copy someone or kissing ass or riding someone else's wave… you would get your ass beat. People will look at my style or how I used to dress and think, 'oh, that's weird; oh, that's different.' That wasn't weird to us."
He's a vivid storyteller with the energy of a morning-to-midnight hustler.
"Weird is following somebody and not being your own man; you not being who the f*ck you want to be and not speaking how you want to be, that's weirdo sh*t," he passionately adds. "That's what we never f*cked with. So, when someone called me weird or something like that, I never gave a f*ck about that. We're gonna mob how we want to move… It's natural. We don't try to force this sh*t. I'm not trying to prove I'm different, I'm just running my plays."
ALLBLACK's one-of-a-kind, expressive personality has paid off well. Kimson, the follow-up to Noshame 2, catapulted BLACK to regional superstardom in fall of 2017 and introduced listeners to ALLBLACK's signature sound, which uses an intense blend of colorful, inimitable slang and neck-snapping aggression to paint a picture of life on East Oakland's roughest streets. As a writer, ALLBLACK pieces together songs like an author puts together the most descriptive passages of his book.
Although Kimson represented a time in his life that stands as one BLACK's darkest moments, it provides a well-rounded showcase of his abilities and is essential to understanding his story. "Everything was just a hit after that, and I just had to get that Kimson out my system," he says. While BLACK remains quiet on what exactly created the black clouds over his head during the making of Kimson, he appreciates its necessity in his career and his fans' love for it.
A modern Bay Area masterpiece, ALLBLACK's Kimson follow-up Outcalls is what could potentially take him to the national stage this summer. Thematically, Outcalls stands as the contemporary equivalent to flesh peddler's bibles like Suga Free's 1997 LP Street Gospel and Dru Down and 8Ball and MJG's first projects. A charismatic stylist and art-minded militant, BLACK boasts the rare gift of being able to authoritatively deliver a silver-tongued slick talk that's polished, inventive and raw; he serves up the gift of game like a battalion commander barking orders in the heat of battle. He's a vivid storyteller with the energy of a morning-to-midnight hustler and has the potential to lead the way for the current West Coast renaissance that's dominating today's headlines. Artists like Drakeo the Ruler, 03 Greedo, Shoreline Mafia, SOB x RBE, Mike Sherm, Lil Yase, Rucci, the AzCult and others are his regional contemporaries, but his name might soon be the first that comes to mind when observers compliment the quality of California hip-hop in 2018.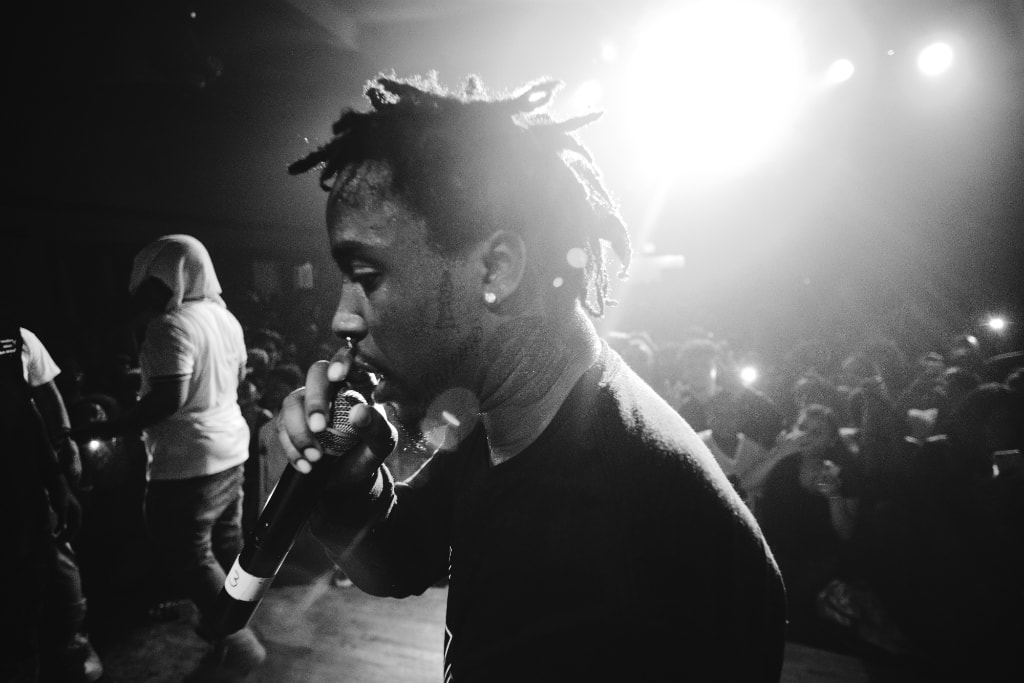 "Black's got a real unique sound," shares DTB, the sole beatsmith behind the stellar production on BLACK's recent Outcalls project and a close collaborator of his. "When I first started working with him, everyone around me was saying he sounded like Pac — not how he raps, just sonically. He has this crazy conviction in his voice when he raps… When he was making a song… there was so much energy. It's amazing to watch, honestly. I've never heard a weak bar from BLACK; I've never heard anything weak from him ever."
Mentally and spiritually, ALLBLACK's a street sage that bridges the gap between swamis and Suga Free. He has a monk-like devotion to adhering to a system that gives rhyme and reason to life. In his words, this includes, "Honesty, loyalty, communication, being genuine, being thorough, respect and manners." One of his face tattoos, a chess piece, is a sort of literal physical embodiment of those principles and how he uses them as a guide to living. He thinks those commandments will aid in him getting to the place of peace he hopes to be at one day.
"I got to elevate," he says "You can't stay young forever. I'm not in a rush; it's gonna come when it's gonna come. I don't want to force nothing. If you're gonna play the game, play the game right. If you're gonna go, go. If you're playing the game when you're thinking too much, that's when you're gonna get hurt."
---