UPDATE: Official Store List for the adidas YEEZY 500 "Supermoon Yellow," Confirmed App Sign Up Open
Support your local retailer.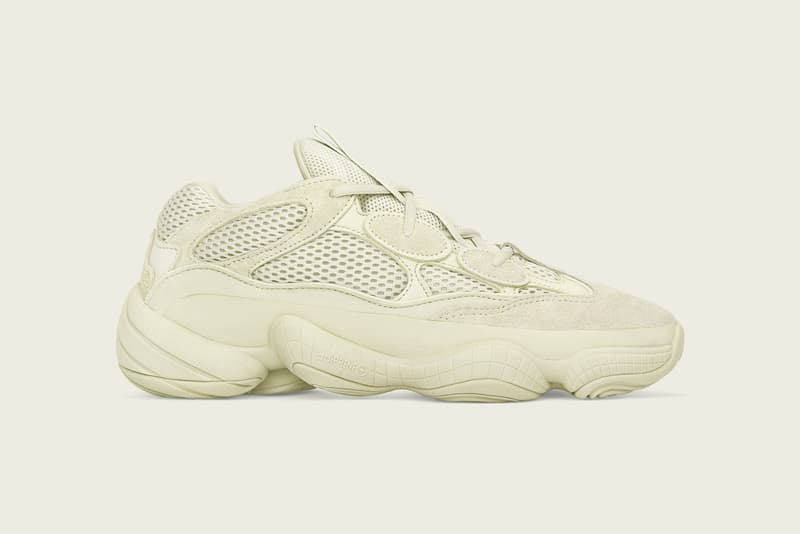 1 of 4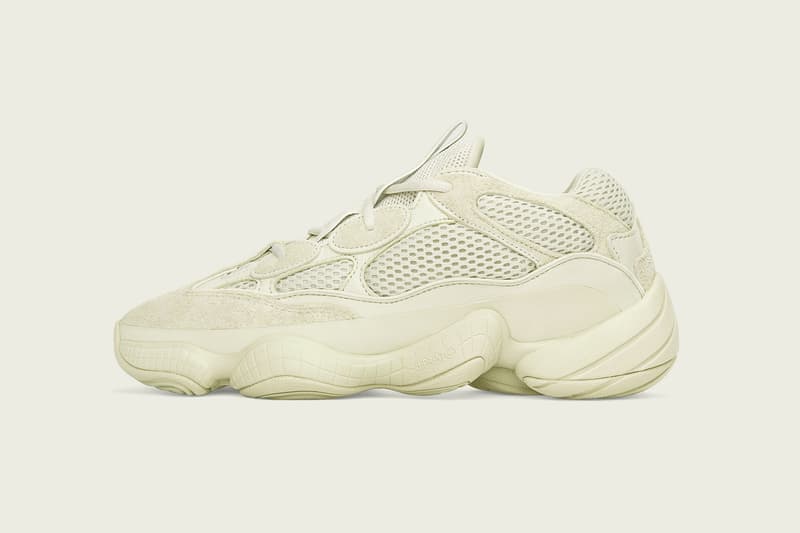 2 of 4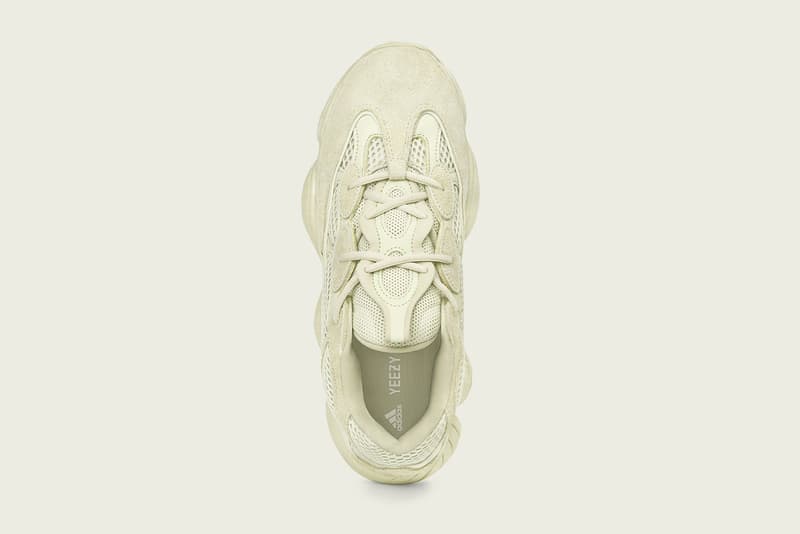 3 of 4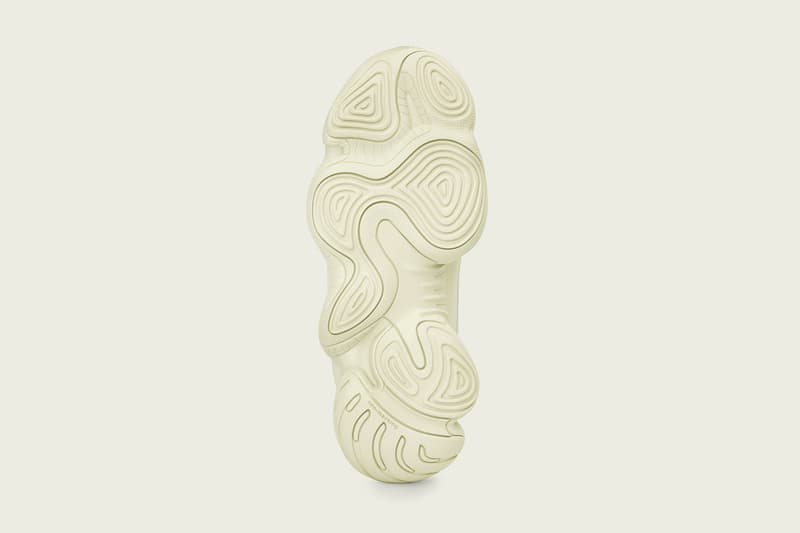 4 of 4
UPDATE: The adidas YEEZY 500 "Supermoon Yellow" is now also available for sign-ups on the Confirmed App.
After a successful launch of the YEEZY 500 "Blush," adidas Originals returns to the chunky dad shoe trend with the YEEZY 500 in the previewed "Supermoon Yellow" colorway.
Many will notice the subtle tone of the shoe to take on a slight hue of yellow and grey, much like the "Blush" had a tint of pink to some consumers. The chunky aesthetic sees bulges along the soft adiPRENE+ midsole, complemented by an exaggerated footprint and a multitude of layers on the upper. Puffy laces provide a secure knot, held against a suede-paneled tongue for stability. Lastly, an Ortholite insole gives the sneaker an extremely comfortable footstep.
The sneaker remains to hit stores on June 9, so be sure to check your local retailer below or visit adidas.com/yeezy at approximately 10 a.m. EST for an online release. Additionally, reservations via the adidas Confirmed app will also allow for purchase, as well as yeezy.supply with limited stock.
Australia
Sneakerboy
265 Little Bourke Street
Melbourne
Up There
1/15 McKillop St
Melbourne
Highs & Lows
1/672 Beaufort Street
Mt Lawley
Highs & Lows
74-76 King Street
Perth
Sneakerboy
3 Tempernace Lane
Sydney
Austria
Solebox
Jasomirgottstraße 6
Vienna
Belgium
Avenue
Ijzerenwaag 1
Antwerp
Solebox
Boulevard Adolphe Max 86
Brussels
Hunting and Collecting
Rue des Chartreux 17
Brussels
Brazil
Guadalupe
Rua Tres Rios, 126
Sao Paulo
Canada
Off the Hook
1021 Ste Catherine Ouest
Montreal
SSENSE
https://www.ssense.com/
Montreal
NRML Select
100 Bayshore Dr
Ottawa
NRML
184 Rideau Street
Ottawa
HAVEN
190 Richmond St E
Toronto
Livestock
406 Roncesvailles Avenue
Toronto
Livestock
116 Spadina Avenue, Unit G1
Toronto
Livestock
141 East Pender St.
Vancouver
HAVEN
52 East Cordova Street
Vancouver
Livestock
407 Graham Avenue
Winnipeg
Colombia
adidas Originals Calle 82
Calle 82 # 13-20
Bogota
Czech Republic
Footshop
Tusarova 791/31
Prague
Denmark
Wood Wood
Guldsmedgade 22B
Aarhus
Wood Wood
Guldsmedgade 22B
Aarhus
Wood Wood
Grønnegade 1
Copenhagen
Norse Project
Pilestræde 41
Copenhagen
Naked
Pilestræde 46
Copenhagen
Naked
Klosterstræde 10
Copenhagen
Finland
Beamhill
Yliopistonkatu 5
Helsinki
France
Acte 2
9 Place Crillon
Avignon
Summer
1, Place Gailleton
Lyon
Footpatrol Ltd
45 Rue de Temple
Paris
Starcow
62 Rue Saint Honoré
Paris
Sneakersnstuff
95 Rue Réaumur,
Paris
Adidas Originals – Paris
3 Ter Rue des Rosiers
Paris
Adidas flagship – Champs Elysees
22 AVENUE DES CHAMPS ELYSEES
Paris
No.42
42 Rue de Sévigné
Paris
Germany
No.74
Torstrasse 74
Berlin
Adidas flagship
Muenzstrasse 13-15
Berlin
Sneakersnstuff
Schönhauser Allee 6
Berlin
Solebox
Nuernbergerstrasse 16
Berlin
Overkill GmbH
Koepenicker Strasse 195 A
Berlin
Wood Wood
Rochstr. 4
Berlin
The Good Will Out
Richard-Wagner-Straße 27
Cologne
Uebervart
Kleiner Hirschgraben 14
Frankfurt am Main
Solebox
Altheimer Eck 6
Munich
Greece
Phat Soles
27 – 29 Dimarchou Angelou Metaxa
Athens
Device1
Palaiwn Patrwn Germanou, 19 str.
Thessaloniki
Israel
Factory54
https://www.factory54.co.il/
Kiryat Ekron
Italy
SlamJam Ferrara
Via Francesco Luigi Ferrari 37/B
Ferrara
Adidas flagship
Via Alessio di Tocqueville 11
Milan
SlamJam Milan
Via Giovanni Lanza 1
Milan
Suede
Via Dei Serpenti, 127
Rome
Sneakers 76
Via Vincenzo Pupino, 43
Taranto
Japan
Styles Daikanyama
1F Maison Daikanyama, 11-8 Sarugakucho
TOKYO
Mita Sneakers
Ameyoko Center bldg 2F 4-7-8 ueno
TOKYO
Billys ENT TOKYO SHIBUYA
6-23-7 Jingumae
TOKYO
BEDWIN
2-22-1 Jingumae
TOKYO
Undefeated Tokyo
1F P-2 BLDG.4-32-8 Jingumae
TOKYO
adidas Originals Flagship Store Tokyo
Jingumae TAURUS, 5-17-4 Jingumae, Shibuya-ku
TOKYO
atmos Blue Omotesando
6-23-2 Jingumae
TOKYO
BEAMS HARAJYUKU STORE
3-24-7 Jingumae
TOKYO
GR8
1-11-6 Jingumae
TOKYO
Isetan Shinjuku
3-14-1 Shinjuku
TOKYO
United Arrows & Sons
B1-1F, United Arrows Harajuku For Men 3-28-1 Jingumae
TOKYO
Korea
adidas Originals Store Busan Kyungsungdae
315, Suyoung-ro
Busan
adidas Originals Store Daegu Dongsungno
50, Donsungno 2gil
Daegu
adidas Originals Store Gwangju Chungjangno
91, Chungjangno 2(i)-ga
Gwangju
Beaker Cheongdam Flagship
408, Apgujeong
Seoul
adidas Originals Store Seoul Myungdong
20, Myeongdong 8na-gil
Seoul
10 Corso Como Cheongdam
416, Apgujeong-ro
Seoul
adidas Originals Store Seoul Hongdae
27, Hongik-ro 6-gi
Seoul
DAS107 by Kasina
74, Wausan-ro
Seoul
adidas Originals Store Seoul Itaewon
144-1, Itaewon-ro
Seoul
Boontheshop Men
35, Seoneung-ro 162gil
Seoul
adidas Gangnam Brand Center
Gangnamdaero 470, 1F~4F
Seoul
adidas Originals Flagship Store Seoul
13, Apgujeongno 50gil
Seoul
G.street 494 homme+
4th Floor, galleria WEST, 343, Apgujeong-ro
Seoul
Mexico
adidas Originals Flagship Condesa
Atlixco 91
Mexico City
Lust
Av. Presidente Masaryk, 311
Miguel Hidalgo
Netherlands
Patta
Zeedijk 67
Amsterdam
Solebox
Nieuwezijds Voorburgwal 240
Amsterdam
New Zealand
Loaded Newmarket
206 Broadway
Auckland
Norway
YME Studios
Karl Johans Gate 39
Oslo
Panama
Lust
Avenida A Edif. Dos Casas Planta Baja. Casco Viejo
Panama
Philippines
Commonwealth
SM Aura Premier, Fort Bonifacio
Manila
Sole Academy
B1 Unit 731, Bonifacio High Street, Taguig City
Manila
Poland
Lab chmielna 20
Chmielna 20
Warsaw
Russian Federation
KM-20
Stoleshnikov lane, 2
Moscow
adidas originals Flagship store Moscow
Kuznetskiy Most 6/3
Moscow
Brandshop
Petrovsky bulvar, 21
Moscow
adidas originals Tsvetnoy
Tsvetnoy bulvar, 15
Moscow
adidas originals Galereya
Ligovskiy prospekt 30a
Saint Petersburg
Singapore
Limited Edt Chamber
10 Bayfront Ave
Singapore
Slovakia
Footshop
CULENOVA 9
Bratislava
South Africa
Shelflife Cape Town
167 Longmarket Street, Cape Town, South Africa, 8000
Cape Town
Shelflife Johannesburg
21 Keyes Avenue, Rosebank, Johannesburg 2196
Johannesburg
Spain
LIMITEDITIONS
Calle Rera Palau 7
Barcelona
Sivasdescalzo
Calle Bailen, 18
Barcelona
LIMITEDITIONS
Calle Duc, 13
Barcelona
Sivasdescalzo
Calle Churruca, 5
Madrid
Sweden
Très Bien Shop
Fersens Väg 20
Malmö
Sneakersnstuff
Åsögatan 124
Stockholm
Switzerland
titolo sport
Niederdorfstr. 10
Zürich
Thailand
Carnival
428 Siam Square, Soi 7 Pathum Wan
Bangkok
Turkey
290 sqm
Şair Nedim Caddesi No: 20 D Akaretler, Istanbul
Istanbul
United Arab Emirates
Concepts
39 Al Safa Street
Dubai
The Good Life
Unit G-64, Alserkal Avenue
Dubai
LEVEL
The Dubai Mall
Dubai
United Kingdom
Hanon
51 The Green, City Centre
Aberdeen
Endclothing
196 Ingram Street
Glasgow
Footpatrol Ltd
80 Berwick Street
London
Adidas flagship
15 Fouberts Place
London
Adidas flagship
15 Hanbury Street
London
Sneakersnstuff
107-108 Shoreditch High Street
London
Endclothing
133 – 137 Grainger Street,
Newcastle
United States
A MA MANIERE
969 MARIETTA STREET STE 200
ATLANTA
WISH
447 MORELAND AVE.
ATLANTA
NICE KICKS
2815 GUADALUPE ST
AUSTIN
SNEAKER POLITICS
7566 BLUEBONNET BLVD.
Baton Rouge
CONCEPTS adidas store
73 Newbury st
boston
BODEGA
6 CLEARWAY ST.
BOSTON
KITH
233 FLATBUSH AVE.
BROOKLYN
CONCEPTS
37 BRATTLE ST.
CAMBRIDGE
SOCIAL STATUS
1519 CENTRAL AVE
CHARLOTTE
RSVP GALLERY
1753 N. DAMEN
CHICAGO
SAINT ALFRED
1531 N. MILWAUKEE AVE.
CHICAGO
adidas originals -chicago
1532 N Milwaukee
Chicago
XHIBITION
2068 W 25TH ST.
CLEVELAND
BAIT
1962 BLAKE STE. 100
DENVER
BAIT
2753 S DIAMOND BAR BLVD. STE. B
DIAMOND BAR
SOCIAL STATUS
602 ELM ST.
GREENSBORO
PROPER
250 W 19th st
houston
PACKER SHOES
382 MARIN BLVD.
JERSEY CITY
SNEAKER POLITICS
131 ARNOULD BLVD.
LAFAYETTE
UNDFTD
4480 PARADISE ROAD STE. 400
LAS VEGAS
PROPER
425 E. 1ST ST.
LONG BEACH
COMMONWEALTH
2008 E 7th St
los angeles
UNDFTD
111 SOUTH LA BREA AVE.
LOS ANGELES
adidas – Abbott Kinney
1349 Abbot Kinney Boulevard
Los Angeles
adidas originals – Melrose
8009 Melrose Ave
Los Angeles
BODEGA
1320 E 7th St
LOS ANGELES
BAIT
7708 MELROSE AVE.
LOS ANGELES
KITH
8500 Sunset Blvd
LOS ANGELES
UNDFTD
3827 WEST SUNSET BLVD.
LOS ANGELES
NICE KICKS
862 S MAIN ST.
LOS ANGELES
RSVP GALLERY
905 S Hill St
Los angeles
SNEAKER POLITICS
3504 SEVERN AVE.
Metairie
SHOE GALLERY
244 NE 1ST AVE.
MIAMI
KITH
1931 COLLINS AVE
MIAMI BEACH
CLICKS N KICKS
1916 E CAPITOL
MILWAUKEE
CONCEPTS
225 HUDSON ST.
NEW YORK
BBC
456 W BROADWAY
NEW YORK
adidas – Fifth Avenue
565 5th Ave
New York
adidas originals – NY
115 Spring Street
New York
KITH
337 lafayette st
NEW YORK
ALIFE
158 RIVINGTON ST.
NEW YORK
SNEAKERSNSTUFF
22 Little W 12th St
NEW YORK CITY
CRÈME
321 W 21ST ST.
NORFOLK
CRÈME
300 MONTICELLO AVE.
NORFOLK
BAIT
2812 E CHAPMAN AVE.
ORANGE
UBIQ
1509 WALNUT ST.
PHILADELPHIA
UNDFTD
4412 N Central Ave
phonix
SOCIAL STATUS
717 LIBERTY AVE STE 106
PITTSBURGH
SOCIAL STATUS
5929 PENN AVE
PITTSBURGH
BAIT
818 SW BROADWAY
PORTLAND
SOCIAL STATUS
308 PARHAM ST
RALEIGH
BAIT
920 5TH AVE.
SAN DIEGO
STASHED
2360 3rd St
SAN FRANCISCO
UNDFTD
516 HAYES ST.
SAN FRANCISCO
BAIT
3162 16TH ST.
SAN FRANCISCO
NICE KICKS
1420 HAIGHT ST.
SAN FRANCISCO
UNDFTD
2654 MAIN ST.
SANTA MONICA
BAIT
915 EAST PIKE ST.
SEATTLE
PACKER SHOES
941 TEANECK RD.
TEANECK
COMMONWEALTH
1781 FLORIDA AVE.
WASHINGTON DC
UBIQ
3124 M St NW
WASHINGTON DC