Heron Preston Reveals His Thoughts on Collaborations, the Bootleg Trend, & the Importance of Russia
A candid interview at the designer's "Mr. President" KM20 pop-up.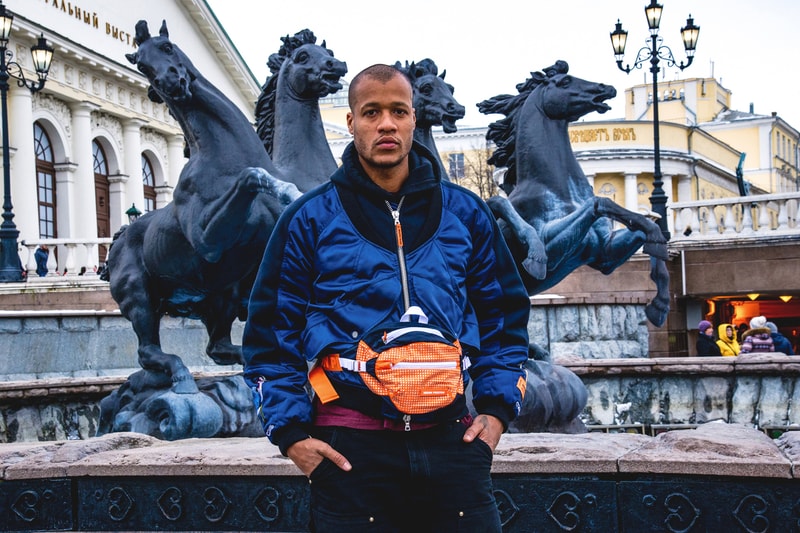 1 of 4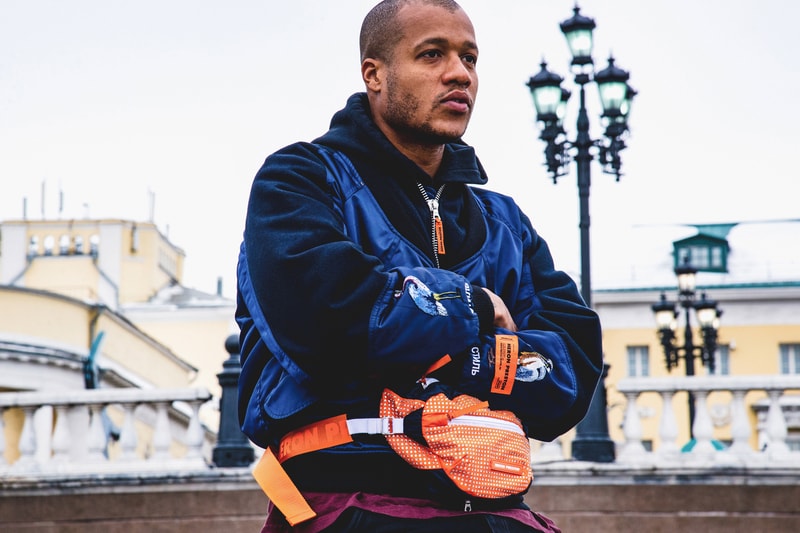 2 of 4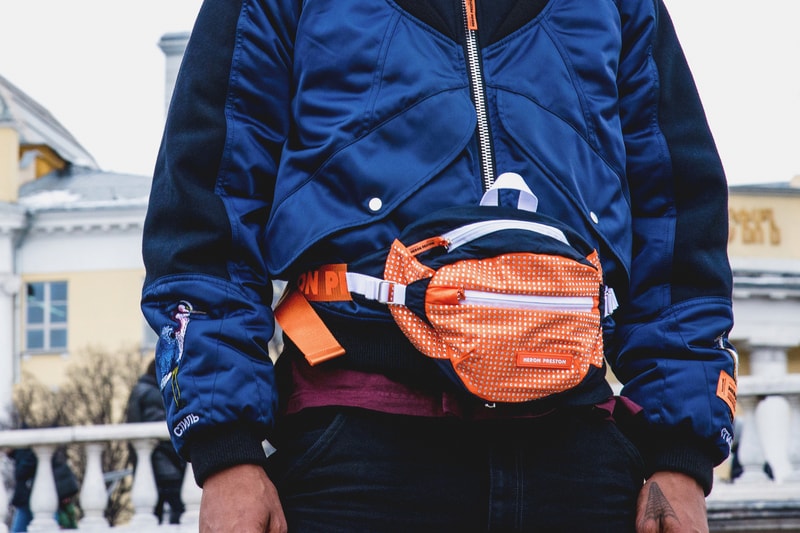 3 of 4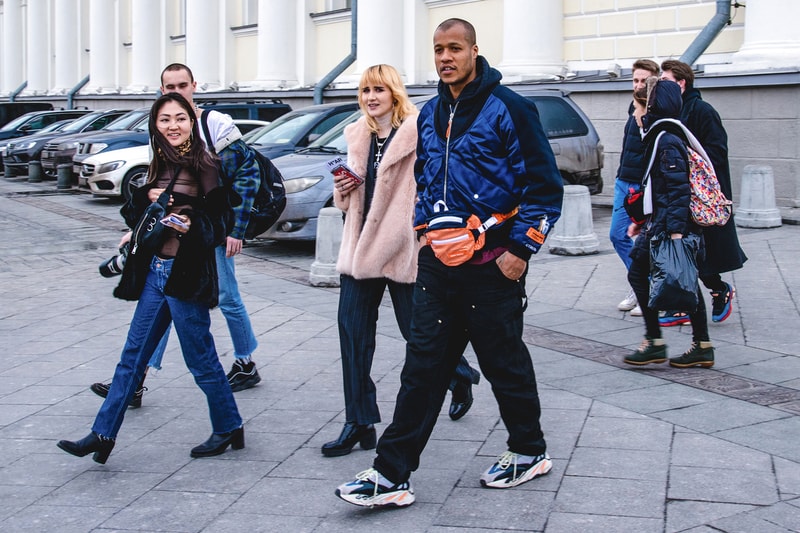 4 of 4
Following up a collaborative Moscow pop-up for his "For You, The World" Fall/Winter 2017 collection Global Tour, Heron Preston once again teamed up with retailer KM20 on an exclusive capsule collection.
Released on the eve of Russia's latest presidential election, the special range straddles the line between fashion and politics, while referencing tourism in Moscow. Approached by KM20 founder Olga Karput to design the capsule, Heron instantly chose the theme of tourism after his first experience shopping for souvenirs at the nation's cosmopolitan capital.
With tourists in mind, the "Mr. President" capsule collection is comprised of two pieces, including a souvenir T-shirt and a fanny pack both covered in Swarovski rhinestones. The graphic tee features an image of Russian President Vladimir Putin paired with Heron's now signature СТИЛЬ Cyrillic logo on the back done in multicolor rhinestones, while the accessory offering sports a bright orange colorway accentuated by white hits and riddled with rhinestones.
In an exclusive interview with Heron Preston, we chat about his early bootleg beginnings, what he loves about the emerging age of collaborations, the West's current obsession with Russian youth culture, and more. Read the conversation below with some imagery of the "Mr. President" capsule collection exclusive to KM20 available now.
What was the last thing you watched on YouTube?
I was watching videos of fighter jets flying really low to the ground for some ideas I've been working on. From watching pilots fly low to the ground, I ended up watching Centrifuge simulation for pilot training, which puts pilots through 8Gs of force and I was just thinking this would be some dope Heron Preston content.
What did you last Google?
It's not a fun answer. But I Googled "minaudière," cause I was trying to come up with the difference between that and a clutch. Always learning.
Alive or dead, who would you want to collaborate with?
Elon Musk. I want to shoot stuff into space or even go to space. I feel like he's a big rich kid with awesome ideas and I want to collaborate with his Boring Company.
Honestly, I woke up one morning and looked on Instagram and he was selling his flamethrower, so I bought one. It reminded me of HPC Trading Co. and my earlier drops before my collection. I was doing all these objects and playing with ideas and I feel like that's what Elon is doing with The Boring Company. So, I think that he would be the perfect collaborator for me. There is a lot of synergy between his creative process and mine.
Bootleg is a pervasive trend now, as someone that started with that aesthetic what do you think about its popularity?
I think it's exciting, coming from experience doing it years ago it came from a place of giving people what they are not supposed to have. Breaking that boundary and pushing possibilities, an unpredictable element that has always been part of my creative approach. But it feels like we are currently in a moment in time where the world wants to shake things up and break tradition. It goes to show how fast trends and people can move compared to companies. I'm not sure if they are late or if I was early, but it's cool to see takes on the bootleg idea.
How do you think your personal aesthetic has changed?
The mentality behind it definitely has stayed the same. But things have changed. I now have partners and I am part of a proper company. Before I was making things alone and had no accountability. I didn't mind if I got in trouble, but now there is more at stake. So, I am more refined with my ideas but follow the same creative DNA.
How do you feel about the emerging age of collaboration we are seeing now?
I love collaborations. Think about how the Taco Bell x Doritos collaboration made you feel. It was exciting. It was fun. Something new that brought two of your favorite things together.
At a recent meeting I had with Instagram, I learned that my followers love to see photos of me with my friends. It just proved to me that people love to see their favorite people together; those get the most likes, the most comments. I look at those as collaborations, a human collab. So, when you look at product collaborations, these brands come together and people react to them in the same way. It's a new spark that didn't previously exist. It's exciting there is room to surprise people, there are so many things that haven't been done yet, and collaborations help get those ideas out.
Can you tell us about your first trip to Russia?
I first came to Russia in May of 2017, it was for the kickoff of my global tour collection launch in conjunction with KM20. I decided to launch in Moscow because my sub logo is that Cyrillic "СТИЛЬ," which means "style." Also, because brands don't normally launch in Russia. If you think of a fashion brand they'll only launch in Paris, New York or London… very traditional. I just wanted to do something different and it was fun. I soaked in a lot walking around as a tourist.
How did this capsule collection together with Olga Karput and KM20 come about?
Taking on the role of the tourist my first time here with KM20. I went shopping at souvenir stores and the very first purchase I made was a Putin T-shirt. It was such a quintessential Russian souvenir piece for me and I wore it the whole time I was here. So, now my second time and my latest themed release here is a reflection of my first trip.
What do you think about Russian youth culture in relation to the West's current obsession?
We just all want to be part of the culture and everyone has something to offer. With the world being so connected now it's just so easy to delve deep into what's in. The youth of Russia is currently having a moment that coincides with the emergence of Moscow as a fashion capital. I feel like the recent spotlight on Russian youth culture is just simply because it's unexplored and exciting.
For more fashion news, Supreme recently teased its upcoming collaborative Lee Quiñones drop.