More Women at Nike Reveal They Felt "Ignored, Harassed and Stymied in Their Careers"
'The New York Times' provides the most thorough account yet of Nike's clash with the #MeToo movement.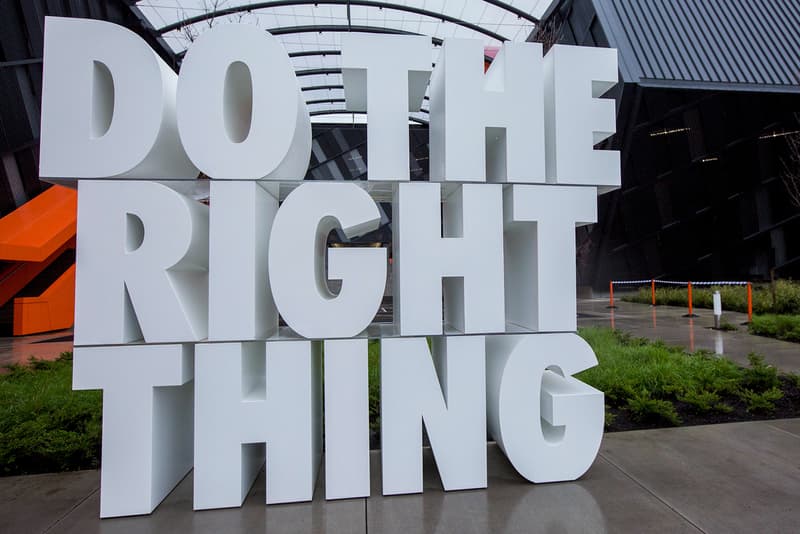 News of the harrowing mistreatment of female employees at Nike's corporate headquarters in Beaverton, Oregon became public when CEO Mark Parker's likely successor, Nike President Trevor Edwards, resigned amid allegations of inappropriate workplace behavior the second week of March. A small exodus, as some are calling it, ensued, in which Nike's vice president of footwear, its head of diversity and inclusion, a senior director for its basketball division, and Edwards's "lieutenant," Jayme Martin, who oversaw much of the brand's global business, all resigned as a result of gender discrimination.
According to a new article from The New York Times, which published yesterday, Nike's inevitable clash with the Me Too Movement came when a small group of women, fed up with HR's inability to act on formal complaints, began covertly surveying their female peers, asking whether they had been a victim of sexual harassment and/or gender discrimination. Those findings soon landed on Mark Parker's desk on March 5.
For this piece, The Times interviewed more than 50 current and former Nike employees, as well as viewed copies of complaints to human resources, to provide the most thorough account yet of "how disaffection among women festered and left them feeling ignored, harassed and stymied in their careers." You can read some of the quotes below, before reading the entire article, titled "At Nike, Revolt Led by Women Leads to Exodus of Male Executives."
"I came to the realization that I, as a female, would not grow in that company," said Francesca Krane, who worked for five years in Nike's retail brand design area before leaving in 2016. She said she grew tired of watching men get promoted into jobs ahead of women she felt were equally or better qualified.

Many of those interviewed, across multiple divisions, also described a workplace environment that was demeaning to women. Three people, for instance, said they recalled times when male superiors referred to people using a vulgar term for women's genitals. Another employee said that her boss threw his car keys at her and called her a "stupid bitch." She reported the incident to human resources. (She told her sister about it at the time, the sister confirmed.) He continued to be her supervisor.
For Amanda Shebiel, who left Nike in September after about five years at the company, the promise to address longstanding systemic problems is welcome, but late.

"Why did it take an anonymous survey to make change?" she asked. "Many of my peers and I reported incidences and a culture that were uncomfortable, disturbing, threatening, unfair, gender-biased and sexist — hoping that something would change that would make us believe in Nike again."

"No one went just to complain," Ms. Shebiel added. "We went to make it better."
Nike is also struggling to get traction in women's categories, the fastest-growing segment of the market.

Some of those interviewed by The Times said the weakness in women's products in part reflected a lack of female leadership and an environment that favored male voices. Nike's own research shows that women occupy nearly half the company's work force but just 38 percent of positions of director or higher, and 29 percent of the vice presidents, according to an April 4 internal memo obtained by The Times.
The culture that evolved could be belittling to women. On the way to a work dinner in Los Angeles, two senior men debated whether Los Angeles or Portland had better strip clubs, according to a person who attended, as the women traveling with them in the van stared out the windows.

One current employee said a supervisor pushed his way into a bathroom and tried to kiss her, according to a copy of her complaint that was viewed by The Times.

Over time, many women developed a deep skepticism of Nike's human resources services. Some avoided the department altogether, fearing retribution or convinced that nothing would happen. Those who did seek help said they often came away frustrated.

"I was looking for help and they just totally shut it down, like 'You're the problem,'" said Marie Yates, a former retail designer, who said she went to human resources seeking help with issues she was having with a manager. She left the company in 2016.

A senior manager who mentioned a female employee's breasts in an email was not terminated, but rather given a verbal warning, according to a former staff member in the human resources department.

In one complaint reviewed by The Times, a woman described her manager bragging about the condoms he always carried and the magazines he kept on his desk with scantily clad women on the covers, despite being told to remove them. She reported him to human resources, and was told she had made a mistake by not confronting him first, she said.
Amber Amin said her manager routinely belittled her with sexist and dismissive comments but still worried about what would happen if she reported him.

"I think his general attitude toward women was just, subtly, that we were less capable," said Ms. Amin, a junior designer on one of the Nike apps, who added that she had received positive performance reviews since becoming an employee in 2014.

She eventually sought help from human resources, which told her that corrective action would be taken. Two days later, she was part of a round of layoffs.
The article ends with a focus on Mark Parker, and the pressure on him to make a serious change, despite what some perceive an indifference on the matter. According to The Times, at least a dozen current and former employees could not see how Mr. Parker was not aware of the problems with his top leaders, unless information was deliberately kept from him.