HYPEBEAST Mix: Cardo - G-Worthy Mix
He also discusses his future plans and provides a history lesson.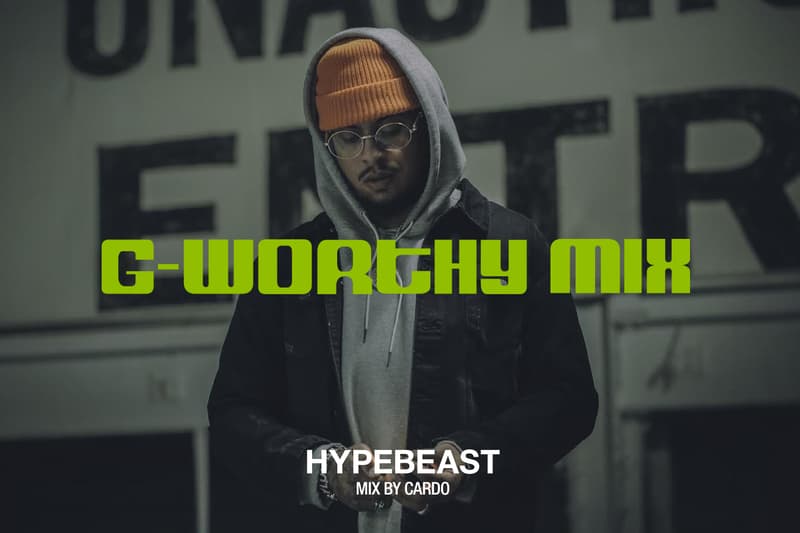 Besides an inimitable ear for everything from smooth funk to heavy-hitting street-salvos, there's another reason why Cardo is one of contemporary hip-hop's strongest producers: he probably knows more about rap music than your favorite beatmaker or rapper. In conversation, the 33-year-old jumps into deep dives through the twists and turns of the most influential, authentic and niche corners of rap's gnarled roots; he can pinpoint the specific impact of obscure Three 6 Mafia and Yo Gotti deep cuts, provide a concise round-up of the Bay Area's best early artists, and convince you of Detroit, the South and Los Angeles' current significance.
Along with being one of modern music's most sought-after hitmakers, the Midwest-reared sound-sculptor's past as an obsessive devotee of hip-hop's greatest movements has turned him into one of its foremost archivists. He's also a brazen and passionate historian — he would be the first to send fists flying if you weren't feeling one of his his favorite artists. You can't put a price on that sort of commitment.
"If you didn't grow up on Project Pat you had the wrong influences in your lifestyles," Cardo explains. "If you wasn't listening to When the Smoke Clears or Kings of Memphis, I couldn't trust your advice with music. If a n*gga told me Crunchy Black was weak, we would fight."
That obsessive archaeologist approach to production fuels the Grammy-winning producer's mindset towards his craft and supplements his ability to supply today's generation with their favorite rap record-breakers. For Cardo, it's about connecting the dots of his influences and creating something new using the shiniest relics of the past.
To provide an oral exploration of the music that brought Cardo to the critically-revered, commercially-successful position he's at now, we linked up with him for an exclusive HYPEBEAST Mix known as the G-Worthy Mix. You can stream that composition and check out our in-depth interview with him below to find out about his favorite artists, future plans and more.
A lot of your recent beats have a huge West Coast feel on them. What were some of the West Coast producers you feel influenced you the most?
There were so many, starting from Dr. Dre, DJ Quik, One Drop Scott, Rick Rock, Funk Daddy — a lot of Bay Area producers. One Drop Scott was definitely one of my favorite producers, he did a lot of stuff for Mac Dre, Romper Room, E-40 and the rest of them. DJ Quik … we grew up on that shit. Ant Banks is one of them too. Sorry if I left anyone out, but these are the guys I looked up to.
Growing up in the Midwest in the '90s, it was either 8Ball & MJG, Suave House and Rap-A-Lot or it was the West Coast. Mainly, the Bay Area really had a major effect on the Midwest music circuit. If you hear the music in the Midwest in the '90s, it had a big West Coast feel; there's a heavy (West Coast) influence on us.
We (the Midwest) love the East Coast — Wu-Tang Clan, Nas and all of that — but they never really came to the Midwest to perform or do any of that. So, we kind of weren't hip to it — I was, but the rest of the Midwest wasn't. So, that's why there was so much of that West Coast and down-south trafficking going on. That's why my sound has a mix of the old South — the older southern sounds by N.O. Joe and all that — and the new.
N.O. Joe was one of the people I looked up to as well, besides Mike Dean and Mr. Lee. They really made what Rap-A-Lot Records was back in the day. It was dope just to hear that growing up.
Speaking of Rap-A-Lot, did you listen to Z-Ro and artists like that too?
I just linked up with Z-Ro on Twitter; that's someone I've been wanting to work with back in the day — way before ABN and all of that. I hope something good comes out of that, that's like the down-South Nate Dogg. He was the most consistent rapper coming out of Texas … he kept it underground but was still making noise outside of that. I feel like he doesn't get the due credit he deserves.
Since you worked with some of Detroit and California's biggest artists, how do you feel about the current connection between the modern Detroit and Bay sounds?
It's a beautiful thing … both of those cities are cousin cities. SOB x RBE and Bandgang are just part of that young n*gga movement they got going on. It's dope to see the unity … there's no beef or nothing, I like seeing that.
Icewear Vezzo and Team Eastside were making crazy music back in 2012 that a lot of people are still getting influenced by.
Of course! Them and Doughboyz Cashout … it's dope to see things like that evolve and get a lot of people's attention.
HBK Kid just came out with his project the other day, and it sounds like the old school Streetlordz, Eastside Chedda Boyz, Blade Icewood shit mixed with the new shit. It's just dope to see music like that evolve and get a lot of attention. It's always a great thing.
Long live Blade Icewood. He was making his mark on the game and it's unfortunate that his time came short. But, he made it solid with the music scene of Detroit. With Doughboyz Cashout and all that keeping his name alive, it's dope.
Even with "Ric Flair Drip," it's a Bay Area song mixed with Detroit almost. When I first heard that beat, I was like, "oh, this sounds like some straight Bay area shit." When I heard those drums, I was doing the thizz-face in the car. Metro, I see you.
With Detroit and the Bay, do you feel like they're having a huge impact on rap and how it's evolving?
Hell yeah. They're starting to get noticed now. Especially with the Bay: SOB x RBE, Kamaiyah, Lil Pete, Cookie Money. A lot of these cats coming out of the Bay are doing their thing. Mozzy definitely, even though he's from Sacramento.
Detroit got Doughboyz Cashout, Cash Kidd, FMB DZ, Bandgang Lonnie and all these kids coming out. There's another shorty called Rocky B who's fire. She's so cold! I'm like who this is this brace-face girl rapping like this? I hit her up like, "we got to work, we got to do some shit." She be talking that shit. Molly Brazy's dope, but Rocky B's got substance and shit going on. She'll go bar for bar. It's dope to see both of those females. Kash Doll too, she's kind of like the Lil Kim of Detroit because she's got that bossy attitude and she talks shit. She's a little more flashy. Everybody in Detroit is doing their thing — even the Team Eastside n*ggas, everyone's coming together as a whole to enhance the sound of what Detroit has to offer. Tee Grizzley too, he's doing his thing; he's young and fly. It's good to finally see people giving them the attention that they want.
In the Bay, you have ALLBLACK, Yatta, Lil Yase, Offset Jim.
Yase is one of my favorite rappers too. ALLBLACK definitely … he can spit his ass off … it's between him, Kamaiyah and SOB x RBE. We got to stop sleeping on Nef the Pharaoh too. Tell that n*gga [ALLBLACK] I'm looking for him too [laughs].
I just want to make music and be looked at as someone who is like the Gucci Mane of producing. It's all about the producers putting these artists out there now and giving them a bigger spotlight. I feel like if people pay attention to me, then they're going to see what I got going on and who I'm working with, and they're going to f*ck with that artist too. I look at shit through that perspective, because I feel like it benefits them [the rappers] too. It's not about favoritism or anything like that, these are just artists that I f*ck with that I want to I feel like we got the ability to change the way people look at rap music and how they hear it.
Some of the best rappers are from Detroit. GT and Cash Kidd.
Cash Kidd is so damn dope. People are sleeping on him right now! I've been trying to work with him! That's definitely someone I want to work with. If he's reading this interview, I'm looking for you.
There's so much dope talent coming out of Detroit. It just looks good for the Midwest as a whole.
Since you're influenced by the old West Coast, how do you feel about the new West Coast?
Free Drakeo the Ruler. Me and Greedo got a project coming out. Free the whole Stinc Team. Drakeo got some of the craziest punchlines [laughs] … he's becoming the West Coast Gucci almost. Prayers out to him, Ralfy and everybody; they need to free him, Bambino and all of them. I hope they can all overcome the obstacles they're facing. I love what him [Drakeo] and Greedo were putting together for the West Coast, because it looked different, it sounded different. It's just gritty-ass West Coast music.
Mr. Mosley is one of the most innovative motherf*ckers coming out of the West Coast. His lingo is phenomenal. He got that charisma, and there's something about his energy. When I met him, he was cool as hell. You can tell he isn't some kid fronting for the scene. It's authenticity.
If you had to narrow it down to a few people, who are the most underrated artists right now?
Definitely Drakeo. Drakeo's definitely slept-on to me, he's one of the rawest n*ggas coming out. J.I.D. Swoosh is one of the most underrated artists right now as well, he's got punchlines and he can talk his shit and his style is dope to me. I f*ck with Yung Bans tough.
Peewee Longway is the most underrated, overlooked artist out of the Atlanta scene period. If we're going to be real, Peewee is slept-on. The last tape he just dropped — The Blue M&M 3 — people slept on that. That's another guy I want to do a project with, so if he's reading this sh*t too, I'm looking for you. I need to work with him hands-on, I need to do a whole project with him.
With the "trap music" debate going viral and your own strong opinions on it, what are your thoughts on the origins of trap music?
I'm a big Three 6 Mafia, Hypnotize Minds camp, Prophet Posse fan… that was my shit growing up. So for us to hear that, and then n*ggas try to compare it to trap, I was like, "nah, that's disrespect." If anything they were crunk music — before Lil Jon, before David Banner and any of that. Those n*ggas were the ones that co-founded that sound and brought it to the game on a whole other plateau. Everything they presented … it wasn't trap music, it was straight buck, crunk music. [The old Memphis sound] is more like horrorcore, if anything.
Do you feel like it laid the foundations for the more modern trap music?
It definitely did. With the producers nowadays, they just enhance that sound. What separated Three 6 Mafia was that they were using actual horror theme songs as samples and flipping them. They were using Curtis Mayfield, Willie Hutch and Lamont Dozier samples. The Lamont Dozier, "Shine" sample I used for "Levels" from Meek Mill came from Three 6 Mafia using that first. They flipped the shit out of that sample … I got inspired by Juicy J and DJ Paul. That wasn't really "trap music" to me, that was straight gangsta music … straight buck music. People have to understand: in Memphis, the whole sound and atmosphere were different; everything they presented — the lifestyle — was different. You got to think about Tommy Wright III, Skinny Pimp, Gangsta Blac, Frayser Boy, Lil Wyte and so many countless others. There's room to argue that they founded trap music, but they didn't consider it "trap music."
What separates the early T.I., Jeezy and Gucci and the more lo-fi stuff like Tommy Wright III, Lil Sko and stuff like that?
T.I. was more of a soulful trap rapper, he was versatile with what he could do. When you heard Trap Muzik, you heard the Jazze Pha production, you heard the Kanye production. You heard a different variety of beat selections on Trap Muzik. It was just soulful and going in-depth on everything.
Jeezy, when he came in the game with Trap Motivation 101, it was heavy 808s and open hats. Shawty Redd did most of the production on that shit … the shit that they were doing was similar to what me and Payroll were doing as far as presenting a sound. He was more in-your-face … Jeezy had punchlines, he had a gang of riddles and was smooth with how he did it.
Gucci is animated. 'The Movie' is the best tape — for me — from Gucci … The Movie was the one that set the tone. He was the hooded-out Trap God from East Atlanta, Zone 6. He was the poster boy for Atlanta's new sound of music and for trap sh*t. I'm pretty sure Gucci doesn't consider himself as a "lyricist," he considers himself someone who's just telling you shit how it should be told. He's just a fun, dope rapper … like Slick Rick type shit. He opened the door for so many artists, and producers too.
For the trap music argument, I'm going to have to say that T.I. did bust out the gate with it. Even though Khujo from Goodie Mob was talking about it way before that, I think T.I. just presented it on a whole other scale and on a mainstream platform. That was 2003 when that [Trap Muzik] came out? No one knew about trap like that. It was all about crunk music … Lil Jon, Youngbloodz, Outkast and Dungeon Family was all you were hearing from Atlanta. Then, T.I. comes out with the left-field shit. When I'm Serious came out, people weren't paying attention to him — I was, because that's one of my favorite T.I. albums — but when he came with Trap Muzik it was like, "damn, this kid's raw." Jeezy came right after him. Gucci came out around the same time as Jeezy. It's kind of tough, but I'd say T.I. came out the gate with it.
You mentioned 8Ball & MJG, so do you feel like they are all part of the same street rap lineage?
Hell yeah. If you fail to mention Suave House's finest, then you shouldn't even be speaking about rap music. I feel like 8Ball & MJG were the first to bust out with flashy, spitting-game, macking shit. 8Ball was settled and calm, MJG had the energy and was pimp-tight. They were presenting something new too. They were just game-spitters. Comin' Out Hard was just a great f*cking album. Those n*ggas were consistent.
Lastly, what are you working on for the rest of 2018?
Right now, I'm working on my debut album. It should be out in fall of early winter of 2018. I'm working with 2 Chainz on his album. Schoolboy Q of course … Jay Rock … the whole TDE family. Me and Yhung T.O. got a project coming out this year as well.
You're hearing it first: me and Lil Uzi are putting a project together. Me and Lil Uzi talked about it … we were just like, "f*ck it let's do it then."
I'm f*cking with Travis Scott's shit too … Astroworld. We're working on that shit too.