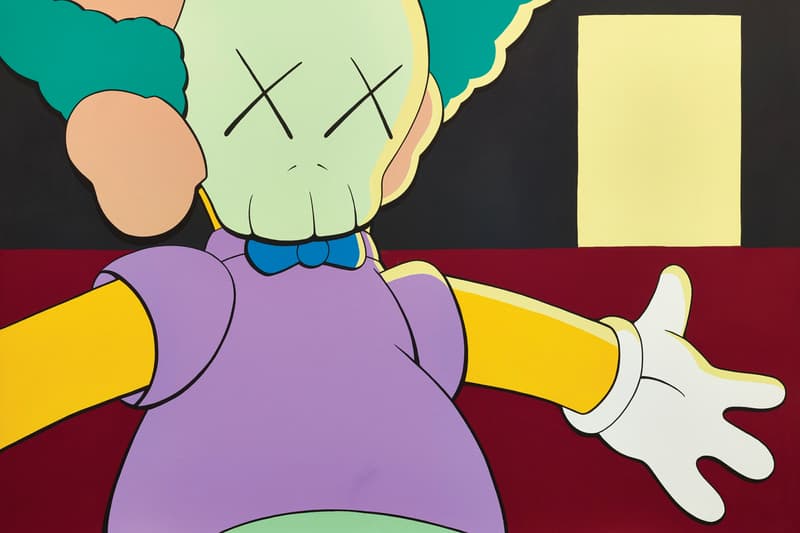 Best Art Drops This Week: Rare KAWS 'Kimpsons,' Takashi Murakami 'Flower Ball,' & More
Must cop paintings, vinyl figures, and artist skate decks.
---
Any art enthusiast or avid collector can tell you about the gut-wrenching pain of missing out on a limited drop by his or her favorite artist. Before the Internet hit its prime in the mid-90s, the only way to consume art was to either reach out to the artist directly, participate in auction sales or stop by a local boutique that stocks an artist's goods. Fortunately, online platforms dedicated to selling artworks are becoming much more prevalent today, such as Kumi Contemporary that focuses on purveying Japanese contemporary artworks or even Billionaire Boys Club that carries collectibles such as Medicom Toy figures and Takashi Murakami Flowers cushions. Furthermore, fans can even purchase items with the touch of a button seamlessly on social media platforms such as Instagram.
From a rare KAWS Kimpsons painting, to an Obey Giant x Misfits skate deck, read on to learn more about the best artworks available for online purchase this week.
Christie's Sells Rare KAWS Kimpsons Painting
Christie's recently launched a new auction titled The Comedians that purveys a diverse range of artworks that incorporate humor in diverse ways. One of the much-anticipated lots is a rare KAWS Kimpsons painting executed by the Brooklyn-based artist back in 2001. It's one of several Simpsons-inspired pieces, portraying Maggie Simpson with KAWS' signature "XX" motif. Moreover, it's signed and dated with "KAWS 01" on the reverse portion.
The painting is acrylic on canvas that is encased in a blister package measuring 60 x 48.6 x 7.6 centimeters. Head over to Christie's official website to learn more.
Takashi Murakami's Flower Ball Lithographs Now Available at Kumi Contemporary
Kumi Contemporary is an online platform that specializes in selling limited edition artworks created by leading contemporary Japanese artists. One of the site's new releases includes Takashi Murakami's 2013-14 series of Flower Ball offset lithographs in an array of vivid colors. A total of 11 pieces are now up for grabs on the platform, setting you back approximately $2,120 USD to $2,475 USD depending on the iteration you choose. Head over to Kumi Contemporary's official website to view all pieces.
Ron English Drops Limited Edition Young MC Vinyl Figure
Before there was MC Supersized, there was Young MC. Ron English's iconic character has been captured in the prime of his youth in the form of a seven-inch vinyl figure with a box design by Ron English.
English is set to launch his new Young MC vinyl figure this week. The latest collectible takes inspiration from the artist's most popular MC Supersized character as well as Ronald McDonald. The art object stands approximately nine-inches tall and is encased in a special box designed by English. Check out the collectible above and purchase one starting April 13 at POPaganda's official website. Each piece will cost you around $65 USD.
Michael Lau's "COLLECT THEM ALL!" Selling Exhibition
Heralded as the "Godfather of Toy Figures," artist Michael Lau is the subject of a new selling exhibition at Christie's Hong Kong. The extensive showcase will put on a grand display of both old and new works comprised of over 40 paintings, sculptures, as well as collectible figures. In regards to the new pieces, Lau expressed, "I want to make a change for myself, forcing myself to use colors I'm not used to. Challenging my preferences and creating artworks that I am personally averse to is the only way to evolve; otherwise, you're just repeating yourself."
The exhibition is currently open to the public up until April 27. Head over to Christie's official website to learn more.
Michael Lau "COLLECT THEM ALL!" Christie's Hong Kong
The James Christie Room
22nd Floor, Alexandra House
18 Chater Road Central, Hong Kong
Viewing Times
Monday – Friday, 11–27 April
10:30am – 5:30pm
Saturday, 14 April
11:00am – 5:00pm
Shepard Fairey To Launch Misfits x OBEY Skate Decks
Shepard Fairey of OBEY Clothing will soon drop a special collection with the legendary punk rock band, The Misfits. The range is comprised of limited-edition apparel, skate decks, posters and prints. As far as the graphics are concerned, the items are predominantly embellished with The Misfits' unmissable motifs. "The Misfits art is pure alchemy genius and the best example of remixing marginal subculture imagery into a cohesive cult brand in history," said Fairey. "From horror films, comics, serials, and B-movies the Misfits culled, cut, pasted, inked, and crafted possibly the most recognizable and enduring punk iconography ever."
Expect the collection to drop this April 13 at select OBEY stockists.