'Unsolved' Actors Wavyy Jonez & Marcc Rose Want You to See Tupac & Biggie's Humanity
Plus, an exclusive clip from a new episode.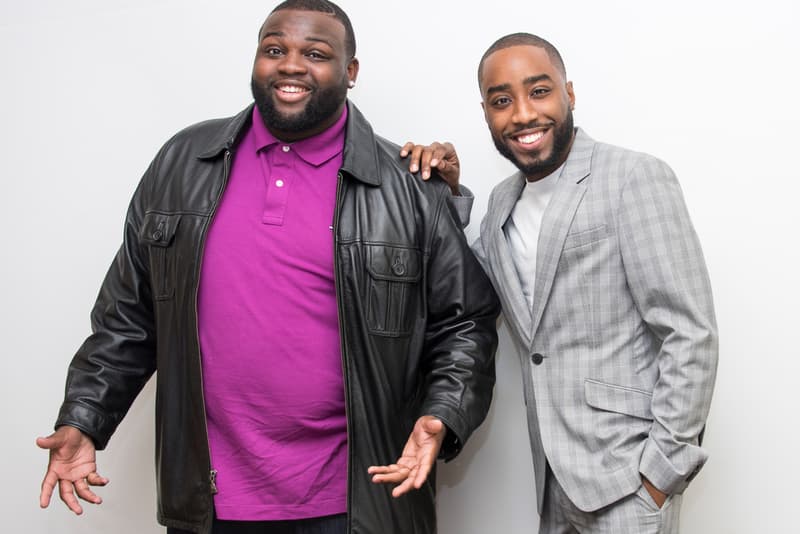 Over 20 years after their untimely deaths, Tupac Shakur and The Notorious B.I.G.'s contributions to pop culture are still as relevant as ever. From current-day controversies concerning contemporary appreciation for their music to silver-screen hits, the pair's collective body of work lives on and thrives. Now, as multiple studios fight to see who can cook up the next rap biopic or television sprogram, USA aims to stand out with a new series titled Unsolved: The Murders of Tupac and the Notorious B.I.G.
Already a critically-approved success, Unsolved: The Murders of Tupac and the Notorious B.I.G follows the story of seasoned police detectives Greg Kading (played by Josh Duhamel) and Russell Poole (Jimmi Simpson) as they attempt to uncover the entire, unfiltered truth behind the fall of two of modern music's most influential and talked-about icons. The series' first episode debuted on February 27, introducing viewers to Poole, Kading, Tupac and Biggie as their stories begin to intersect. Preparing for the broadcast of season one's fifth episode,  we linked up with actors Wavyy Jonez (Biggie) and Marcc Rose (Tupac) to talk about the famous characters they play and more.
You can check out our Q&A with Unsolved's Wavyy Jonez and Marcc Rose and an exclusive clip — dubbed "Biggie Falls In Love?" — from a new episode below. The next episode of Unsolved is scheduled to air at 10 p.m. PST tonight on USA.
Describe your first experiences with Tupac and Biggie.
Wavyy Jonez: My first experience was when I was young. Of course, my family played Pac and Biggie — they were the biggest things in hip-hop at the time. They played all their music, and that's how I ended up growing up to love hip-hop so much.
Marcc Rose: My experience was when I was younger too. I'm from New York, I'm from Brooklyn. I heard so much of Biggie and so much of 'Pac from my family and friends growing up; they were on TV everywhere.
What drew you two to want to play them in this series?
Marcc Rose: What they stood for, what they represented. Pac is so iconic, so legendary; he's such an activist and leader. He spoke for so many people who were scared to speak and didn't speak, and he did it so young. For me, that's something I grew up to love and was fascinated by.
Wavyy Jonez: I agree. With this whole project, what drew me to even audition for it was it was so interesting. For them to be able to tell a story to what happened to them behind the scenes and even finding out that there was a federal investigation — why not be an instrument to play in this case to see what happened?
It was also a learning experience: I was so into these two that I wanted to know what happened to them. Finding out about the investigation and how close they actually were outside of the whole East and West Coast thing — it's like a no-brainer.
What did you two both learn from portraying Tupac and Biggie?
Marcc Rose: I got a chance to learn his life — who he was behind the music; who he was in the media; who he was publicly. I got a chance to really get into his head. The books he read — The Art of War – were things he kind of trained himself on. He came from a strong foundation; his mom was a Black Panther. I really got a chance to see his upbringing while portraying Tupac.
Wavyy Jonez: I learned about Biggie as a family man and the stuff that took place behind the music — that we didn't really know about. Even with "Juicy," one of Biggie's hits, he didn't want to make the song. He thought it was corny; he thought it was corny to get on that type of beat. He didn't want to make it, but he did and it took off. Other than that, learning how Puff really believed in him and Tupac helping to mentor Biggie and helping his career. Being fans of them, there was a lot of stuff behind the music that we didn't know about.
Being fans, if you had to name a few favorite songs from each artist, what would they be?
Marcc Rose: "Dear Mama," "I Get Around," "Keep Ya Head Up" for Tupac. Biggie: "Juicy," "Notorious B.I.G." and "Ten Crack Commandments."
Wavyy Jonez: "Thugz Mansion," "Keep Ya Head Up," "I Get Around." Biggie: "Unbelievable," "Juicy," "Everyday Struggle."
Since you guys played these larger-than-life characters, what are some things that you think Unsolved shows fans of Biggie and Tupac that they might not have realized about them?
Marcc Rose: Their friendship. I think people get a chance to see their friendship and that they were human. They weren't just rappers: they had feelings, they were sons. People get to see the humanity between them.
Wavyy Jonez: I wholeheartedly agree. We got a chance to humanize them. People just look at them as these "gangster rappers," but in Unsolved you get to see that they're storytellers and a lot of the stuff that they're reporting is the stuff they grew up seeing and watched first-hand. This story really gives you a chance to go around that and shows they were much more than just "gangster rappers" like everyone reports them as.
When you guys look back at this season, break down some of the major scenes that stick out the most and that you two remember the most.
Marcc Rose: From what has aired so far: definitely the freestyle in the first episode and the interaction between Tupac and Biggie — that showed their relationship. When Pac punched Orlando [laughs]. That's just to name a couple.
Wavyy Jonez: Definitely the rap scene [in the first episode]. Those scenes when Pac got shot in Vegas, those stick out to me.
To this day, Biggie and Tupac's stories still resonate with audiences to this day. Why do you think that is?
Marcc Rose: Their legacy and who they are, what they stood for, the type of people they were and what they represented.
Wavyy Jonez: Also how young they were and how they were really before their time  — lyrically and mentally. There was something about the '90s: those guys aged like crazy at a young age, and it had to be all the things they were going through. There was something about the '90s that made them age in all aspects.