Barack Obama, Neil deGrasse Tyson & More Pay Tribute to Stephen Hawking
Wishing him a place among the cosmos.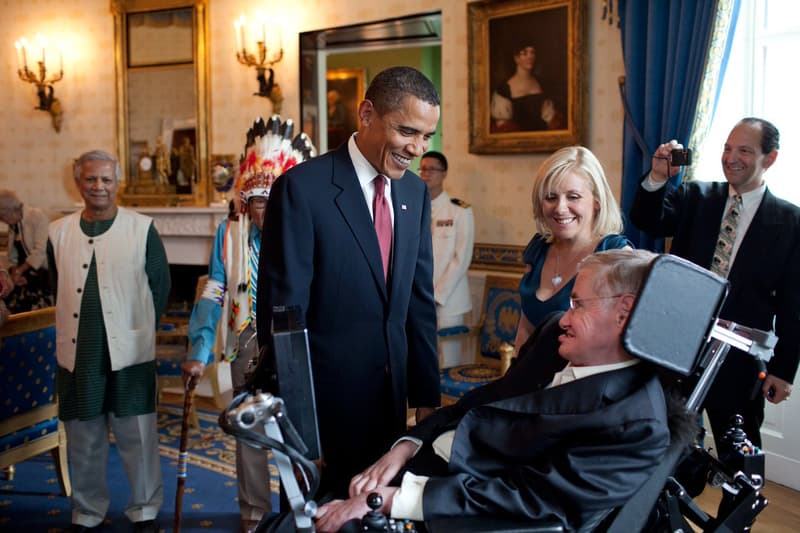 On Wednesday, famed physicist Stephen Hawking passed away in Cambridge at the age of 76 from complications due to ALS (amyotrophic lateral sclerosis).
Known for his remarkable discoveries about the Big Bang, black holes, quantum mechanics, and for his best-selling book A Brief History of Time: From Big Bang to Black Holes, Hawking's passing has left an impact on many. To express how much Hawking meant to society, both celebrities and cultural icons such as Barack Obama and Neil deGrasse Tyson have taken to social media to pay tribute to the brilliant man. Find some of the tributes below.
Have fun out there among the stars. pic.twitter.com/S285MTwGtp

— Barack Obama (@BarackObama) March 14, 2018
In loving memory of Stephen Hawking. It was an honor to have him on The #BigBangTheory. Thank you for inspiring us and the world. pic.twitter.com/9rWoYqIToy

— The Big Bang Theory (@bigbangtheory) March 14, 2018
His passing has left an intellectual vacuum in his wake. But it's not empty. Think of it as a kind of vacuum energy permeating the fabric of spacetime that defies measure. Stephen Hawking, RIP 1942-2018. pic.twitter.com/nAanMySqkt

— Neil deGrasse Tyson (@neiltyson) March 14, 2018
Remembering Stephen Hawking, a renowned physicist and ambassador of science. His theories unlocked a universe of possibilities that we & the world are exploring. May you keep flying like superman in microgravity, as you said to astronauts on @Space_Station in 2014 pic.twitter.com/FeR4fd2zZ5

— NASA (@NASA) March 14, 2018
"Remember to look up at the stars and not down at your feet" – RIP Stephen Hawking you fucking legend.

— Foo Fighters (@foofighters) March 14, 2018
there's a big black hole in my heart hours before Pi day. Rest In Peace @Steven_Hawking… See you in the next ❤️

— KATY PERRY (@katyperry) March 14, 2018
"The greatest enemy of knowledge is not ignorance, it is the illusion of knowledge." -Stephen Hawking. We will always be inspired by his life and ideas. RIP.

— Tim Cook (@tim_cook) March 14, 2018
Stephen Hawking was a brilliant man, but he was also an incredibly funny man. It was a huge privilege to waste some of his time, and I'll never forget the twinkle in his eye here …https://t.co/xUmm2qIAiN

— John Oliver (@iamjohnoliver) March 14, 2018
Stephen Hawking is proof that a disability doesn't stop you being the best you can be. His determination, zest for life and discoveries within our cosmos made him a person we'll forever be indebted to. RIP Stephen Hawking. pic.twitter.com/GIyXnlz8i5

— Luke Evans (@TheRealLukevans) March 14, 2018
My heart feels heavy today. Stephen Hawking was such a big part of our show, these character's lives, and, my own. Though his body may be gone- his spirit remains in every facet of our universe. Let death be a reminder of our mortality- spend every waking moment spreading love :)

— Kunal Nayyar (@kunalnayyar) March 14, 2018
One of the greatest minds our species has ever produced is returned to the stars. It is a great loss to the scientific community. He was a hero to so many. Stephen Hawking, let us honor your work by respecting always the importance of scientific inquiry. https://t.co/BuNaEUrcer

— George Takei (@GeorgeTakei) March 14, 2018
RIP Stephen Hawking. Genuinely very sad to hear that. If you haven't, read A Brief History of Time. It'll make the world feel more amazing and beautiful and strange. It'll also make you feel smart and stupid all at once.

— Kumail Nanjiani (@kumailn) March 14, 2018
Farewell to a brilliant mind.
Thank you for being so generous with your knowledge in the brief time you were with us. #ripstephenhawking pic.twitter.com/nUF5oynQWi

— Zoe Saldana (@zoesaldana) March 14, 2018
RIP STEPHEN HAWKING I'm gonna cry

— Jaden Smith (@officialjaden) March 14, 2018