Kidult Defaces Luxury Designers in Latest "DEATH NOTE" T-Shirt
Limited to 100 pieces.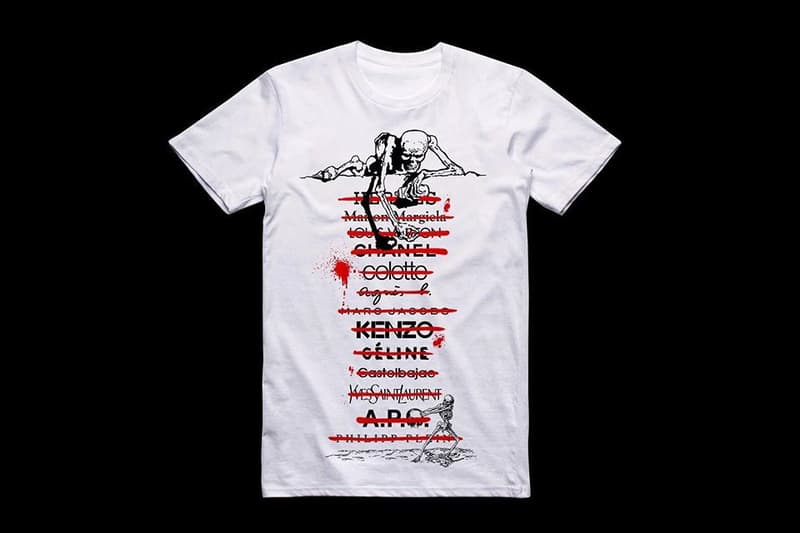 Kidult just took to Instagram to unveil a limited "DEATH NOTE" T-shirt which the notorious artist will presumably give away for free via a scavenger hunt. The white tee is embellished with the names of high-end designers such as Hermès, Maison Margiela, Louis Vuitton, Chanel and more. Illustrations of skeletal figures are embellished on the top and bottom of the brand names, with several of the monikers scrawled out in Kidult's ubiquitous, unruly red paint.
The underlying message of this graphic coincides with the artist's ongoing, anti-capitalist sentiments. "Our capitalist society is driven by the creative destruction. In order to grow and develop itself, the capitalist city needs to destroy to be able to create. Following the same pattern, my work is ephemeral just like our society," said the artist in a statement.
Check out the tee above which is limited to only 100 pieces. Location details on the scavenger hunt are still pending, but according to the Instagram post below, it's set to launch this March 7. Visit Kidult's official website to learn more.
In case you missed it, Kidult closed out 2017 by vandalizing Philipp Plein's Paris flagship.