Dapper Dan Talks Gucci Partnership, Favorite Clients & More
The Harlem icon digs deep for an expansive Q&A.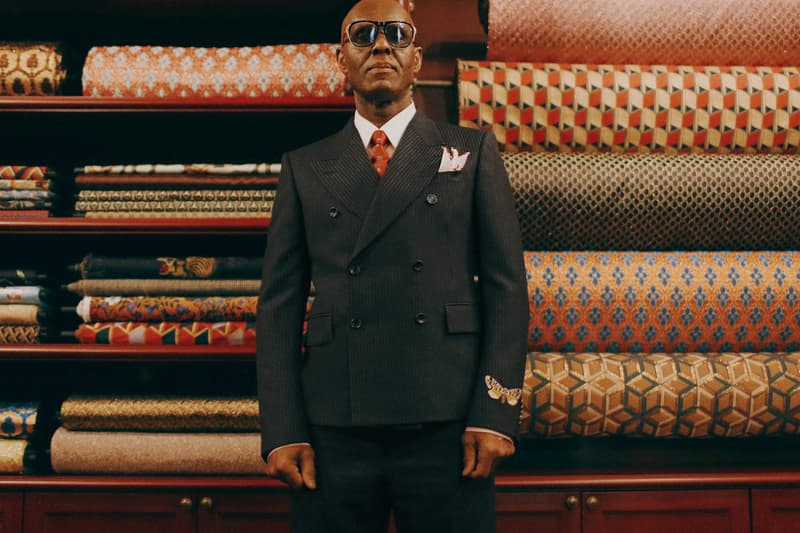 At the beginning of the year, legendary NYC tailor and cultural icon Dapper Dan teamed up with Gucci to reopen his Harlem atelier.  Further supporting and promoting the latest stage of his career, the Harlem legend has linked up with GQ for an insightful exchange that breaks down his work with Gucci, Harlem in the '80s, his creative processes, and more.
Specifically, Dapper Dan opened up to GQ's Edwin Stats Houghton about the inner workings of his 2018 partnership with Gucci. "The initial conversation was an agreement [with Gucci] that I would open up and I wouldn't have to produce any fabrics; they would supply me with all the fabrics," Dapper Dan explains. "I'm super happy with the variations that they gave us. Especially the things that I was familiar with, the GG prints, of course. I can be as creative as I want, within the context of what Gucci's all about, you know, their standard…which I raise the bar on."
Elsewhere, Dapper Dan reveals how he brings fashion to life in the modern era:
So much of the creativity of those '80s pieces was about your ability to achieve that sense of elegance and extravagance with limited resources. Now that many of those obstacles have been removed and you have fabric supplied directly by Gucci, are you looking at a different set of creative challenges?

The difference between then and now is that now I can build the house in the sun. Back then I was building a house in the storm. I had to be completely vertical. Now I'm horizontal, because even though I'm creating the pieces myself, I don't have the burden of dealing with the materials. And I don't have the burden of the brands raiding me and taking away my machines and all that. So it leaves me free to be more creative now than ever before. That's what I'm most excited about. The only limitations will have to do with the perception of what I think is hip and what they [Gucci] think is hip, keeping the essence of Gucci and the essence of Alessandro's mind. I have to work within his mind frame, but [within that] there's so much space—he has embraced the whole world. He's the first one that I see that has done that. There's nobody who cannot find a place within what he's been producing.
Dapper Dan also used the piece as a way to break down his particular influences:
You've spoken in the past about how much traveling in Africa influenced you as a young man and the idea of the "Africanization" of high-end European brands. Have you been abroad recently, and what kind of inspiration did you find?

My biggest fascination was going to Italy. When I got to Italy and I met the head of the factory and I saw how they dressed, I said, "Wow, this is us." I called Jelani and said, "Listen, they was wearing gator and suits like we used to wear." Those Italians are so fly. A big influence on us [in Harlem] was the Italians, because they was right here with us.

Which highlights something about your sensibility that isn't just about hip-hop—it has elements that draw on earlier eras of Harlem, going right back to the Harlem Renaissance.

Everything is the outgrowth of that, you know? It wasn't like this in Harlem in the beginning. In the beginning, there was two dress forms in Harlem. One was called Ivy League—those was the goody-two-shoes guys—and the other one was called hustler style. Hustler style took over. Ivy League was always intimidated, you know? The hustler's style won out. You know, these were like Robin Hoods to us. The number men, first. Because I pre-date the drug epidemic. But also on the big screen: James Cagney. Edward G. Robinson. That's why we would even say on the street, "Yo, you trying to Bogart me?" or "You think you're Cagney?" George Raft, he not only played gangsters, but he was a real gangster. Then what followed them was Sammy Davis Jr., Nat King Cole—you know, the Rat Pack. That was [at the same time] as the last great store in Harlem: Nat Nevins. We wanted so much to keep that look, the alligators and crocodiles. But when the riots came, they got broken into, and that was it.
Lastly, the topic of his "favorite clients" is also brought up:
Having tailored your creations to your customers' tastes, did you have a favorite client?

I had a lot of fun with Floyd Mayweather. That's when I have fun, when you see the mink and all the alligators and crocodiles. That's that original Harlem. That's classic. It transcends every age.

But then you had James Jackson. He's the one who told on John Gotti's brother Gene, and Gene is doing 50 years now. Well, James Jackson is the one who all of the hustlers wanted to be like. The rappers wanted to dress like him. They would come in the store after he left and ask me what he got. They never came in while he was in there. They felt intimidated.

And the number one guy who influenced everybody was Alberto Martinez. You ever heard of him?

Sure, Alpo.

Alpo. Alpo [a notorious '80s cocaine kingpin from Spanish Harlem] was copying James Jackson. People would say, "Man, now who's this young kid being wild around with all your suits on?" He was the first one that was fly like that, of the hip-hop generation. The Mayor of Harlem and all of that. What we call a boy wonder—that person who determines style and everybody refers to.
The entire, exclusive interview is currently live at GQ.
Last fall, Dapper Dan also starred in the editorial for Gucci's Fall/Winter 2017 menswear tailoring campaign.