Ekali is Not a Rap Producer
Don't let the Drake affiliation fool you.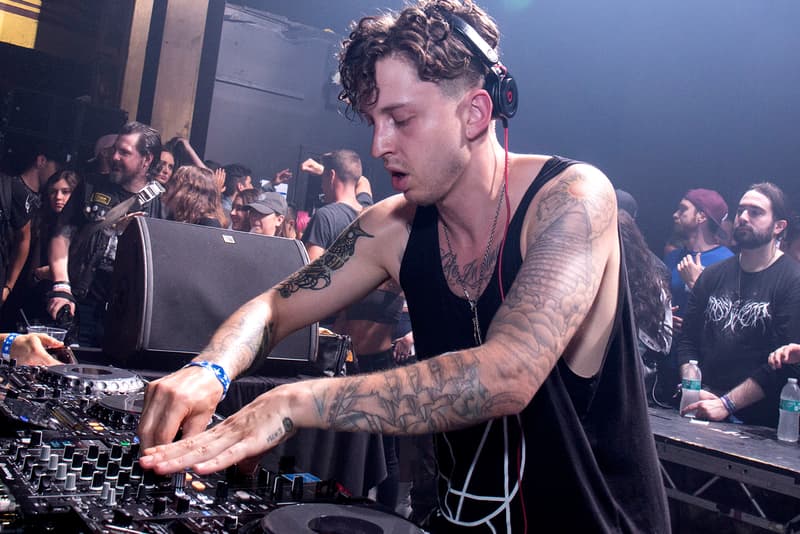 2015 was a big year for Ekali. Before being the only Canadian applicant to be accepted into Red Bull Music Academy Tokyo in November of 2014, the Vancouverite was fairly unknown in the electronic music sphere. This wasn't due to his music being not good enough or that he wasn't able to network properly. It's because Ekali has only been producing for less than a year before that. On the surface, it would seem that Ekali, real name Nathan Shaw, is the bedroom producer's golden child. The guy uploads mostly remixes, and they all hit high numbers and attract positive attention from the original artist. His third upload and only original song, "Unfaith," got sampled by Drake and PartyNextDoor on the Toronto rapper's chart-topping album, If You're Reading This It's Too Late. He's only got about 15 tracks on his page (with all of them except "Unfaith" being remixes or collaborations) but he's been able to perform at huge festivals alongside A-list producers like ODESZA, Duke Dumont, RL Grime and more, headline sold-out shows everywhere he goes, make mixes for prestigious/respected publications, and now, embark on a headlining world tour. Just how does he do it?
It may sound cliche, but like all success stories, Shaw was able to do it because of passion, goal-orientedness, timing, hard work, dedication, and of course, talent. Although he's only been producing electronically as Ekali for two years, his relationship with music began way before that. At the age of 12, he picked up violin-playing; throughout and after high school until recently, he played in various bands as a bassist. Being on a project with fellow producers 40, Boi-1da, WondaGurl, Eric Dingus and others, it's common for Ekali to be stereotyped as a rap producer by those who associate him with Drizzy's project. But if one digs a little deeper, it's more than evident that each piece of Shaw's work reflects his vast array of music influences. Rap may be one of his outlets, but Ekali's much more interested in expanding and developing his sound to see where and how far it can go. And a 22-date headlining world tour is just the start of that journey.
Tell us a little about yourself.
I'm Ekali, an Electronic musician from Vancouver, Canada. I'm currently in Asia on a world tour.
How'd you get into music and producing?
I got into music at a very young age. It started with playing violin when I was 12 years old. Throughout high school, I played in various bands and played bass for jazz musicians. I only got into producing about two years ago.
What are the biggest misconceptions about you?
That I'm a a rap producer. I think it may be the Drake affiliation. I am inspired by and make all kinds of music.
You were the only Canadian to make it to Red Bull Music Academy in 2014. How'd you get in, who'd you meet and what'd you get out of it?
The application to get into RBMA is about 30 pages long and it took me the better part of a week to finish it. I feel like I did a good job in being genuine and true to myself in filling out the application — that probably came through on their end. I feel like going to RBMA is more so about who you are as a person, instead of how technically skilled you are. Some standout musicians I met were Just Blaze, Dorian Concept and Om'mas Keith. The beautiful thing about being a traveling musician is that I get to visit all of the members from my RBMA year, all throughout the world.
You got to produce one of the songs on Drake's If You're Reading This, It's Too Late. How did that happen?
They sampled my song "Unfaith" for the songs "Preach" and "Wednesday Night Interlude." I actually have no idea how they found my song! I also didn't speak to anyone but their lawyer until after it was out. After that, PartyNextDoor reached out to me and we kept in contact. I was definitely surprised when I found out, but it felt right.
How's the music scene in Vancouver?
The music scene in Vancouver is interesting. There's a lot of real, quality talent in the city that's just kind of boiling under the surface. I think local promoters are starting to realize that and are starting to move in the direction that this city needs to garner a reputation for great creativity. I see the Vancouver scene as a blank page, waiting to be written on.
You have more remixes out than you have originals. Is there a reason for that?
I think it's probably due to the fact that I am extremely choosy with my original material. I have literally hundreds of original projects on my computer that will probably never see the light of day. With remixes, I can just have fun — I'm indifferent about releasing them. I take my originals far more seriously.
Which of your own songs/remixes are your favorite?
"Unfaith" and my remix of Flume's "Smoke & Retribution."
You're heavily affiliated with Flow-fi and Chapel Sound.
Flow-fi is a collective of artists living all around the world. We're all really good friends and offer each other support. I've had the pleasure of meeting over ten members all around the world. I actually stayed at Maximus MMC's place in Paris for a good week or so. Chapel Sound is a tight knit group of producers living in Vancouver. When I started producing, they were the first bunch of people to really show me support and encouragement. We're more of a family than anything.
Who's your fav artists right now and who's on your radar?
James Blake, What So Not, Jazz Cartier, Atu, Anderson Paak, Galimatias, Medasin and Masego.
You're currently on your own headlining world tour. How'd that happen?
The world tour has been possible because of the amazing booking agents I work with, in combination with the success of my releases over the past year and quite a bit of hustle.
What are your favorite and most memorable cities?
My favorite spots so far have been Tokyo, Beirut, Bangkok, Paris & Amsterdam. Being in Beirut was pretty unforgettable. It's without a doubt the most interesting city I've been to with such a rich culture.
What are your goals this year musically?
To release an EP worth of music, to continue developing my sound, and to reach new corners of the earth.
Listen to Ekali's latest song, a collaboration with G Jones titled "Dark Matter," below.