YEEZY Powerphase "Core Black" Store List
Coming to a store near you.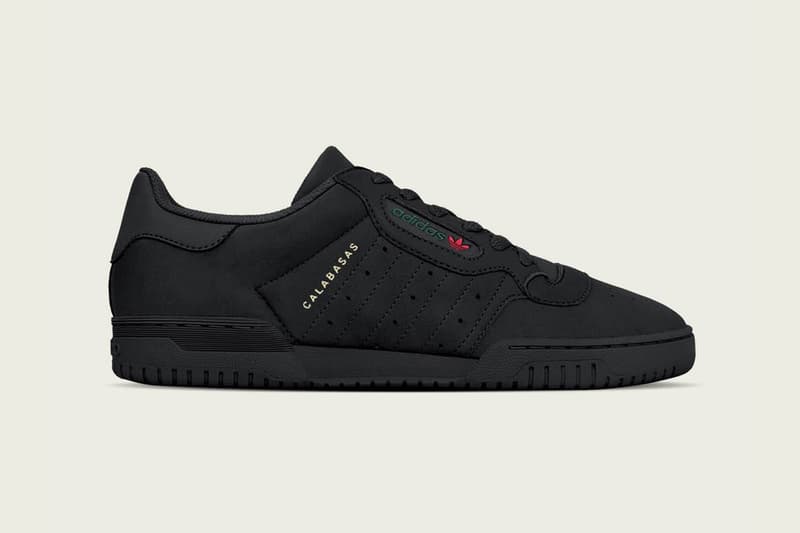 The adidas Originals YEEZY Powerphase in "Core Black" is arriving next Saturday, March 17 for $120 USD at select retailers worldwide. With its impending drop on the horizon, below is a list of retailers that will potentially stock Kanye's latest collaborative model with the Three Stripes. Additionally, the adidas Confirmed App has opened up reservations for applicable cities. See the full store list for the next adidas originals YEEZY Powerphase "Core Black" sneaker below. Be sure to check in with your local retailer for confirmation of stock. Stay tuned for updates on the list below.
Australia
adidas Originals Store Emporium,
287 Lonsdale Street,
Melbourne
adidas Originals Store Chadstone
,
1341 Dandenong Rd,
Melbourne
Sneakerboy
,
265 Little Bourke Street
,
Melbourne
Highs & Lows,
1/672 Beaufort Street
,
Mt Lawley
Highs & Lows
,
74-76 King Street,
Perth
adidas Originals Store Chatswood,
1 Anderson St,
Sydney
Sneakerboy
,
3 Tempernace Lane
,
Sydney
adidas Originals Store Westfield Sydney City
,
Westfield Sydney, 188 Pitt Street
,
Sydney
Brazil
Guadalupe
,
Rua Tres Rios, 126
,
Sao Paulo
Canada
Off the Hook
,
1021 Ste Catherine Ouest,
Montreal
Foot Locker
,
505 Ste. Catherine Street West
,
Montreal
adidas Originals Montreal,
1238 Rue Sainte-Catherine Ouest,
Montreal
NRML Select
,
100 Bayshore Dr,
Ottawa
NRML,
184 Rideau Street
,
Ottawa
HAVEN,
145 Berkeley Street,
Toronto
Livestock,
116 Spadina Avenue, Unit G1,
Toronto
Livestock,
406 Roncesvailles Avenue, 
T
oronto
adidas Originals Toronto
,
389 Queen Street West,
Toronto
Foot Locker,
247 Yonge St,
Toronto
HAVEN,
52 East Cordova Street,
Vancouver
Livestock
,
141 East Pender St.,
Vancouver
adidas Originals Vancouverr,
860 Granville St,
Vancouver
Foot Locker
,
919 ROBSON STREET UNIT #919A & 919B,
Vancouver
Livestock
,
407 Graham Avenue,
Winnipeg
Colombia
adidas Originals Store Calle,
82
Calle 82 # 13-26
,
Bogota
France
Citadium
,
56 rue de Caumartin,
Paris
Corner Street,
30B Rue de Rome 13001,
Marseille
size?,
18 rue Berger,
Paris
Foot Locker,
Avenue des champs elysées 66,
Paris
SNEAKERSNSTUFF,
95 Rue Réaumur,
Paris
Foot Locker
,
4-6 Rue Pierre Lescot
,
Paris
Citadium
,
65 ave des Champs Elysees,
Paris
adidas Brand Flagship,
22 AVENUE DES CHAMPS ELYSEES,
Paris
Courir,
51 rue de Rivoli,
Paris
adidas Originals Store Paris
,
3 Ter Rue des Rosiers,
Paris
Starcow,
62 Rue Saint Honoré,
Paris
Galeries Lafayette,
40 Bd Haussmann
,
Paris
Courir
,
CC Les halles,
Paris
Shinzo
,
39 rue Etienne Marcel,
Paris
N°42
,
42 Rue de Sévigné
,
Paris
Le HUB Bastille,
2 rue du Faubourg Saint Antoine,
Paris
Indonesia
adidas Originals Store Pacific Place,
Jl. Jend. Sudirman No.52-53, RT.5/RW.3,
Jakarta
Italy
Par5
Via Pio IV 1
,
Milan
AW Lab
,
VIA TORINO,
22
Milan
One Block Down,
Piazza Armando Diaz, 2,
Milan
Spectrum
,
Via Felice Casati, 29,
Milan
Excelsior
,
Galleria del Corso, 4,
Milan
Space23,
Corso Garibaldi, 104,
Milan
adidas Originals Store Milan
,
Via Alessio di Tocqueville 11
,
Milan
Foot Locker
,
Corso Vittorio Emanuele II, 24/28,
Milan
Antonia
,
VIA CUSANI 5,
Milan
Antonioli
,
Via Pasquale Paoli 1
,
Milan
Slam Jam Milan
,
Via Giovanni Lanza, 1,
Milan
Special Milano
,
Corso di Porta Ticinese, 80
,
Milan
Julian Fashion,
Viale G. Matteotti, 31,
Milan
size?
,
Via Torino 49,
Milan
Japan
adidas Originals Shop Shinsaibashi,
1-15-14 Nishishinsaibashi
,
Osaka
BEDWIN
,
2-22-1 Jingumae,
Tokyo
UNITED ARROWS & SONS
,
B1-1F, United Arrows Harajuku For Men 3-28-1 Jingumae,
Tokyo
atmos Blue Omotesando,
6-23-2 Jingumae
,
Tokyo
GR, 8
1-11-6 Jingumae,
Tokyo
adidas Tokyo,
Shibuya
23-5 Udagawa-cho,
Tokyo
adidas Originals Flagship Store Tokyo,
Jingumae TAURUS, 5-17-4 Jingumae, Shibuya-ku,
Tokyo
Styles Daikanyama,
1F Maison Daikanyama, 11-8 Sarugakucho,
Tokyo
adidas Originals Aomi Dive City,
3F Divercity Tokyo Plaza, 1-1-10 Aomi,
Tokyo
adidas Originals Tokyo Roppongi,
1F Roppongi Hills Metro Hat/Hollywood Plaza, 6-4-1 Roppongi,
Tokyo
adidas Originals Ginza
,
5F GINZA SIX, 6-10-1 Ginza,
Tokyo
Billy's SHIBUYA
,
6-23-7 Jingumae
,
Tokyo
Mita Sneakers
,
Ameyoko Center bldg 2F 4-7-8 ueno,
Tokyo
UNDEFEATED Tokyo,
1F P-2 BLDG.4-32-8 Jingumae,
Tokyo
BEAMS Harajuku,
3-24-7 Jingumae,
TOKYO
adidas Tokyo,
Shinjuku
1-3F, 3-27-4 Shinjuku,
Tokyo
Malaysia
adidas Originals Suria KLCC
Lot No. 313B & 315, Level 3,
Kuala Lampur
Mexico
adidas Originals Store Perisur
,
Periférico Sur 4690
,
Alvaro Obregón
adidas Originals Flagship Store Mexico City,
Atlixco 91 Col. Condesa
,
Mexico City
Lust Polanco
, Av. Presidente Masaryk, 311,
Miguel Hidalgo
New Zealand
adidas Originals Britomart,
60 Galway St,
Auckland
Loaded Newmarket,
206 Broadway,
Auckland
Philippines
Commonwealth,
SM Aura Premier, Fort Bonifacio,
Manila
adidas Originals Store Up Town,
Uptown Mall, 36 Street corner 9th Avenue,
Manila
Russia
Outpac,
Chistopolskaya street 61A,
Kazan
adidas Originals Flagship store Moscow,
Kuznetskiy Most 6/3,
Moscow
adidas Originals Tsvetnoy,
Tsvetnoy bulvar, 15,
Moscow
Brandshop,
Petrovsky bulvar, 21,
Moscow
KM-20,
Stoleshnikov lane, 2,
Moscow
TSUM,
Petrovka, 2,
Moscow
adidas Originals Galereya,
Ligovskiy prospekt 30a,
Saint Petersburg
DLT,
Bolshaya Konushennaya, 21-23, А,
Saint Petersburg
Nevsky 152,
Nevskiy Prospekt 152,
Saint Petersburg
Singapore
adidas Originals Store Singapore,
9 Scotts Road,
Singapore
Limited Edt Chamber,
10 Bayfront Ave,
Singapore
Thailand
adidas Originals Store Bangkok Siam Center,
Siam Center,979 Rama 1 Rd, Pathum Wan,
Bangkok
Ukraine
adidas Originals TSUM,
Khreshchatyk St., 38,
Kiev
United Kingdom
Browns,
24-27 South Molton Street,
London
Matches,
87 Marylebone High St,
London
Offspring London,
104 Commercial Street,
London
Footpatrol Ltd,
80 Berwick Street,
London
Sneakersnstuff,
107-108 Shoreditch High Street,
London
Offspring (Selfridges),
400 Oxford St, Marylebone,
London
adidas Originals Store London,
15 Fouberts Place,
London
size?,
33-34 CARNABY STREET,
London
Foot Locker,
109 Oxford Street,
London
adidas Originals Flagship Store London,
15 Hanbury Street,
London
Pam pam,
129 bethnal green road,
London
Oki-Ni,
Pure Player,
London
Harrods,
87-135 Brompton Road,
London
Net-a-Porter,
1 The Village Offices,
London
Harvey Nichols,
109-125 Knightsbridge,
London
Foot Locker,
283 Oxford Street,
London
JD,
201-203 Oxford Street,
London
END. Newcastle,
133 – 137 Grainger Street,
Newcastle Upon Tyne, NE1 5AE
END. Glasgow,
196 Ingram Street,
Glasgow, G1 1DG
United States
Wish,
447 Moreland Ave.,
Atlanta
A MA MANIERE,
969 MARIETTA STREET STE 200,
ATLANTA
NICE KICKS,
2815 Guadalupe St,
Austin
Foot Locker,
3393 Peachtree Rd NE,
Atlanta
BARNEYS,
9570 Wilshire Blvd.,
Beverly Hills
CARVE/BLENDS,
217 South Beverly Dr.,
Beverly Hills
BODEGA,
6 Clearway St.,
Boston
BARNEYS,
194 Atlantic Ave.,
Brooklyn
KITH,
233 Flatbush Ave.,
Brooklyn
SNEAKER POLITICS,
7566 Bluebonnet Blvd.,
Baton Rouge
CONCEPTS adidas store,
73 Newbury st,
Boston
CONCEPTS,
37 Bratte St.,
Cambridge
SOCIAL STATUS,
4901 Dwight Evans Rd.,
Charlotte
SOCIAL STATUS,
1519 Central Ave,
Charlotte
RSVP GALLERY,
1753 N. Damen,
Chicago
SAINT ALFRED,
1531 N. Milwaukee Ave.,
Chicago
NOTRE SHOP,
118 N. Peoria
Chicago IL 60607
foot locker,
SOUTH 219 State St.,
Chicago
XHIBITION,
2068 W 25TH St.,
Clevelane
CARVE/BLENDS,
2930 Bristol St. B104,
Costa Mensa
foot locker,
3333 Bristol St. Ste 1036,
Costa Mensa
adidas Originals Flagship Store Chicago,
1532 N Milwaukee,
Chicago
BAIT,
1962 Blake St. 100,
Denver
BAIT,
2753 S Diamond Bar Blvd. Ste. B,
Diamond Bar
Foot Locker,
90-15 Queens Blvd.,
Elmhurst
Foot Locker,
630 Old Country Rd.,
Garden City
SOCIAL STATUS,
602 Elm St.,
Greensboro
foot locker,
5015 Westheimer Road,
Houston
PACKER SHOES,
382 Martin Blvd.,
Jersey City
Foot Locker,
160 North Guelph Road,
King of Prussia
UNDFTD,
4480 Paradise Road Ste. 400,
Las Vegas
BARNEYS,
3327 South Las Vegas Blvd.,
Las Vegas
SNEAKER POLITICS,
131 Arnould Blvd.,
Lafayette
PROPER,
425 E. 1ST St.,
Long Beach
foot locker,
8500 Beverly Blvd.,
Los Angeles
BODEGA,
1320 E 7th St,
Los Angeles
KITH,
8500 Sunset Blvd,
Los Angeles
OPENING CEREMONY,
451 N. La Cienega BLVD.,
Los Angeles
CARVE/BLENDS,
725 S. Los Angeles ST.,
Los Angeles
BAIT,
7708 Melrose Ave.,
Los Angeles
NICE KICKS,
862 S Main St.,
Los Angeles
UNDFTD,
3827 West Sunset Blvd.,
Los Angeles
UNDFTD,
111 SOUTH La Brea Ave.,
Los Angeles
adidas Originals Melrose,
8009 Melrose Ave,
Los Angeles
adidas Originals Abbot Kinney,
1349 Abbot Kinney Boulevard,
Los Angeles
COMMONWEALTH,
2008 E 7th St,
Los Angeles
Foot Locker,
6801 hollywood blvd,
Los Angeles
RSVP GALLERY,
905 S Hill St,
Los Angeles
HERSCHLIFERS,
2080 Northern Blvd.,
Manhasset
Foot Locker,
7265 North Kendall Drive,
Miami
SHOE GALLERY,
244 NE 1ST AVE.,
Miami
adidas Originals Miami Beach,
226 8th Street,
Miami Beach
KITH,
1931 Collins Ave.,
Miami Beach
CLICKS N KICKS,
1916 E Capitol,
Milwaukee
SNEAKER POLITICS,
3504 Severn Ave.,
Metairie
ALIFE,
158 Rivington St.,
New York
foot locker,
112 West 34th St Frnt 1,
New York
OPENING CEREMONY,
1190-1192 Broadway,
New York
OPENING CEREMONY,
35 Howard St.,
New York
MR. PORTER,
100 5th Ave.,
New York
KITH,
644 Broadway,
New York
CONCEPTS,
225 Hudson St.,
New York
Foot Locker,
1460 Broadway,
New York
BARNEYS,
660 Madison Ave.,
New York
BARNEYS,
2151 Broadway,
New York
BBC ICE CREAM,
456 W Broadway,
New York
BARNEYS,
101 7th Avenue,
New York
SNEAKERSNSTUFF,
22 W 12th St,
New York
CRÈME,
321 W 21ST ST.,
Norfolk
CRÈME,
300 Monticello Ave.,
Norfolk
adidas Fifth Avenue,
565 5th Ave,
New York
adidas Originals Flagship Store Spring Street,
115 Spring Street,
New York
BAIT,
2812 E Chapman Ave.,
ORANGE
Foot Locker,
S 8001 Orange Blossom,
Orlando
UBIQ,
1509 Walnut St.,
Philadelphia
SOCIAL STATUS,
717 Liberty Ave. Ste 106,
Pittsburgh
SOCIAL STATUS,
5929 Penn Ave,
Pittsburgh
BAIT,
818 SW Broadway,
Portland
UNDFTD,
4412 N Central Ave,
Phoenix
SOCIAL STATUS,
308 Parham ST,
Raleigh
NEED SUPPLY,
1600 Belleville St.,
Richmond
BAIT,
920 5th Ave.,
San Diego
CARVE/BLENDS,
719 8th Ave.,
San Diego
BAIT,
3162 16TH ST.,
SAN FRANCISCO
STASHED,
2360 3rd St,
San Francisco
UNDFTD,
516 Hayes St.,
San Francisco
BARNEYS,
77 O´Farrell St.,
San Francisco
NICE KICKS,
1420 Haight St.,
San Francisco
CARVE/BLENDS,
200 EAST 4TH ST.,
SANTA ANA
UNDFTD,
2654 MAIN ST.,
SANTA MONICA
BARNEYS,
395 Santa Monica Pl.,
Santa Monica
BAIT,
915 East Pike St.,
Seattle
PACKER SHOES,
941 Teaneck Rd.,
Teaneck
UBIQ,
3124 M St NW,
Washington DC
COMMONWEALTH,
1781 Florida Ave.,
Washington DC
Foot Locker,
1400 Willowbrook Blvd,
Wayne
Foot Locker,
4184 N Harlem Ave,
Norridge
Vietnam
adidas Originals Bitexco,
Bitexco Financial Tower, 65 Le Loi, Ben Nghe ward, District 1, 700000,
2 Hải Triều, Bến Nghé, Quận 1,
Ho Chi Minh City