12 New Wave Rappers You Should Know
It's not too late to get hip.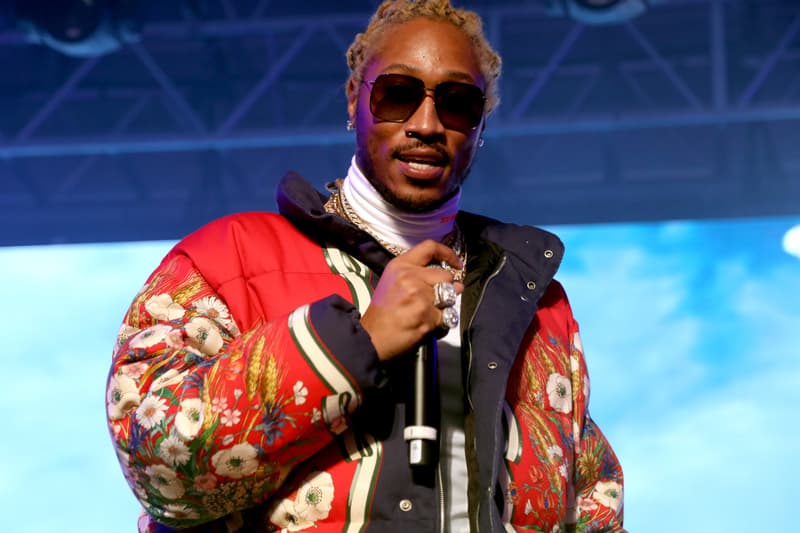 The new wave of rap music was firmly established in the past years with the rise of artists like Future, A$AP Rocky, Young Thug, Travis Scott, Lil Uzi Vert, 21 Savage, Kodak Black, Lil Yachty, Playboi Carti and more. Furthermore, we live in an era in which rap and hip hop music is no longer considered subversive and has been sufficiently integrated into the core of mainstream culture. Its fruits are apparent: Kendrick Lamar's performance at the GRAMMYs is one of the 2016 show's biggest highlights as were Chance the Rapper's historic wins at this year's awards. It's a time where we've witnessed Desiigner, Rae Sremmurd, and Migos climb to No. 1 spots on Billboard's Hot 100 and also a time where rappers are the faces and/or creative directors of big-name fashion brands and campaigns.
With the genre continuously expanding and evolving, it's always unclear what kind of direction rap is headed to with the plurality of its voices. 2015 and 2016 yielded a plethora of captivating newcomers, many whom are now household names but at the same time many whom are gone and forgotten. This year, we predict that it would be no different. Check out our list of 12 buzzing new wave rappers who you should get to know.
6lack
From: Atlanta, Georgia
Age: 24
For fans of: Bryson Tiller, PartyNextDoor, The Weeknd
6lack (pronounced as Black), born Ricardo Valdez Valentine on June 24, 1992, is a rap and R&B artist best known for his hit single "PRBLMS." After struggling with label issues for five years (which prevented him from releasing music that he wanted to), the Zone 6, Atlanta artist sent "PRBLMS" to Zane Lowe in May of 2016. The song received widespread acclaim and he officially released the track in June. 6lack later dropped his debut EP Free 6LACK November 18 via LoveRenaissance and Interscope. "PRBLMS" has currently amassed 20 million plays on Spotify, making him one of the biggest up-and-coming artists of 2017.
Check out 6lack's SoundCloud page.
A-Boogie wit da Hoodie
From: The Bronx, New York
Age: 21
For fans of: Dej Loaf, Fetty Wap, Rich Homie Quan
Born J. Dubose in December 6, 1995, A-Boogie wit da Hoodie is best known for his breakout song, "My Sh*t." Having started writing raps since the age of 12, A Boogie dropped his debut mixtape Artist on Valentine's Day last year eight years later at the age of 20. His buzz became so big that the rapper and crooner went on to have three opening dates on Drake and Future's Summer Sixteen Tour. After dropping a series of hits, Atlantic Records announced that it had signed A-Boogie wit da Hoodie to a major-label recording contract in July 2016. Dubose released his well-received TBA EP in October.
Check out A-Boogie wit da Hoodie's SoundCloud page.
LiL PEEP
From: Long Island, New York
Age: 20
For fans of: Blink-182, Panic! at the Disco, Yung Lean
Unlike 6Lack and A-Boogie, LiL PEEP is known less for his breakout hits than for his personality and his sonic and visual aesthetic. Born Gustav Åhr, LiL PEEP is a member of the music collective GOTHBOICLIQUE (Lil Tracy, Horse Head, Cold Hart, Wicca Phase Springs Eternal) raps and sings about doing cocaine and various types of drugs, girls and his suicidal tendencies. His sound is best described as emo rock meets trap and he cites Gucci Mane, Crystal Castles and Panic! at the Disco as influences. Since his viral tape LIL PEEP PART ONE dropped in 2015, Peep has released four more projects.
Check out Lil Peep's SoundCloud page.
LIL PUMP
From: Miami, Florida
Age: 16
For fans of: Lil Uzi Vert, MadeinTYO, Playboi Carti
After blowing up on SoundCloud from several hits like "ELEMENTARY," "Get," and Smokepurpp's "JOHNNY!," LIL PUMP became one of the more well-known rappers and personalities of Florida's flourishing underground wave. Pump began rapping in high school and his friend and up-and-coming rapper Smokepurpp encouraged him to start recording and putting out material. Most of his material is produced by Smokepurpp, and he has collaborated with established viral artists like Ugly God and Famous Dex, as well as fellow up-and-comers $ki Mask the Slump God and Warhol.SS.
Check out LIL PUMP's SoundCloud page.
Nav
From: Toronto, Ontario
Age: 26
For fans of: MadeinTYO, Post Malone, Speaker Knockerz
Nav, who also goes by BeatsByNav or Navraj Beats, is a one-man hitmaker that everyone in the industry is now trying to get a hold of. Not much was known about the Toronto, Canada rapper, crooner and producer other than his handful of self-produced hits, including "Myself," "Up," "Fell in Love" and more. In January 2016, Nav was featured on the 13th episode of Apple Music's Beats 1's OVO Sound Radio. In December, Metro Boomin announced that a collaborative album with Nav scheduled to drop sometime in 2017. He is featured on Travis Scott's "beibs in the trap" and fellow Torontonian The Weeknd has actively shown his support as of late.
Check out Nav's SoundCloud page.
NBA YoungBoy
From: Baton Rouge, Louisiana
Age: 17
For fans of: Boosie BadAzz, Kodak Black, Webbie
Born Kentrell DeSean Gaulden in north Baton Rouge, Louisiana on October 20, 1999, NBA YoungBoy (NBA standing for Never Broke Again) first gained viral recognition for dropping the music video for "Win or Lose" while locked up in prison. He built further success with his mixtape 38 Baby (which features seasoned BR rappers Kevin Gates and Boosie BadAzz), where its title track garnered millions of views on YouTube. He is also known for his song "I Ain't Hiding" and his "Murder" remix which features 21 Savage. YoungBoy is currently held behind bars on a charge with attempted first-degree murder.
Check out NBA YoungBoy's SoundCloud page.
Oliver
From: Columbia, Missouri
Age: 24
For fans of: Chief Keef, Speaker Knockerz, Yung Lean
"Wavey" is the best way to describe Oliver Francis' sound, and just so happens to be the title of his best-known track. The rapper, producer and songwriter began putting up his music on YouTube in 2012 (which now has 60k subscribers), and started gaining traction after dropping his songs "LWTGG," "Polo Socks" and "Stars." In the past few months, many of his tracks started doing real numbers on SoundCloud, so it's a matter of time before we see that celebrity cosign. If you're a fan of drugged-out melodic raps like Chief Keef, Gab3, Lil Uzi Vert and Yung Lean, Oliver's work is right up your lane.
Check out Oliver's SoundCloud page.
SahBabii
From: Atlanta, Georgia
Age: 19
For fans of: Lil Durk, Travi$ Scott, Young Thug
You likely have heard SahBabii's "Pull Up With Ah Stick" by now. Although the Atlanta artist dropped his tape SANDAS last fall, it's just starting to pick up in the last couple of weeks thanks to the song. Many well-established artists, such as Bow Wow, Kehlani, Metro Boomin and more have cosigned the song. Donning braces and a load of face tattoos, his peculiar aesthetic has also captured attention. Drake has apparently already hopped on a remix for the "Pull Up With Ah Stick," so don't be surprised if SahBabii gets signed to a big label or performs at a high-profile fashion event in the coming weeks.
Check out SahBabii's SoundCloud page.
SOB x RBE
From: Vallejo, California
Ages: Yhung T.O. (18), Lul G (18), DaBoii (19), Slimmy B (20)
For fans of: E-40, Mac Dre, Too $hort
SOB x RBE are the hottest young up-and-comers from the North (Crestside) Vallejo, Bay Area. Standing for "Strictly Only Brothers, Real Boi Entertainment," the group consists of four members and childhood friends Yhung T.O., Slimmy B, DaBoii and Lul G. While the older members have recently finished high school, SOB x RBE's younger members are still in their senior years. Their sound resembles that of Bay Area hyphy and/or West Coast funk and rap from the '80s and '90s, but it's also inspired by modern rappers like Future, Drake, Lil Wayne, and even Tee Grizzley and the "Detroit sound."
Check out SOB x RBE's YouTube page.
Tee Grizzley
From: Detroit, Michigan
Age: 22
For fans of: Ace Hood, The Game, Meek Mill
Tee Grizzley is best known for his debut single "First Day Out." The rapper blew up after dropping the video to the track, which gained over 2 million views in under three week's time. The song was released following a nearly-three-year bid behind bars and positioned Tee as one of the forerunners of Detroit's burgeoning rap scenes alongside Bandgang, Rocaine and others. In 2017, he signed to 300 Entertainment, a label founded by Lyor Cohen which houses big-name rappers like Young Thug, Fetty Wap and Migos. Alongside Young M.A, Tee Grizzley will join 21 Savage on his highly-anticipated 'Issa Tour.'
Check out Tee Grizzley's SoundCloud page.
XXXTENTACION
From: Plantation, Florida
Age: 19
For fans of: Denzel Curry, Lil Uzi Vert, MadeinTYO
XXXTENTACION, born Jahseh D. Onfroy on January 23, 1998, is one of the biggest up-and-comers right now and has one of the largest cult followings in underground rap. Known mostly for his viral hit single "Look at Me!," X is actually extremely versatile with his music, which ranges from R&B to punk-rock, backpack rap to heavy metal. Onfroy is also known for participating in fights, which are broadcasted via social media for public viewership. He's received support from seasoned artists like Lil Uzi Vert and A$AP Rocky. Recently, X called Drake out for "biting" his style and claimed that the Toronto rapper's career is going to "end soon." He is currently in jail for robbery and assault charges.
Check out XXXTENTACION's SoundCloud page.
Yung Pinch
From: Huntington Beach, California
Age: 19
For fans of: Dej Loaf, Kamaiyah, Post Malone
Yung Pinch, real name Blake Sandoval, is born on April 6, 1997 in Huntington Beach (or, as he calls it, "Bluntington Beach") and is best known for his song "Rock With Us." Tall, slender and long, blonde-haired, he got a beach boy look but an inner city R&B-rap sound. He earned somewhat of a buzz with his early mixtapes like Late Nights and Early Mornings. With the release of 714Ever in 2016, Sandoval became even more well known. Yung Pinch has opened up for Young Thug, Bone Thugs-N-Harmony, Lil Uzi Vert, Playboi Carti, and more and was added to The Observatory's Day N Night festival lineup.
Check out Yung Pinch's SoundCloud page.
Notable Mentions
24hrs (Atlanta, Georgia)

BLAKE (San Antonio, Texas)

Craig Xen (Houston, Texas)

D Savage (Gardena, California)

GHOSTEMANE (Lake Worth, Florida)

Jimmy Wopo (Pittsburgh, Pennsylvania)

Lil Tracy (Oceanside, California)

Mike Sherm (Antioch, California)

Molly Brazy (Detroit, Michigan)

Pollari (Atlanta, Georgia)

Pressa (Toronto, Ontario)

Puffy L'z (Toronto, Ontario)

$ki Mask The Slump God (Broward County, Florida)

Smokepurpp (Dade County, Florida)

ThouxanbanFauni (Atlanta, Georgia)