ICYMI: Big K.R.I.T., Key! & Kenny Beats, Danileigh, ESTA. and More
Also featuring YGTUT, Saweetie, Zeke Mar Lee and Bernard Jabs.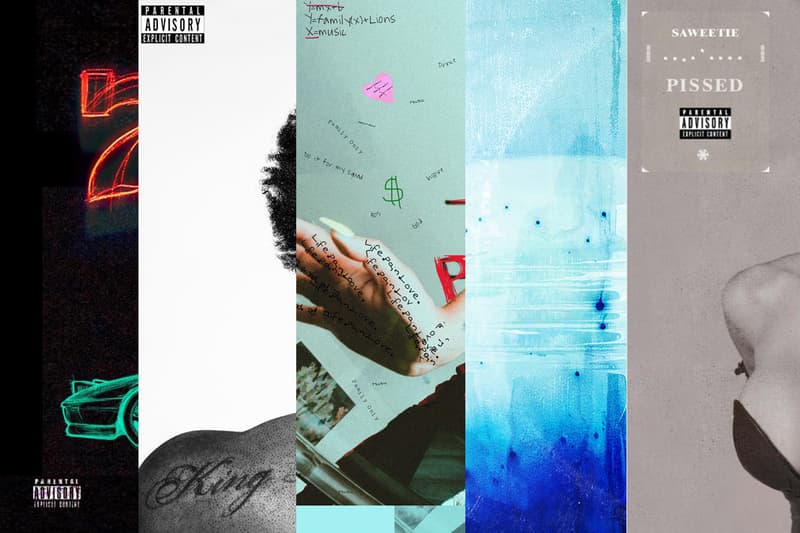 It's been a busy week of music, with a ton of artists are dropping bodies of work. To make sure our readers are all up to speed, HYPEBEAST offers ICYMI, a list of significant new projects, songs and videos that have been recently released but you may have missed. This week's selections include music from Big K.R.I.T., Key! & Kenny Beats, Danileigh, ESTA., YGTUT, Saweetie, and Bernard Jabs.
Big K.R.I.T. – DOUBLE DOWN [Multi-Alumni/BMG]
Big K.R.I.T. is two for two with DOUBLE DOWN, his new 2-song new EP that follows up his 3-song EP, Thrice X, which released on Nov. 16. DOUBLE DOWN features "Pick Yourself Up," produced by Rico Love and D-Town The Great and "Learned From Texas" produced by DJ Khalil and Tariq Beats. "Pick Yourself Up" features Too Short and Isley Brother's samples and finds K.R.I.T. rapping about a good time while "Learned From Texas" allows Big K.R.I.T. to pay homage to the region and rappers that have influenced him most.
"By being so transparent about my life struggles in my music, I hope that people who are going through similar challenges will find strength through my stories," states Big K.R.I.T.
Key! & Kenny Beats – 777 Deluxe [Hello!/D.O.T.S.]
KEY! and Kenny Beats release their new EP, 777 Deluxe, which builds on the success of their critically-acclaimed first collaborative album 777 Volume 1, including remixes of tracks from their debut and new original songs. The new project includes features from Rico Nasty and Jay Critch on new material, as well as Skepta and 6lack, who feature on remixes of "Hater" and "Love on Ice" taken from 777 Volume 1.
Danileigh – The Plan [Def Jam]
Dominican-American, South Florida native and rising star DaniLeigh drops her debut album, The Plan. The album is led by her smash hit "Lil Bebe" and the remix featuring Lil Baby, which are currently at a combined 27 million global streams with the original music video at over 4.5 million views. Her "Be Yourself" tour kicks off on Jan. 31 in San Francisco, ending on Feb. 26 in Denver.
ESTA. with Kay Franklin – Hueman [Paradis]
ESTA. links up with Kay Franklin for an enjoyable eight-track project titled Hueman, their joint and debut EP. The EP is a rebellious, yet flirtatious project about trying to keep your mind off the muse.
YGTUT – "Man in the City" [Same Plate Entertainment]
Chattanooga rapper YGTUT releases his new single, "Man in the City," the first true single after a three-year hiatus since his breakout tape, Preacher's Son. The track is produced by KIN and is a prelude to his new EP dropping next year.
"I just feel like I'm evolving and understand myself more. I feel like with Preacher's Son, all you really know is that my dad is a preacher and I sold drugs but there's more to my life than that. I'm just telling my stories, being true to myself and making dope music," says YGTUT.
Saweetie – "Pissed" [ICY/Artistry Records/Warner Bros. Records]
Saweetie continues her strong run with her latest single entitled "Pissed," which is produced by Cronkite. Propelled by a bombastic orchestral choir chant of her name, the rapper quickly slips into sassy and spirited verses, illuminating her deft wordplay and hard-hitting rhymes with throwback fire. Saweetie is currently putting the finishing touches on her highly-anticipated debut album, which hopefully drops very soon.
Bernard Jabs – "BIG TYMERS" [Def Jam]
17-year-old Georgia native Bernard Jabs continues to turn heads with his new song "Big Tymers," a record that pays tribute to the legendary New Orleans rap duo. To go along with the new record, Jabs also releases the video, demostrating his charisma and signature rapid-fire flow that seems to be perfected at such a young age.
Zeke Mar Lee – PAINFIELD [Forgotten Society Ent]
New Jersey rising rapper Zeke Mar Lee drops his debut album PAINFIELD, which depicts his life's growing pains, from his eyes, in his hometown Plainfield, N. J. and how that has molded him into the man he is today.