Best New Tracks: Playboi Carti, Trippie Redd, Big Sean, Stwo, Travis Scott, Migos, and More
A big week in music.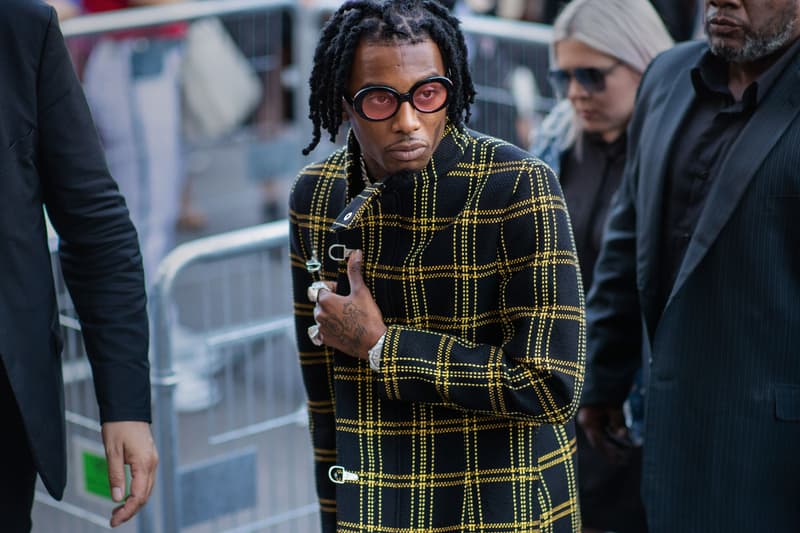 For this week's music roundup, fans received a couple of surprises that arrived in the form of surprise albums, mixtapes and EP's. The most notable project was arguably Big Sean and Metro Boomin's surprise joint album, Double or Nothing which arrived just days after the initial announcement. We also saw various full-length releases from Juicy J (Rubba Band Business) and Tee Grizzley & Lil Durk (Bloodas) which were both respective low-key bangers. In addition, seminal Atlanta rap label/management group Quality Control went all out with their Control The Streets, Vol. 1 project which not only boasted 30 tracks, but also came stacked with some rap's biggest name including Travis Scott, Migos, Cardi B, Lil Yachty, Nicki Minaj, Gucci Mane, Young Thug and Kodak Black amongst others. Meanwhile, the deluxe version of Kendrick Lamar's DAMN. album also arrived this week with a couple of new surprises, while King Krule made a rare public appearance when he stopped by NPR's Tiny Desk to perform an impressive acoustic rendition of songs from his newest album, The Ooz.
We also discovered this week that before the legendary producer DJ Premier was putting in work on the MPC, he learned the foundations of how to play the drums from none other than Travis Scott's father.
Check out our picks for this week's music roundup down below and let us know what you think in the comment section.
Big Sean & Metro Boomin – Double or Nothing (Album)
The unexpected joint project from Big Sean and Metro Boomin officially arrived this week. Double or Nothing is ten songs deep and features star-studded tracklist featuring guest contributions by Travis Scott, 2 Chainz, 21 Savage, Young Thug, Swae Lee, and Kash Doll. Listen below.
Stwo – "Over U"
Toronto by ways of Paris sound purveyor, Stwo, is poised to make 2018 his breakout year after dominating the underground scene. This week, the OVO-affiliate dropped off a new track along with the announcement of him joining Majid Jordan on their The Space Between tour kicking off on January 16.
After years of making his name within the underground circuits, Stwo is poised to make 2018 his breakout year. Press play to listen in below and stay tuned.
Playboi Carti & Lil Uzi Vert – "Squad"
This new previously unreleased Playboi Carti and Lil Uzi Vert track emerged this week and could be a sign that the long-rumored collaboration project maybe coming sooner than later. Check it out below.

Quality Control – Control the Streets Volume 1 (Album)
Seminal Atlanta rap label, Quality Control dropped off their anticipated Control The Streets, Vol. 1. this week and as you promised, it's fully stacked. The tape contains a whopping 30 records and features just about all of rap's biggest names: Migos, Lil Yachty, Gucci Mane, Nicki Minaj, Travi$ Scott, Cardi B, Ty Dolla $ign, Kodak Black, Tee Grizzley, Young Thug and many more. Stream down below.
Trippie Redd & Travis Scott – "Dark Knight Dummo"
After teasing the track on social media, the controversial Ohio rapper officially debuted the Travis Scott-assisted cut this week. Produced by Honorable C.N.O.T.E., who has worked with La Flame on "Way Back" from Birds in the Trap Sing McKnight. Listen to "Dark Knight Dummo" down below.
EaSWay – The Panther in the Room (EP)
Get familiar with SF-based rapper and songwriter EaSway. Aside from the socially-charged compositions packed with melodics and lyrical substance, the University of Southern California social science and neuroscience double-major shares his unique perspective of being a millennial African-American artist. His new project incites discussions about social issues ranging from racial prejudice to artistic existentialism. He's posted to become one of the most influential young artists in the hip-hop. Listen to his new project below.
Migos & Marshmello – "Danger"
Trap meets EDM. Migos and DJ/producer Marshmello had an unlikely collaboration unveiled this week as part of the soundtrack for Will Smith's upcoming Netflix movie series, Bright – press play to listen below.  The official Bright: The Album sound track, which also features musical appearances from Snoop Dogg, A$AP Rocky, Lil Uzi Vert, Meek Mill, Future, Camila Cabello and Tom Morello will officially drop on December 15, while the film makes its Netflix debut on December 22.
Nicolas Jaar – "Coin In Nine Hands"
Nicolas Jaar's politically-charged 2016 Sirens album made waves in the electronic music world last year, winning the renowned Chilean-American artist new fans across board and this week, the beloved sound purveyor shared with fans an unreleased bonus cut from the album's deluxe edition. Clocking in at around the eight-minute mark, "Coin In Nine Hands" is propelled along by a urgent-yet-distant sense of bass accompanied by fractured spoken word. Jaar then pulls a full 180, with the track moving through Jaar's signature electronic flourishes. Listen below.
Be sure to check out our previous music roundups for the best drops of weeks past.